Isn't 'free' such a great word? It definitely ranks high among our favourites – especially when it's attached to a service like web hosting that most people find themselves paying for.
If you're a likeminded soul who also loves getting your hands on internet essentials for free, then this article may be just what you've been after.
We've done some digging around, and found the web's finest free WordPress hosting providers. While many believe that using a quality host comes at a cost, the following 15 alternatives set out to prove that the best things in life really are free – especially for those who are looking to establish a site on a budget.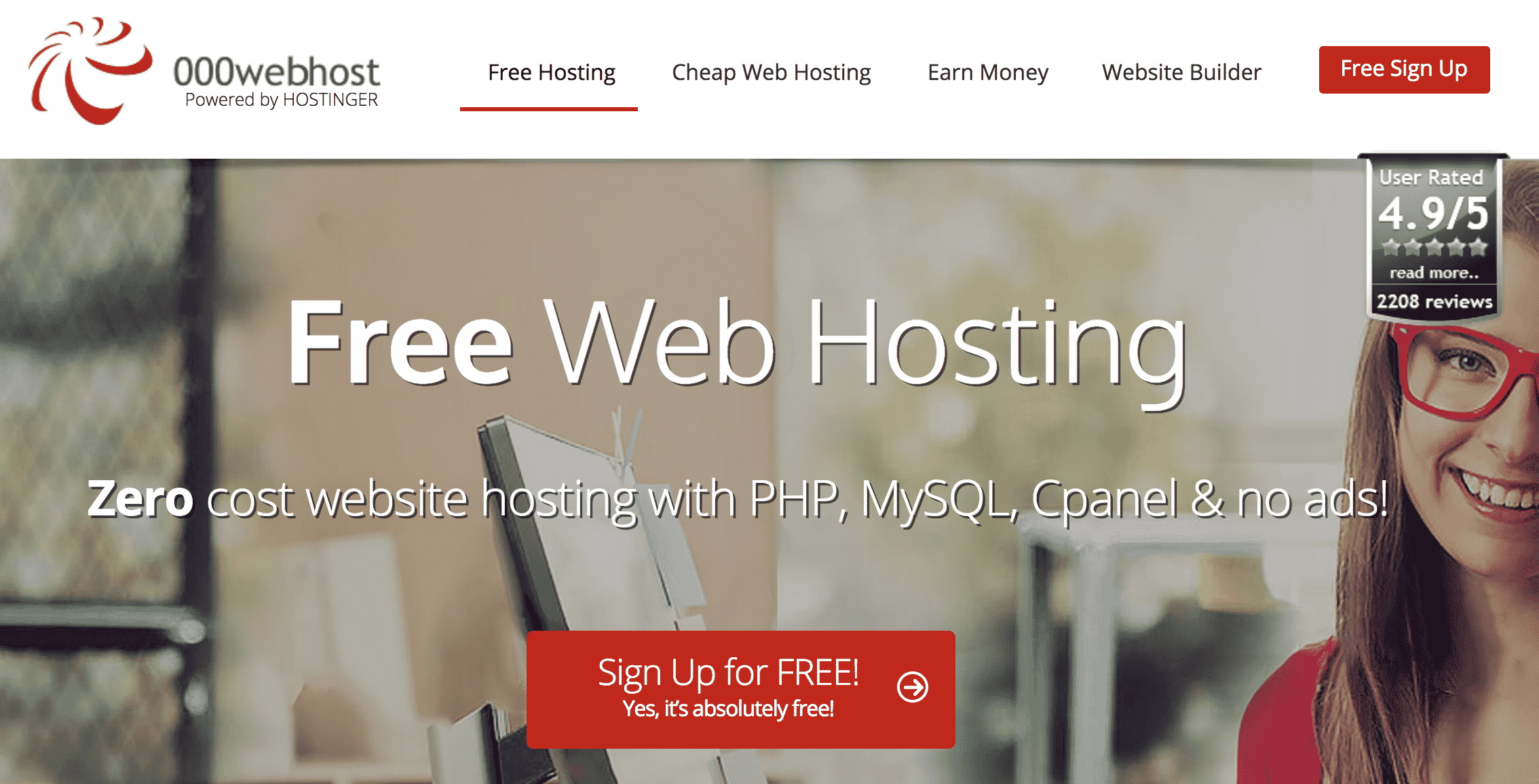 Don't mind the curious alpha-numeric URL; it's intended to be a tribute to the full cost of running a website via 000WebHost = "$0.00."
I'm sure you're looking for the catch that enables this host to operate for free, but with a 99% uptime guarantee, limitless bandwidth and PHP with MySQL support, there are plenty of features that allow 000WebHost to compete with its premium rivals.
The provider also boasts an easy-to-install website builder that enables users to design attractive pages for their site.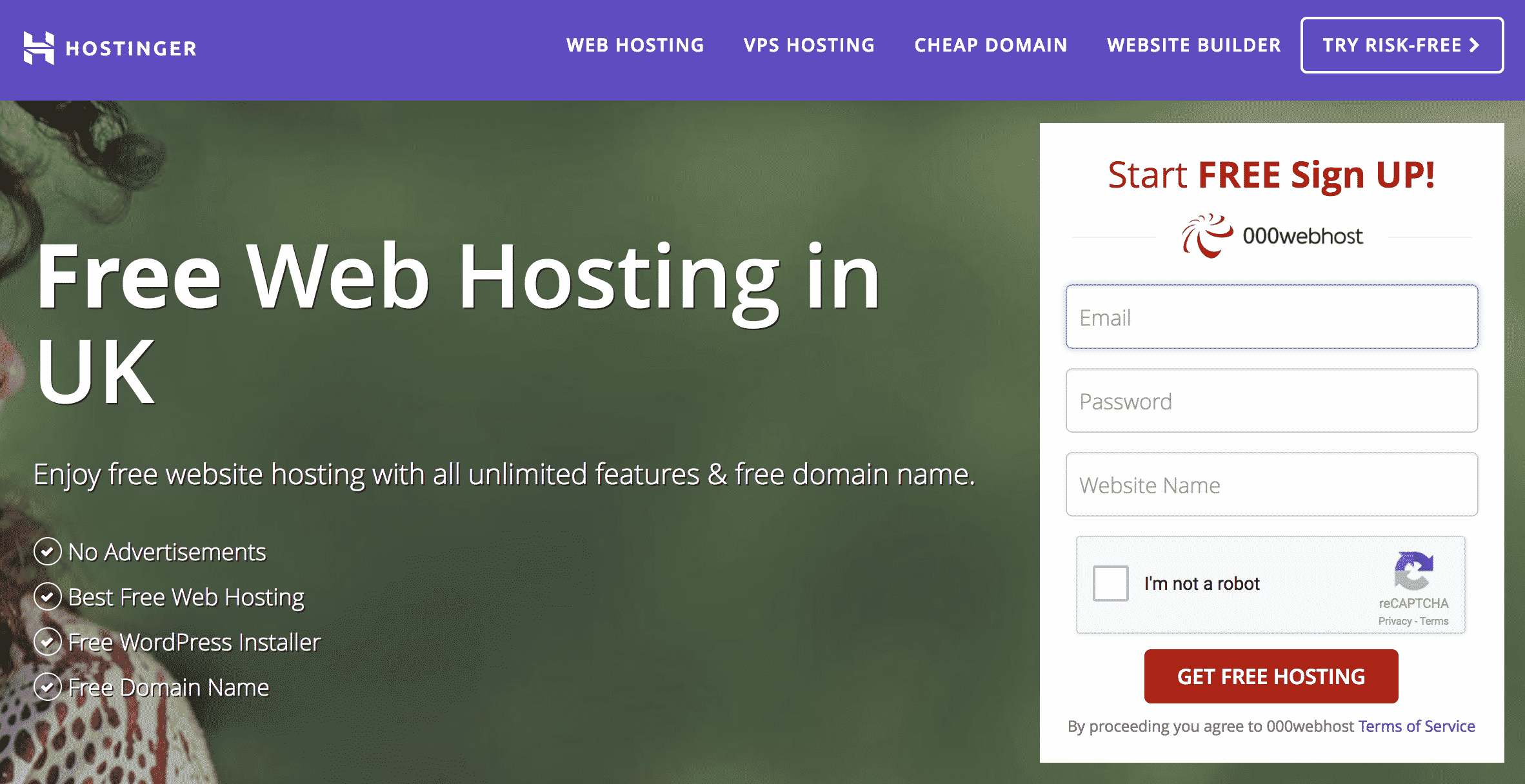 Hostinger isn't the type to shy away from bold claims – the hosts are happy to call themselves the best website provider of the year, as well as offering the best website builder to accompany their service.
The free featured offered by Hostinger go some way to back up their claims, too. The service is accessible fully on the cloud, meaning that you'll never be hamstrung by bandwidth limitations or streamlined content.
What's more is that Hostinger's 1-Click WordPress Installer means that setting up your new site is a seamlessly quick and easy process.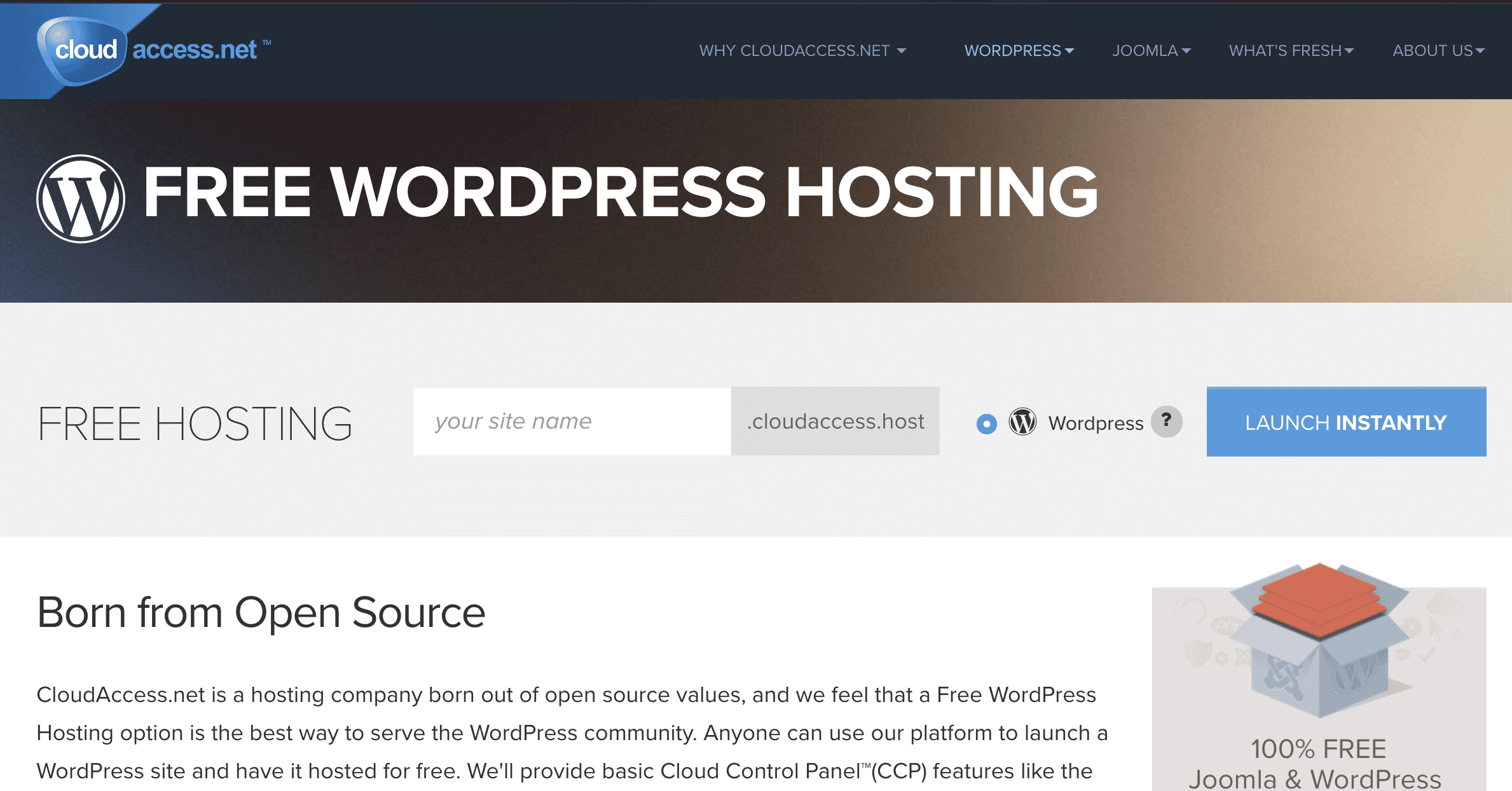 Cloudaccess prides itself on being a host that was born from open source roots. This brings a refreshing community aspect to the service.
The open source nature of Cloudaccess also means it has an impressive range of features. Security comes in the form of automated daily backups and Cloud Control Panel perks like one-click site replicators and app snapshot tools.
Cloudaccess also comes with a free subdomain, 500mb of disk space, meticulous training to get you up to speed, and MySQL access – and if you feel yourself outgrowing your platform, you can upgrade for higher levels of support and web management.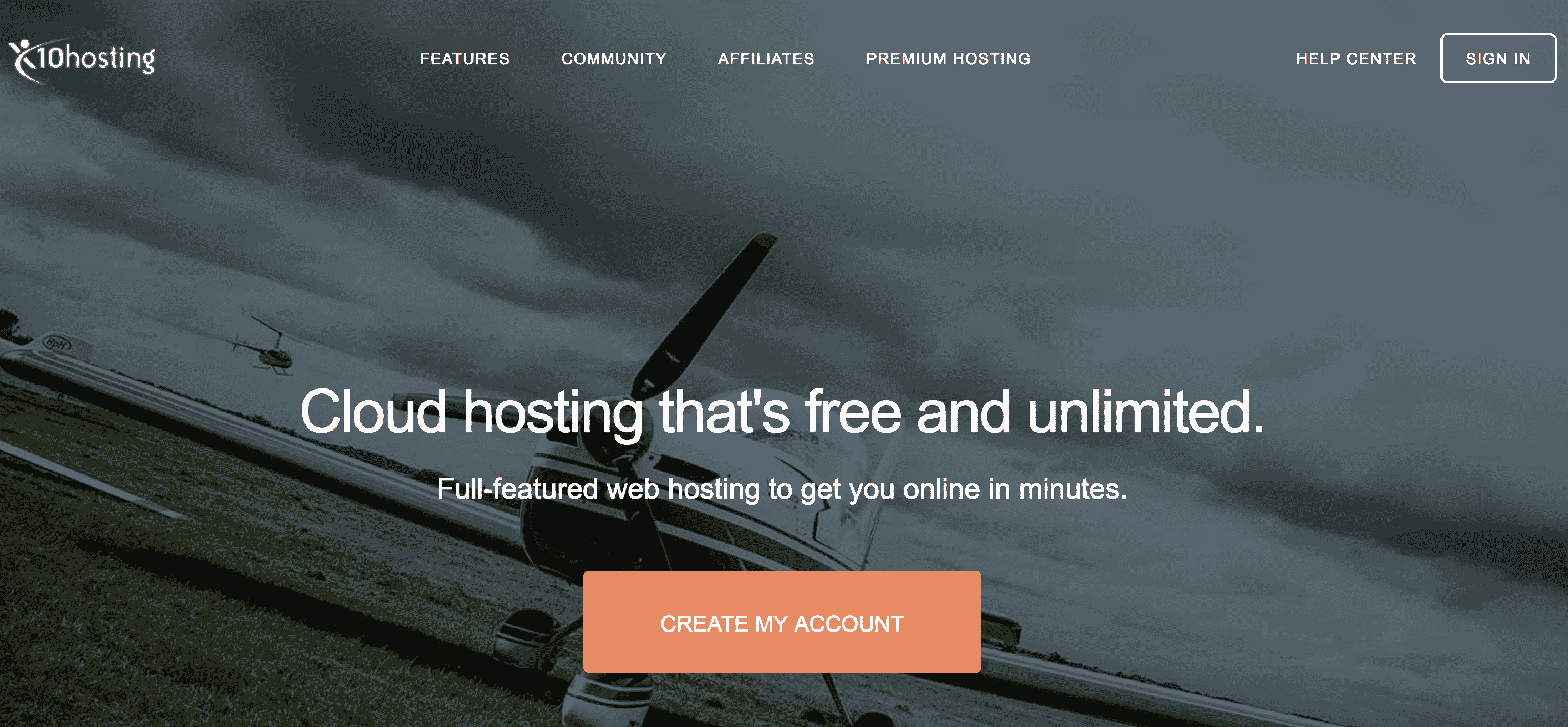 With x10, you have complete control of your website, with 100% cloud-based SSD servers, your content is safe and secure.
Users also benefit from PHP, MySQL and cPanel functions to give them in-depth control from the position of webmaster. One key benefit of x10 Hosting is its position as a mainstay in the world of domains – after ten years of operation, it's still going strong, meaning that your site will be here to stay, and safe from the threat of digital sharecropping.
If anything should go wrong, x10's support team is in-house and local, and with over 300 one-click installs, you're bound to find the tools that are right for you.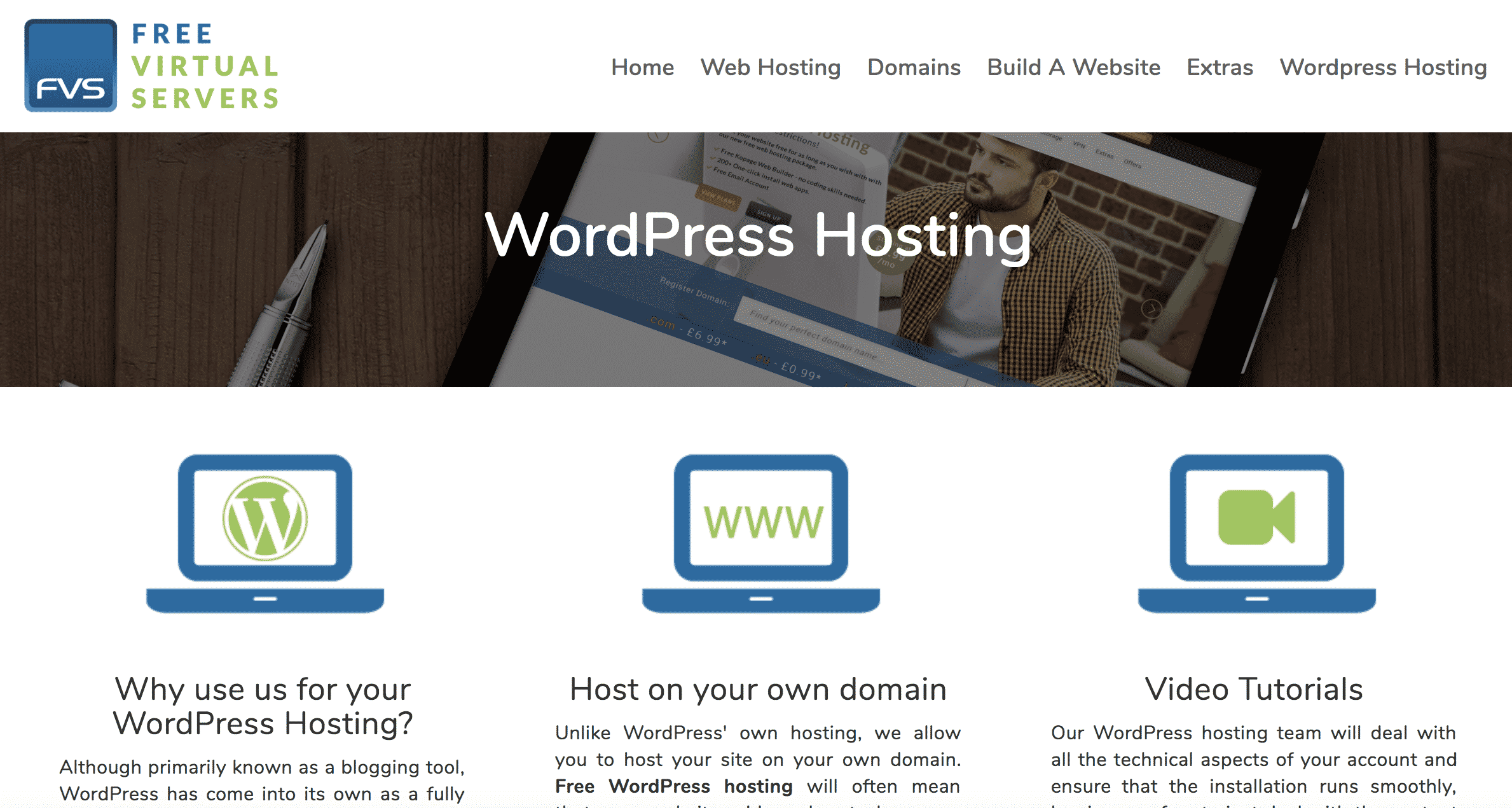 The perfect platform for users aiming to get started in running their own website. Free Virtual Servers offers a range of video tutorials that can guide even the most technophobic of webmasters to success.
with 99.9% guaranteed uptime, around the clock support, and UK-based servers, you can't go wrong for trouble-free hosting.
Free Virtual Servers have an impressive list of collaborators too, such as Intel, Cisco, and CentOS. Users even have access to CPanel granted as standard.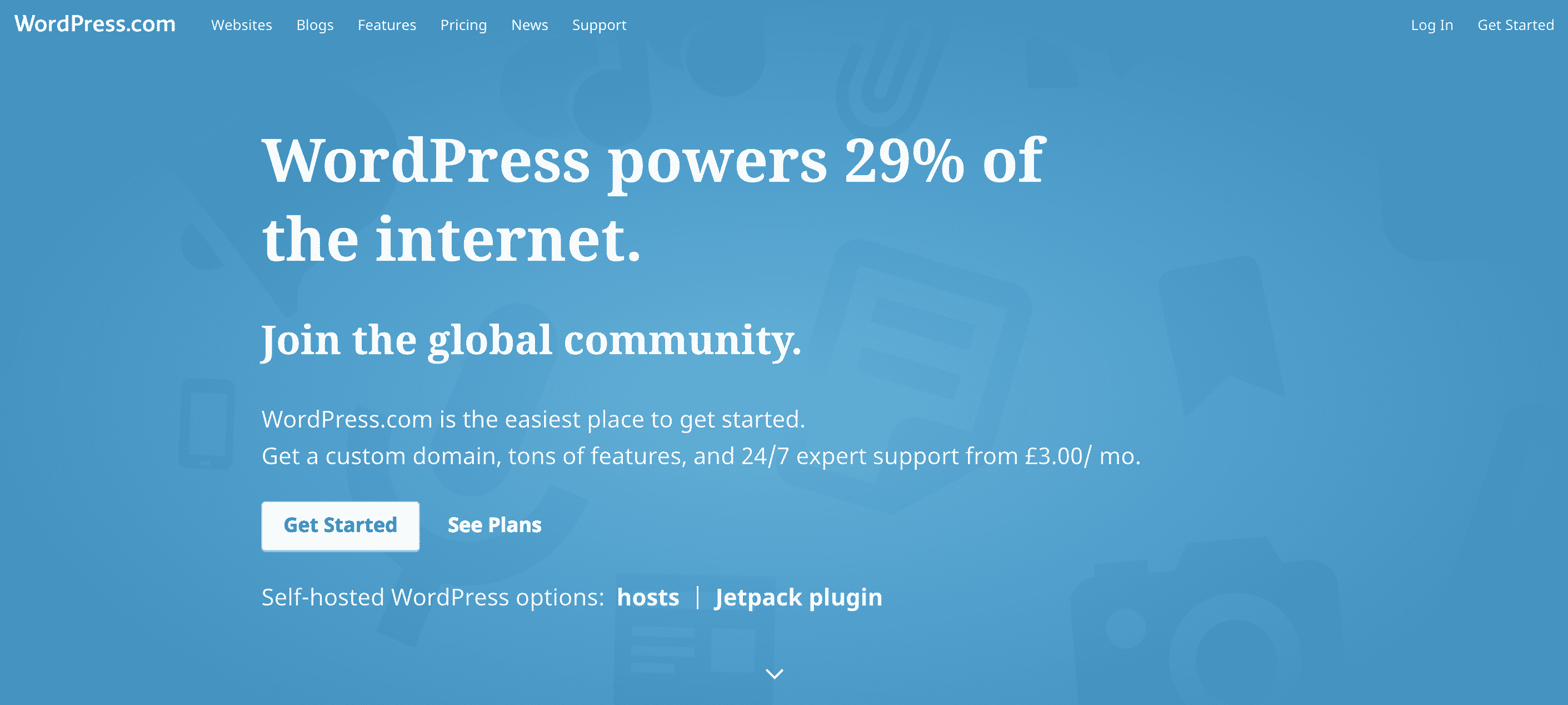 Of course, sometimes it pays to cut out the middleman, and WordPress' offerings aren't something to turn your nose up to.
Creating a domain with WordPress is extremely easy, and the site offers plenty of templates to give your pages the perfect look no matter what its needs are. You get a free, if a little clunky .wordpress URL and an impressive 3gb of storage space online.
WordPress powers 27% of the entire internet, which is an unrivalled figure, and the options that you're presented with when you're ready to upgrade your service is second-to-none too.
Having your site hosted for free by WordPress is a great choice for anyone who plans to grow into premium hosting before long.
If you're looking to have a self-hosted WordPress website, there're plenty of cheap hosting options available at your disposal. In addition, you can get a free WordPress installation service if you sign up with one of our partner web hosting providers.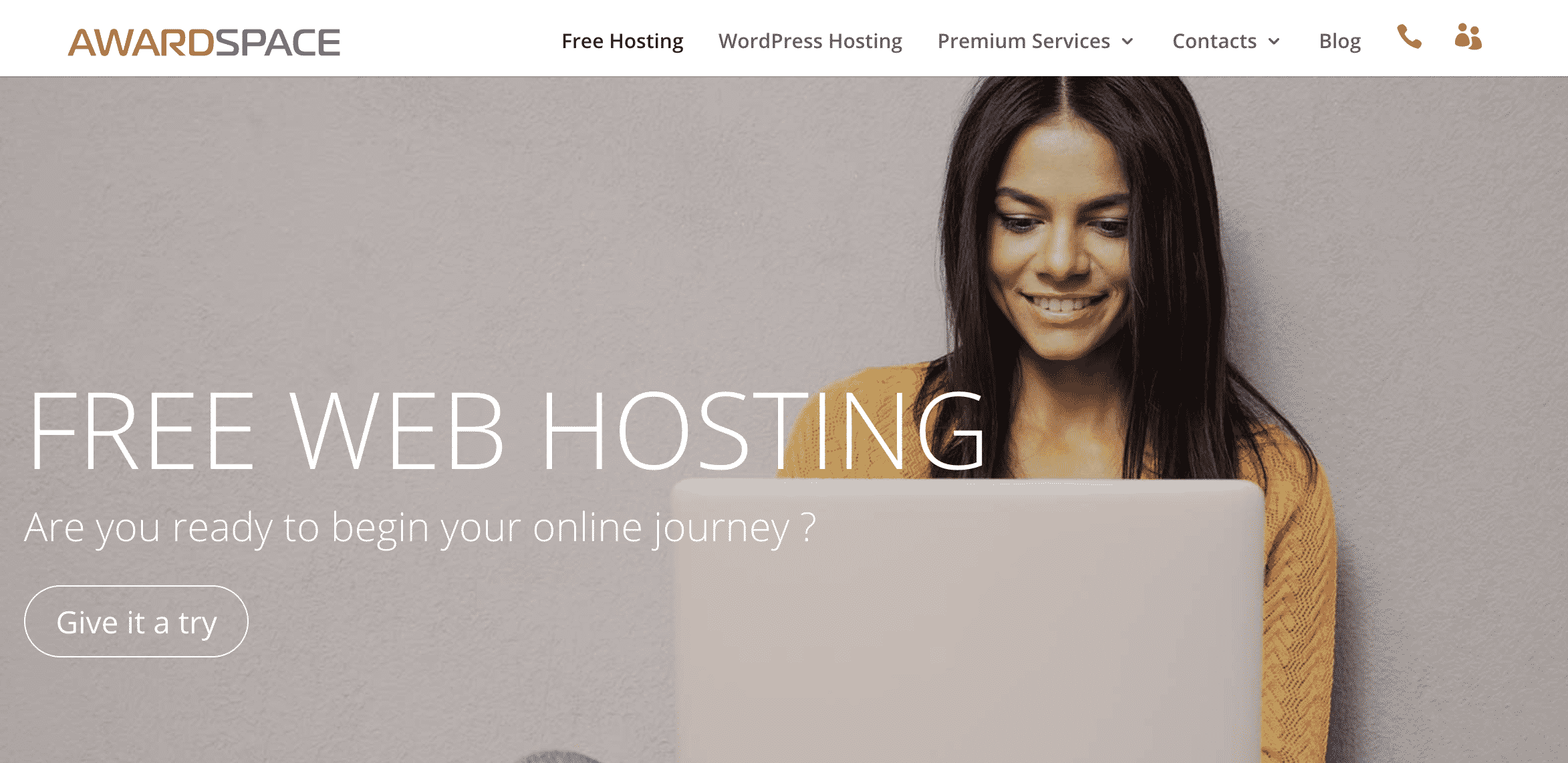 If you don't like unrequited and spammy adverts clogging up your website's pages, then Award Space is the host for you. They pledge 100% ad-free hosting, with up to three subdomains and even an email address linked to your URL.
Award Space carries a web-based file manager, meaning you can upload and download files for your website as well as the ability to edit HTML, CSS and PHP among other programming files.
Included as standard is a 99.9% uptime guarantee and around the clock support. The cherry on top is the 5gb monthly traffic quota, a figure that should keep any small website owner comfortably covered.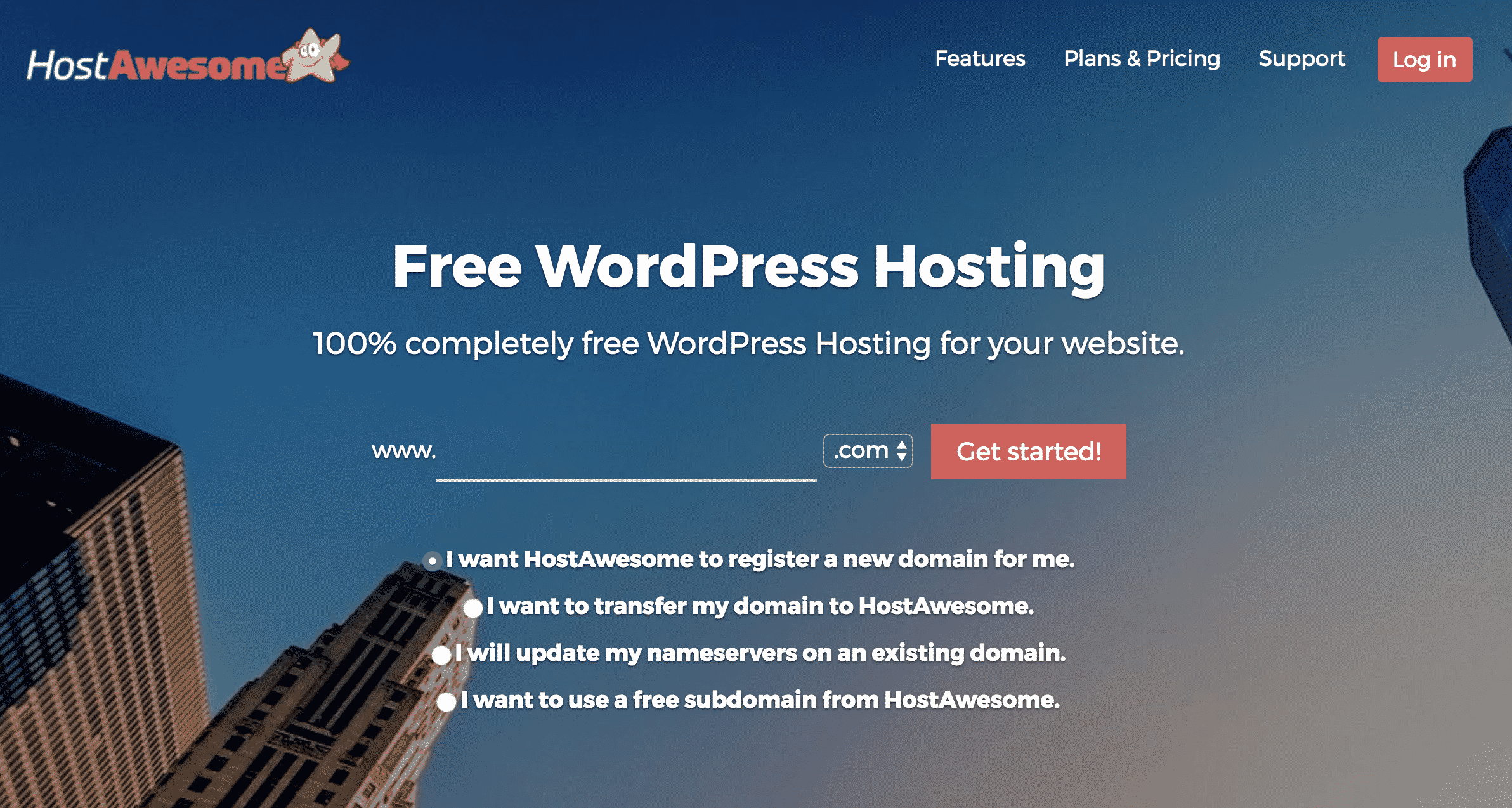 The unique selling point of Host Awesome is that their domains are 'fully scalable' in a way that lets your website's capacities grow in tandem with its popularity and size. You're also able to migrate from your existing host for free, too.
SSL is integrated with a Host Awesome site – an extremely valuable asset when it comes to online security for free sites. Standard features include 99.9% uptime guarantees and daily backups.
Host Awesome makes for a great choice for any webmaster looking to build themselves what will become a prosperous website.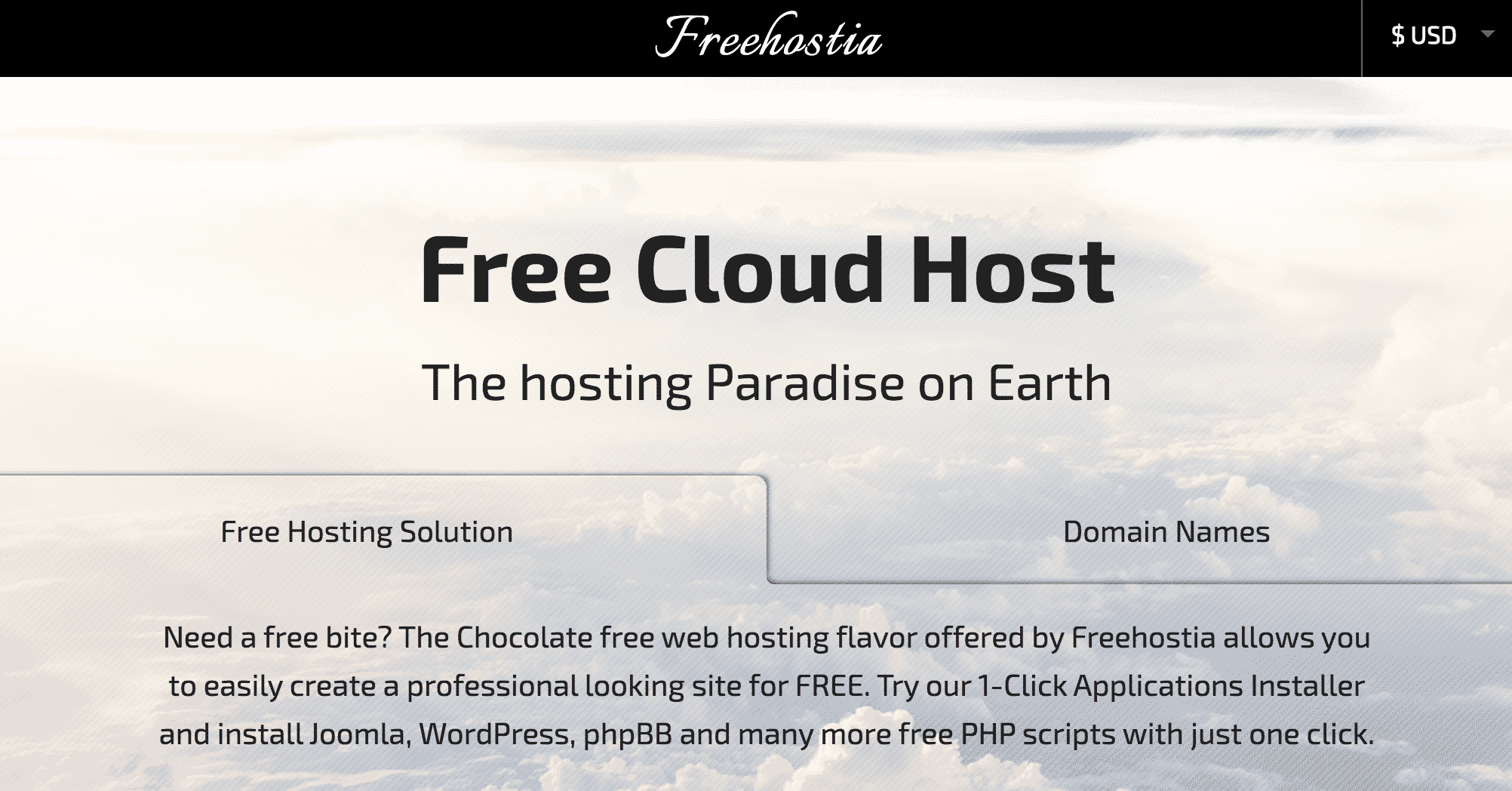 Freehostia impressively supports up to five domains as well as three linked email addresses – a great feature set for a microbusiness.
With their free 'chocolate' hosting plan, you get a mammoth 6gb traffic quota with a one-click script installer as standard.
Users also benefit from a handy 250mb disk space and 99.9% server uptime.
The name says it all, really. Free hosting, no advertisements, and no-nonsense.
Your free hosting site will contain zero pop-ups and zero ad banners 'forever', which is useful considering the number of nuisance adverts that some free hosts use to make money from your traffic.
Free Hosting carries an emphasis on security, with password protected directories and folders, with web statistics, a POP email, file manager, PHP 5 and custom error pages all included as standard.
Free Hosting users also get to enjoy an impressive range of HTML templates to help bring a personal touch to their pages.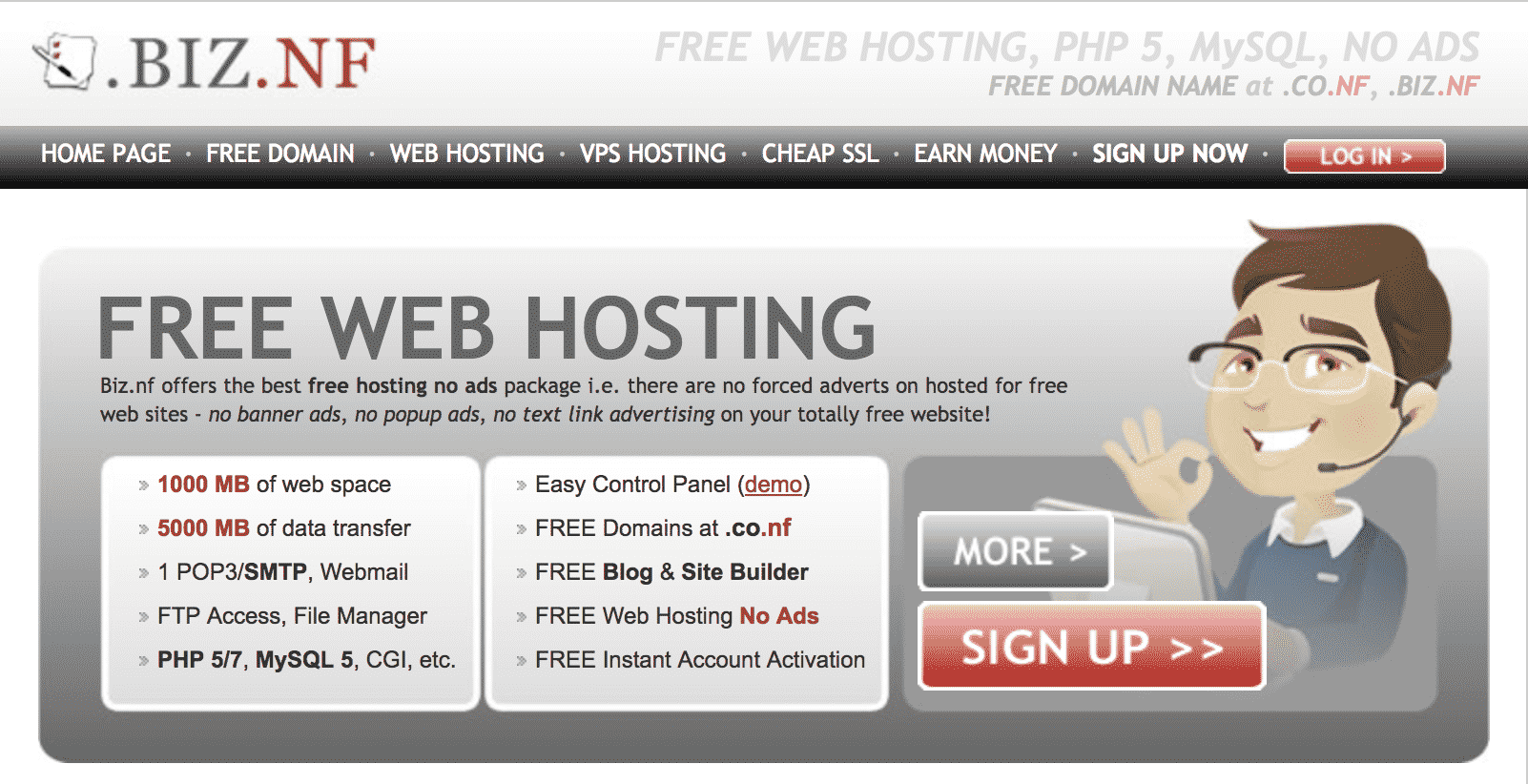 Biz is a web host with a difference, and certainly benefits those of us who are environmentally conscious. The hosts are a 100% green service provider, meaning that all their operations are powered by renewable energy sources. Refreshing.
Here you also have the chance to make yourself a profit while using the platform. With Biz's 'Hosting Affiliate' program, you can earn money for referring affiliates to subscribe to their services – which could ultimately enable you to upgrade your site to a premium plan at no extra cost.
Aside from Biz's unique quirks are the expected features for all good hosts – users can expect 24/7 support, no adverts, free domain names, webmail, 100mb of disk space, and 5gb of traffic. Not bad for a free and green service.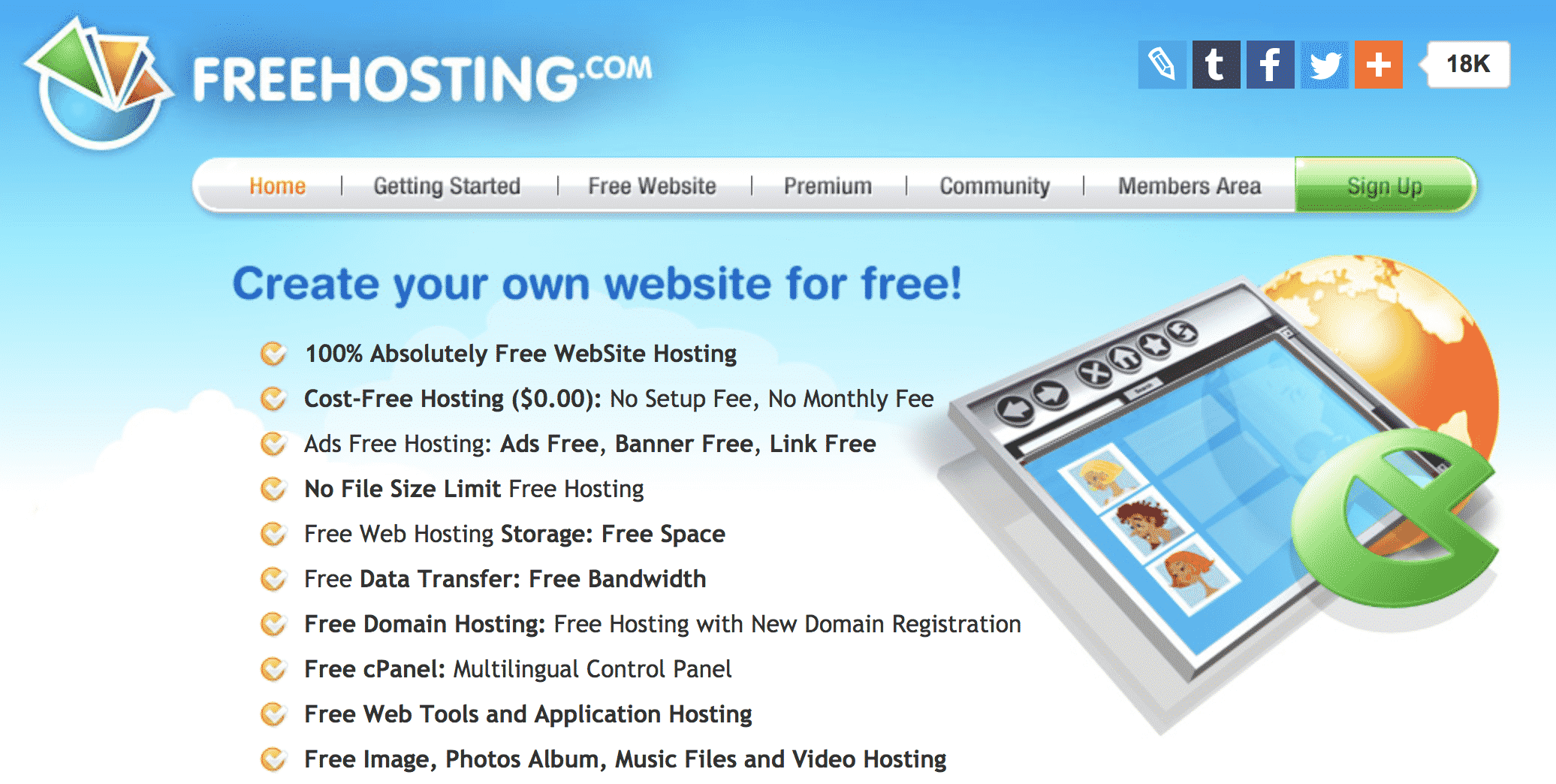 If you want a host with limitless quotas on upload sizes or traffic, then Free Hosting is for you.
Here, users can benefit from a multi-lingual control panel, ad-free domains, free bandwidth, email hosting, forums, free storage, and tools and application hosting.
Free Hosting boasts that they have the widest range of free tools to support your site of any budget platform, and with 24/7 support and backup functionality, you'll be hard pushed to find a better offer online.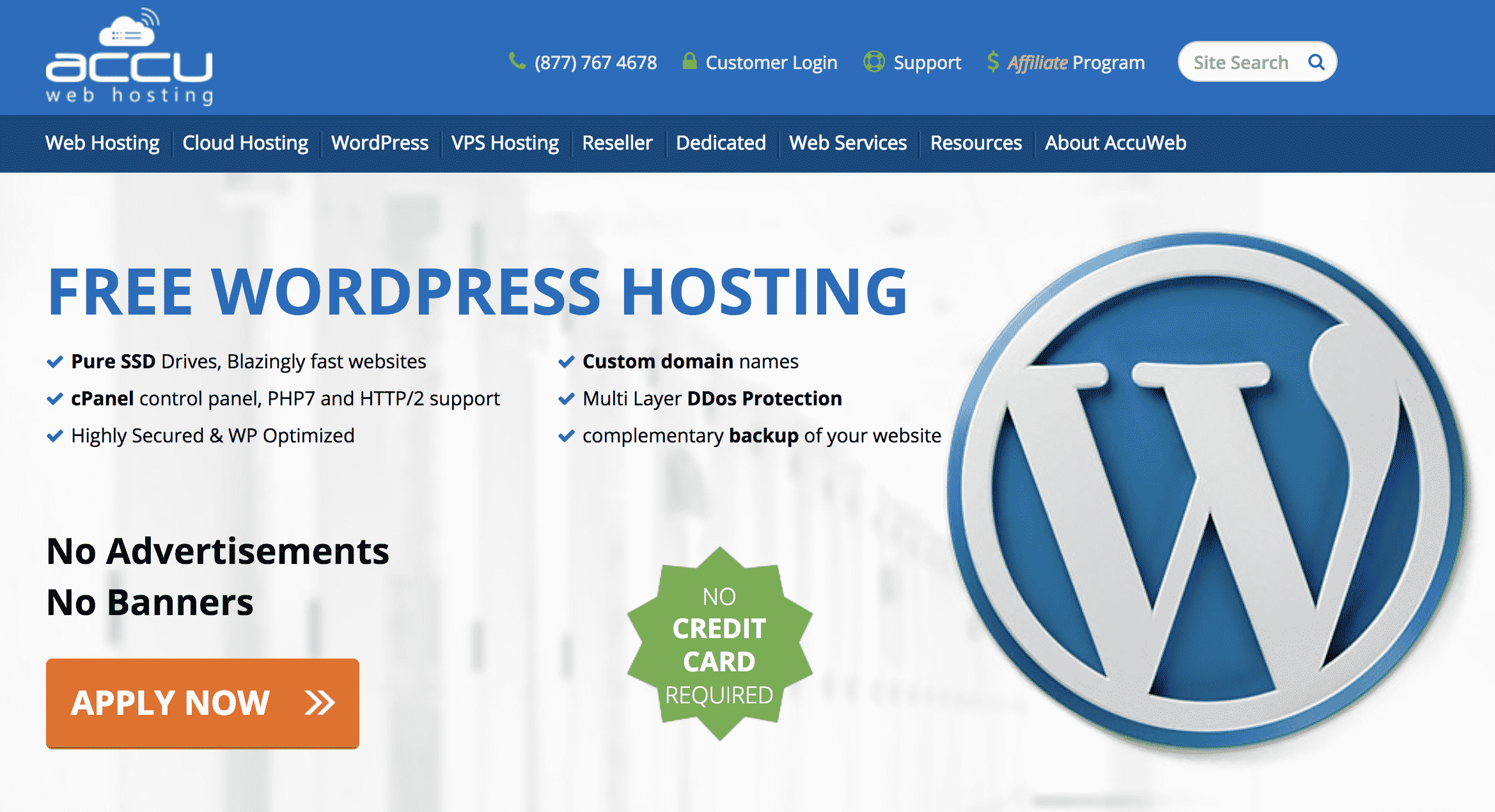 Accu's free WordPress hosting solution is chock-full of impressively sized services and features, from their gargantuan 30gb of bandwidth to the 10 MySQL databases that can be registered, theirs is definitely a plan that can benefit all of the more ambitious web hosts among us.
You're also able to register up to 25 email addresses – a perfect size for a small or blossoming business. And if you're a little bit new to the process then Accu Web Hosting has you covered, too – with plenty of video tutorials to get you started there should be no hiccups on your path to World Wide Web dominance.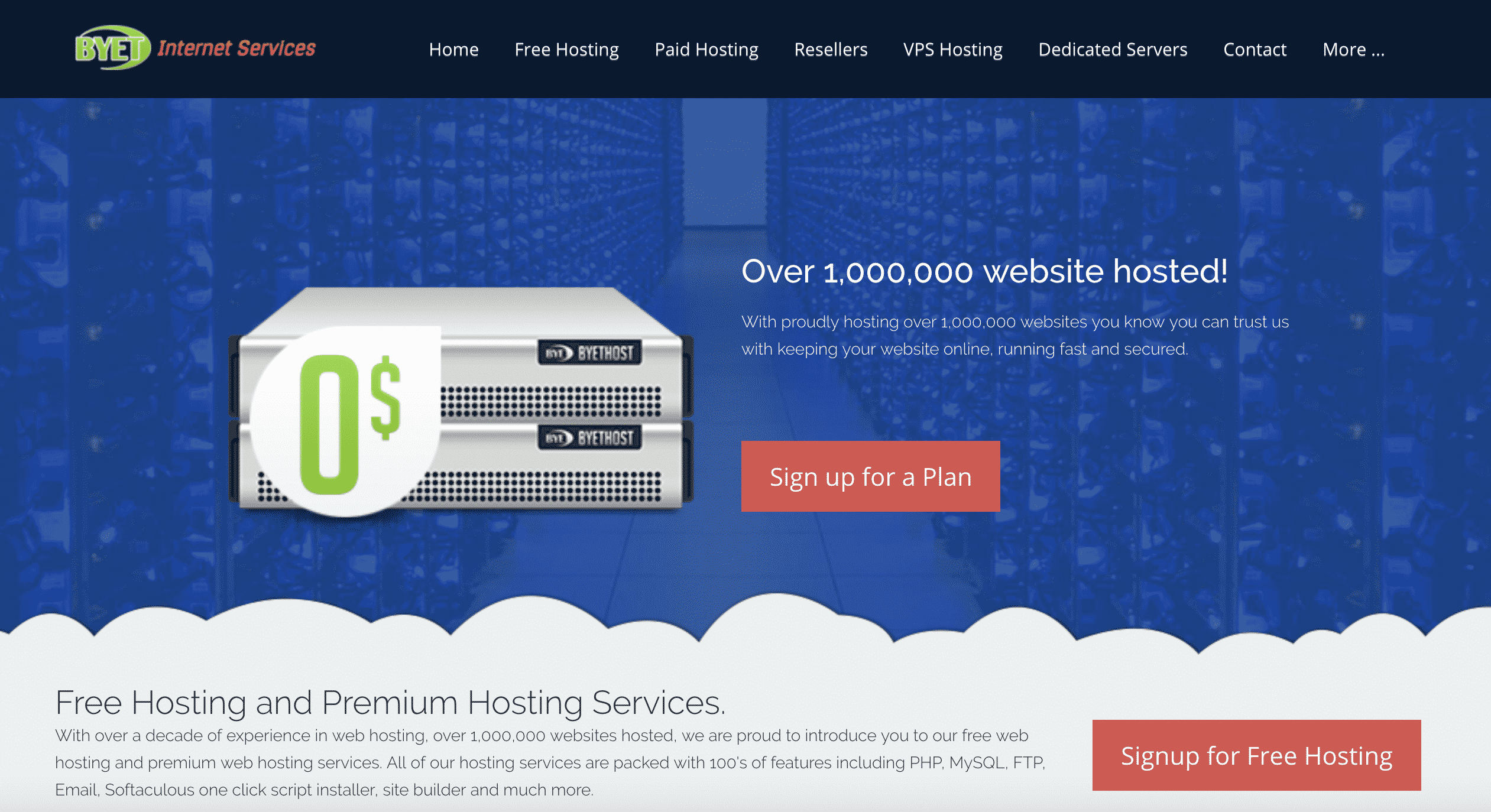 Byet believes they're the fastest free web hosts in the world, which is an impressive claim that can be backed up by their sizable 1gb disk space.
You can give yourself a unique grasp of control thanks to Byet's bespoke 'VistaPanel', and all free domains come ad-free and SSL secure.
Subscribers get free tech support and access to community forums, as well as benefitting from Byet's huge 24 core CPU Xeon web servers – making a speedy connection standard practice.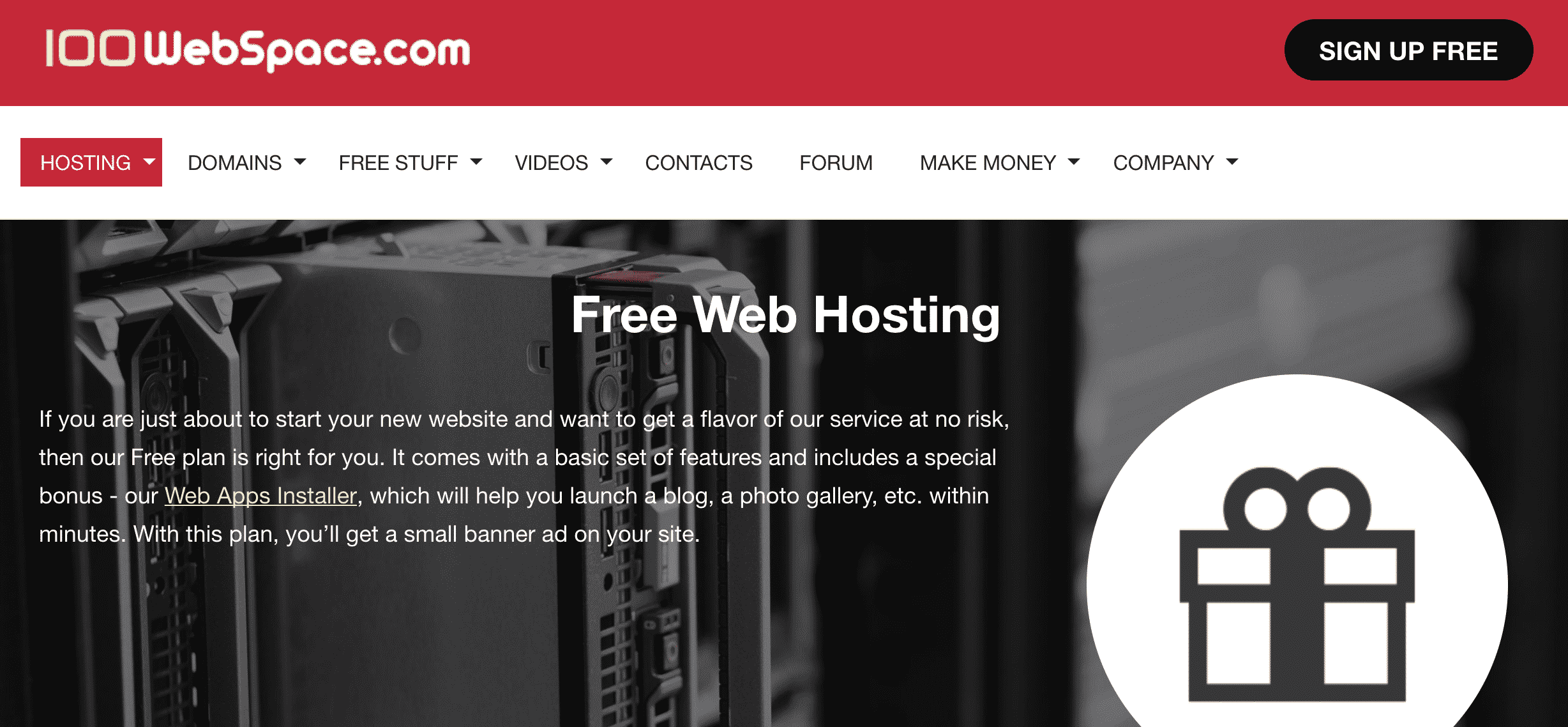 Support has never been easier than with 100 WebSpace – not only do the hosts offer 24/7 help, but a one-hour emailing ticket service that ensures seamless troubleshooting. And with the added comfort of video tutorials, it's likely that you won't even need to rely on having to contact the experts for help.
100 WebSpace's features are solid – with 100mb of disk space and 3gb of monthly traffic you're well covered for starting up a website. The standard one-click applications installer and three email accounts also help you gain a foothold while starting out.
If you're new to the world of webmastery and want a host that's always on-hand to care for its customers, then you've found the perfect match in 100 WebSpace.