Introduction to copywriting
The creation and distribution of content for the purpose of increasing brand awareness and ultimately to drive people to make a specific action, requires a particularly polished skill set. At first glance, it appears rather straightforward. Conceive a topic or concept, write about it, share it, job done. If only it were that simple. Over the past 20 years, copywriting has transformed into a multifaceted profession, encompassing much more than merely knowing how to write.
Today, a successful copywriter will know how to organise their words to get people to feel, think or respond. In rolling with the times, the rise of online digital marketing, including social media campaigns, has meant that a copywriter must also have the ability to convey a specific message (which may have taken days, weeks or years to conceive by business owners) into a 280 character Tweet, for instance.
Every story has copious angles, the job of a copywriter is to find the one that resonates. This is a skill in itself and can be taught by successfully training a curious analytical mind. A well-trained copywriter will find connections. With ample content already circulating the web, a competent copywriter will creatively string together what they find to create something new.
Why take a copywriting course?
There is a range of diverse copywriting courses of different durations, costs, locations and recognition, that offer writers the chance to gain accredited qualifications that will, in turn, enhance their career prospects.
Courses vary and accommodate a variety of levels of experience. A useful tip before thinking about enrolling is to consider your current level of copywriting. If you're a beginner, do not sign up for a copywriting course that teaches advanced direct mail writing techniques. The same notion is applied to experienced copywriters- in that they should not consider a beginners course.
Taught course versus self-taught copywriting
It is possible to teach yourself the skills needed to become a successful copywriter. There are a number of effective copywriting books available on the market. For example, Confessions of an Advertising Man – David Ogilvy, is required reading in many copywriting courses and its written as if the entire book was an advertising copy. Using online tools and resources in your own time to strengthen your copywriting skills is certainly an effective way to grow. Further, practice makes perfect. By creating content and getting it out there, receiving feedback and criticism could shape your writing style and abilities.
There are a few downsides to self-taught copywriting. A primary reason to enrol on a course is to gain the qualification or certificate of completion to show to prospective employers and clients. Besides, many courses are intensely packed over a duration of a day or two. You will be introduced to all the relevant information, skills and tools you will need to excel at writing effective copy.
Online versus face-to-face learning
The list of copywriting courses available to you is exhaustive. One way to narrow down your options is to consider whether you want to leave your home to complete the course. Having said that, the first nicety of online courses is having the luxury to stay home. For some people, this may be problematic or unattractive for a number of reasons. There are many locations in which you can find somewhere to go to complete the course. The benefits in doing so range from, meeting other writers, engaging in topical discussions, and feeling more motivated by your peers.
So, your options are laid out. If you are swaying towards signing up to a copywriting course, you won't have trouble finding one. Here are just 10 of the best copywriting courses.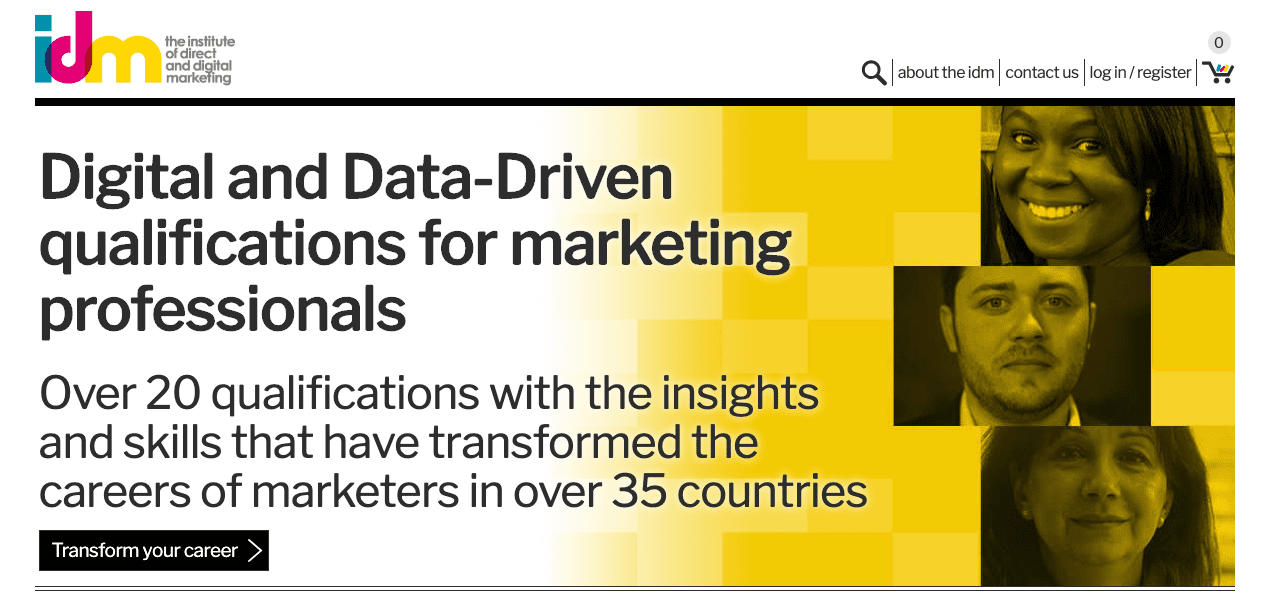 Where: Central London and Edinburgh
Duration: 2 days. Face to face sessions
The IDM Award in Digital Copywriting offers an in-depth analysis into the psychology of copywriting for the web. It teaches writers how to use their emotional drivers to motivate people and master the art of persuasion across all channels.
Recognised as one of the premier marketing institutes in the UK, IDM has access to the most experienced tutors in the industry. Latest trends, methods and tools are all integrated into this course.
The prestigious IDM stamp of approval makes for an attractive writer to an employee or client. With 7 CPD (Continuing Professional Development) hours, students on the course can rest assured in the knowledge that the course has stellar content and structure from which they will take away invaluable experience- and a certificate to show it.
Cost: £1125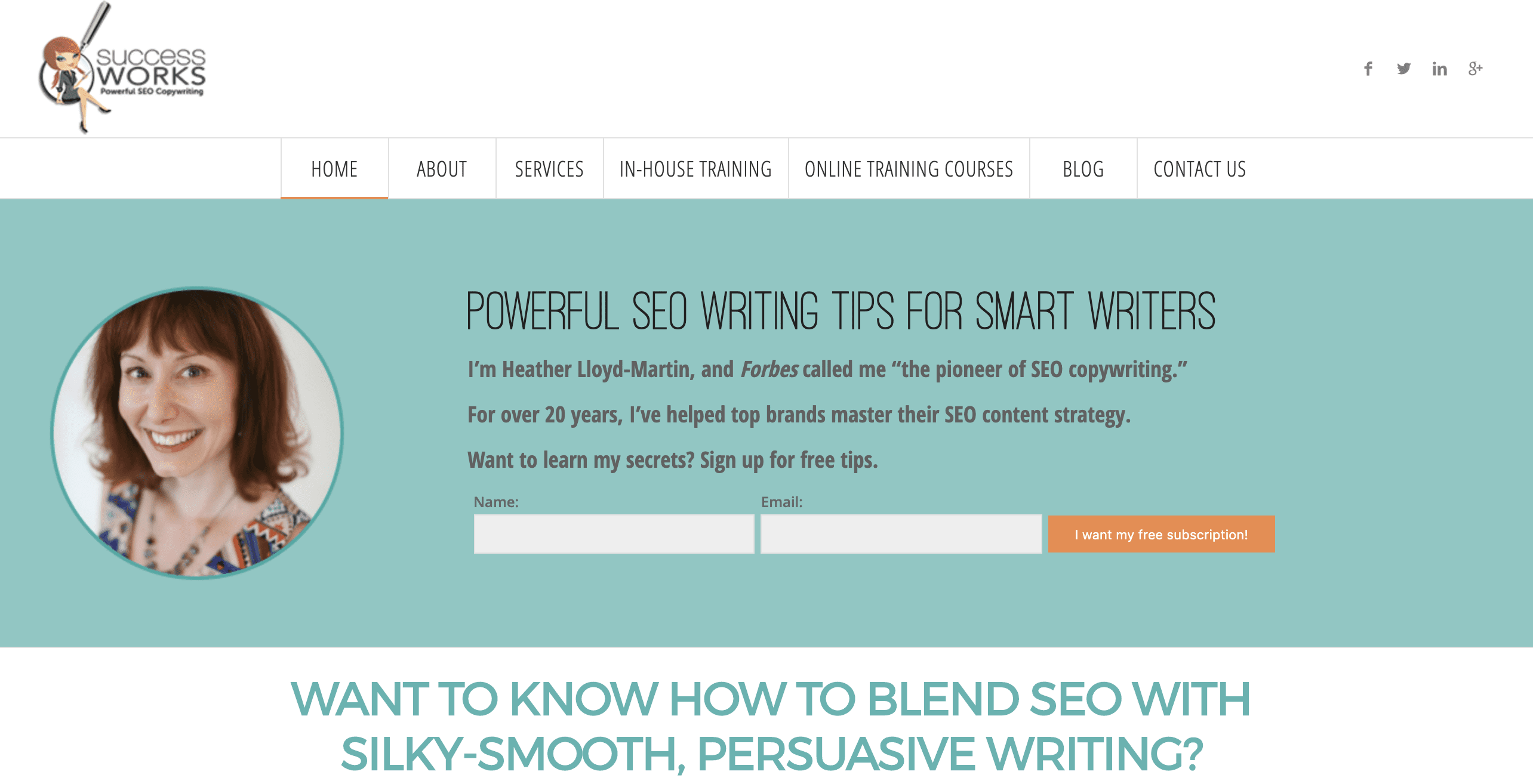 Where: Online
Duration: 3 months
This SEO Copywriting certificate program draws its focus on B2B and digital content. They hold the impressive title of being the first agency to have ever specialised in SEO. In 2010 they founded the first SEO Copywriting Certificate Program. If anyone knows the fundamental components of SEO, its Success Works.
The course aims to strengthen the skills for writing for the web and social media, and places emphasis on keyword research and persuasive copy. It is run by Heather Lloyd Martin- celebrated by Forbes as 'the pioneer of SEO Copywriting'.
Anyone looking to break into the digital marketing arena, where SEO plays a pivotal role in shaping strategy, this course will give you everything you need to do so. You'll develop the skills to optimise pages correctly, write high-positioning copy and maximise search visibility.
Cost: $995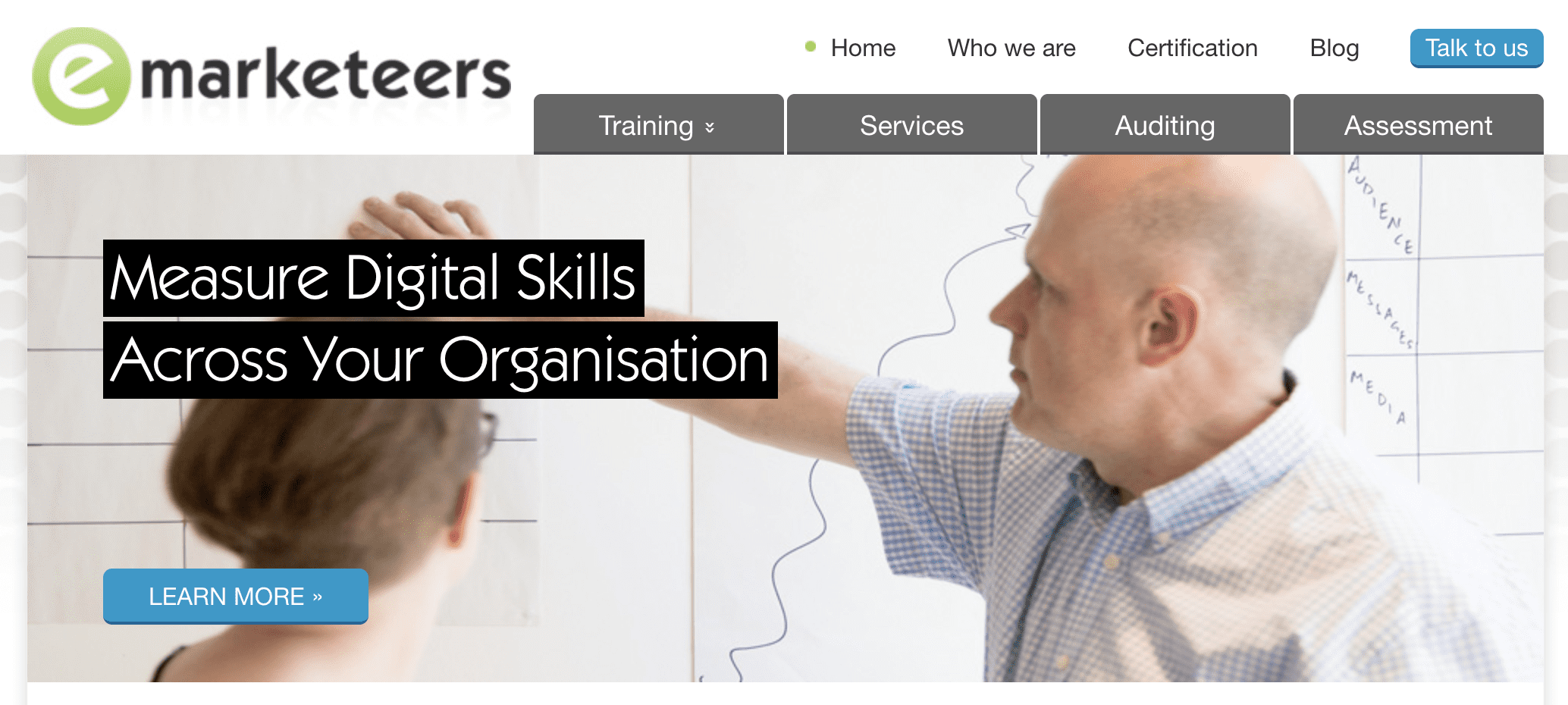 Where: London
Duration: 1-day
There are a few tailored choices with slight variations. eMarketeers 'Writing for the Web' course is for those who want to progress in the digital world of copywriting.
This intense one-dayer aims to simplify online technological tools which are used to write for the web. Those unfamiliar with the jargon will be relieved to know that simplification is at the heart of this course.
It teaches the researched best-practice that has been proven to enhance web page and email marketing performance by over 100%. You'll come away with a 'Certificate in Copywriting', although it's not a recognised awarding body, it is still impressive to employers.
Cost: £499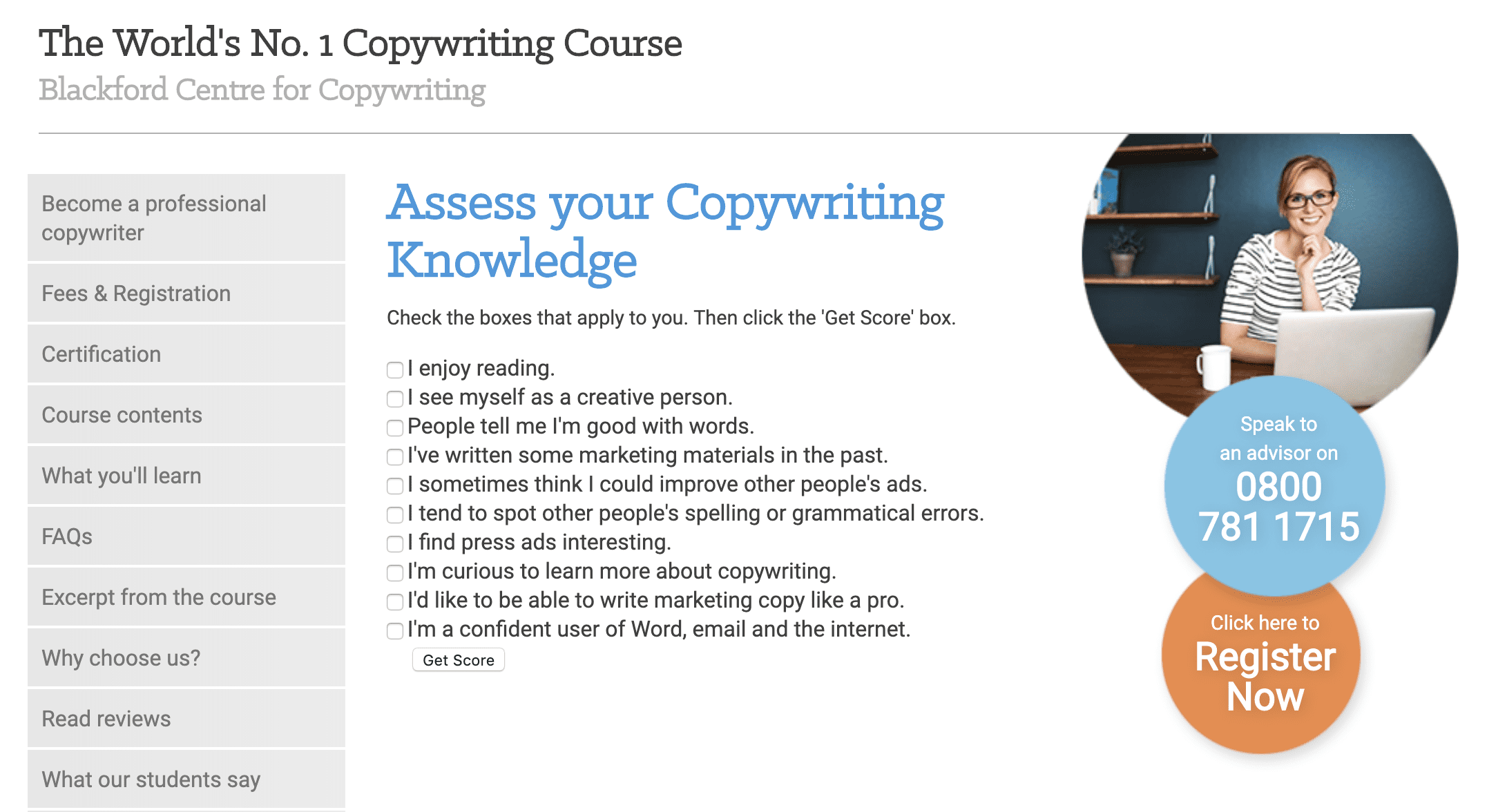 Where: Online
Duration: No set limit- flexible
All tutors on this course are professional copywriters, The Blackford Centre focus on practicality instead of theory, makes it a good choice if you want tips on what's really effective, and what's not.
You'll get constant email support from an individual tutor, meaning any questions or queries you have will be answered by them in a personalised way. The course comprises 11 different interactive assignments which cover different aspects of copywriting.
You'll discover how to run your own freelance business and will be added to The Blackford Centre database of writers with plenty of opportunities to get paid jobs. You'll come away with a National Diploma in Copywriting- which will further enhance your employment opportunities.
Cost: circa £500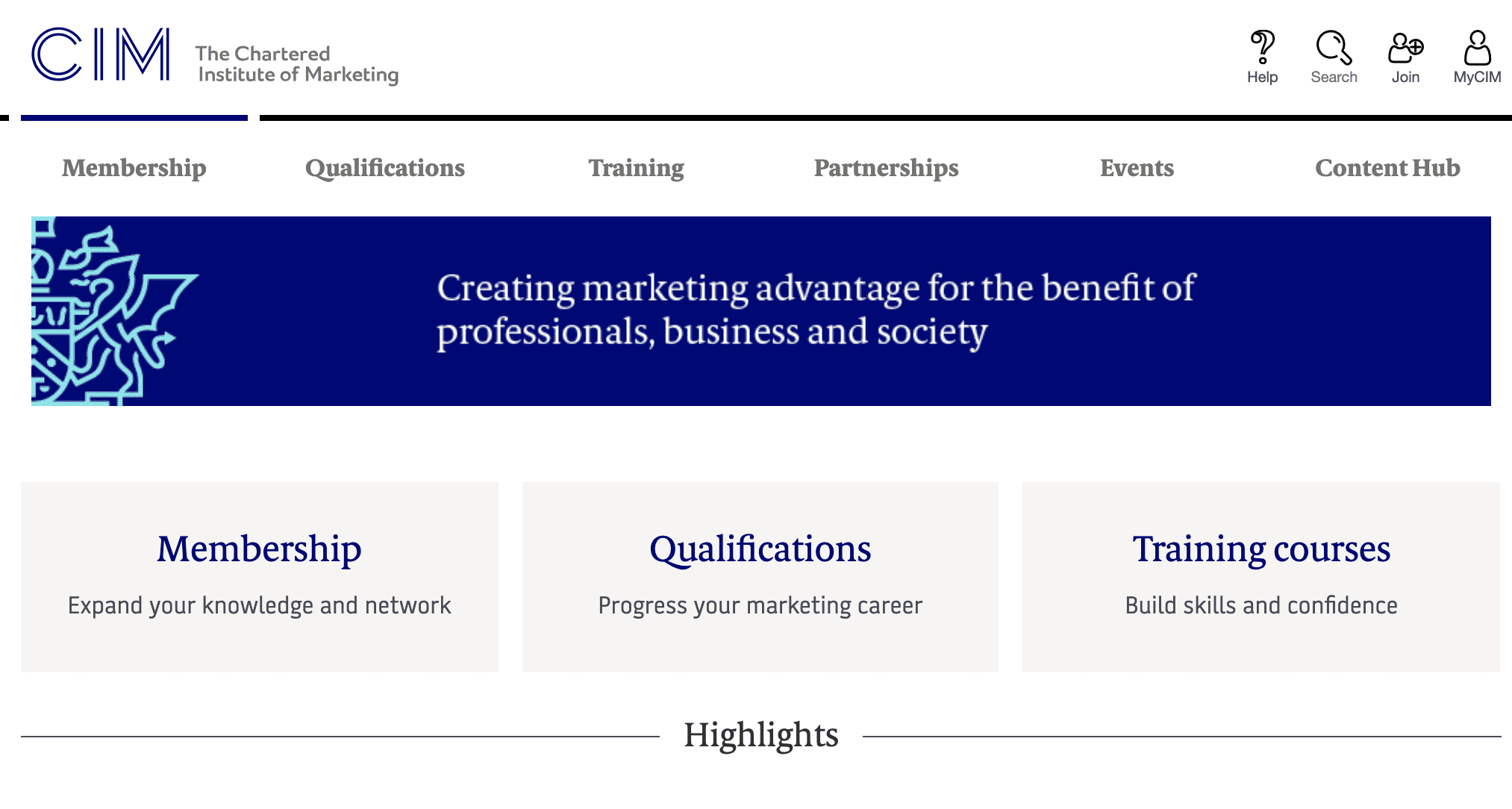 Location: London
Duration: 2 days
As one of the most reputable marketing bodies in the UK, the Copywriting Masterclass at the CIM introduces its students to a wide variety of topics, taught by prestigious tutors delivering to small size classes.
Its focus on advanced copywriting techniques is imperative to today's competitive environment and prepares its students to think about tone, mediums, audiences and copy-stream management.
Coming away with a CIM Certificate in Copywriting gives you a competitive edge when it comes to employment. CIM is well recognised across the marketing industry and your certificate won't go unnoticed.
Cost: £1315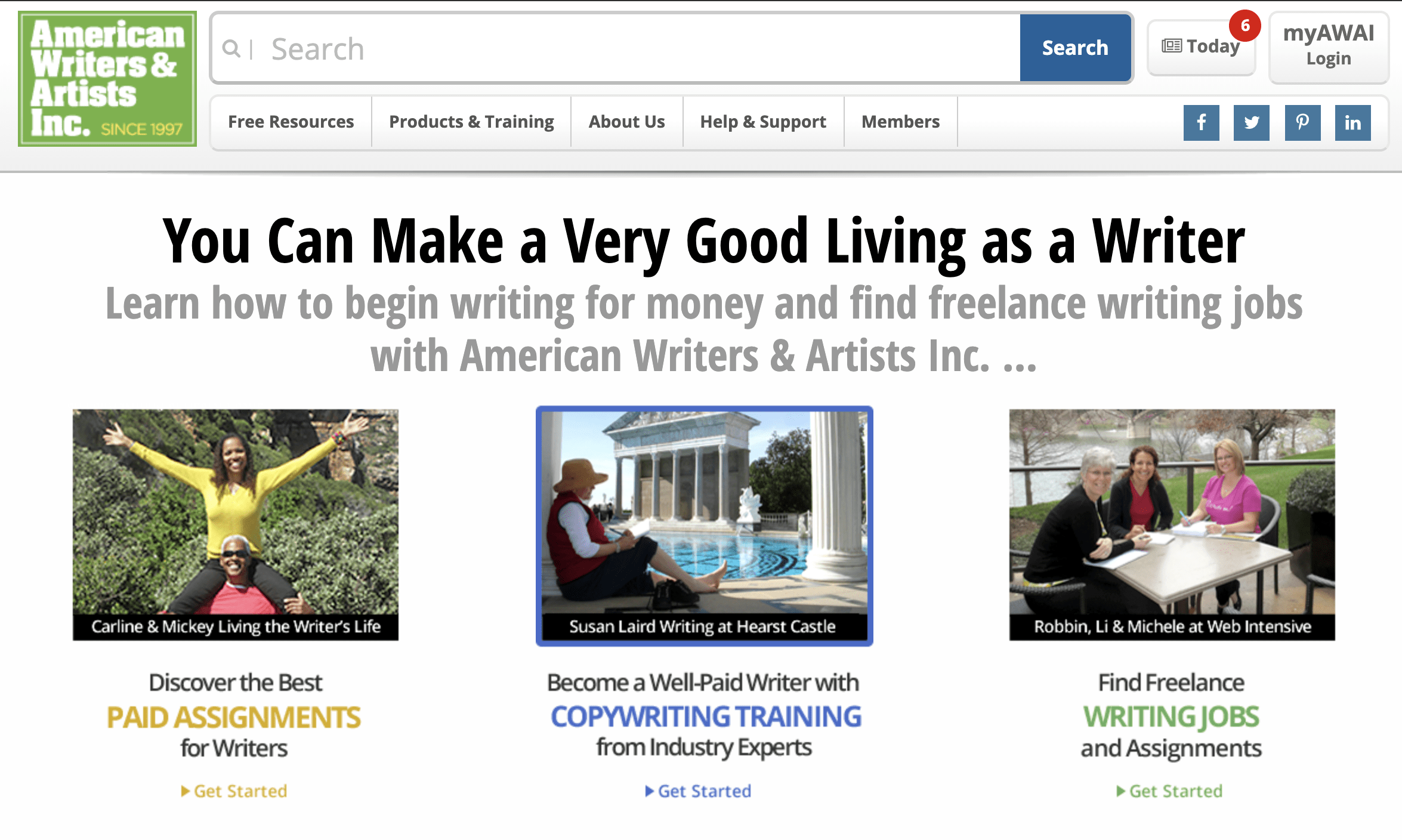 Where: Online
Duration: No limit- flexible
American Writers and Artists Inc's 'Accelerated Program for Six-Figure Copywriting' course is known as the world's most popular of its kind. It was established by one of the most successful copywriters, Mark Ford, and promises you'll walk away with a highly impressive portfolio.
You will be in direct communication with tutors who will guide you through the course at your own pace. Further, you will receive a comprehensive critique from experts on two written assignments, which will help direct you to your full potential.
Although this program is not officially accredited, it offers extensive professional knowledge and is well known by employers. They offer 100% satisfaction guarantee. Try the program for 30 days and if you're not delighted, return the unmarked material and your purchase price will be refunded.
Cost: $495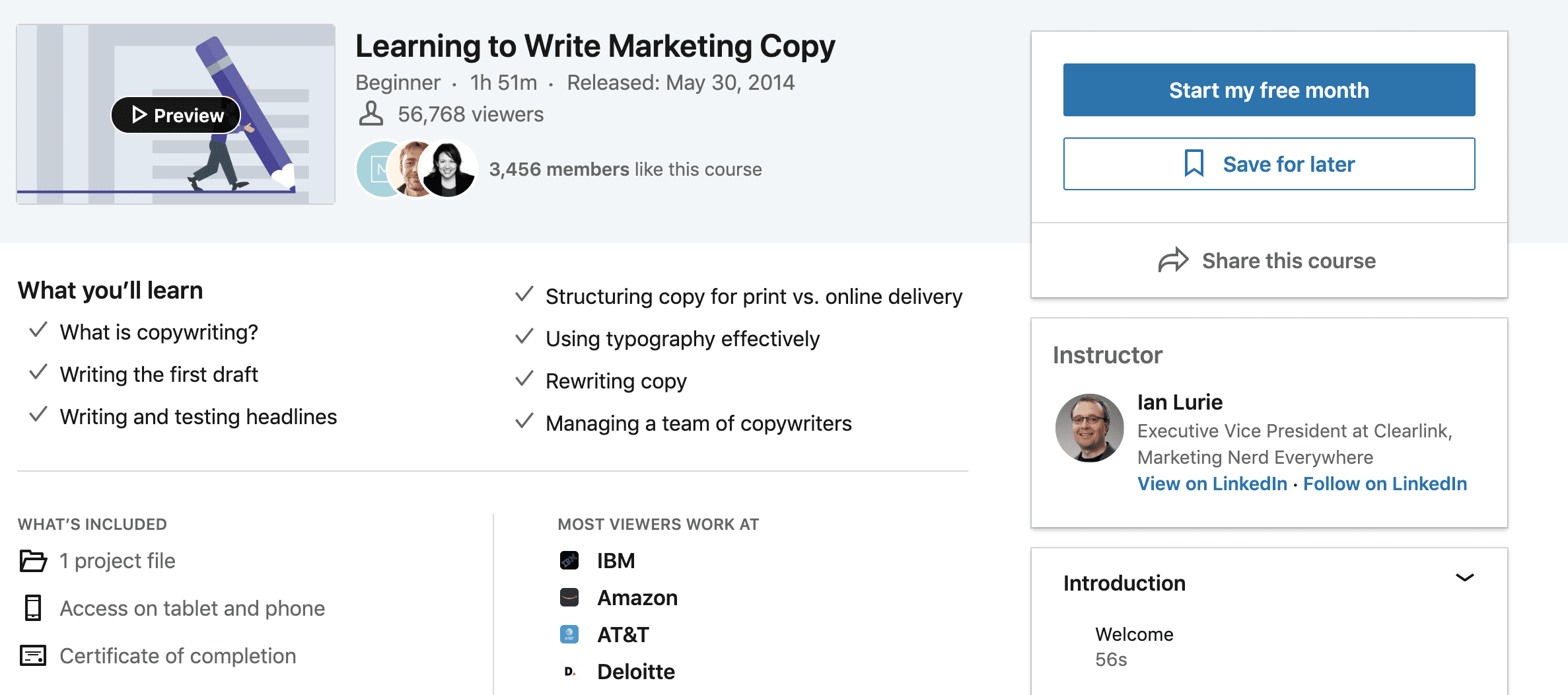 Where: Online
Duration: Approx 2 hours
This one is for the beginners. You will explore the different types of copywriting, and learn the general rules. LinkedIn Training instructor Ian Lurie will guide you through the process of writing copy that conveys your story and sells your product.
The lectures on this program are combined with exercises and quizzes that encourage participation and hands-on experience.
It will walk you through creating the first draft, editing, testing deadlines and rewriting the copy. It incorporates tips on structuring copy for print versus online and how to use typography effectively.
You will engage in assignments and challenges that give you the opportunity to practice the concepts covered in lectures.
Cost: Free for 1 month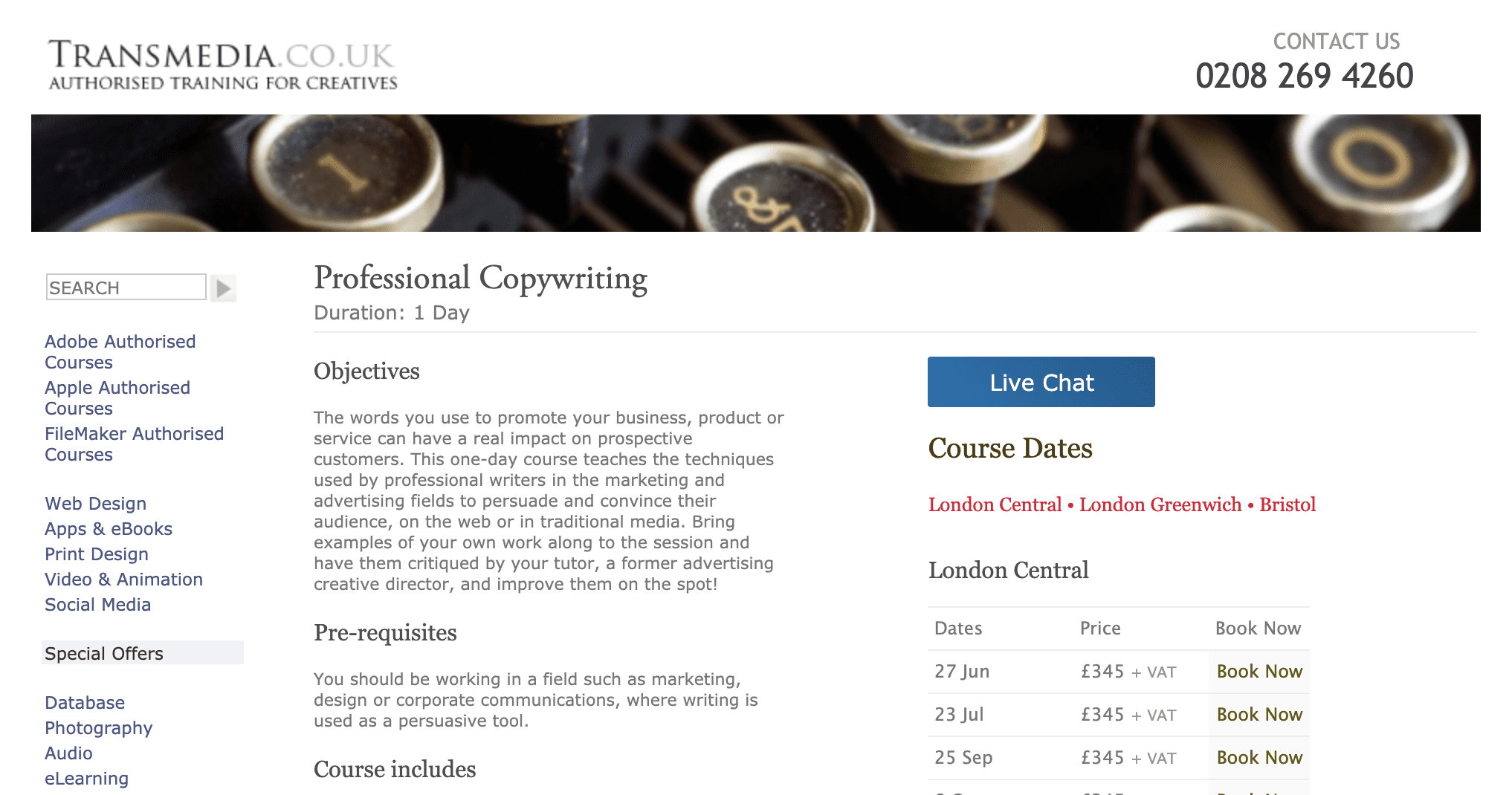 Where: London and Bristol
Duration: 1 day
This Professional Copywriting course is aimed at polishing the skills of established writers in order to effectively enhance their ability to write copy that persuades and sells. You should be working in a field where writing is used as a persuasive tool.
The course strengthens the skills in understanding your audience, writing effective headlines and taglines, connecting words with pictures, writing for different media, and writing with SEO in mind.
You will leave the course with a certificate of attendance to add to your portfolio. By strengthening your existing skills, this course will build the stepping stone on which to enhance your career.
Cost: £296-£345 depending on location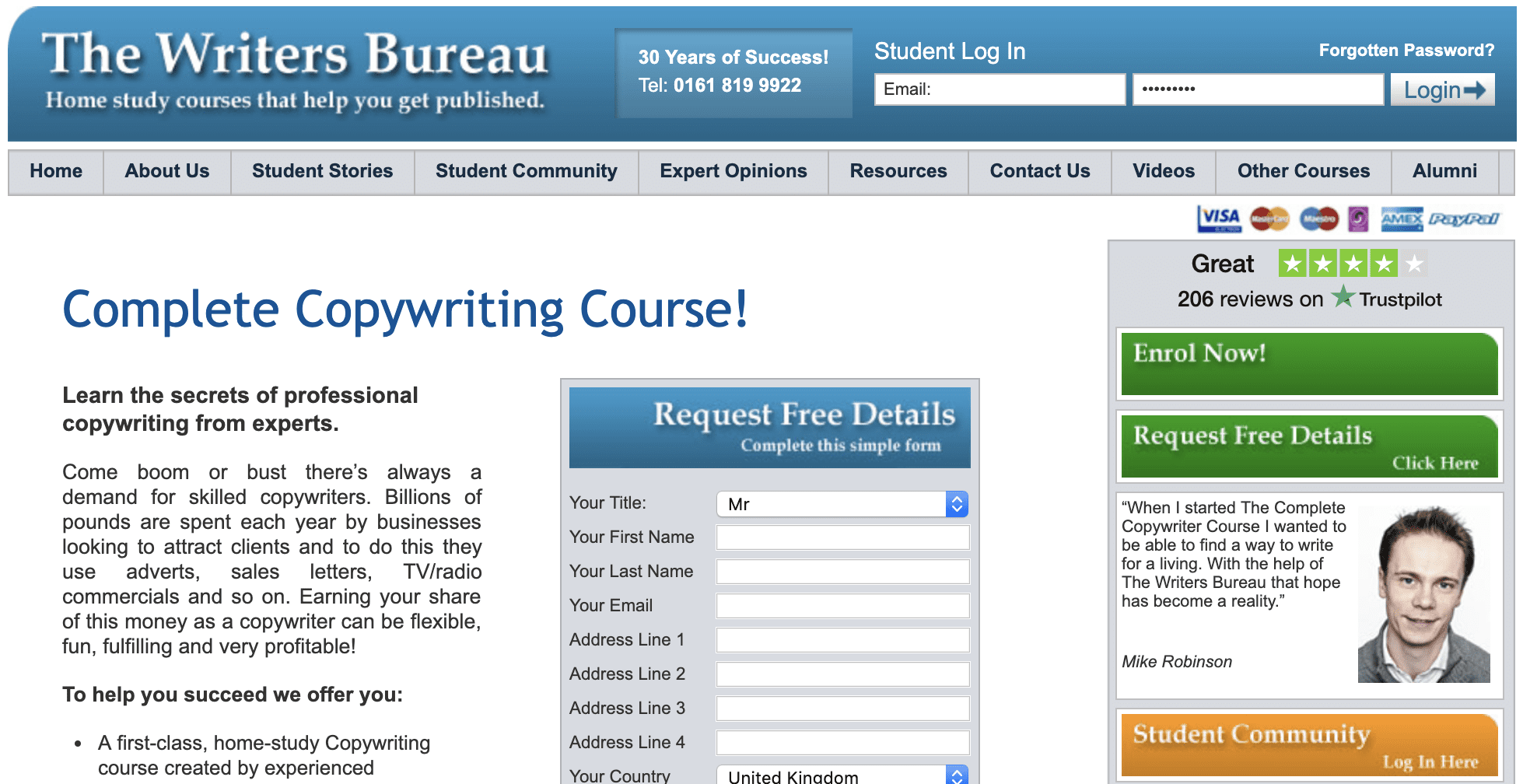 Where: Online
Duration: Flexible- no limit
The Writers Bureau Complete Copywriter Course offers writers at the beginning of their careers everything they need to become a copywriter.
You will be taught by some of the UK's most established copywriters, providing expert, personal tuition. They will guide you along the entire process of planning, writing, editing and how to sell your services. You will work on multiple assignments as part of the course and receive an expert critique.
Its five star 'excellent' review received from Trustpilot should give you the security in knowing that this course has been enthusiastically received by a large number of previous students.
Cost: £324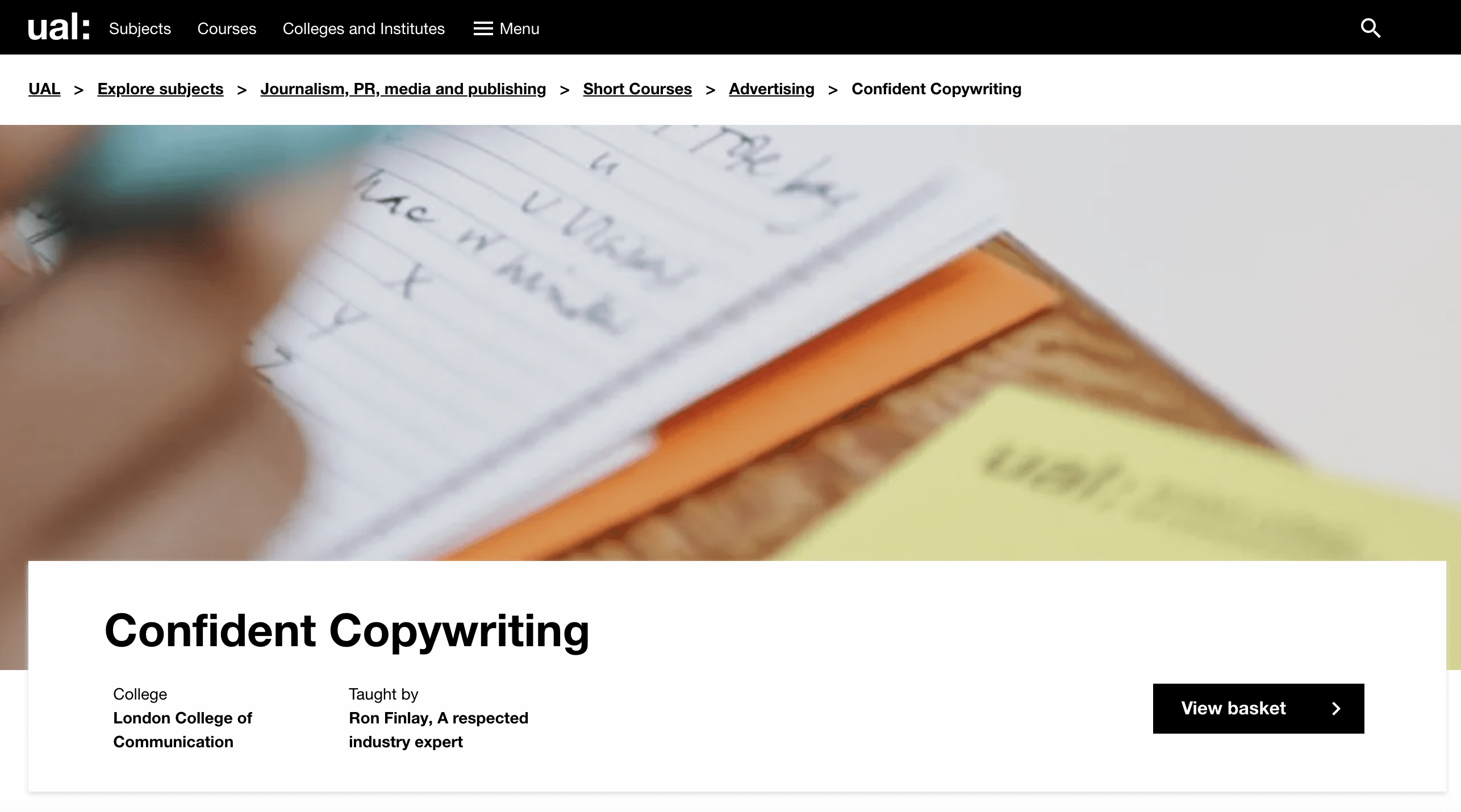 Where: London College of Communication
Duration: 1 day
Confident Copywriting at UAL has been put together for those who have tasked with copywriting, developing a tone of voice, or have started writing for themselves or business. It teaches how to optimise your content for Google searches and expands on the fundamentals of SEO.
Taught by Ron Finlay, with 30+ years experience in communications, a member of the Chartered Institute of Public Relations and the Chartered Institute for Marketing, a Fellow of the Royal Society of Arts, and an accredited trainer for the Media Trust; you can be sure to receive the best possible industry tips, information and guidance.
A Certificate in Confident Copywriting from the esteemed UAL, is grounded in itself to make you more employable. What is more, at the end of this course, you will be able to apply the taught tools and tricks of the writing trade to your own working life.
Cost: £420