You're probably reading this post because you want to create a successful blog, which insinuates that you already know why you should start a blog. But for those who aren't yet sold on the idea yet, let's take a moment to appreciate why individuals, corporations, SMEs and startups should immediately create a blog:
Build your brand awareness
Target potential clients
Boost your website traffic
Position yourself as an industry leader
Generate passive income via affiliate marketing or ads
For most businesses, content is king. If that's so, consider the blog its throne. Consistent blogging can have massive effects on the success of your business. From increasing brand awareness to generating leads, driving traffic and establishing your company as a market leader; increased revenue is sure to follow.
Since 77% of internet users read blogs, 60% of marketers say blog creation is their top inbound marketing priority. Companies with blogs generate 55% more website visits than companies without blogs. They're a significant tool and a cost-effective way to secure a strong position in your market.
Of the several reasons why small business owners don't blog, lacking the know-how is the biggest factor. Successful blogging takes a commitment of time and resources, it can be challenging to develop a loyal and engaged follower base, and difficult to consistently generate new and refreshing blog content.
In a world that seems to feel ever-smaller, building an online presence can help both yourself and your business to reach new audiences, generate interest on a potentially global scale, and foster conversions within new markets.
This post will tackle these challenges and make clear that starting a successful blog can be an easy, inexpensive and powerful way to communicate your message far and wide.
Stage 1: Know your purpose
Your blog should contain the answers, solutions and opinions that a specific group of people are searching for. In other words, you need to be absolutely certain of your key message, purpose and audience.
Figure out what your core message will be aligning the topic of your blog around what you're interested in and how it intersects with helping people. When your message offers nothing to prospective readers, they're unlikely to be interested and stick around.
For example, if you own a company offering fintech services to SMEs; your blog should revolve around the importance of fintech and its solutions to the problems your target audience face. Avoid trying too hard to drive sales; that's what your website and landing pages are for. Your blog should be informative, engaging and helpful for those who want to know more about a particular industry, market, product or service.
If you're starting a personal blog with the ultimate goal of earning passive income, try and choose a niche you have knowledge or passion in.
In order to make your blog message clear to readers, it should be clear to you. If readers can't instantly work out what your blog is all about within seconds, they will probably take off just as quick. Ultimately, this will depend on the content you fill your blog with – which we'll come to in a moment.
However, before you race to shove all your amazing content out the blog door; your message and purpose should be crystal clear.
Learning the purpose of your blog could be a journey of discovery. It's imperative that you ask the right questions, like 'what am I aiming to achieve from this?', 'who will be interested in reading what I have to say?' and 'what do I want my audiences to do with the information I'm supplying?'.
If you want your blog to ultimately lead to on-site conversions for your business, take a moment to consider how this can be done. If for you a conversion involves an online purchase being made, make sure you showcase the advantages of your products and services in a value adding and non-salesy way. If your aim is to build email signups, aim to build trust in your brand with actionable advice and quality insights.
Fundamentally, you need to find a purpose that allows you to communicate something new and engaging to your audiences. The hardest challenge that bloggers face is the fact that there are so many similar minded people looking to gain exposure from exactly the same audience. Everybody needs a unique selling point to survive in such a congested environment, so take the time to explore certain angles that can provide your blog with a fresh perspective.
If, for example, you're intent on building a blog to market a clothing range, instead of competing with the vast landscape of fashion bloggers, focus on creating content about the sustainability of clothing manufacturing, or the durability of the clothing. This could help you to navigate a lesser-trodden path and rank higher on Google than, say, the many vintage fashion blogs that populate cyberspace.
To help you better discover your purpose, it could be worth conducting some market research on social networks and Google to figure out exactly what your target audience is craving in terms of content, and what type of content they're already inundated with.
While it's likely that you already have an idea as to what you would want your blog to be about, it's vital to use research to help to inform the direction you take in terms of the subjects you write about. Some bloggers who simply aim to cover much-discussed topics with their own opinions ultimately find themselves preaching to an empty room where target audiences simply opt to trust the views of more established blogs.
Stage 2: Build your brand
At this point, you should understand your message and know your audiences. It's now time to get in their head and leave an impressionable mark. Standing out and being memorable is largely associated with your brand and the way you portray your blog. There are a few ways to get this right.
1. Find a domain name
Domain names essentially make the internet easy to use for everyone. We wouldn't like to imagine a world without them, and you will need one. Domain names remove the need to enter long strings of IP addresses to visit websites. Rather, they give us access to websites using words that are easy to remember; like google.com or solvid.co.uk.
So, where can you get one from? And how do you choose the best one? Domain registrars are those companies responsible for registering and maintaining domain names.
Namecheap is one of the most popular sources for domain names. It has a quick domain search tool that enables registered users to research the best names. You will also find access to a range of domain management tools, including private registration, whois privacy protection, easy transfers, DNS management and email account.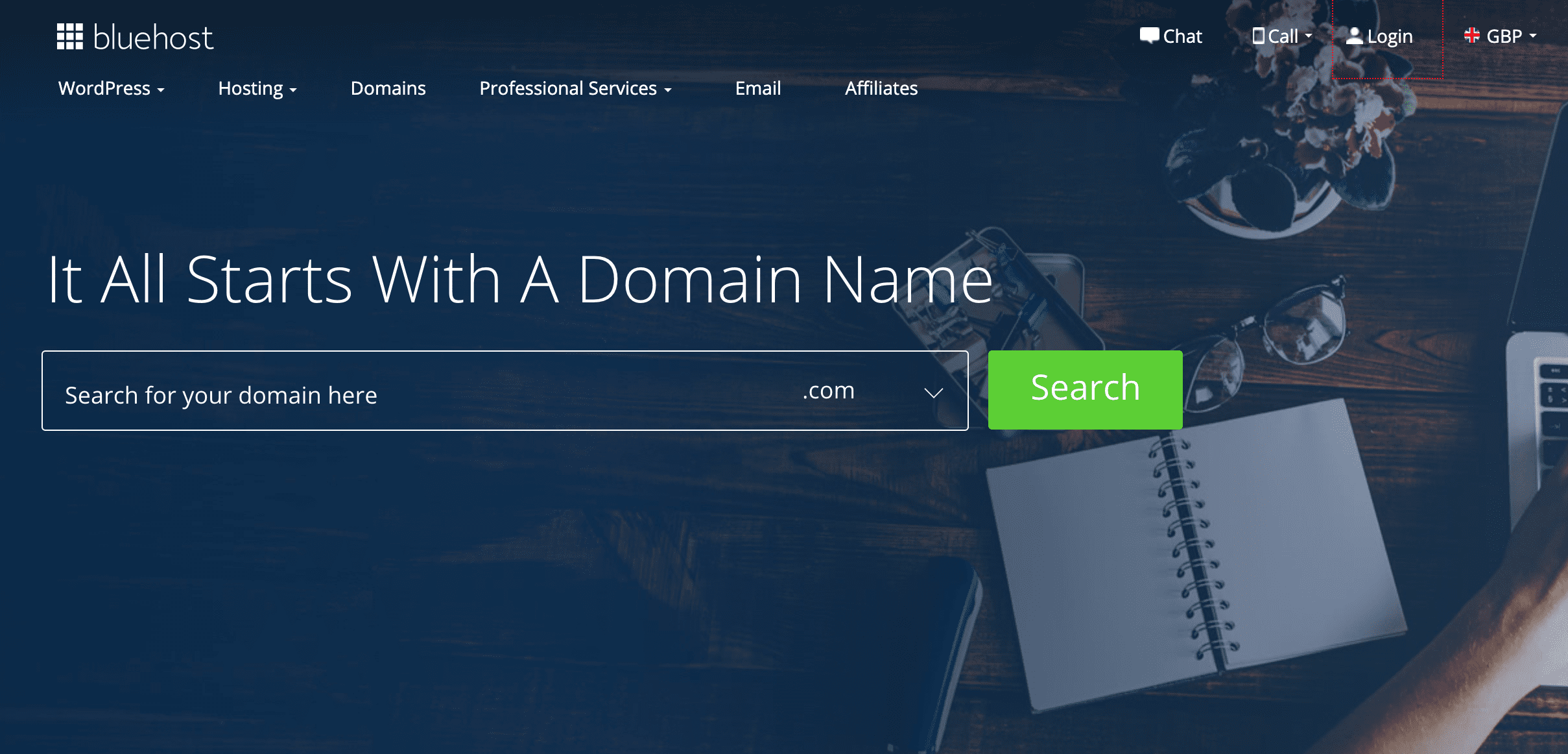 Bluehost is another renowned provider when it comes to domain names. They offer unlimited space and bandwidth so you can have as many website domains as you want. Create multiple domains directed to the same site or use them for additional websites.
Each domain with Bluehost includes easy management to manage your site through a simple interface, and can easily change DNS records across several domains. They also come with auto-renewal to ensure your website is always protected. Bluehost's domain lock feature means that you can lock down your perfected domain to prevent unauthorised transfers.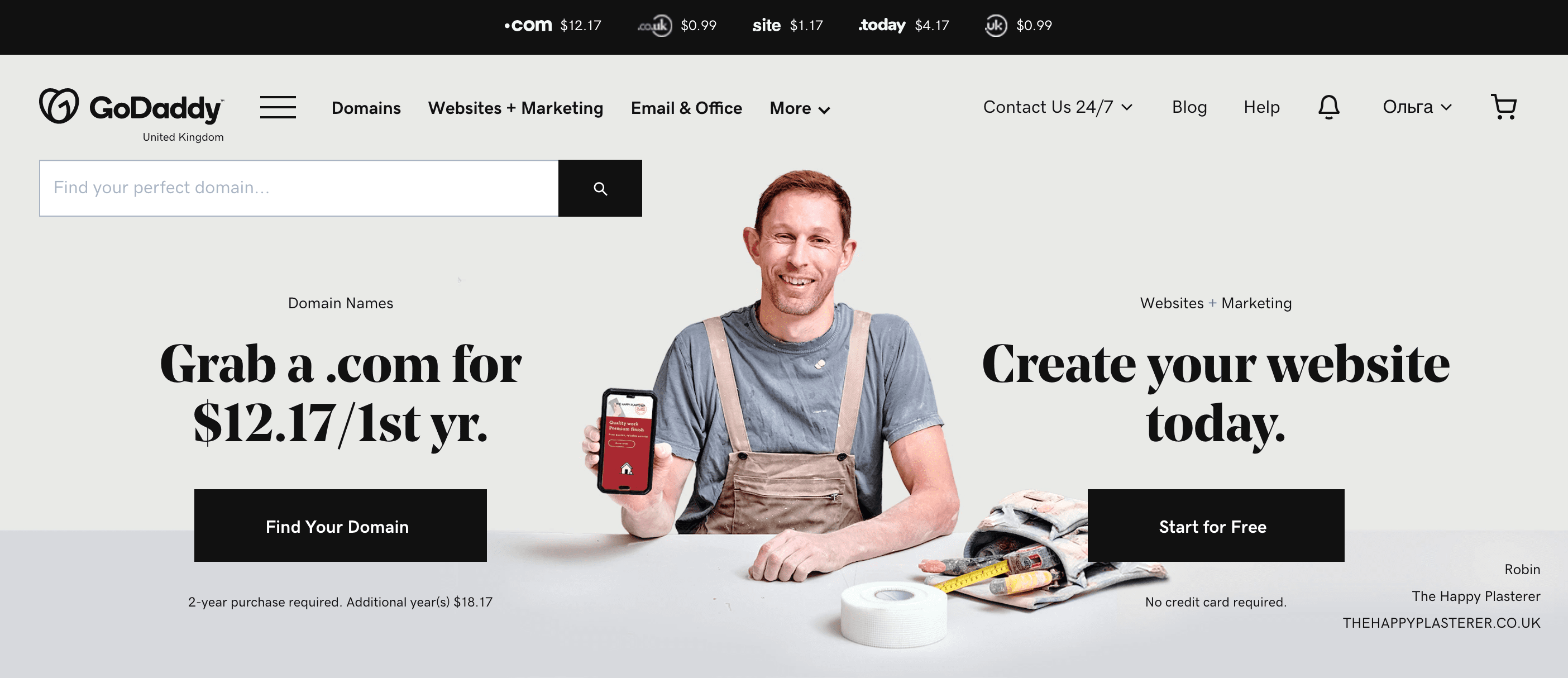 GoDaddy is one of the oldest and most popular domain registrars, and for a good reason, too. They manage more than 77 million domain names for over 18 million users. Their range of domain name extensions is vast, meaning you'll easily find the most fitting one for your brand.
GoDaddy's powerful, easy to use management interface keeps it in close competition with leading providers. Its prices are highly competitive and should be considered.
When choosing the best domain registrar for you, consider the following criteria:
Pricing and registration period
Expiration policies
Domain transfers
It may be tempting to look solely at the costs associated with specific registrars, but if you're planning on building a sustainable and scalable blog that can expect a growing number of readers, it's important to consider more long-term factors.
Here, registration periods and expiration policies can come into play. You'll want to keep your blog up and running without any hitches to make the most of the traffic arriving from Google. If you already have a website or blog set up elsewhere and are looking to take the next step in giving it a more recognisable address, it's important to consider how easy it can be to transfer domains.
2. Choosing the right Domain Name
The name you settle on will likely become synonymous with your blog – so choose it wisely. Here are some actionable tips to help make sure you create the best name:
Use keywords in your domain name search. Whilst some registrars will have specific tools to help you find the right one, your own research should never be abandoned. The name of your blog should ideally match its content, message and purpose.
Use tools like Wordoid to get some blog name ideas.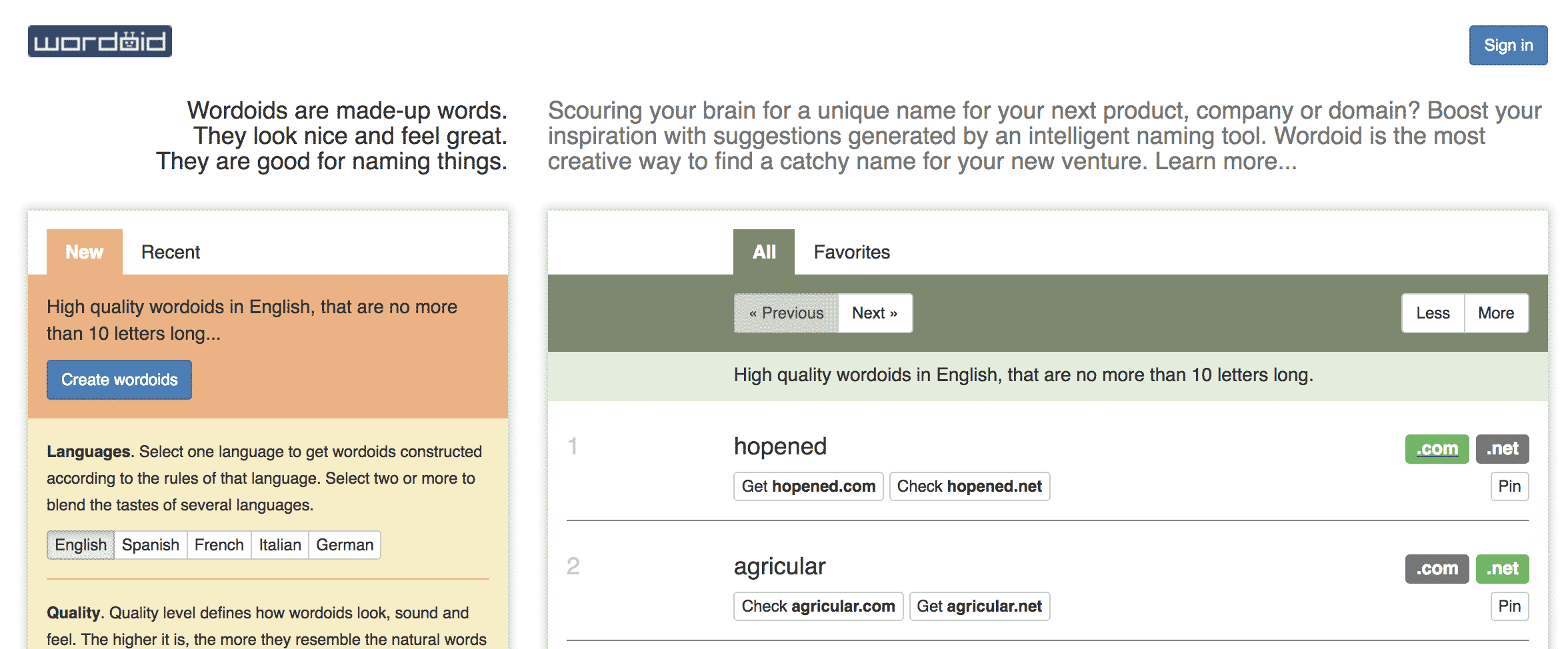 Naturally, the price can play a key role when it comes to the availability of names. While dot com domains can be very expensive compared to, say, dot co names, the more recognisable extensions provide visitors with a much greater level of trust.
Likewise, shorter, recognisable domain names will be more expensive, but when faced with a relevant six-character domain name in a link or a 20 character budget name, users will be much more likely to pick the more recognisable, digestible domain name.
Keep it short and sweet. Nobody "asks the multicoloured search engine any question in the world". But they will often "Google it". Make it easy to pronounce and spell and keep it unique and brandable. Avoid double letters and hyphens too. This seems like an exhaustive list. But the takeaway here is less is best.
The path to building a winning blog doesn't have to be a sprint, however. If you would like to start off small and learn to write compelling content while building your own confidence, it's perfectly reasonable to create a free blog with an automatically generated .wordpress.com domain name. If you're intent on creating conversions, this won't be the way to do it, but after a few months of writing appealing copy on a free platform, it's easy to take the next step of transferring your domain into a more expensive but searchable dot com name when you're ready to take the leap.
Stage 3: Find the perfect host
Web hosting is one of the key components of every successful blog. It's often overlooked, but careful selection can make all the difference to the performance of your blog. Choosing the right one can help improve your SEO and save you so much time. Trust us, we've changed 5 hosts in the last 5 years, having stuck to Kinsta for the last several years.
There are thousands of web hosts out there, most of which, meet the WordPress requirements. Let's take a look at what's available and what's best for your blog.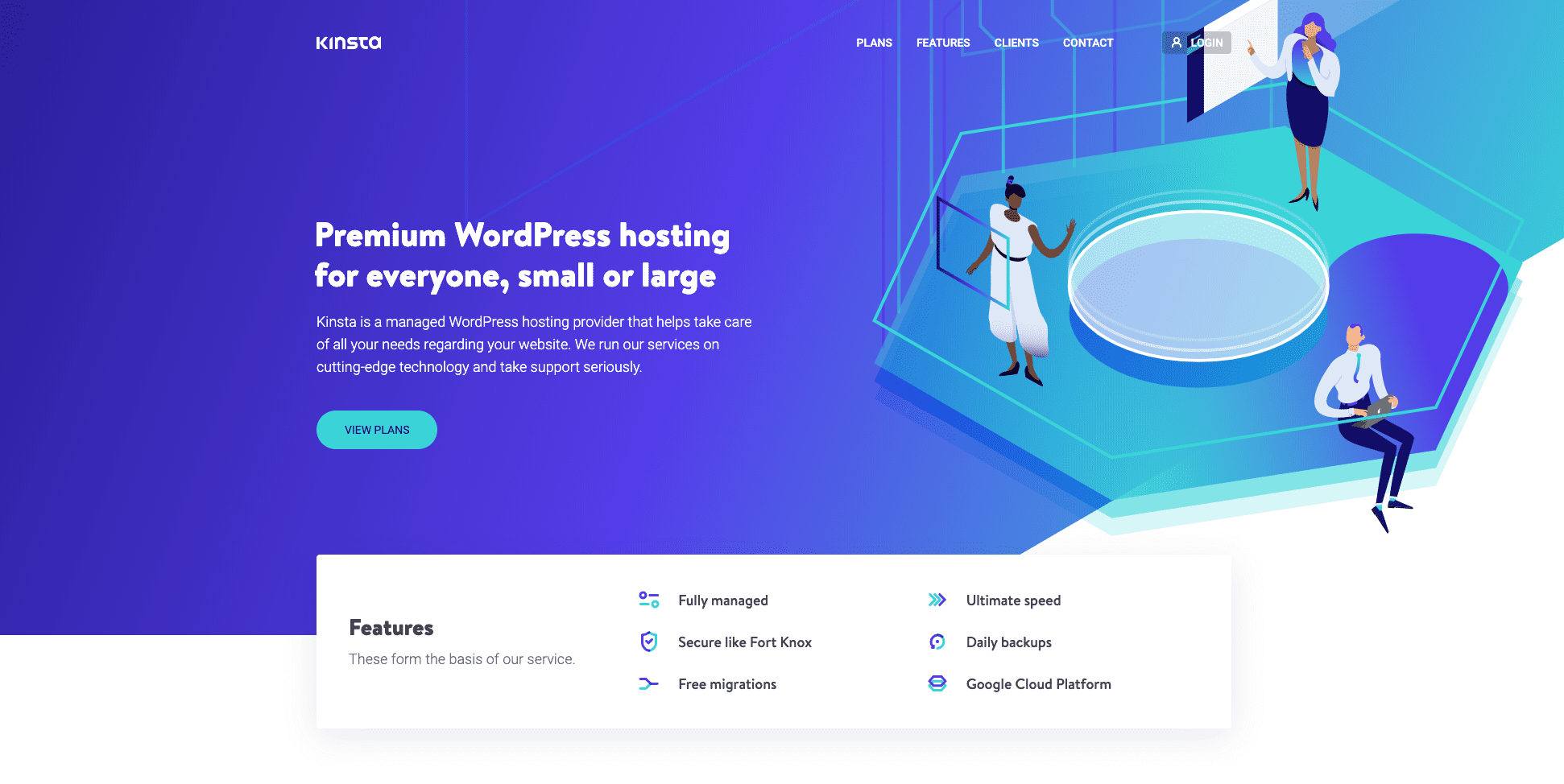 Kinsta is our go-to hosting provider. Although they're more pricey than most hosting providers on this list, they are by far the best when it comes to performance, support and user interface. Say goodbye to cPanel!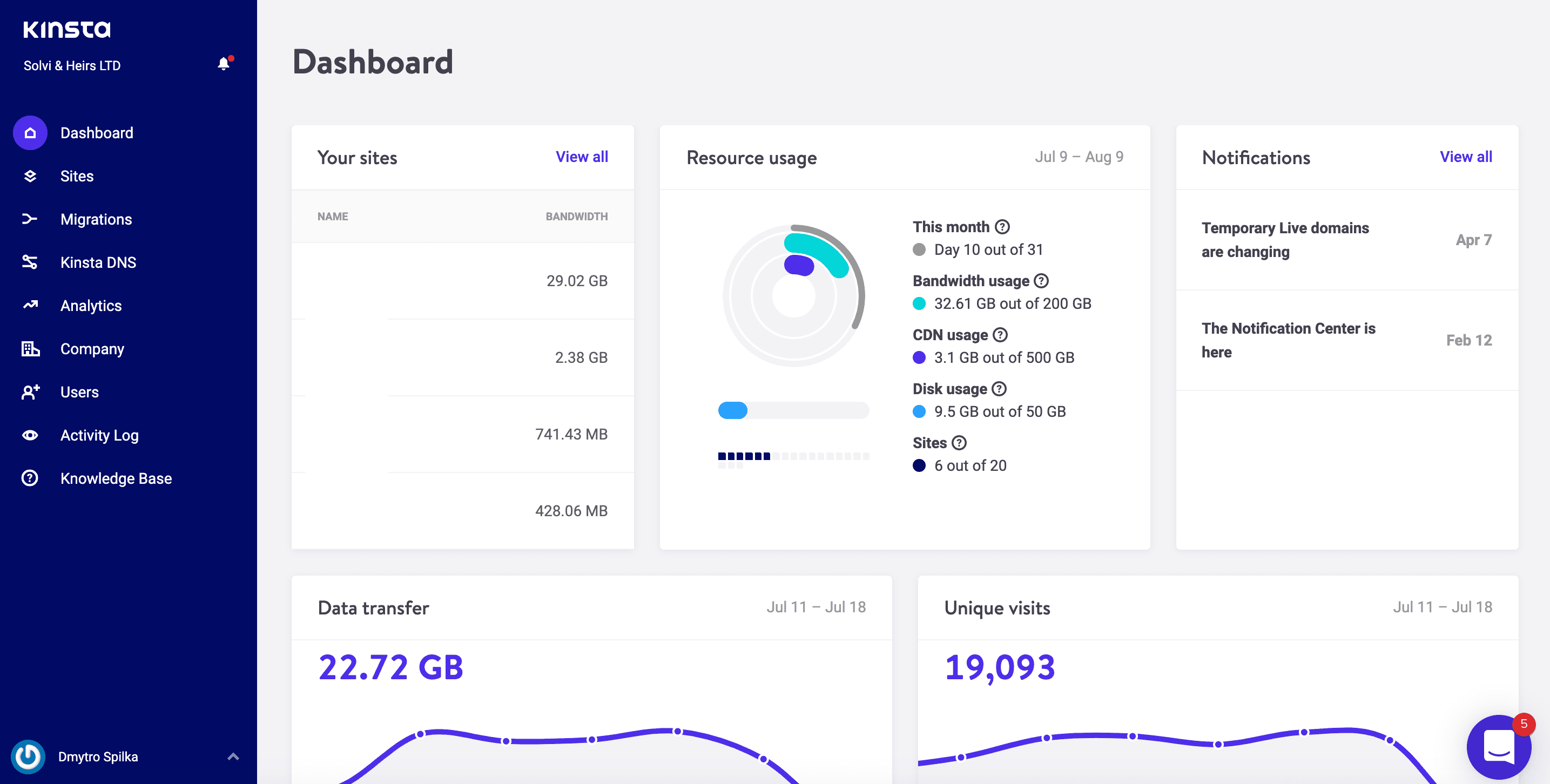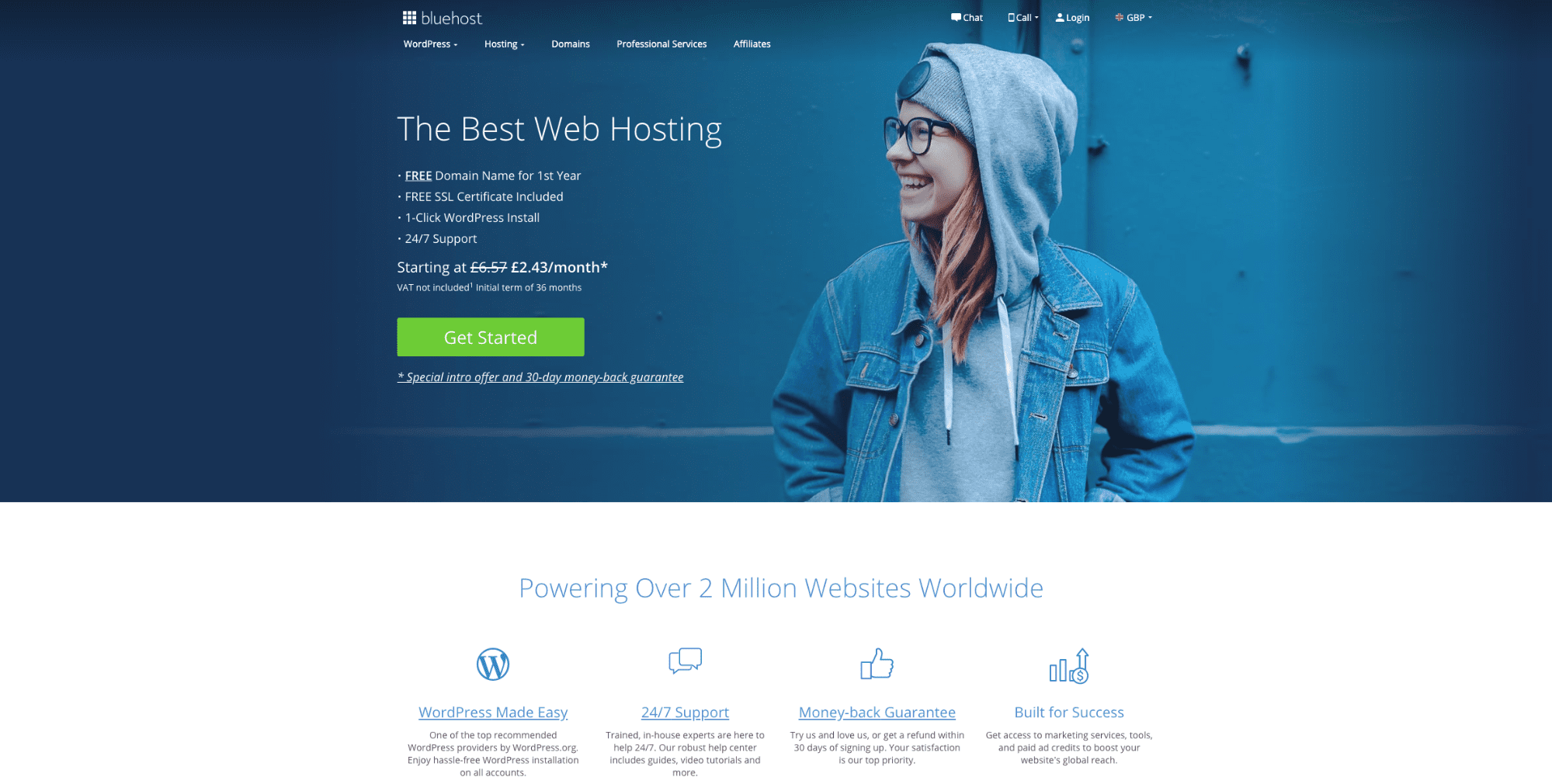 Since its inception in 1996, Bluehost has grown to be one of the largest developer names when it comes to WordPress hosting. As an official WordPress recommended hosting provider, it's secure and certified.
One of the main reasons for needing a good host is to manage large flows of traffic. Bluehost certifies that you'll never have to worry about the speed of your website slowing down – even with mass traffic.
Powering over 2 million websites, Bluehost is tuned for WordPress centric dashboards and a range of useful tools. Its one-click installation process means it's simple to get up and running. Best of all, it offers a free domain name, making it a great option for those creating blogs from scratch; along with email FTP and more. Your website will be backed by 24/7 in-house WordPress experts.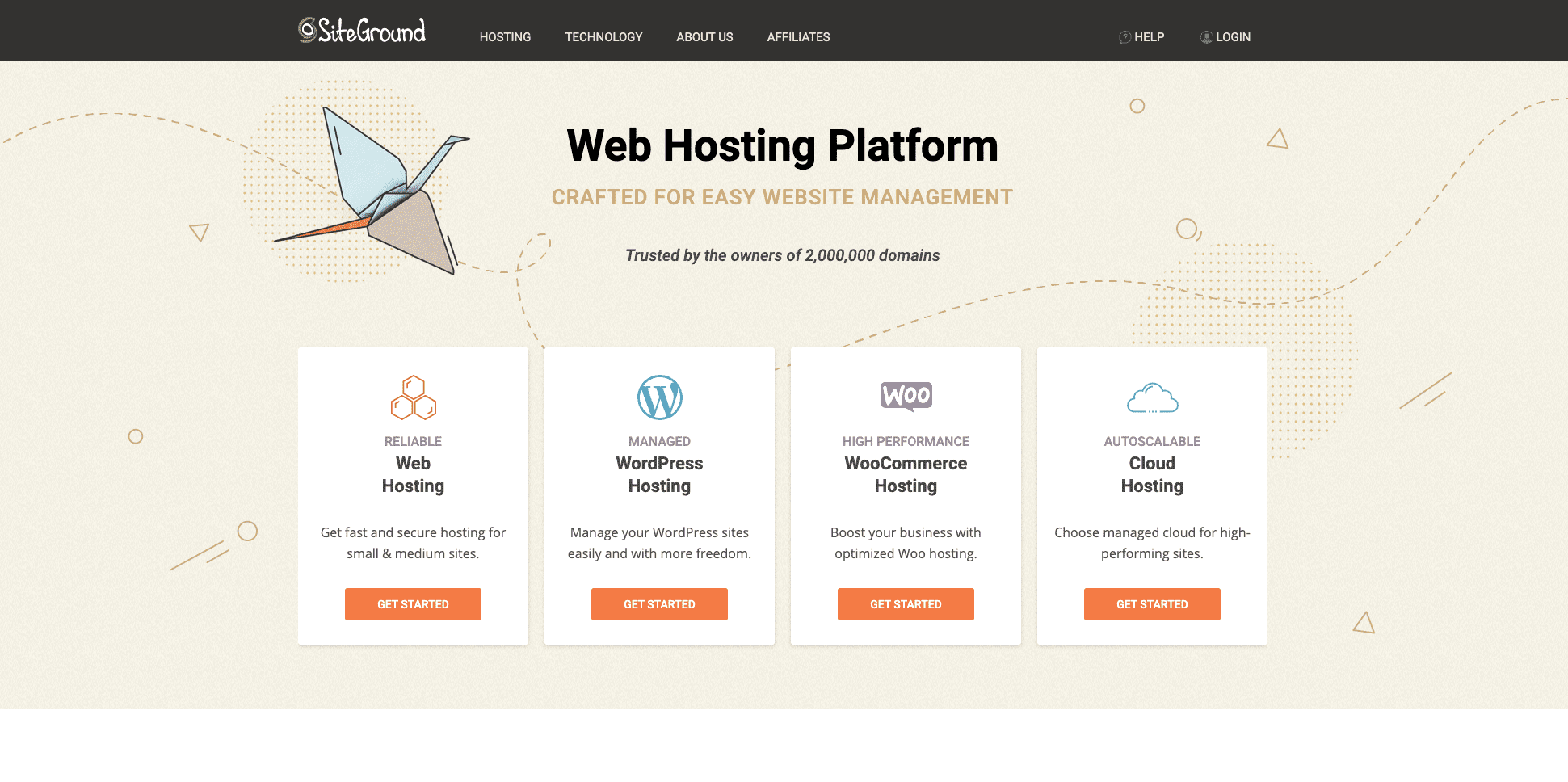 Providing in-house WordPress speed and security solutions, SiteGround is another secure and reliable host. This provider has the tools to manage WordPress sites with ease and efficiency, including one-click installation, managed updates, and WordPress staging.
SiteGround also features automatic upgrades and is one of a few providers offering location-specific hosting with 3 data centres in USA, Europe and Asia. Its speed technologies make WordPress blogs load with great speed efficiencies. They constantly and proactively protect their WordPress sites from hacks.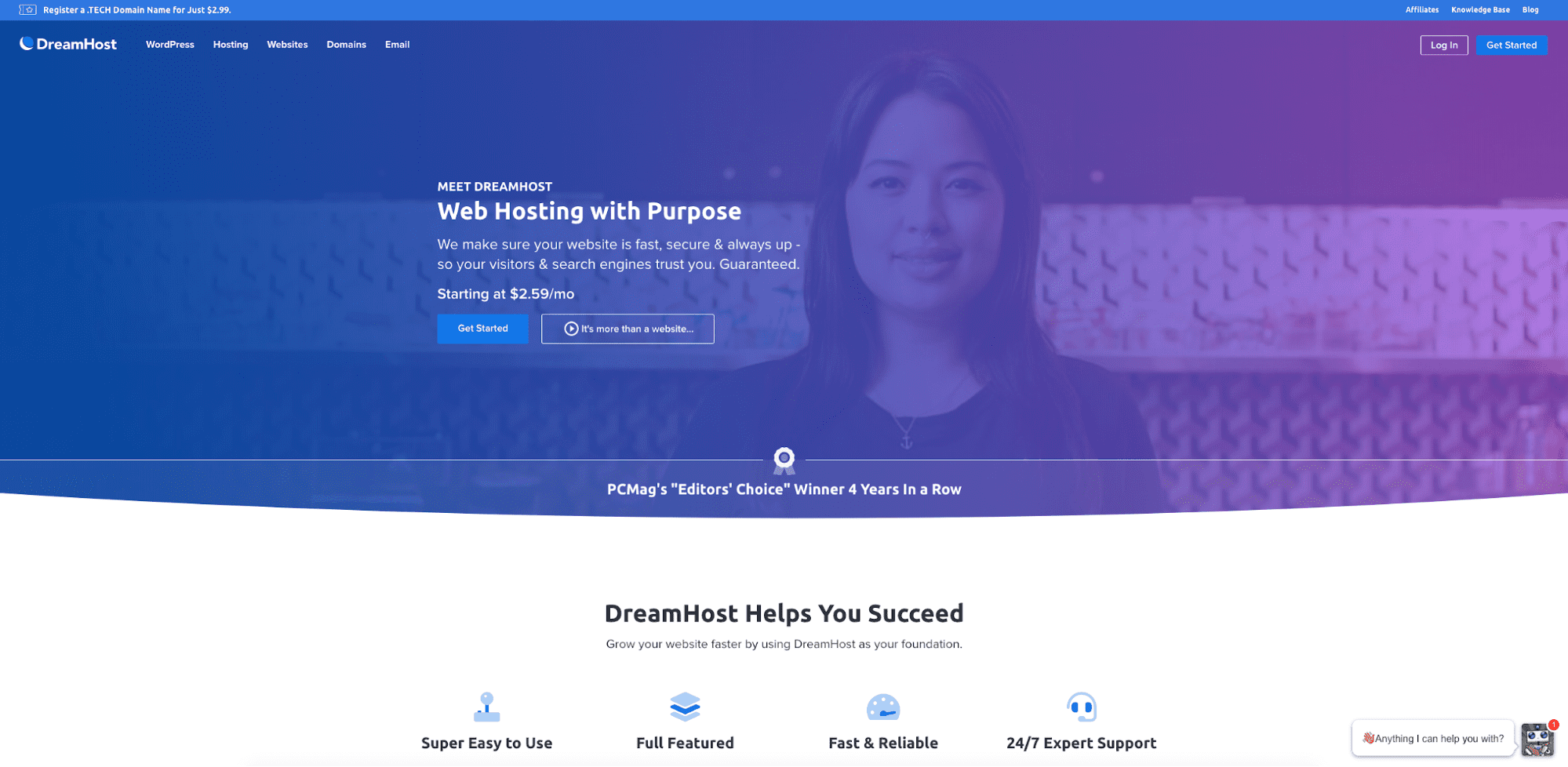 A committed host to WordPress and its community for over 10 years. DreamHost platforms are all optimised for WordPress and gives users total control of their server. Alternatively, users can step back and let DreamHost handle everything.
Offering choice, performance and value, they make hosting easy. The custom dashboard is accessible after a one-click installation process, with unlimited space, bandwidth and free SSDs – making your site 200% faster. With no upfront costs and a free domain; it's no wonder DreamHost powers over 600,000 blogs and websites.
What to consider when choosing a host
Whilst some businesses and individuals will require specific functionalities from their host provider, most of us will be looking for speed, space, security and support. There are a few distinguishing features between the hundreds of thousands of web hosts out there. Here's what you should be looking for:
1. Price
You'll need an affordable provider – especially small businesses who incur ongoing costs of running a business. But you'll also need reliability. This is no time to scrimp and save on the pennies. However, it needn't break the bank either. The average price for stable hosting is between $36 and $300 per year.
Here, it's important to make sure that you study the small print associated with some hosting providers. Contracts can sometimes offer mind-bogglingly low prices only for the costs involved to be ramped up after 12 or 24 months.
Be sure to consider the bigger picture when looking for a provider. If you intend your blog to eventually be welcoming tens of thousands of visitors each day, it's worth looking at the scaling options that are included in host pricing structures.
2. Technical Support
You'll want to be able to speak with a real person at any time 24/7 no matter what. That's why it's important to find out what level of technical support your service provider offers. Some will provide email, telephone or live chat support and some have rigid operating hours.
The best support comes from in-house. So, try to determine whether their support teams have been outsourced, or are abroad. Customer support should be a priority.
Having access to more technical support options is always a good thing. But this is especially the case if you're unfamiliar with the process of setting up a blog online. Luckily, customer reviews will often offer some form of insight into the competence of hosts when it comes to aspects like customer service, and around the clock support. If you're unfamiliar with the technical side of domain creation, this is likely going to be the most important factor in setting up your blog.
3. Features and add-ons
These are often the extras that can largely differentiate one provider from another – and should be taken into consideration when choosing your host. Possible extras could include offering credits for advertising with Google Ads, perhaps they use Green energy, or offer regular data backups. Even when you've decided on a host, attractive add ons could change your mind, so check them out.
Due to the level of competition when it comes to website hosting, different hosts tend to offer wide ranges of free content and perks to users. If you're looking at marketing your blog effectively online, things like Google Ads vouchers could pay dividends in providing that all-important early exposure.
4. User experience and interface
The last thing you want is to commit to a host with a technologically impossible interface to navigate. You also don't want to be having to contact customer support in order to complete what would be simple tasks.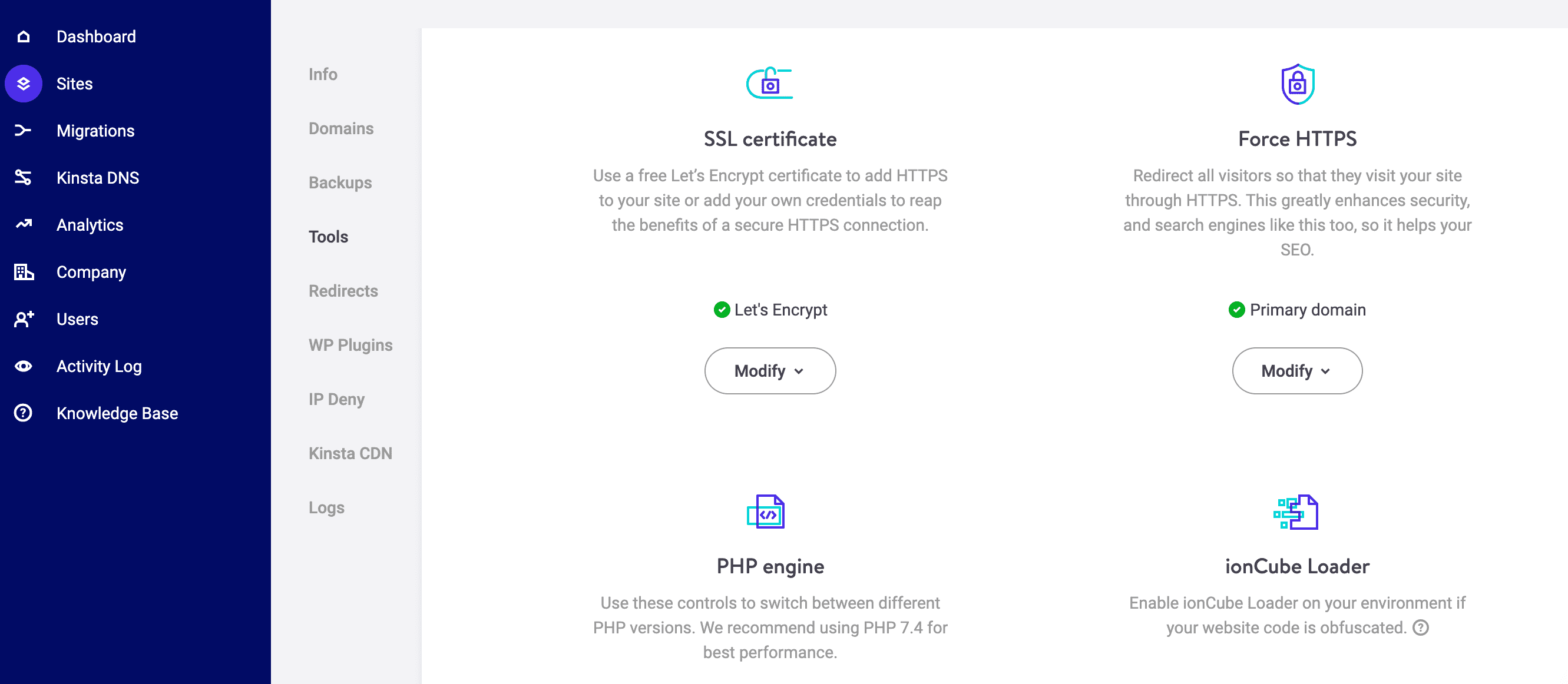 An easy to use interface should allow you to install WordPress with ease, set up your email and your FTP accounts, at the very least. You will need to be able to update and modify your site in a matter minutes not hours. Since most hosting providers will allow trials or a chance to test the software, use this opportunity to assess whether the user interface is compatible with you.
Once again, usability can be significant to users who are less fluent when it comes to the creation of blogs. Cheaper hosts could seem appealing, but if the process of publishing posts feels only slightly more arduous, it can carry a heavy psychological impact on your willingness to create and advertise your content. Ultimately, you're looking for a hose that makes blogging as simple and enjoyable as possible.
5. Room to grow & security
Of all of the capabilities of your WordPress host, you'll need it to provide you with room to grow. Ambitious bloggers will naturally anticipate growth in traffic, performance and security. If you'd prefer to start off basic, you should at the very least, ensure that your host provider will allow you to upgrade your account in the future.
Some make upgrading easier than others. It is possible to transfer your site to another hosting provider, but this is time-consuming and can be costly. The best option is to review hosting upgrade options and select one with easy upgrading. Evidence of this level of scalability can be often be seen from how much traffic a host's servers are prepared to allow. The host with more accommodation for larger numbers of visitors will likely be the best option when it comes to considering short term growth.
Stage 4: Get started on WordPress
By this stage, you know your brand, have a domain name and have committed to a hosting provider that will power your site. Each host listed in this guide is compatible with and supported by WordPress. Next step is to set it up.
In this tutorial, we'll install WordPress using Kinsta.
Log in to your Kinsta dashboard and go to Sites > Add Site. Input the required details and let Kinsta run its thing. The process will take around 5 minutes to complete.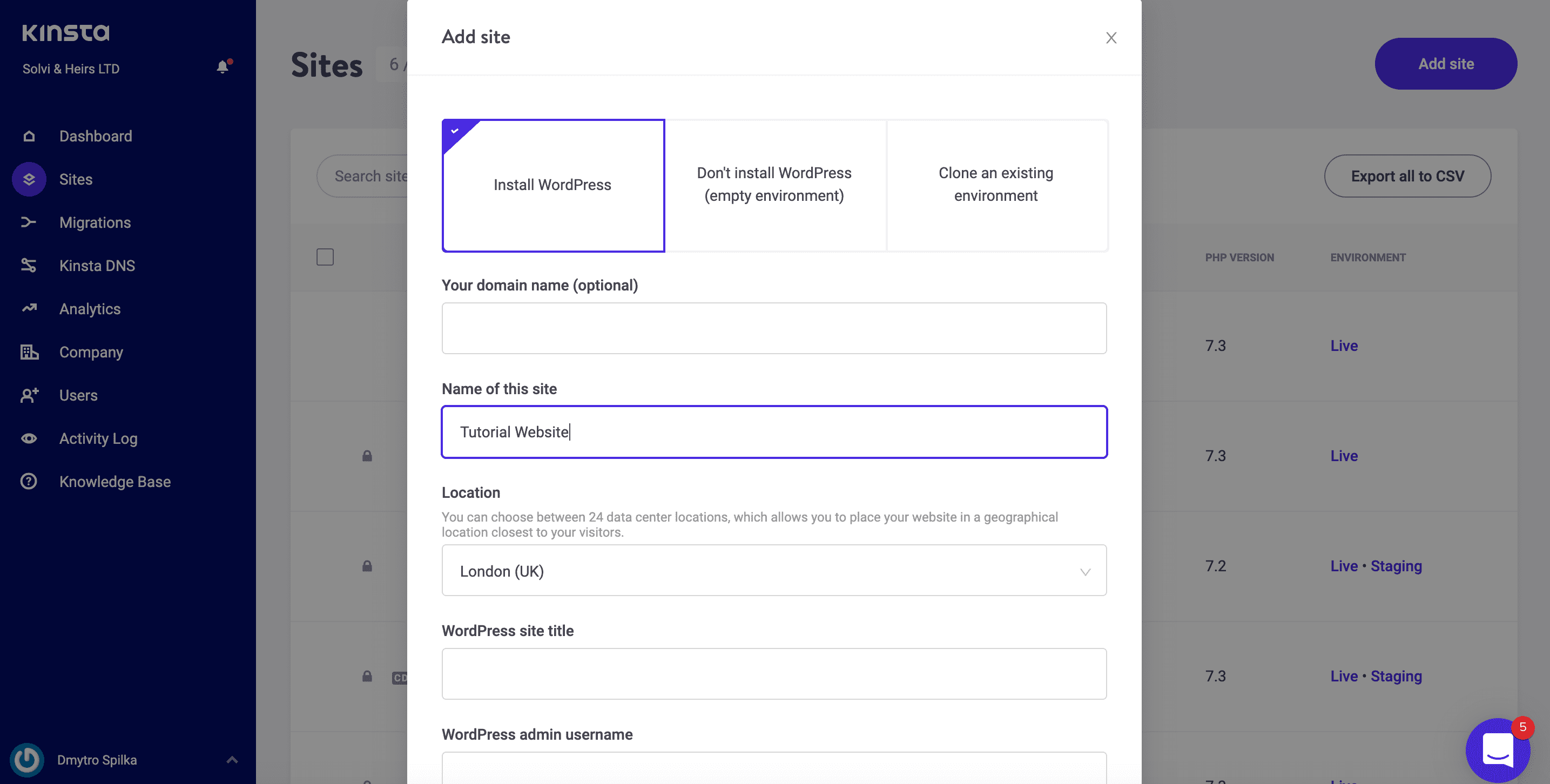 1. Click 'Log In'
Once that's done, go ahead and login into your WordPress dashboard.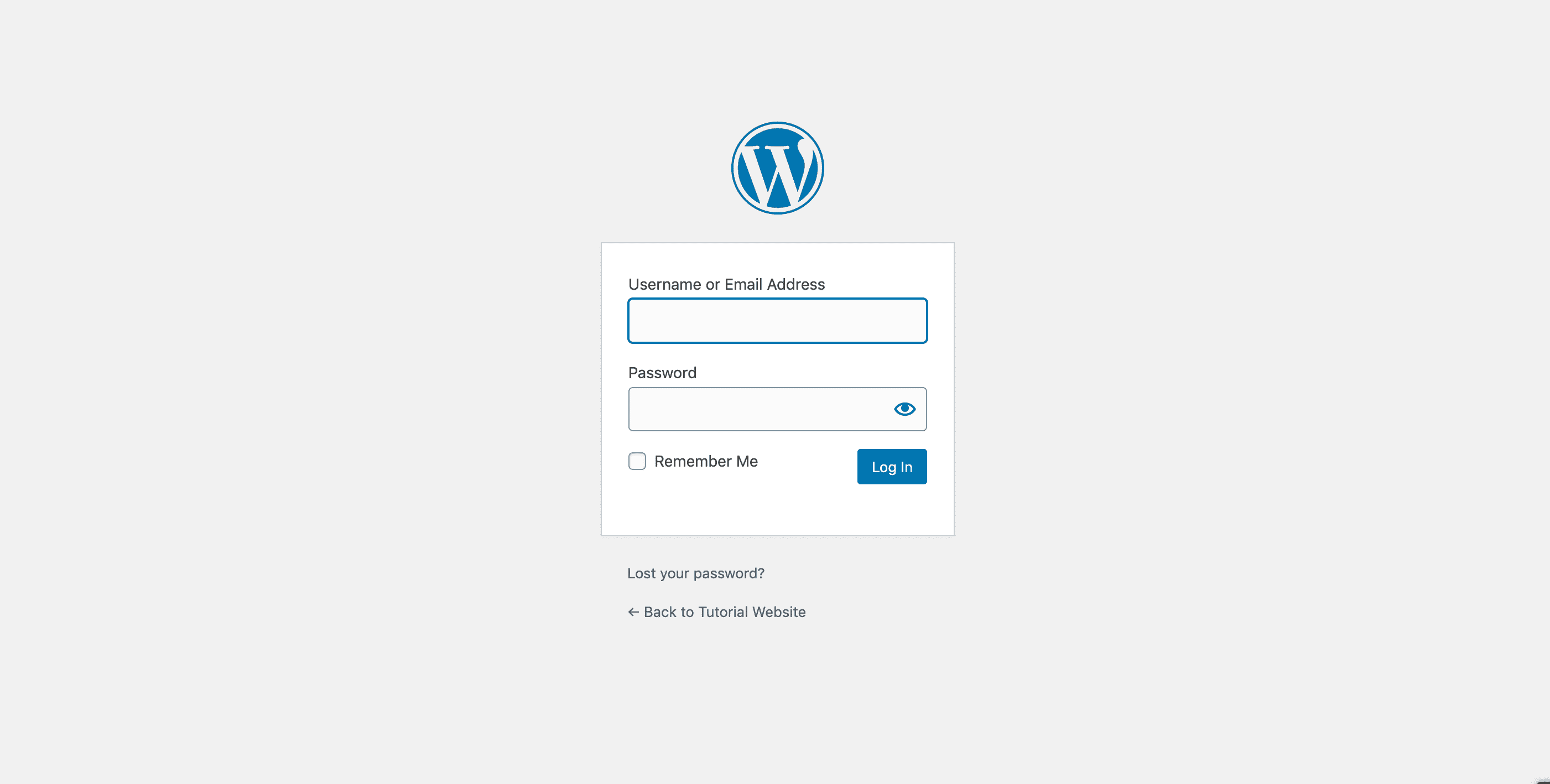 2. Select a theme and start building
With WordPress, you're offered numerous free themes. If you're just ready to get something up, we would recommend installing one of the free themes in Appearance > Themes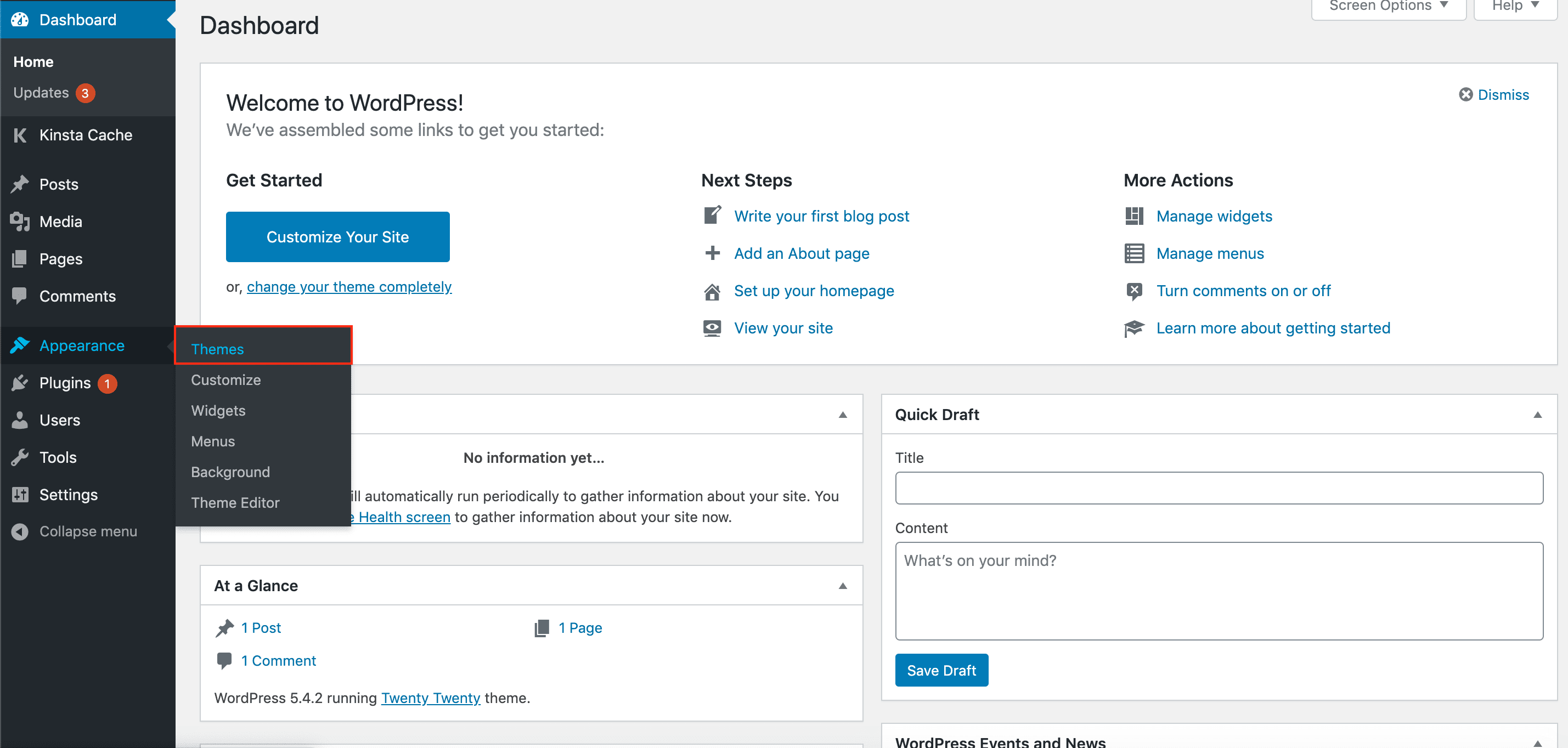 Pick a simple theme that you can modify to make it your own. Select the theme of your choice, and click install.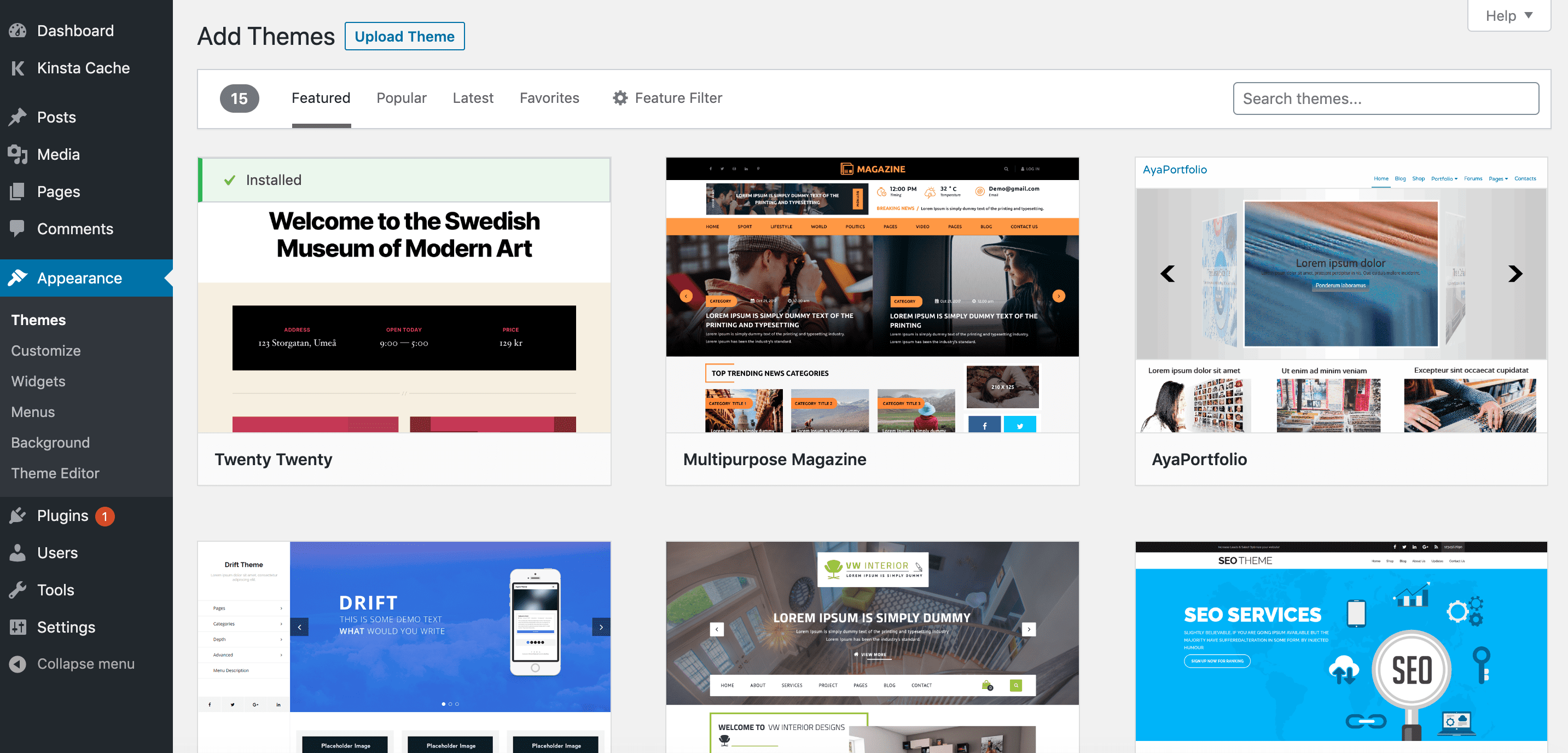 If you're looking to up your game and build something unique, we recommend using a premium theme Divi – it's simply the most popular WordPress theme packed with all the features you can ever imagine.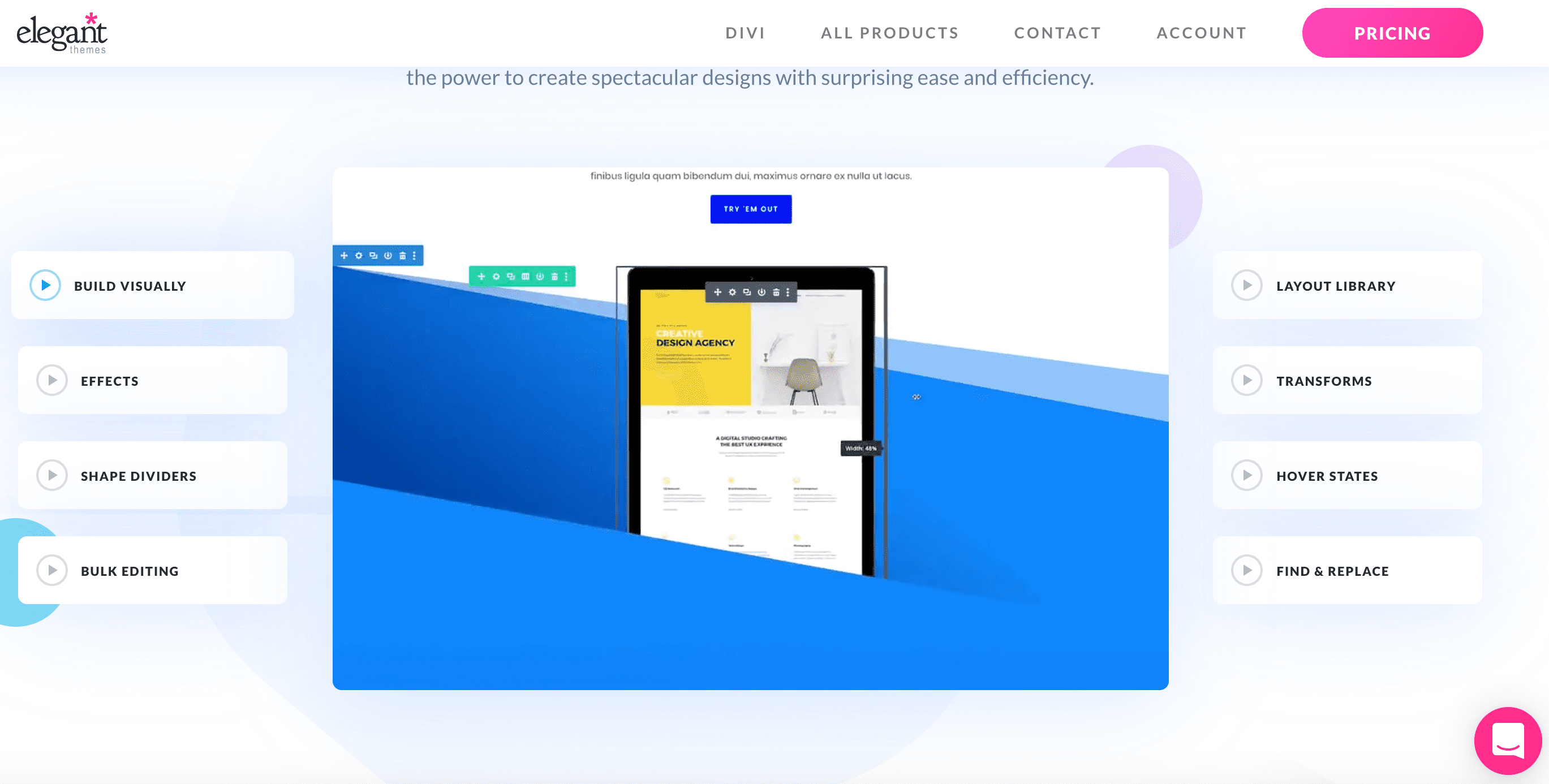 Picking a theme can seem like an arbitrary choice for some. After all, it's the content that's going to draw people in, right? But themes can play a pivotal role in helping your blog's overall usability. With the abundance of different themes available, users are free to pick highly pictorial setups to help aid more illustrative blogs (this could be suitable for food-based or travel blogs), or more text-heavy themes for informative or journalistic-style blogging sites.
Likewise, don't worry if you can't find a theme that suits your vision of what your blog should look like, there are plenty of ways in which you can customise any theme that you've selected.
It's worth noting that WordPress comes stocked with both free and premium theme templates. The platform has a large selection of free themes, but they are generally simplified. If you're looking for a high-quality theme that requires very little work to prepare, it may be worth spending some money. Alternatively, if you have the time to invest a little care and attention towards making a simple theme appear more unique, there's no reason why you shouldn't pick up a free layout and make it your own.
1. Incorporating Free Images Into Your Blog
One of the most effective ways of building an appealing blog design is through the use of relevant and high-quality images.
While the use of imaging rights online can be complex, and some owners aren't interested in allowing the use of their pictures even with credits, there's a great alternative option when it comes to decorating your blog effectively.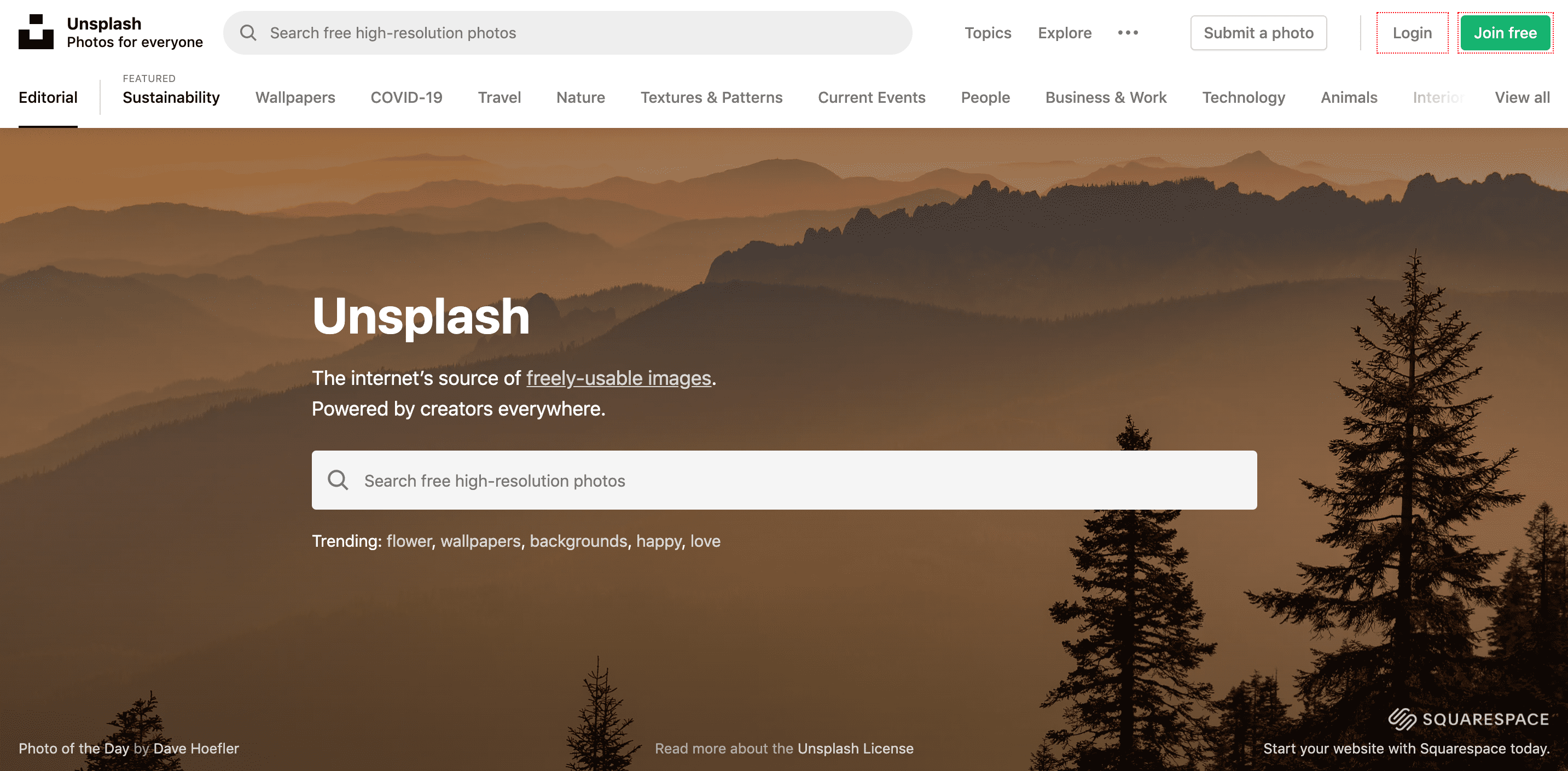 There are websites like Unsplash and Pexels that can offer images that can be reused freely under Creative Commons licensing, thus allowing bloggers to repurpose pictures to fit on their pages without the threat of backlash. But significantly, Google also offers an image searching option exclusively for images that are labelled for reuse.
Additionally, it's possible to search for images that can be reused for non-commercial purposes. Ultimately, if you're creating a blog that's set to promote a business or win you more conversions online, choosing pictorial content that's labelled for reuse can really help bring a story to life without the risk of copyright infringement.
2. Locating Third-Party Designs
As well as free stock photography, it's also possible to access third-party designs to use on your WordPress blog. This can be particularly helpful in ensuring that your website stands out from the crowd and keeps visitors interested in your content.
Platforms like Canva are great resources that can offer refreshing takes on website layouts and various other aspects of on-site functionality.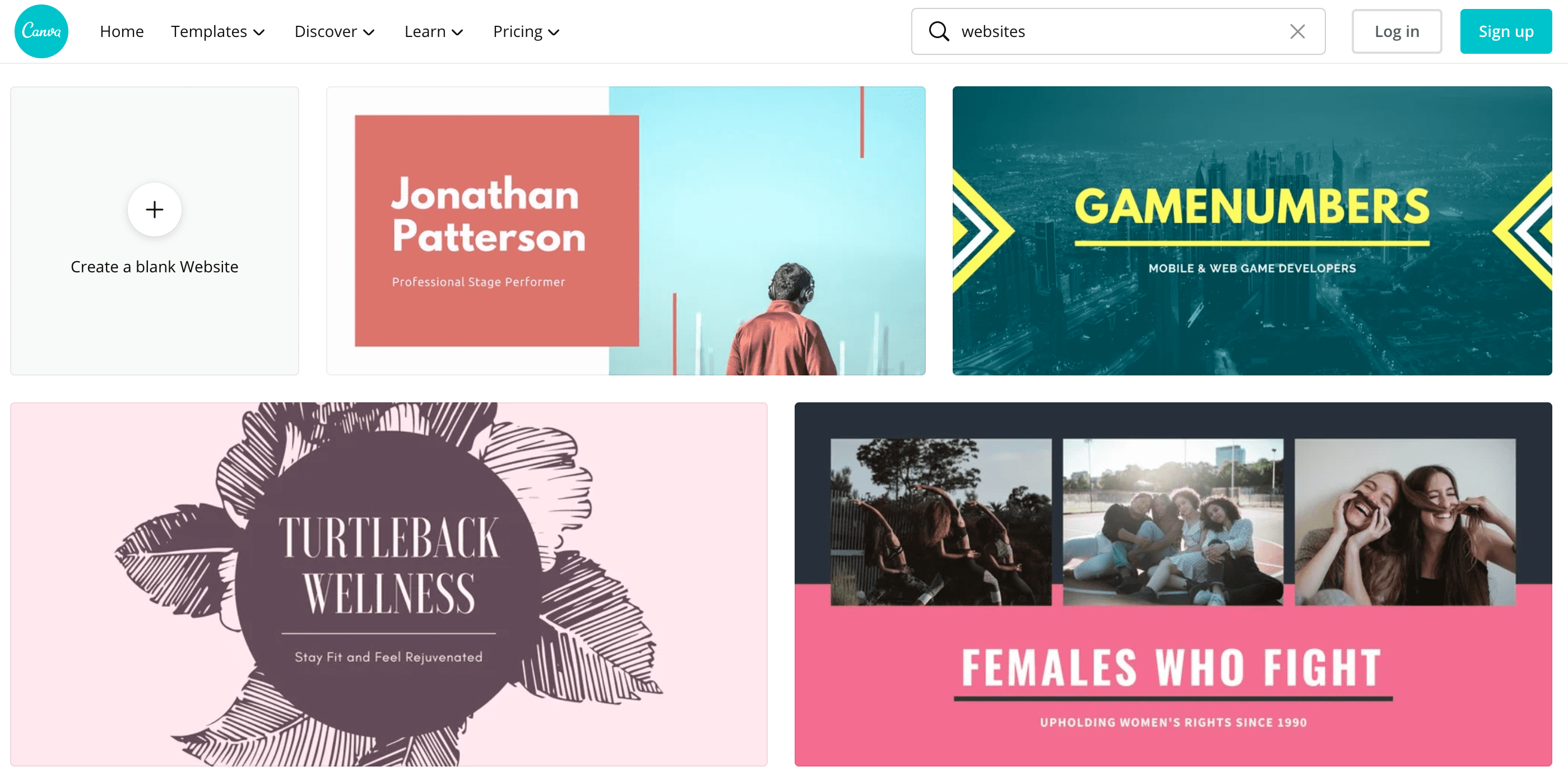 The great thing about blogging, whether it's for your own personal interest or to build exposure, is that you really have a strong degree of creative freedom. So it feels a little bit of an anticlimax if your unique and engaging writing is stuck within an overused generic WordPress theme. Free third-party layouts can help to remedy this paradox.
Stage 5: Explore these WordPress plugins
Creating a successful blog is made easier with WordPress plugins. They can add security, functionality, speed and navigation. Some plugins are developed with multiple purposes and some with specific capabilities. It's important to note that adding excessive plugins, however, will slow down the speed and performance of your blog.
Let's take a look at some pretty fundamental plugins that you should immediately install for the best blogging experience. The following free plugins are essential; follow this guide to get started.
In your WordPress dashboard go to Plugins > Add New
Yoast SEO, also known as the defacto standard SEO plugin for WordPress. Search for Yoast SEO, click Install Now followed by Activate.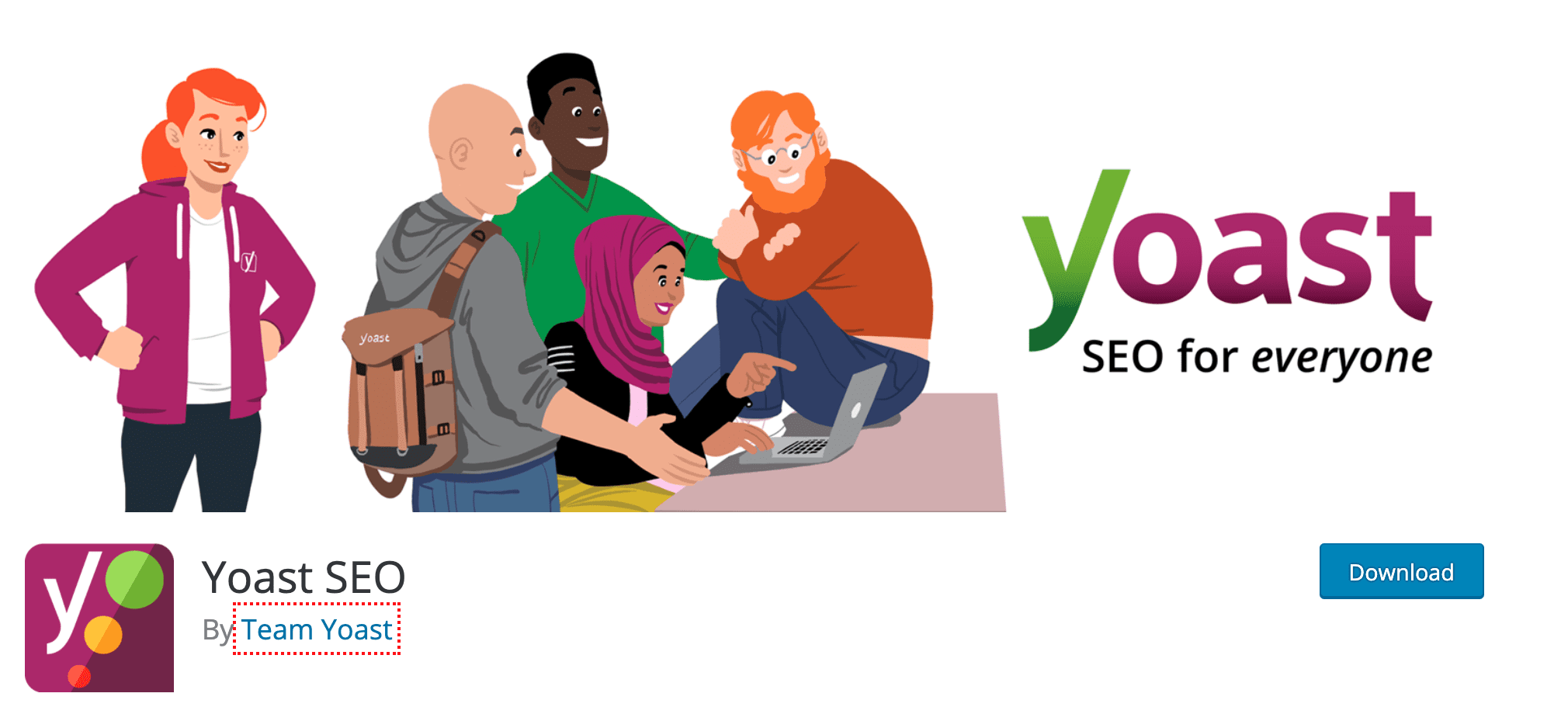 Ultimately, the plugin evaluates your website and its content to indicate levels of SEO and help you boost its rankings in Search Engine Result Pages. It provides amazing content optimisation tips: a feature lacking in most other plugins.
When Yoast SEO is installed, its configuration wizard will take care of technical aspects so Google can crawl, index and rank your pages effectively. This tool is also formatted in a questionnaire, allowing users to set the site type, show whether the site represents a company, provide social media data, integrate Google Search Console easily, configure Page Title Settings, and so much more.
It offers a free and a premium version, costing $89 a year. The free version gives users access to its keyword optimisation tool- a bloggers best friend. This feature takes into account one focus keyword, its synonyms and then analyses the effect. Checking length, placement, title, headings and overall keyword density in the text for you, so you don't have to.
Yoast SEO's Page Preview feature lets users see Google previews of their pages. This is useful when it comes to adding meta descriptions and customising SEO titles. The plugin helps by telling you if your descriptions are too long.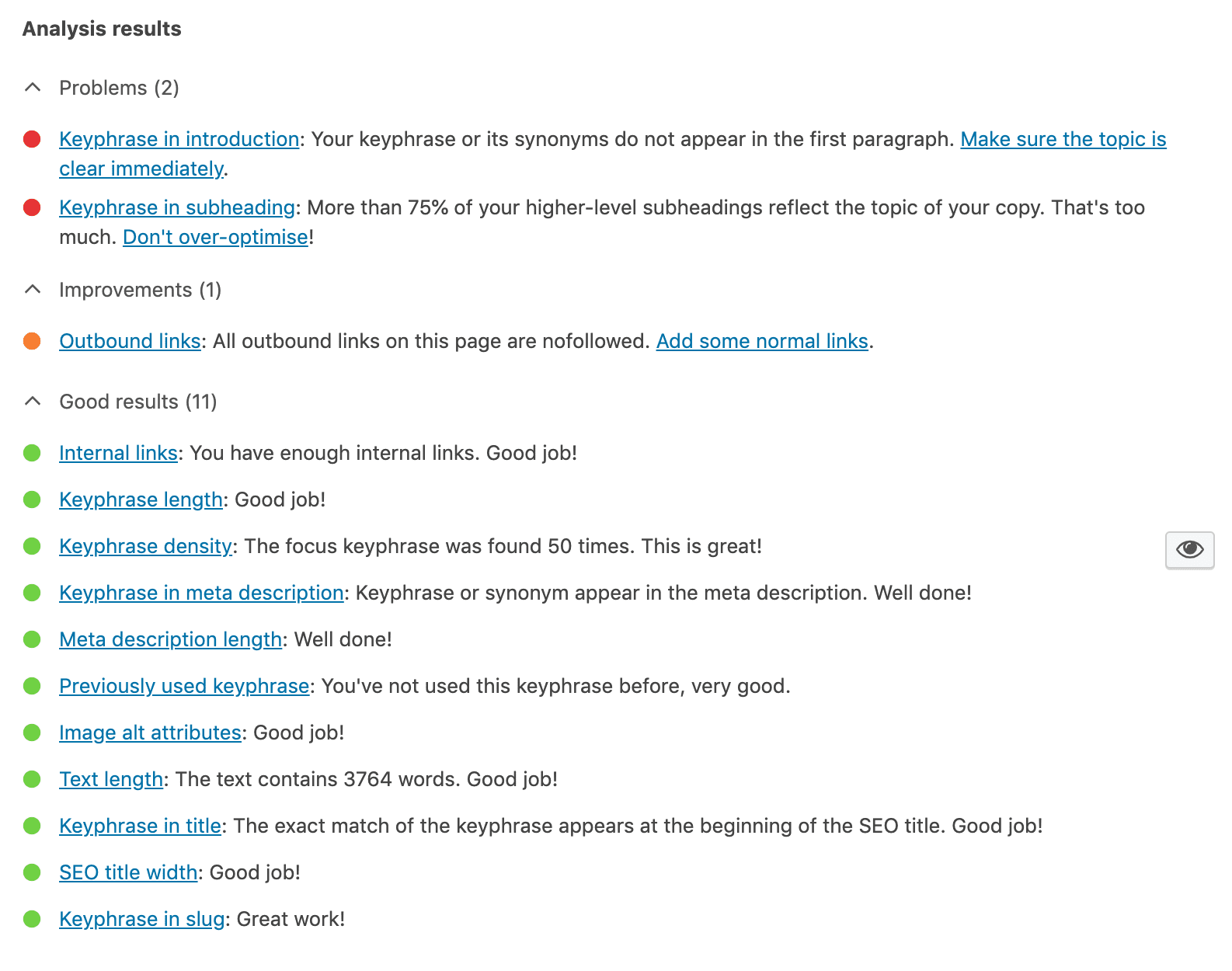 Its readability analysis is an excellent tool for everyone; including professional writers. It checks things like transition words, use of passive and active tones of voice, paragraphs, and sentence length. Each of which, contribute to the readability of the text, and as a result, impacts SEO.
The next essential plugin you'll need is Google Analytics for WordPress by MonsterInsights. This plugin allows users to track traffic, including sources, views and outbound links. Once again, go to your WordPress dashboard, search MonsterInsights, click Install Now, followed by Activate.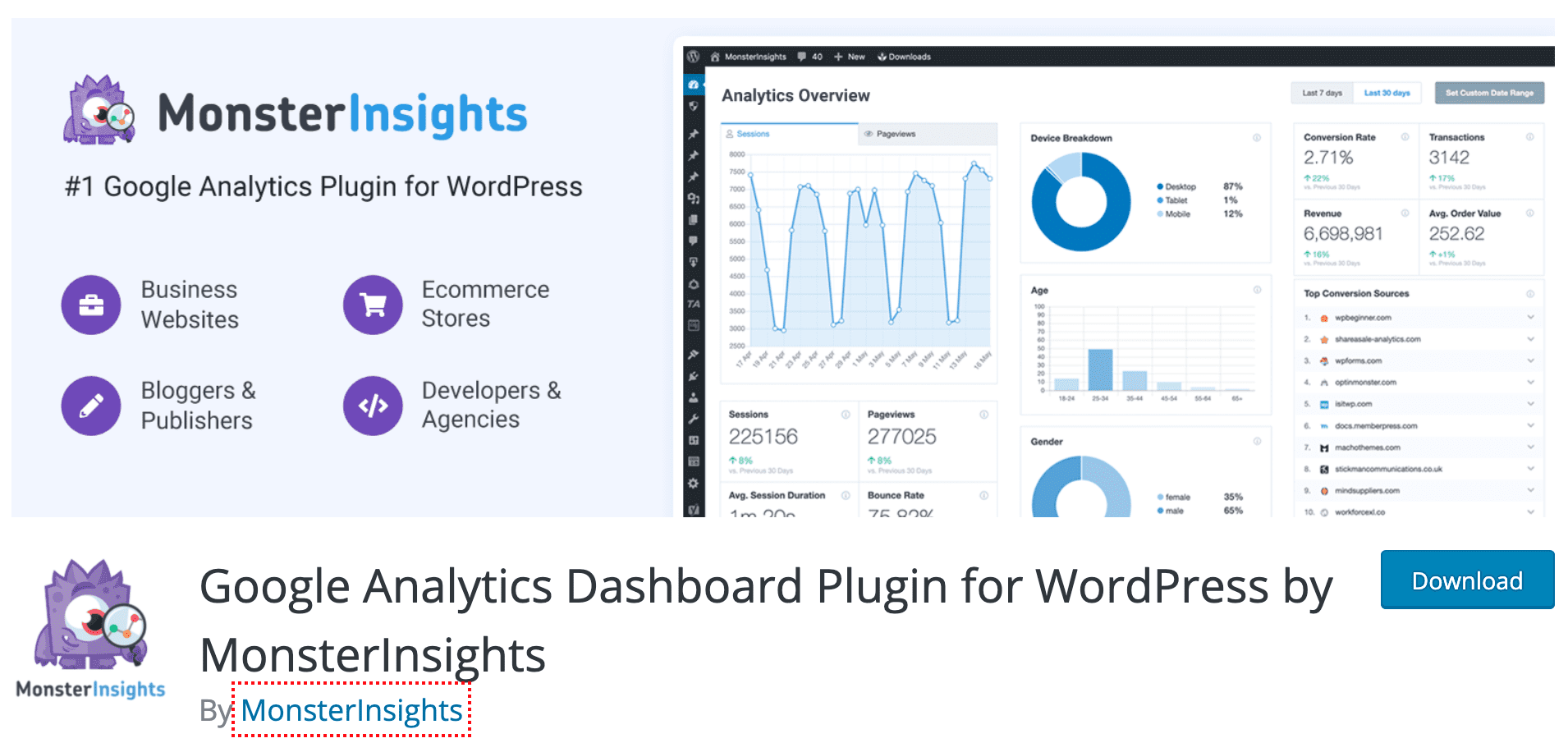 Click Launch the Wizard to configure MonsterInsights. The free version comes with simple installation, and the ability to view visitor metric dashboards and reports. Track outbound links and downloads on your site and anonymize IPs so traffic from countries with stricter privacy regulations can be tracked.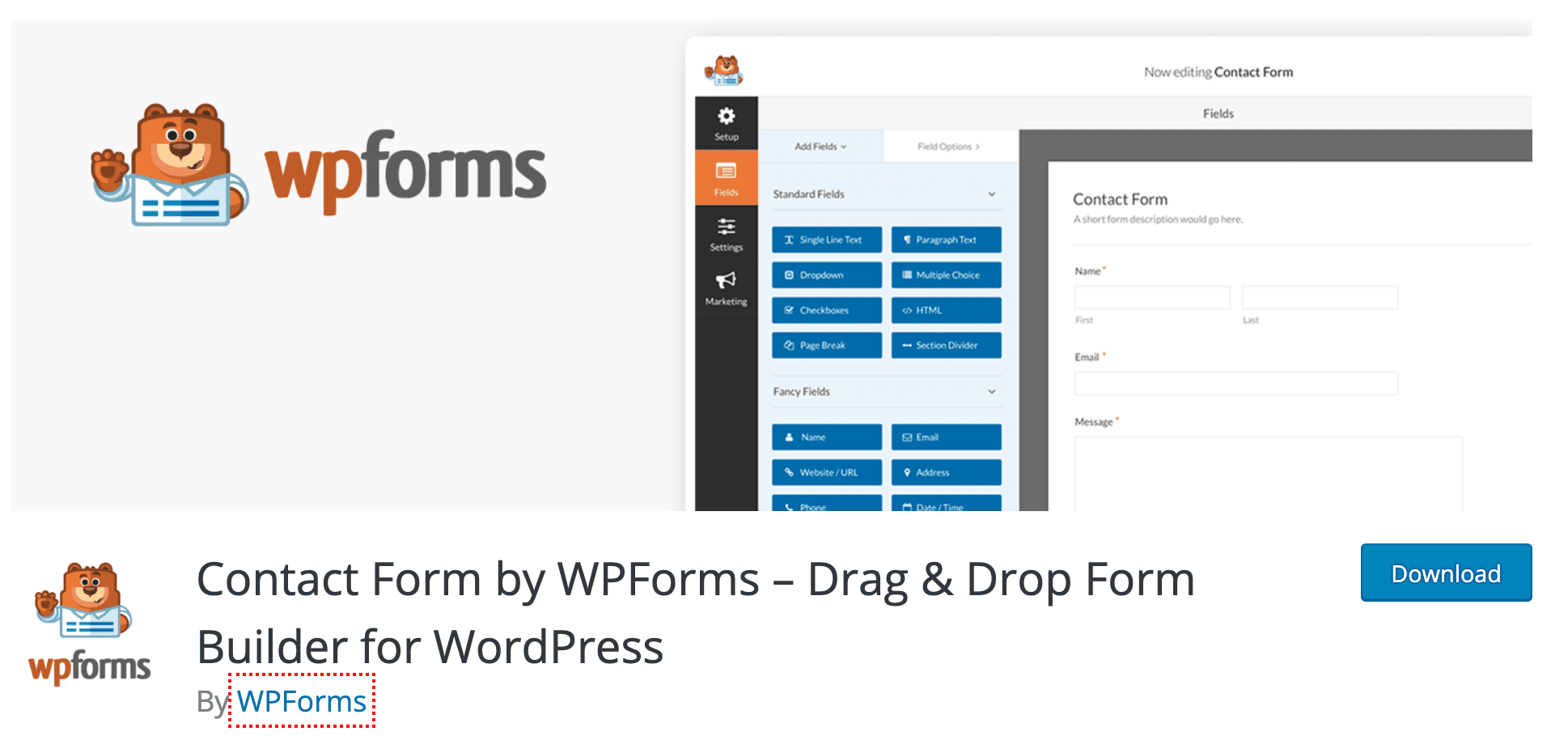 As we've already touched on, there are plenty of reasons why you may want to start a blog. If you're aiming to generate interest in your business, or looking to create conversions, you may want to create a call to action within your blog. One of the most effective ways of implementing this is through WPForms.
Regardless of whether you have marketing intentions or simply would like readers to have the opportunity of getting in touch with you, WPForms is one of the most popular contact form plugins available for WordPress blogs.
With a dedicated drag and drop builder, custom forms can be created along with those coveted mailing list sign-ups and online order forms. Even payment forms can be created with the help of WPForms.
Furthermore, you can utilise this plugin to gauge interest, generate engagement and build brand trust through dedicated polls and other types of online forms with easy-to-follow builders.
Significantly, there's a free WPForms Lite version that can be used for individuals looking to get a taste of the plugin's power.
WPForms is certainly a strong option for anybody who's looking to incorporate a level of marketing into their blog. With the ability to use forms to encourage visitor sign-ups and monitor the appeal of your content, it's certainly a valuable tool to embrace. For instance, you could set up a poll asking readers to choose their favourite form of content on your pages in order to show what's the most popular part of your blog.
With WPForms' basic pricing plan starting at $39.50 per year, the premium version of this plugin is certainly within reach for both new and experienced bloggers alike.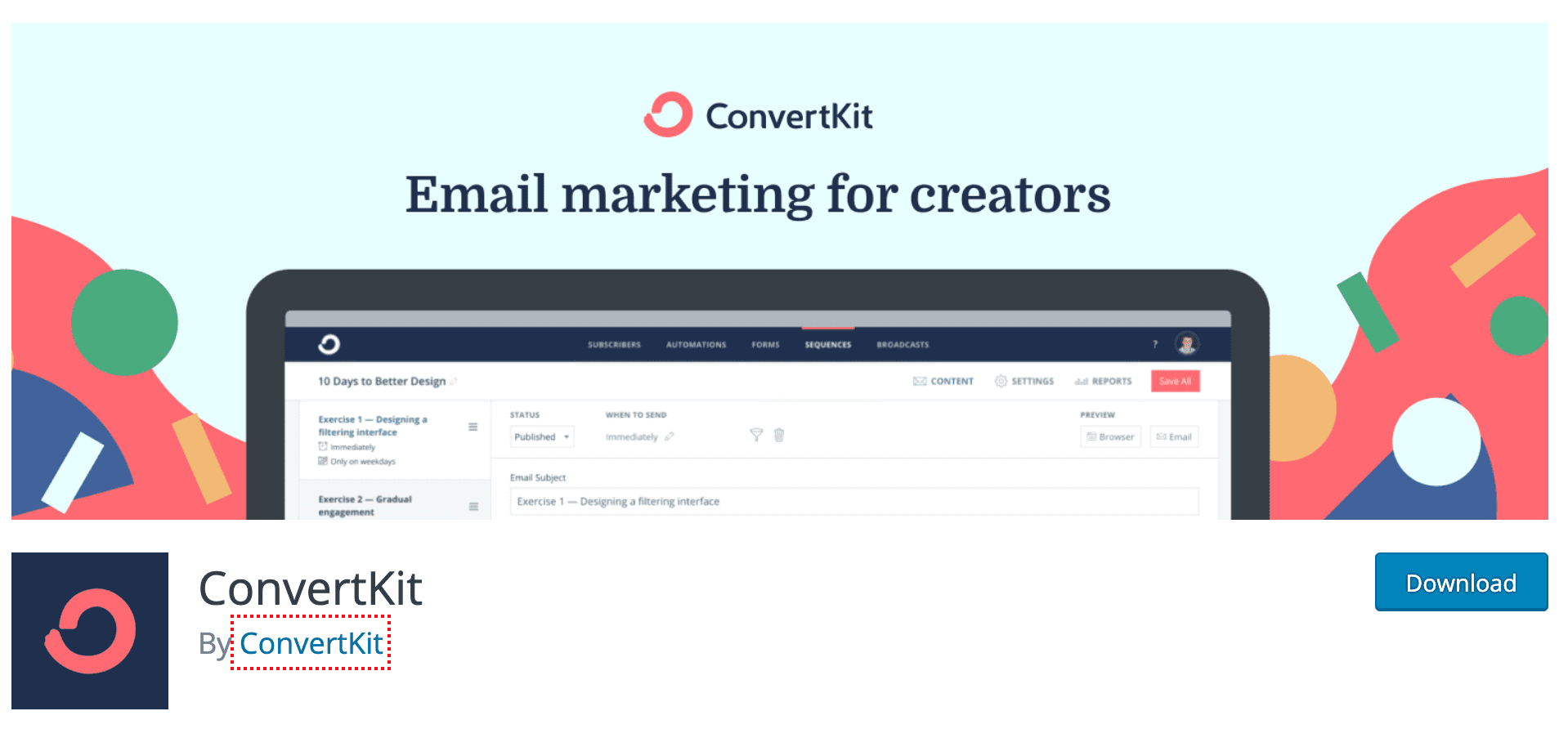 When creating a blog to support a business, it's important to spare a thought for accommodating email communications within your website. Services like Convert Kit allow you to build an email list and keep in touch visitors at all times – even after they eventually navigate away from your pages. If you're serious about starting a blog to accommodate better brand recognition and loyalty, building an email list is one of the most effective ways of creating a loyal customer base.
Among the variety of email services compatible with WordPress, few are as effective as Convert Kit. The platform allows users to create email lists and craft smart and engaging email newsletters to subscribers.
Significantly, Convert Kit allows a quick and straightforward setup process for users who may be less naturally technologically savvy. It's exceptionally powerful with lead generation tools like OptinMonster.
Stage 6: Generate compelling content
Congratulations! Your blog is up and running, and now it's time to put it to good use. Make your blog your own by reassessing your blogging goals, and reminding yourself of your core message *see Stage 1*.
Start writing and publishing high-quality content for your basic pages. You'll need a Menu, an About Page, Contact Page, Home Page and any other page your blog requires in the header.
1. Creating Content
All that's left to do is commit to the frequent posting of relevant articles, infographics and imagery that your target audience wants to see. To get started, go to your WordPress dashboard, and go to "Posts" and hit "Add New".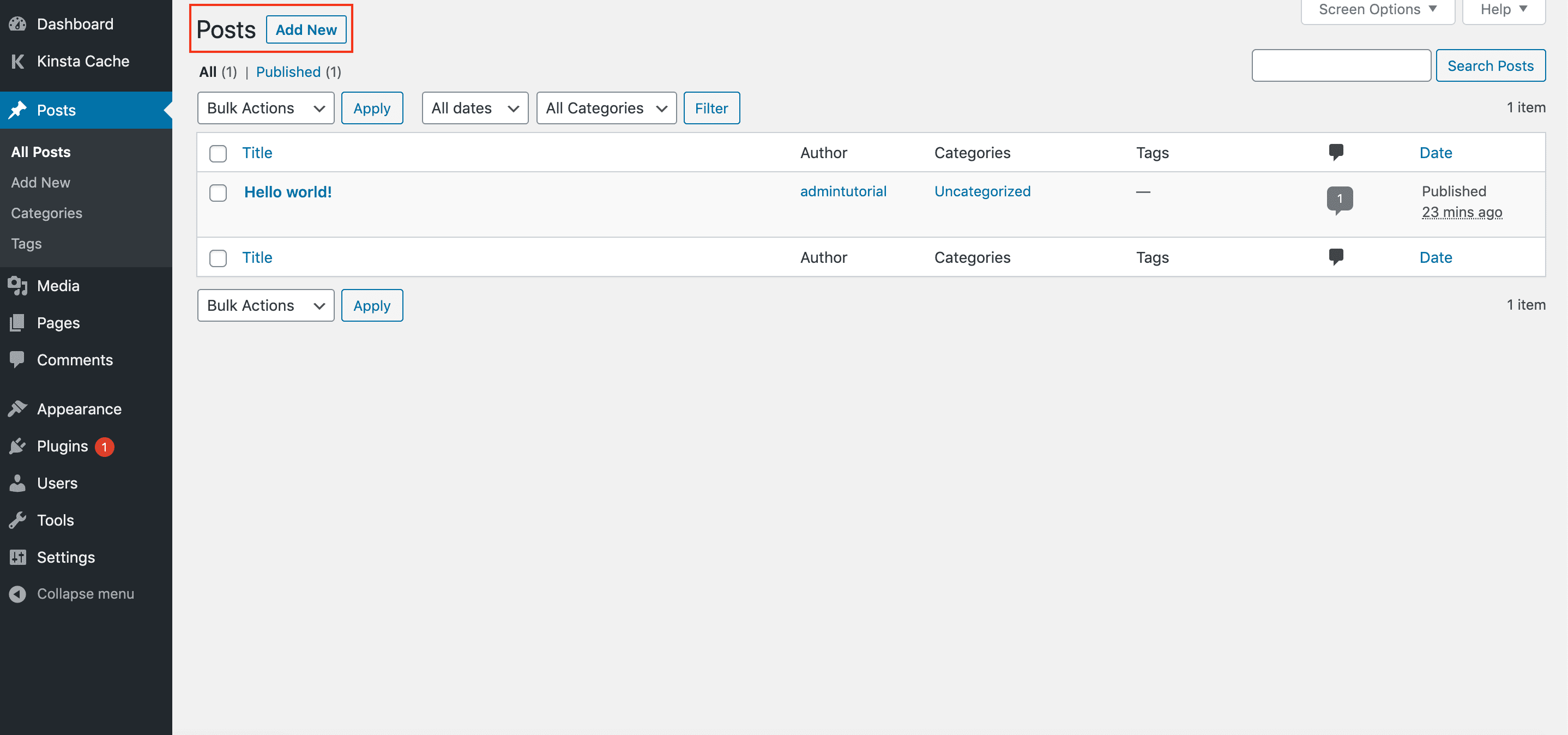 Each post will be different, but they should also have the same elements attached. Here are some useful tips that should be applied to each post:
Each post should be written to solve a problem, provide answers or to explore a given topic.
Work hard on your headlines. They're of central importance to gaining traffic and generating interest.
Don't stop at a great headline. The following content should be reflective of your headline.
Keywords in your headlines should be complemented by keywords in your content. More specifically, your keyword should appear within the first 200 words of your post.
Make good use of visual imagery. They break up the monotony and can help make a point stronger. Think graphs, charts, and evidence too.
Format your posts well. No one likes to read a wall of text. Structured paragraphs and subheadings make reading easier and more enjoyable.
Follow your tone of voice and stay true to your brand in each post.
Don't be disheartened if your attempts to reach your target audience doesn't happen straight away. You could be writing the most engaging content online with the best selection of keywords – but Google typically takes a little bit of time before it understands the value offered by a new high-quality website.
Make sure that your website is well indexed and that your menu is smart enough to allow users to navigate from one page to any other in a matter of three clicks. This will not only help your visitors but also Google to better understand your pages and what your blog is all about.
2. Picking Your Content Pillars
By now, you should have a clear idea of the type of content that you're going to create as part of your blog. However, it's worth taking the time to create some key topics that you can always refer back to in order to ensure that each article you write is well categorised and linked within your pages. By linking your writing back to content pillars, it can help you to maintain your focus on the topics that you initially created your blog to address.
By setting up a small group of fundamental topics to always refer back to, you're ensuring that you'll never stray too far from your core message.
Content pillars can be implemented in many ways. For example, if you were writing a sports blog, your pillars could be:
Tips for getting into sport
Relevant sporting history
Essential warm-up exercises
Buying training equipment for sports
Each pillar that you create operates as a foundation topic from which new ideas can be created. For every fundamental content idea you have, it should be capable of prompting dozens or even hundreds of fresh content talking points.
3. Create a Recognisable Publishing Schedule
As a blogger, it pays to be consistent. Creating an organised publishing schedule not only helps to establish a writing routine within yourself but can also show readers exactly when to expect fresh posts on your site. This gives them a clear indication of when best to navigate onto your pages.
Creating a publishing schedule can be difficult for some bloggers. After all, factors like parenthood, other jobs and the necessity of some free time can all come into play and make our time for content a little bit more erratic. However, allocating yourself a spare hour or two each day or every other day can really help to keep you committed to your blog and maintain a loyal readership.
While you can certainly aim to publish new content manually at predetermined times, WordPress allows users to create a specific time to make a page go live online.
Use plugins like CoSchedule to better manage your posts.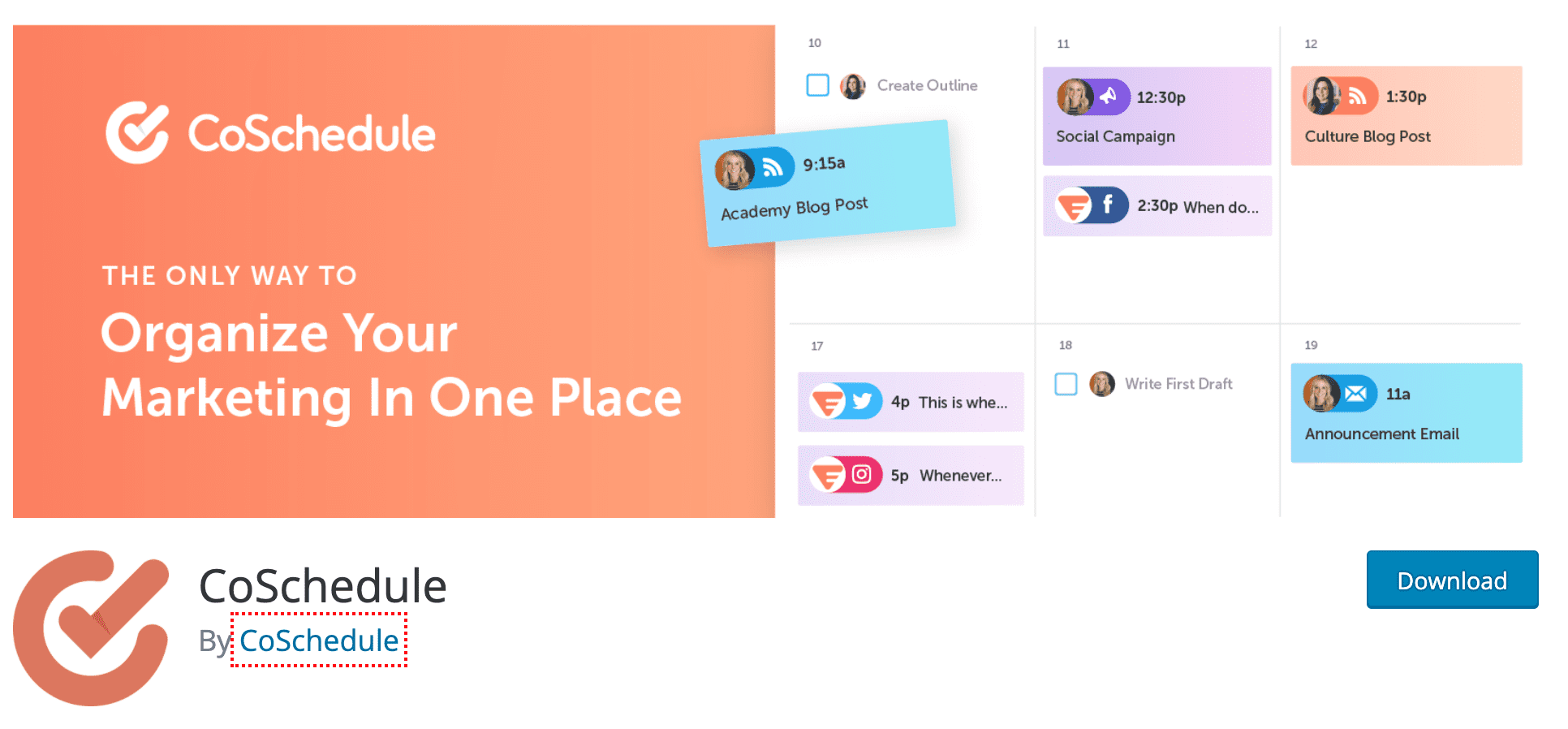 The beauty of creating a publishing schedule is that it perfectly establishes expectations among your readers. Just like how newspapers often publish specific contributor columns on specific days, readers will become familiar with publishing times and look to check regularly for fresh articles.
This approach also allows you to create your own expectations. Blogging is most effective when it becomes a personal habit, and if you don't find yourself committed, then there's always a risk that you'll write less frequently if you start skipping days here and there. Creating a schedule helps you to remain committed to the cause.
Furthermore, creating a schedule can help you to become more prolific in your blogging. Fundamentally, the more content that you produce, the larger your following is likely to become. All it takes is for one of your many posts to strike enough of a chord with readers to send it viral. Creating viral content can provide your website and business alike with a significant boost in terms of conversions and exposure.
With this in mind, it's also worth exercising some caution in setting up your publishing schedule. Creating content in a prolific manner is an excellent way of attracting new audiences, but you don't want to set unattainable targets for yourself.
Even if you're packed with ideas and motivation early on, insisting on writing every day can be unsustainable and runs the risk of leading to burnout.
Many blogs with great potential barely see the light of day because good ideas can spill out in a chaotic manner. Set yourself a manageable word count and commit to publishing an article once or twice a week. 2,000-word thought-pieces on a daily basis may seem like a great way of getting your ideas across, but you may run out of steam early on.
To help organise your content, it could be worth creating a Google Doc or Microsoft Excel sheet that details all the post ideas that you want to write and when you would like to get them out. There could even be space allocated for brainstorming points. If you're thinking about writing a post on bootstrapping your own startup in two weeks' time and suddenly think of a great talking point, you can quickly access your document and add it for ease of reference later on – thus lightening your workload later.
Building schedules can help you to work smarter. Instead of opening a document and attacking it head-first, you can really strategise what you intend to write and create a much more consistent feel on your pages that's sure to rub off on your readers.
Stage 7: Monitor Your Blogging Checklist
To recap, here's a handy checklist to remember when embarking on your blogging journey. While our guide is designed to make the process of starting a blog as straightforward as possible, the marketplace for website hosting and dedicated WordPress plugins can be highly competitive, and new offers and services can crop up on a daily basis. So it's worth conducting a little bit of research before taking the plunge with a registrar or tool.
Know your purpose
Build your brand
Find your host
Get WordPress
Explore essential plugins
Create and add content
It's also worth remembering that while you may have a winning name for your blog and domain name, if it's not entirely unique, it could already be taken by another blogger. The best way to gain traffic to your website in a highly competitive blogosphere is to get a little creative with your domain names – if your first choice is taken. Potentially anagrams can help to make long-winded names a little shorter. Amalgamations can also work pretty well in order to win exposure.
Final Thoughts
Building a winning blog comes down to having the freedom to work from a responsive and user-friendly base that can bring your confidence out as a writer.
Using tools and services that you can trust can really help you to relax and focus on delivering the results that you're looking for in starting a blog. This can pay dividends in the long run because most eye-catching blogs are built on engaging content that naturally commands attention from readers.
Always remember to keep your content exciting and accurate. There's no room online for fake news or sensationalist content, so focus on capturing the interest of readers through genuinely compelling copy. The very best blogs avoid drifting from their central themes and focus on connecting people with similar perspectives to share their interests, thoughts, and enthusiasm.
If your plan is to create a money-spinning blog filled with call-to-actions and empty attempts to push conversions, you'll only succeed in alienating valuable visitors. Too many bloggers attempt to skip the part that makes blogging enjoyable: the creation of enjoyable content. Get your writing right, and the rewards will naturally follow.
It's as simple as that! We look forward to seeing you out there in the Blogosphere.