Real estate is an industry that's become intertwined with the world wide web. In fact, over 50% of house hunters begin their search online.
In this day and age, search engine optimisation forms the backbone of any successful digital endeavour – and should be considered an essential practice in standing head and shoulders above a deep field of competitors.
As a strategy for gaining prominence, SEO may seem complex and mysterious, but some forms of search engine optimisation are incredibly easy to implement for your website and content. The first step is to conduct a proper SEO audit to ensure you know w2hat needs fixing.
Here's a list of 19 actionable strategies that can help you to increase traffic, drive links and generate the kinds of leads that will help to beat any competitors lurking in the digital shadows.
1. Keyword research and targeting localised keywords
It's keywords that make SEO tick. Search engine results pages are compiled to position the best matching keywords to the terms being searched for nearer the top – making them easier to discover for users.
One thing that sets real estate aside from most other industries ripe for SEO is the potential that lies in targeting localised keywords. Because your catchment area is much more local than, say a software-as-a-service or e-commerce company, there's plenty to gain in making your business discoverable on Google through the addition of location-specific keywords.
Realtors often have portfolios that expand beyond one specific location, but for the purposes of optimisation, try to focus on the city or area that you serve, unless you're based in major cities like London or New York.
Use tools like Ahrefs to identify how competitive your area is when it comes to real estate.

Although "London Real Estate" probably isn't the keyphrase people use when searching for a 1 bedroom flat to rent, but it sure shows how competitive the London real estate industry is and how hard it would be to rank for that phrase, especially if you're a small company. Instead, it worth focusing on your specific area. Although the search volume is lower for localised keywords, these are much more targeted.
If, for example, you were a real estate agency that caters to the Huddersfield area, keywords like 'Huddersfield real estate' or 'Huddersfield homes for sale' will be sure much easier to rank higher.
2. On-Page SEO (Meta tags)
On-page SEO can feel like a nuisance. You've created your content and sent it out into the big wide world, why should you get down to the nitty-gritty of meta tagging your work and thinking up a description?
Meta tags and other forms of post-production SEO can make all the difference in making your business visible online.
One of the most important aspects of your on-page SEO has to be your meta tags. They're used in a variety of different ways, all to tell the crawlers (and readers) accessing your site what the page is all about. One key meta tag is the title tag. Editing your title tag gives you full control of what users see when your page pops up on search engine results pages. A tried and tested approach to your page title is 'Primary Keyword – Secondary Keyword | Brand Name' – this aids you in positioning two keywords inside your page title while giving your company name some exposure.
Here's an example of a highly targeted meta title:

It's worth keeping your title tag (or meta title) up to 65 characters in length.
Your meta description is reserved for the space below your heading on search engine results pages and is another chance for you to embed keywords into a larger body of text while offering an informative description of what sort of thing your content contains. Meta descriptions should be kept up to 160 characters in length.
It's also worth making sure you implement an effective usage of H1-H6 headings as well as image alt tags (alternative text for the search engines) whenever an image is used on your website.
Appropriate heading tags also play a vital role in breaking articles up and making the information on the page easier for visitors to follow and find. So important is on-page SEO that there are plenty of websites out there offering services to help you optimise your, well, optimisation. Yoast SEO is one such business that's keen to help customers master their approaches – they also offer automatically created sitemaps that help make your pages discoverable on Google.
3. Technical SEO
Technical SEO rightfully deserves its place near the very top of this list because it's absolutely vital in ensuring that your content is accessible and remains discoverable without any hitches.
A poor performing website affects its SEO, which means that extra care should be taken in ensuring that your pages are in order and running as smoothly as can be.
Be sure that your site has all the relevant security and SSL certificates attached. You could have all the right keywords embedded in all of the right places, but it won't amount to much if Google identifies your pages as potentially unsafe for visitors.
It's also important to test your website to ensure that its loading times are as swift as possible. If your pages take too long to fully load, it's a sure-fire way of causing bounce-backs where visitors give up and return to their search results. There are plenty of options out there if you're looking to test the performance of your site, and Google has one particularly powerful engine for checking out how responsive your pages are.
Here's a quick checklist of Technical SEO aspects to consider:
Fix any broken links (internal & external)
Ensure mobile-friendliness
Improve speed and caching
Submit your XML sitemap to Google Search Console
Add an HTML sitemap to the website
Ensure proper usage of meta robots (e.g. "noindex", "nofollow")
Ensure proper usage of redirects (301s and 302s)
Make sure your Robots.txt isn't blocking any important pages
Add an SSL encryption
Use structured data and markup
Use Hreflang if you're a multi-language website
Consider integrating AMP (Accelerated Mobile Pages)
Ensure proper usage of canonical tags
There're many more things to consider. Check out the following checklist.
As a realtor, the chances are that your pages may contain more images than most websites, and it's vital that property pictures are compressed accordingly to speed up your loading times. Page caching should also be utilised.
4. Menu, Structure, URLs and Navigation
Effective site structure leads to strong SEO, and it's important to have a clear layout that encourages internal navigation and positive user perception of your organisation.
SEO Results Partner, Propecta, summarises the value that strong site navigation holds thus: "The site navigation explains your brand, highlights your priorities, and helps guide visitors through the buying journey. Top-level pages usually provide general, high-level information for buyers in the awareness stage. As users progress through the journey—and deeper into your site structure—information becomes more specific. As a result, your website navigation design is an effective tool for lead nurturing and generation."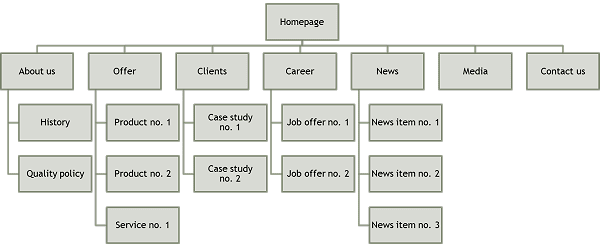 Image Source: SiteImpulse
Make sure that your website links together well. Ideally, you'd want all of your pages to be intertwined and accessible through no more than two clicks, no matter which page the visitor is on.
5. Ensure you're mobile-friendly
We're an increasingly mobile society, and it's imperative that you embrace the fact that visitors will be looking to access your website while on-the-go. Use tools like Google's Mobile-Friendly Test.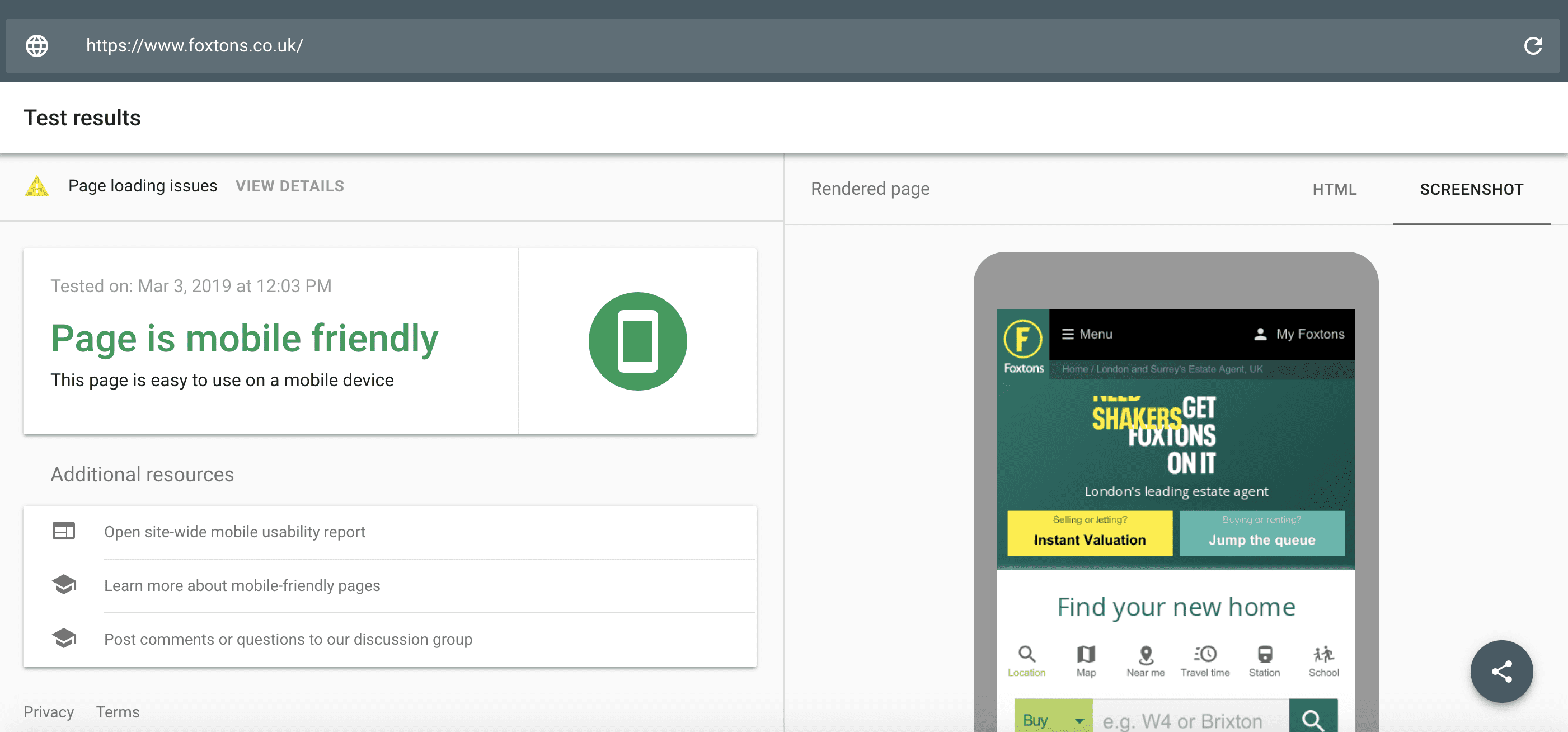 Accelerated Mobile Pages are a great solution for businesses that are looking to cater to a mobile audience. By utilising AMP, you benefit from having much much faster loading times for users accessing your pages from mobile devices and in turn improving their experience on your site.
This increased usability will be reflected favourably on search engine results pages, with the reduced rate of bouncebacks from mobile users aiding your website's ranking position when a relevant search is made.
6. Link Building
In a nutshell, link building is the name given to the process of securing backlinks to your website from external sources. Backlinks get their name from the job they do: they send traffic from a website back to you. What you would know as a backlink, the referring site would likely call an 'outlink.'
The importance of link building can't be underestimated. Having other websites linking back to your content not only improves your business's visibility online but also reaffirms your credibility in the eyes of Google.
Link building represents the beating heart of SEO and there are plenty of techniques in which you can gain links that point to your content. Here, we've created a small list of the five most popular forms of link building:
1. Skyscraper technique
The skyscraper technique is a form of link building made popular by Brian Dean of Backlinko, and it's beautiful in its simplicity.
Put simply, the skyscraper technique revolves around finding existing link-worthy content and creating something better yourself. You then reach out to the right people with your brand new high-value content.
All you need to do to perform the skyscraper technique is a search for popular content that's relevant to your business and target market. When it comes to the real estate game, keep on the lookout for content that covers the industry's high-value keywords. If you see a high ranking article entitled '21 tips when renting your first office space,' take a moment to think about how to make the piece better and then do it yourself – '25 considerations to make before renting office space' may work wonders in driving traffic on to your pages.
2. Blogger Outreach
Operating in a similar sphere to the increasingly popular 'influencer' campaigns in marketing, blogger outreach is the act of leveraging prominent bloggers to produce content that draws attention to your business.
In enlisting a successful blogger to create content on your behalf, you benefit from reaching a large scale audience with ease, and all at a cost that will be negotiated between your business and the blogger that you're reaching out to.
Here, it's important to be well aware of the audience that you'll be reaching by gaining the help of a blogger, so it pays to do your homework. Luckily there's no shortage of influencers that cover the topics of the property ladder, home ownership and interior design, so take a moment to think of the content you would like to be associated with and outreach to reputable bloggers accordingly.
3. Broken Link Building
A rather cunning approach to link building is by searching the web for existing broken links on other websites' content before suggesting that the author refreshes their article by replacing the broken content with your own.
Broken link building is a very efficient method of getting valuable backlinks to your website, and has a higher success rate than alternative techniques due to you offering a solution to an on-site problem to the user you're outreaching to.
Use Ahrefs to identify broken resources of your main competitors. In this example, we've analysed Zillow and found a number of broken resources worth recreating and reaching out to those who still link to Zillow.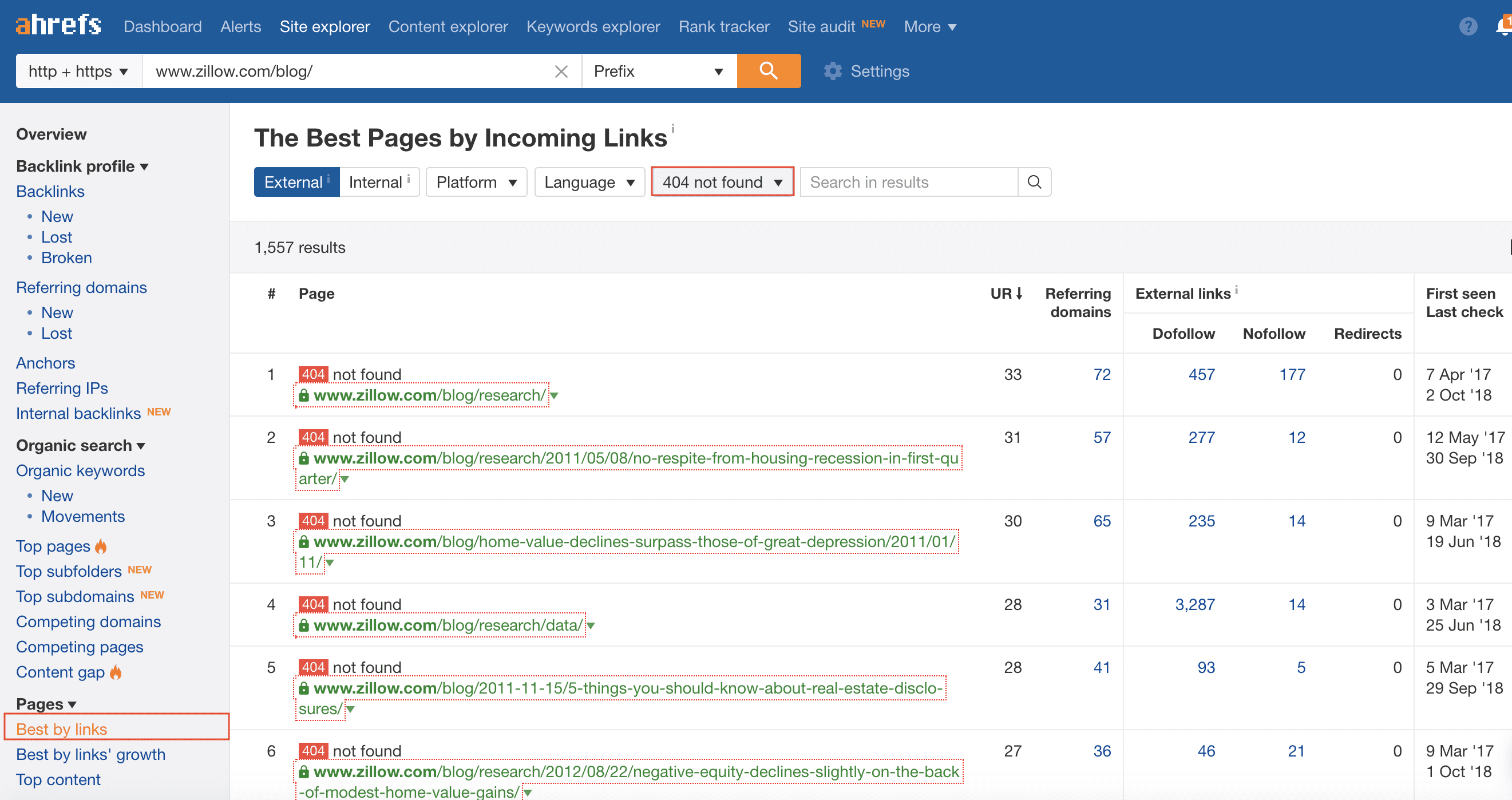 Be sure to look for pieces online that could benefit from your realtor's inclusion – things like lists recommending the type of content your business produces is a great place to start. Simply email the website's editor or author and inform them that they have a broken link in their list, and explain that your website possesses similar content that you believe is of a higher quality which is free to be included provided that it's accompanied by a backlink.
4. Guest blogging
It may seem a little counter-intuitive – after all, why would you want your work to appear on a website that you have no control over? But guest blogging opens many doors for a website looking to gain a little exposure.
The beauty of guest blogging is that your content can be positioned under the noses of a brand new, much larger, audience who'll be looking to find out more by clicking through to your real estate website.
The way guest blogging works is that you create a topic to write about and pitch it to a higher ranking website or blog that could be interested in featuring your work. Readers who wouldn't have otherwise heard of your business will see your content and develop an interest in your service.
Be sure to spend some time considering your target audience and where they may be located online. Content is at its strongest when it's planted in the right environment to generate leads. For real estate, be sure to target leading relevant blogs and news portals that accept guest posts.
Use the following Google search strings to find guest blogging targets. Just type the phrase in Google search.
real estate "write for us"
real estate "contribute"
real estate "contributor application"
real estate "guest post"
Here's one we like to us. It's slightly more complicated but usually returns accurate results (it's not something you would normally type into Google).
real estate ("submit post" | "write for us" | "submit article" | "guest post" | "become a contributor" | "contributor application" | "become an author" | "submit post")
5. Resource pages link building
Another simple method for link building is by boosting your presence on external resource pages.
Many websites enjoy creating reference points for their visitors to learn more about the subjects that they cover. A pet-focused website may have a page containing useful links for online dog food stores, and a digital car dealership might build a page focusing on car comparison websites. When it comes to real estate, especially if the referring website is local, it pays to get your site featured online.
Resource pages link building is a golden way of gaining traffic for the simple act of having your website referred to by an external page. This form of link building is also great for building your domain authority and doesn't rely on the constant production of content.
To find resource pages, use the following search string in Google: real estate blog inurl:resources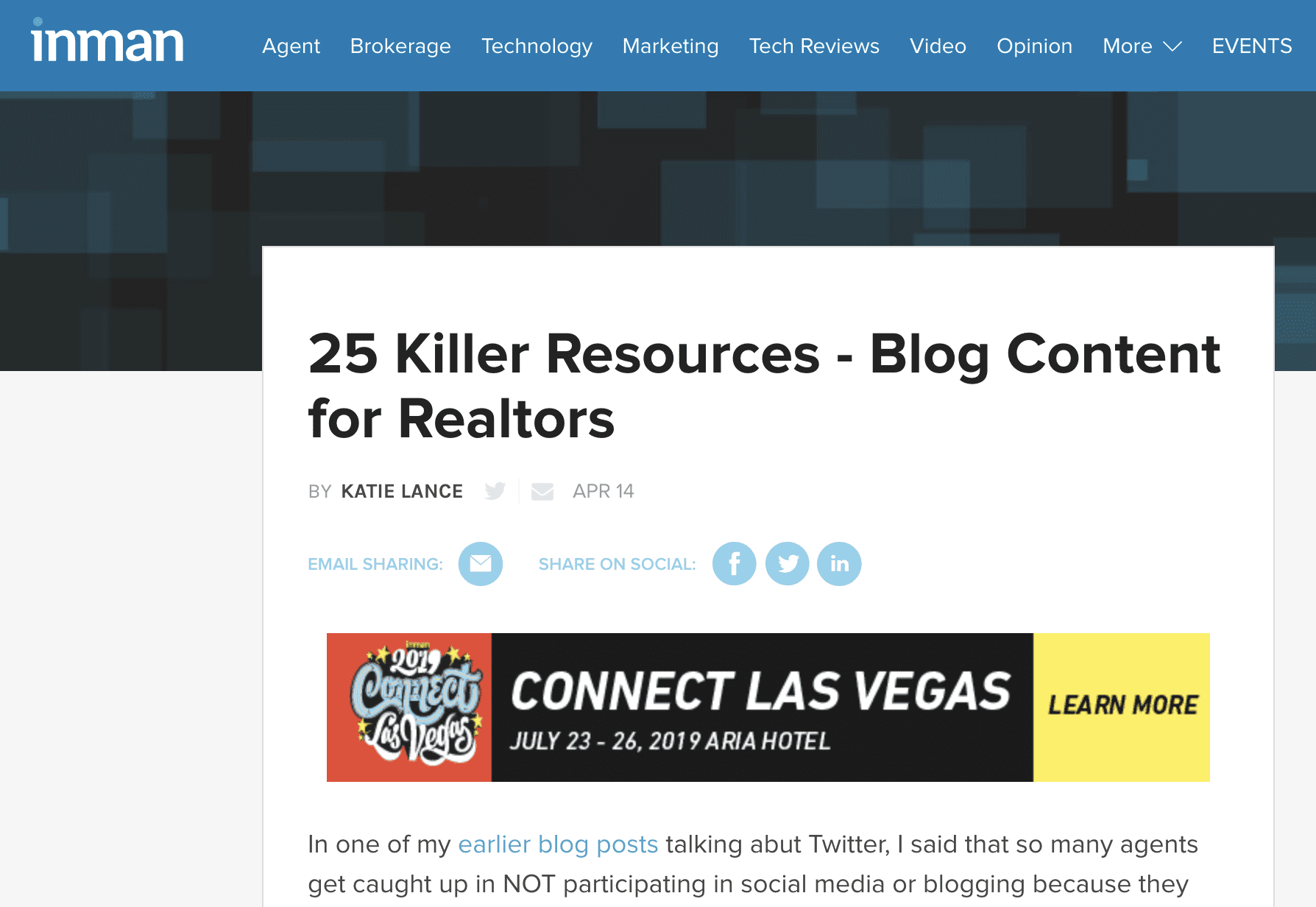 Simply outreach to any websites that you believe could benefit from linking to your business's pages and enjoy the boost in visitors.
7. Start a Blog
If you're not already running a company blog, then your business is at a disadvantage. Blogs make for an excellent platform to not only show your industry knowledge off to your audience but also to position your organisation higher up through Google's rankings thanks to keyword opportunities.
Your blog can help you draw in niche audiences depending on which topics you cover. In such a competitive industry, it can be hard keeping up with leading websites, but through effective blogging, you can certainly build a great appeal to potential customers.
8. Long-Form Content Creation
We've given plenty of coverage to the importance of targeted keywords, and long-form content creation is the perfect place to exercise discoverable terms.
Although to creators the notion of producing long-winded content may seem counter-productive, the above chart shows that search engines look favourably upon longer articles.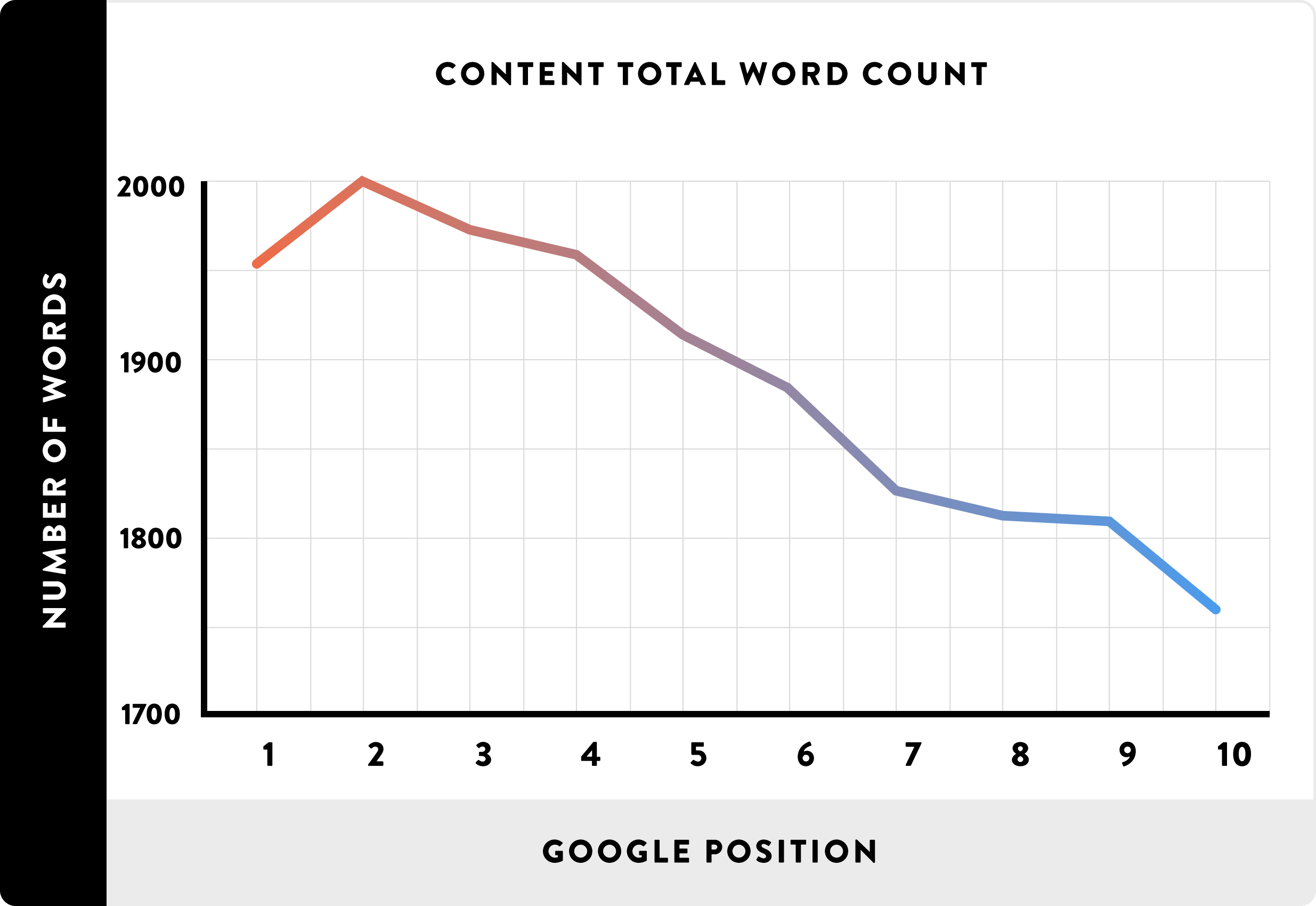 Image Source: Backlinko
The higher volume of keywords that you're capable of embedding into long-form content is certainly a plus, and as the data shows, the average word count of Google's first-page result is 1,890 words. This approach also tends to yield better quality and quantity of backlinks back to your website.
Fundamentally, it's important to keep your audience at the front and centre of your thoughts, and by producing long-form pieces like guides and tutorials, you not only get the chance to show your industry expertise but also build trust between your business and target audience.
9. Create content to tackle high-volume, low competition keywords
Exploiting high volume, low competition keywords is an art form in its own right. When it comes to SEO, there's little use in utilising highly competitive keywords unless you have the domain authority of The Guardian or The Washington Post. For many fledgeling companies, the best practice is to find your niche topics that few established businesses have covered.
Services like Ahrefs and SEMRush make for excellent tools to identify the sort of terms that users are searching for with too few results in place.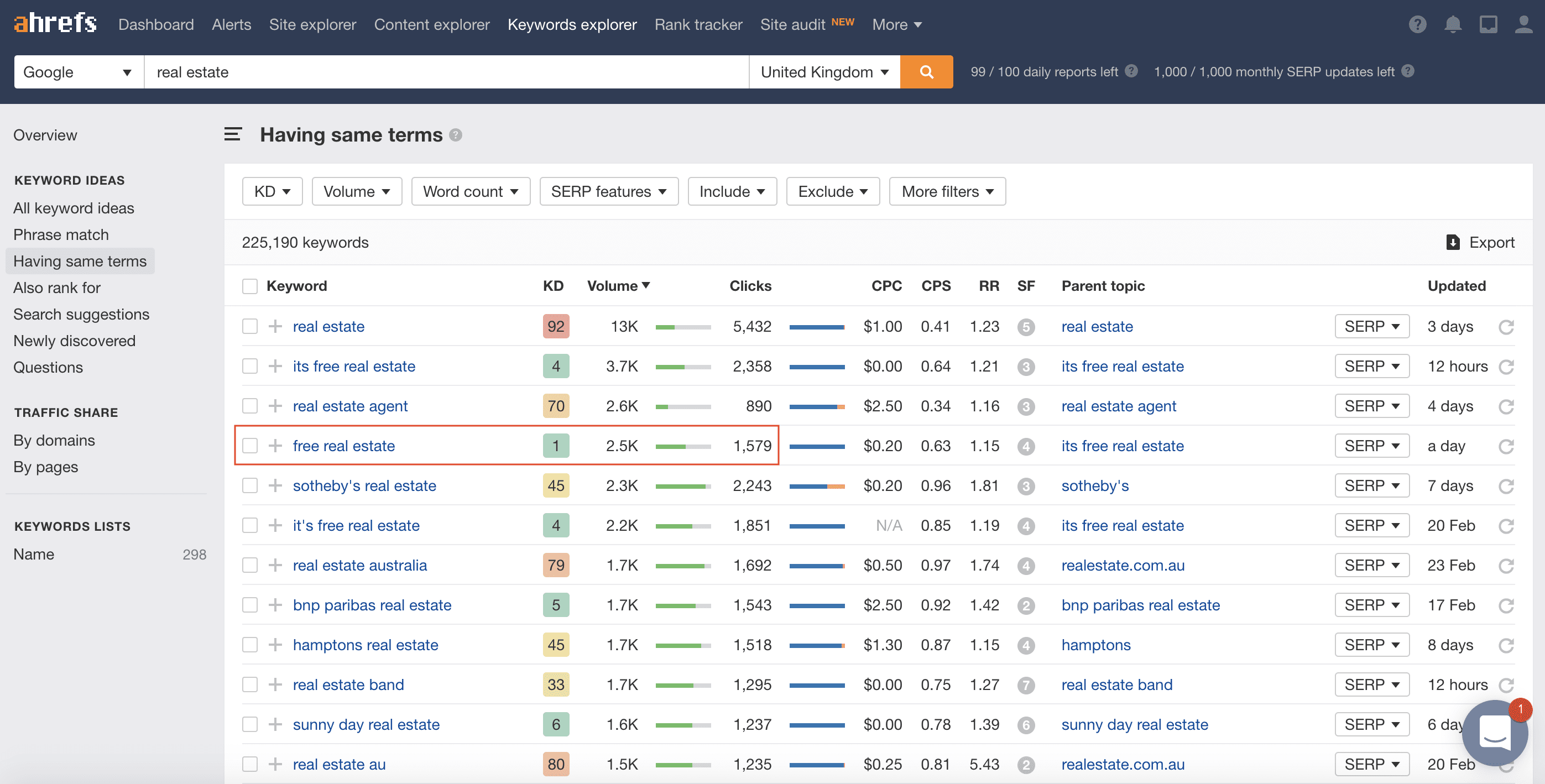 The main keyword "Real Estate" is extremely hard to rank for. However, by digging deeper on Ahrefs, you can find some decent phrases that are fairly easy to rank for yet have a high search volume.
Hence, it could be worthwhile creating a piece of content targeting that specific keyphrase.
But if you're feeling like working on your own initiative, a browse of regularly recurring queries on Quora's message boards can provide a deep insight into the sort of subjects you can cover in return for big results.
If you spot a trending question that's being asked or discussed by volumes of internet users without much supplementary coverage from competitors, you may well have found a cosy niche to utilise in your upcoming content. Finding high-volume, low competition keywords can make all the difference in vying for attention online and enjoying a regular stream of traffic.
10. Create valuable content that answers questions and satisfies searcher's intent
Sometimes it pays to remember that the purpose of search engines is to provide answers to queries. Many key figures in SEO forget that those who are navigating onto their content are usually looking for answers.
Be sure to craft your content so that it leaves no stones unturned. If you create an article that covers the 'biggest problems that first-time owners face when buying a property', be sure to actually highlight a series of significant problems and offer solutions – it can make all the difference between your realtor's website containing content or possessing high-quality content.
To see what people are searching for, it's worth checking out Quora to see what sort of questions people ask.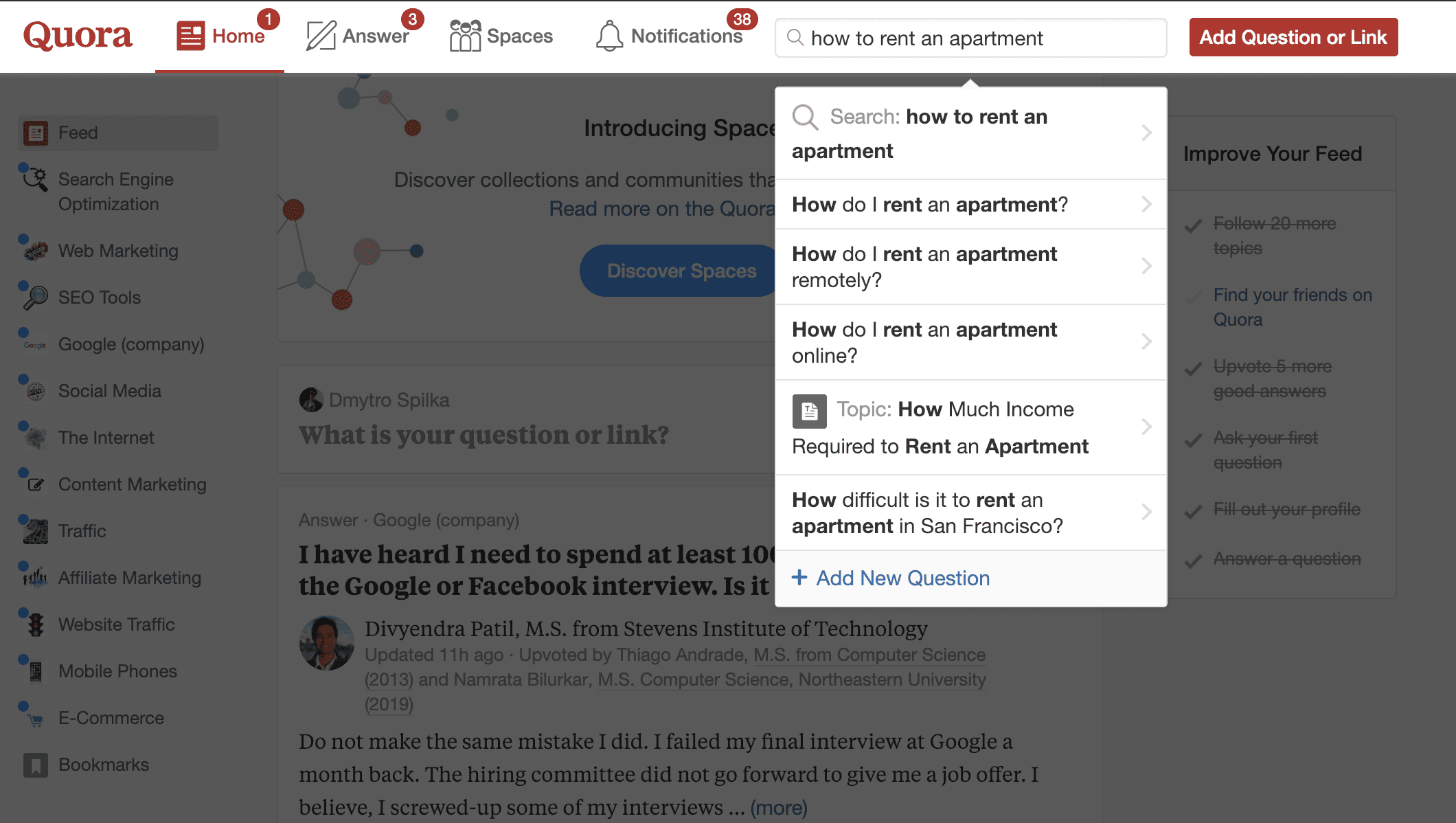 11. Create interactive content
Numbers have never been too appealing to the internet as far as our search engine overlords are concerned. Interactive content and visualisations, however, are like gold dust to SEO practitioners.
User-friendly visualisations of content work wonders for customer experience models, and prevent bouncebacks from bewildered visitors who aren't so grateful for being bombarded by numbers upon navigating to your site.
Interactive guides that cover property price fluctuations and clickable maps that detail each property you have on sale and its location can work wonders in retaining your audience and building a positive experience for them.
When it comes to visualising data, there are few entities more powerful than the infographic. The beauty of infographics is that they make large quantities of data visually appealing – so much so that they're magnets for backlinks, and you'll no doubt find yourself gaining a considerable level of traffic upon converting your raw facts and figures into an easy to follow the chart.
12. Pictorial props
Firstly, you should always look to incorporate images into your content. The visual appeal of pictures helps to break up large portions of text and gives the reader some respite throughout reading a piece of long-form content.
Secondly, utilising images in your articles actually helps your technical SEO. SEO behemoths, Yoast, explain the increasing value that pictures carry in the industry thus: "What's more, since visual search is getting increasingly important — as seen in Google's vision for the future of search — it could turn out to provide you with a nice bit of traffic. If you have visual content it might make sense to put image SEO a bit higher on your to-do list."
Naturally, as realtors, images should be central to your business, and provide valuable opportunities for advertising the properties that you're keen to sell. (Almost) All living spaces are beautiful, so there's no harm in giving them some prominence on your website.
13. Directories and Citations
So, you've created some compelling content, and drawn widespread interest in your company. Now what? If your business isn't discoverable online then there's little point in marketing yourself.
Directories and citations help to bring a little bit more physicality to your digital presence. Be sure to have your business telephone number and location listed on Google and social media platforms like Facebook, Twitter and Instagram.
Essentially citations help internet users to discover local businesses and pay a considerable role in optimising your local search engine rankings. What's more is that businesses, like yours, can play a hands-on role in managing your citations to ensure that your data is present and correct for potential customers at all times.
It's also imperative that your business is listed on local directories such as Google My Business, Bing Places, Yahoo and Yelp – among other prominent platforms.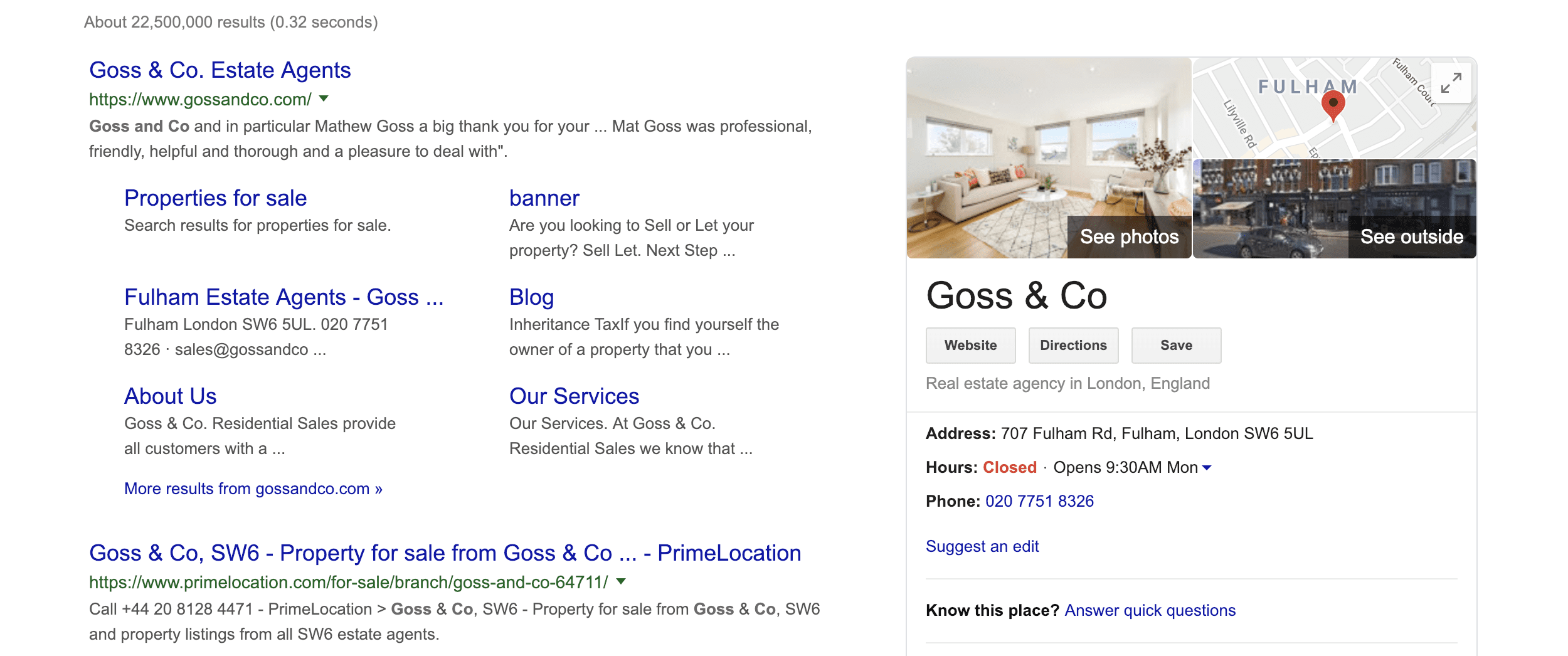 Here's a comprehensive list of quality directories.
14. Answer real estate's recurring questions (using Quora and forums)
We touched on it earlier, but it's certainly worth emphasising the value that a little bit of market research can bring to your company's SEO efforts.
The industry's biggest failsafe is to approach your content from the angle of answering the questions that your competitors have failed to address. Such a tactic calls for a deep scrub of platforms like Quora and social media, as well as the FAQ pages of websites that have been negligible in providing workable solutions to visitors.
Invest some time in finding questions that have been repeatedly asked over large periods of time until recently – this indicates that your solutions will continue to command a steady flow of traffic long into the future, helping to futureproof your endeavour.
15. React to relevant trending news stories
Nothing trends better or more efficiently than a breaking news story. Keep up to date with real estate's most pressing topics of the time – your insight can be a sure fire way of riding a wave of traffic back to your site.
Use Google Trends to identify what's trending in your niche.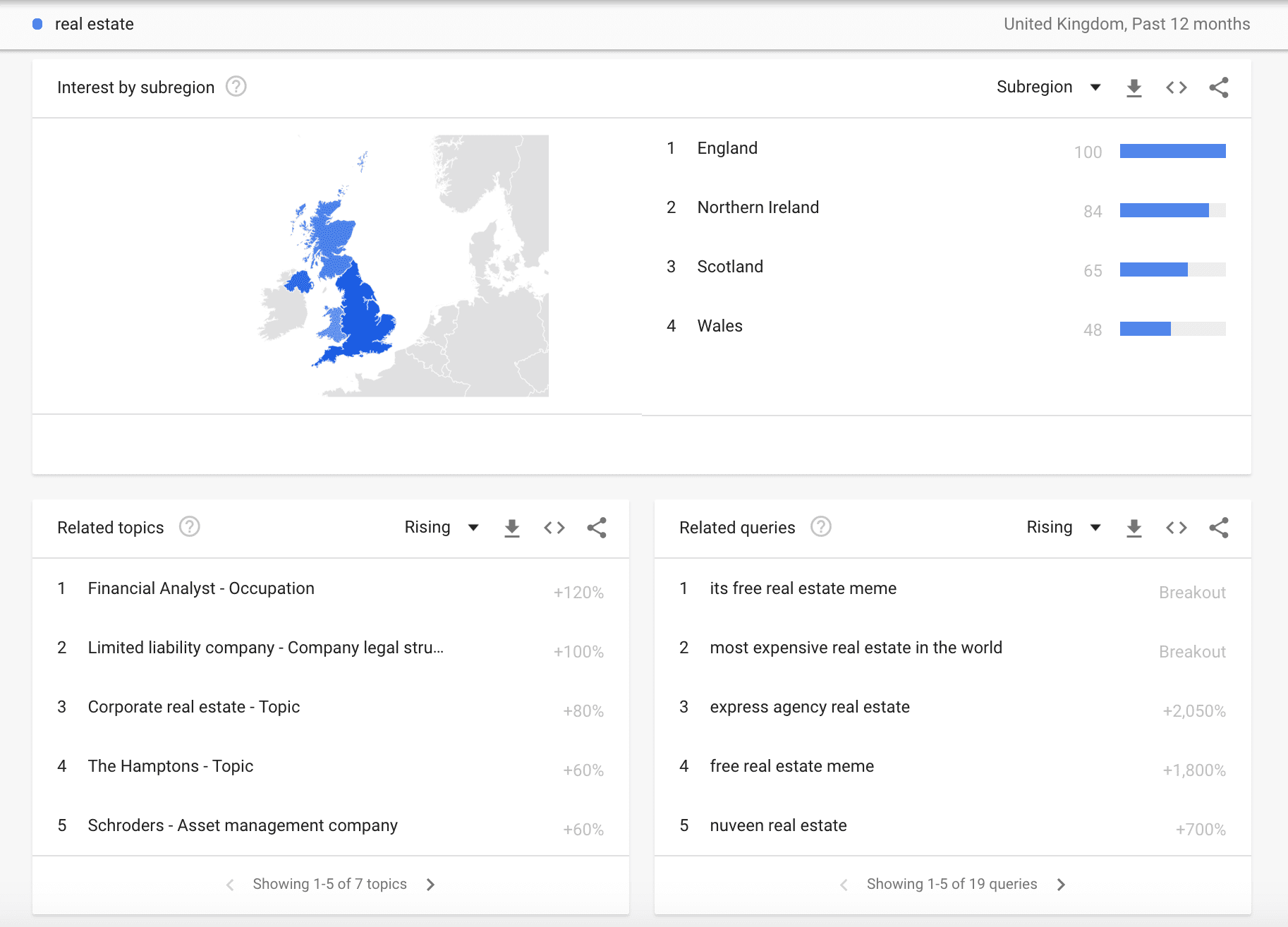 Real estate is a highly speculative field and as such, there's no shortage of content opportunities for businesses that are happy to get topical. In England, speculation over a 'bubble' in housing prices has been proven as highly newsworthy for decades, and at the time of writing, an emerging row between apartment owners and the Tate Modern Gallery over privacy concerns has been gaining column inches for weeks. There are plenty of inspirational stories to draw on, and by producing topical content you can expect to draw relatively heavy levels of traffic looking to educate themselves further on developing stories.
16. Consider embedding online tools such as mortgage calculators
By utilising online tools, you can add considerable value to your website. It's reasonable to expect that all of your visitors are eager for convenience, and by developing an interactive tool that's designed to make their lives easier, you can greatly improve your user experience and bring long term appeal for widespread audiences.
Tools such as mortgage calculators have the ability to transcend the lure of quality content and provide tangible, practical use. This approach can act as a draw for users who wouldn't otherwise have a reason to visit your pages, and typically requires very little maintenance.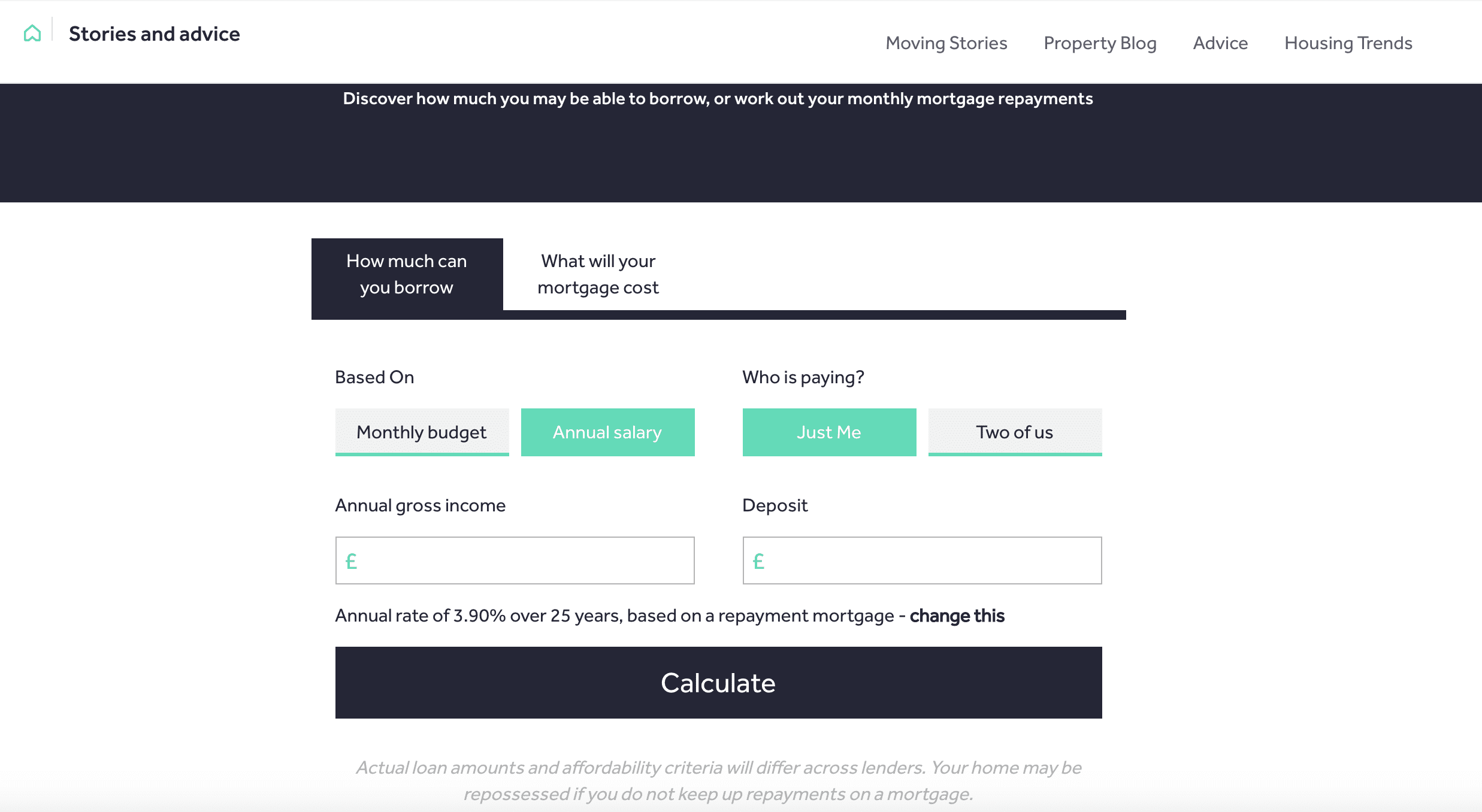 17. Build trust by demonstrating your expertise (Google reviews, testimonials, etc.)
Real estate is an expensive industry, and customers will be eager to find businesses trustworthy before using them.
SEO is a vital component in building trust between companies and customers, and high-quality content works wonders in demonstrating your industry expertise as well as feeding valuable information to prospective customers.
If you continue to provide quality content, you'll continue to build on a network of trust and respect for your organisation – even if many of your recurring visitors never make the decision to purchase or lease property. This higher level of audience engagement improves the user experience exponentially, and you'll be able to reap the benefits through positive feedback.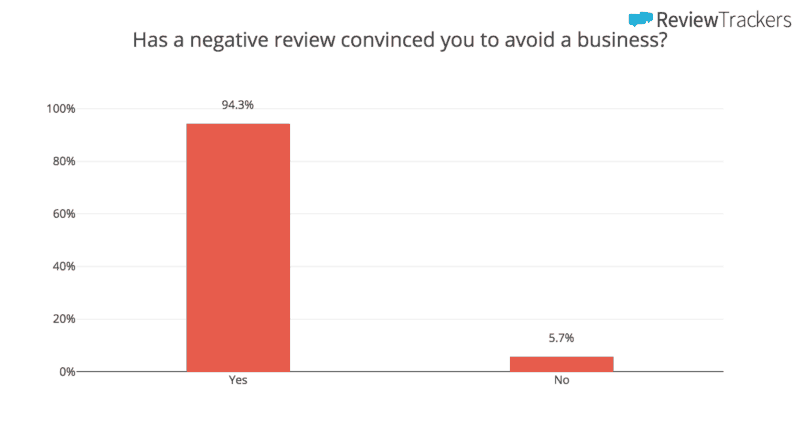 Image Source: ReviewTrackers
In the above survey conducted by ReviewTrackers, there's a clear trend in users responding to reviews left on dedicated websites and search engines. The beauty of building trust through quality content that transcends faceless marketing is that the benefits will be seen within the quality of customer reviews.
18. Internal linking is key
With such an emphasis on generating backlinks for your content, an often overlooked but essential piece of industry practice is to utilise a healthy level of internal linking throughout your pages.
The internal link is a useful tool that helps visitors to navigate through pages of the same website with ease, and encourages them to stay browsing your pages for longer.
Internal links are also vital in helping search engines to better understand your website's architecture. If some of your pages are poorly linked within your site, the likes of Google will struggle to piece your business's website together properly, which will ultimately affect your ability to climb to the front of search engine results pages.
19. Invite discussion within your posts & build a community
The comments section of blog posts can make for an amazing way of gaining feedback and generating user-created content. Tools like Disqus can help.
Be sure to invite discussion on the articles that you create by asking for readers' thoughts on the subjects covered. This will not only encourage users to interact with each other as a means of building your brand, but also utilise more keywords within your website.
The beauty of building a platform for users to comment is that it will single-handedly give visitors a reason to return to your pages. Even if there's no fresh content released on a given day, an emerging discussion could make for a sizeable draw.
Full Disclosure: This post may contain affiliate links, which means that if you purchase or sign-up with one of the services, we may receive a commission.