Advancing technology coupled with the devastating emergence of COVID-19 has enabled more businesses and employees alike to wake up to the prospect of working from home (WFH).
Thanks to intuitive tools like Zoom and productivity apps like Monday, it's never been easier to collaborate and work with clients whilst keeping organised yourself thanks to tools like Evernote.
The stereotype that those of us who work from home are pyjama-dwelling sloths has been proven to be completely unfounded, too – with numerous reports suggesting that we're actually more productive in the comfort of our own homes with the benefit of avoiding commutes and the early alarm calls that come with them.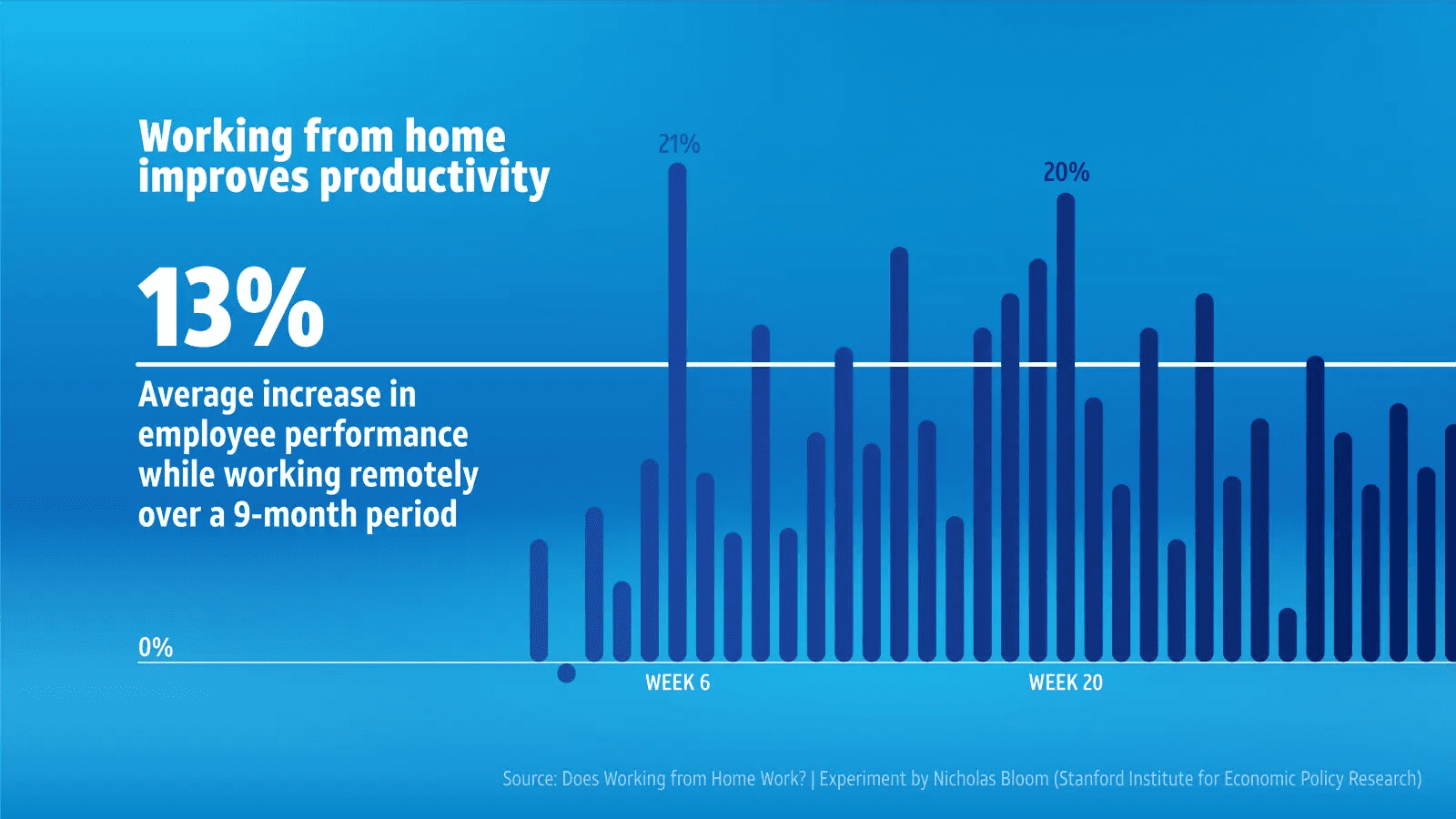 (Image: Quartz)
Quartz suggests that WFH employees are around 13% more productive than their office-based counterparts. This begs the question, why don't more of us take the plunge and work in the comfort of our own homes?
Today there are more opportunities than ever to set up a WFH career in a range of industries. The world's becoming smaller by the day, and there's no shortage of jobs that businesses need doing around the world.
So whether you're eager for a change of direction, or looking to start a new career in a fresh industry, there could be a WFH and freelance role that may suit you down to the ground.
To help you explore this brave new world of unprecedented opportunities available to workers willing to WFH, here's a list of 30+ great online jobs that you can complete at home. Regardless of whether you want to jump both feet first into a new role or rather pick up odd jobs while looking after a child, our list will certainly have something for you:
1. Use FlexJobs to find remote jobs and become a freelancer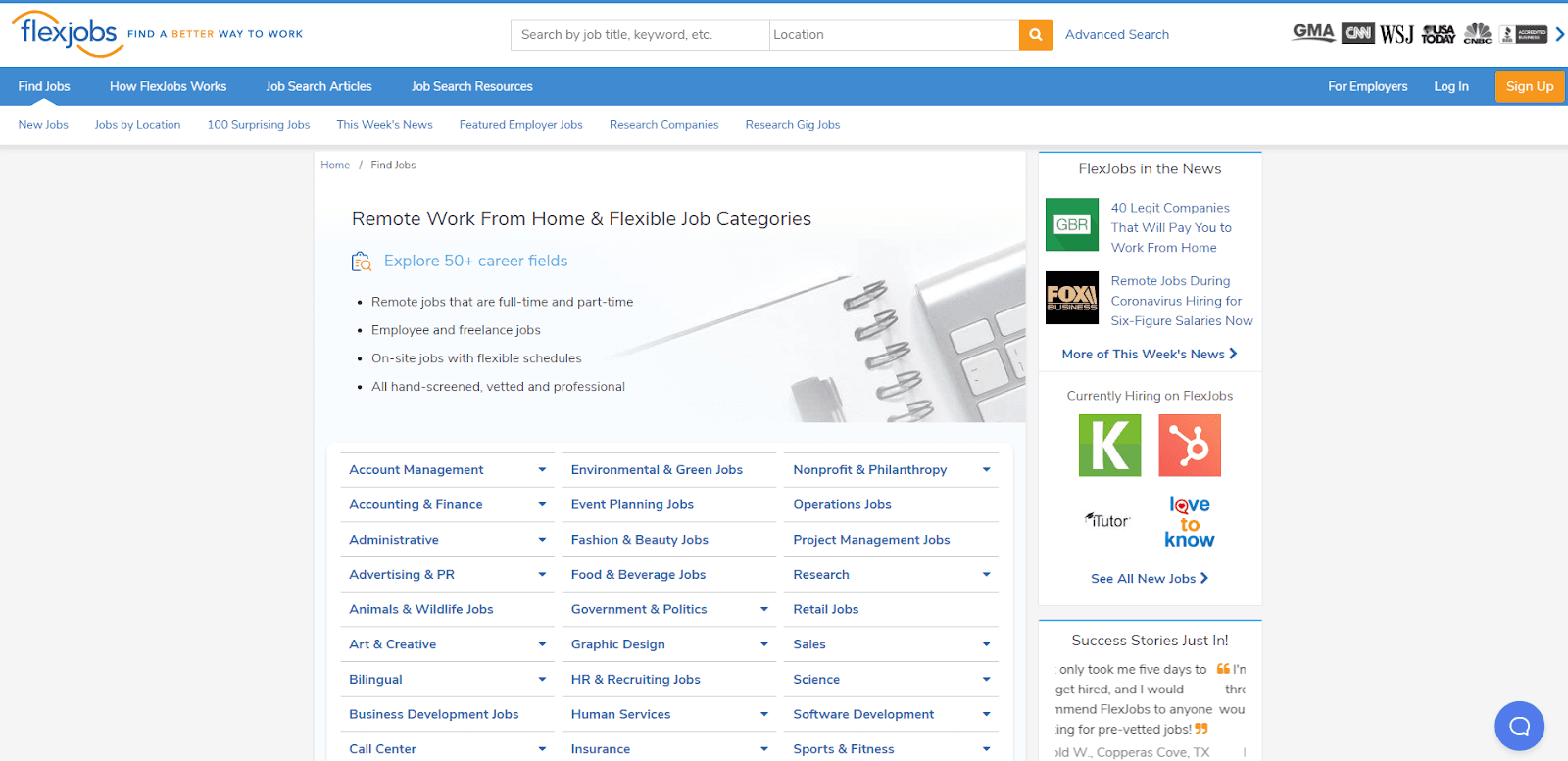 FlexJobs excels in providing people with a platform to find the perfect WFH job for them. Where many major job markets focus on in-house roles, FlexJobs showcases the best positions that are available to work completely remotely.
With over 50 different remote job categories from which freelancers can choose from, there are plenty of opportunities out there for you regardless of your industry or skill level.
Conveniently, each job listed on FlexJobs comes with a list-based overview of its specifications. This can help you to understand the level education required to undertake tasks, the expected hours of work per week, the level of flexibility associated with each role and the career level involved among much more.
To get started with FlexJobs, you simply need to sign up and create a profile. Although there's a monthly fee associated with using FlexJobs, the platform automatically vets each employer that posts to ensure that your freelance journey encounters as few bumps as possible.
If you're just starting out in the world of WFH jobs and freelancing, the process of transitioning from a traditional office-based career into one that's entirely remote may seem a little daunting. However, FlexJobs includes a highly useful Job Search Resources section on their website that provides a series of helpful downloadable guides and free webinars to help you better understand what life is like working from home.
2. Start a blog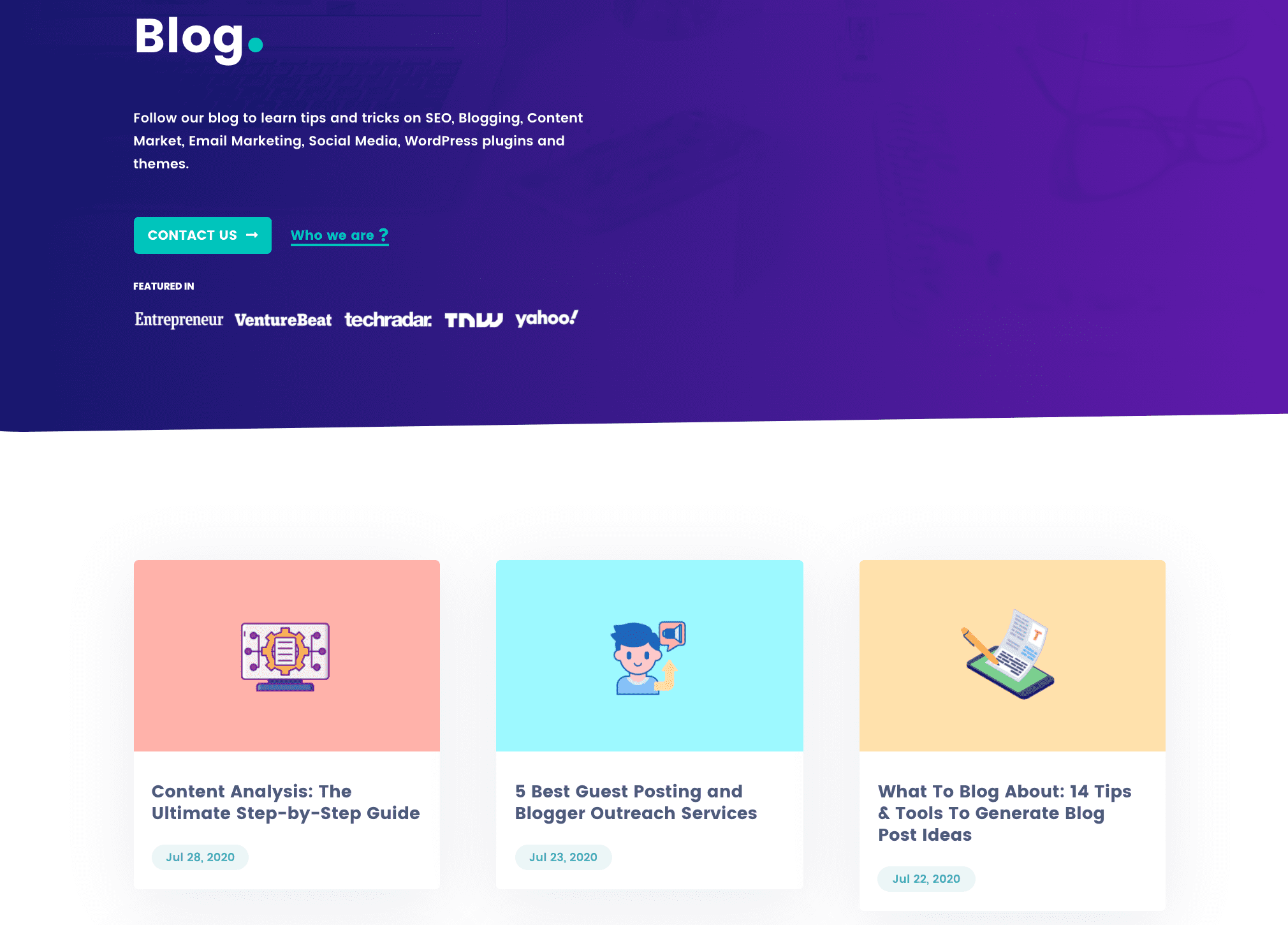 If you have a particular area of expertise or a passion that you enjoy talking about, you might be surprised at how successful you can be by simply sharing your interests and expertise with audiences online.
Whether you're out of work and looking for something rewarding in which you can invest your time, or you're aiming to make money from sharing your expertise, setting yourself up with a blog can open up plenty of career opportunities.
There are plenty of ways in which bloggers can make a healthy profit from successful blogs. Once you're attracting a steady stream of traffic, it's possible to build a steady stream of income from on-site advertising, while there may also be affiliate marketing opportunities. By accepting propositions from affiliates and promoting their products, you could potentially make some significant profits from your blog.
Setting up a blog can be an enjoyable way of making money too – provided you enjoy the subject matter enough to commit to creating regular posts.
Be sure to conduct a sufficient level of SEO within your articles to ensure that your work is discoverable. Get into the minds of your prospective readers and think about the sort of questions they would ask Google. Try to anticipate their wants and needs by creating a universally accessible and beneficial website.
Also, be sure to manage the expenditure that comes with creating a blog too. You'll need a host that offers competitive prices and the flexibility that you'd need to scale effectively.
Website hosting providers like Bluehost are a great cost-effective resource for both casual and ambitious bloggers alike.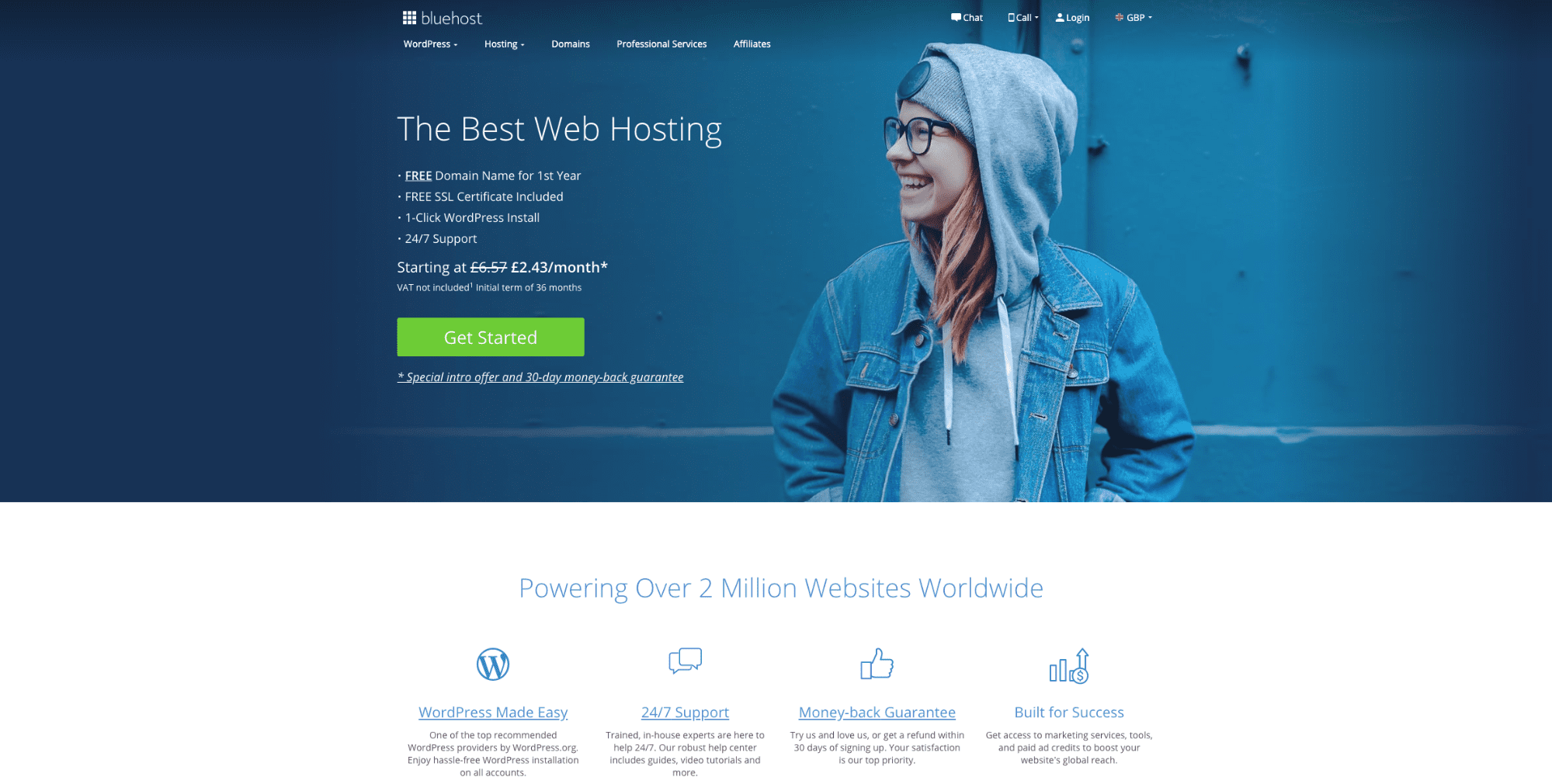 Simply choose a website plan that suits your ambitions and look at the prices available for your chosen domain name. Here's a range of hosting providers for WordPress blogs.
3. Start a podcast

Similarly to blogging, if you have a particular area of expertise or certain passions, it could be worth articulating your thoughts on your own podcast.
The rise of smart speakers has made podcasts more accessible to users, and there are plenty of audiences who prefer audio listening to reading blogs.
With an estimated 50% of households in the US reportedly keen on podcasting, it's clear that recording podcasts could be a lucrative career choice that can be undertaken at home.
Earning money through podcasting can be similar to that of blogging. Advertising helps to generate greater levels of revenue. Due to the aural nature of podcast adverts, featuring ads on your show can help to bring in greater levels of money than, say, the inclusion of website banners on a blog.
Affiliate marketing can be more effective too. Verbally describing products helps to generate more exposure to companies. This means that incorporating some discreet affiliate marketing within your podcasts can lead to greater levels of revenue for your endeavour.
Getting started as a podcaster can seem a little bit daunting at first, and there may be a little bit of equipment to buy if you're looking for superior sound quality, but platforms like Buzzsprout have proven to be really handy for guiding podcasters through the process of creating shows and monitoring their listenership.
Like in blogging, make sure that you create a podcast that you can see yourself continuing to contribute towards for years to come. Certain genres within the world of podcasting can also become a little bit congested, so be sure to run a check for competitors and think about how your own show can be unique compared to what's out there already.
Once again, podcasting is a WFH profession that can be wholly enjoyable to create and earn money along the way.
4. Run Webinars

If you feel that you've got valuable knowledge and experience that you want to share from the comfort of your own home, why not run webinars?
Webinars act as online tutorials where users can call in and receive tuition in a face-to-face manner. Typically, webinars take the form of online classes, where instead of being in a classroom or meeting room with a whiteboard, you're teaching from the comfort of your own home with an interactive screen.
Depending on the value of your insights, your webinars could see users sign up for a handsome fee. Or, if you'd rather provide great insights to larger audiences, you could set up cheaper, more general webinars that help to give users pointers in a relevant industry.
GoToWebinar and GoToWebcast are both great platforms to physically get you started in the world of webinars, with GoToWebinar acting as a perfect piece of software for your tutoring needs while GoToWebcast facilitates a greater number of audience members.
You can advertise your webinars to potential pupils on freelance work websites like the aforementioned FlexJobs.
As we discussed in the previous point, podcasts are a great job if you feel that you can cover a broad and relevant subject but offering continually fresh viewpoints and new content. However, with webinars, you'll be expected to cover the same talking points over and over again for new audiences.
If you feel at home in more of a teacher-based role, hosting webinars can be a great way of earning money as a freelancer online.
5. Take Online Surveys

Now the chances are that answering surveys won't become your full-time career any time soon. But it can be amazing how quickly you could yourself pile up your savings simply by sharing your experiences and perspectives.
Survey platforms have been around for a long time now, but technology has progressed to make the process of answering surveys much more convenient for users. While web-based survey platforms like Opinion Bar have become a popular way for businesses to gauge opinion on upcoming product marketing campaigns and market research, app-based survey businesses like Swagbucks have become increasingly popular.
Although most surveys won't pay a significant sum to users, you can make yourself more available to companies by filling out profile information about various things like your marital status, accommodation, shopping habits and career among many more variables.
The surveys you take could be as vague as gauging your purchase history, or as detailed as asking for a detailed description about your experience of buying a can of soft drink.
As businesses are constantly intent on discovering more about their target markets, surveys can appear on-site with regular frequency. While many surveys won't offer quite enough money to facilitate an entire career, you could feasibly gain enough money to treat yourself to a holiday each year.
6. Virtual Assistant

Another great use of the FlexJobs platform can be found in its Virtual Assistant listings. The great thing about Virtual Assistant roles is that they're something that can be picked up without any prior experience or education levels required.
In a nutshell, the Virtual Assistant role will involve you working remotely for a business or office and undertake tasks like scheduling, customer support and general admin.
Workloads in this role can vary, but Virtual Assistants can expect to earn around £15-20 an hour for their time, and job sites like FlexJobs and Indeed are particularly useful resources for finding Virtual Assistant roles.
7. SEO Consulting

Search Engine Optimisation can be a mysterious but essential entity for businesses to adhere to in order to gain exposure. In a nutshell, SEO is the practice of ensuring that websites rank favourably on Google's results pages.
Although Google's algorithms often change the SEO landscape, if you know your Search Engine Optimisation, you hold a highly valuable skill set that can be of particular use to both small businesses and startups in particular.
If you're looking for a role that you can perform from home, and you're good at identifying high-value keywords and the various metrics that can go into the mix of making a website appear more favourable to Google, it may be worth delving into the world of SEO Consulting. The pay for remote SEO Consulting can be between £25 and £250 per hour.
There are plenty of places for you to brush up on your SEO skills, and at Solvid we offer an extensive collection of free insights within our blog.
The role of an SEO Consultant is often advertised on FlexJobs but can also be found on various remote work platforms like UpWork and Fiverr.
8. Become a proofreader

If content creation doesn't appeal to you, proofreading could be a great way of using your command of grammar to good effect.
One of the best things about online proofreading is that you can scale your workloads based on the time you're willing to commit to the job. This means that you can work longer or shorter weeks based on the clients that you attract. It's even possible to dedicate more time towards winning clients while delegating the actual proofreading tasks to other workers.
As well as being available on job sites like FlexJobs, proofreading roles can be found on industry-based websites like JournalismJobs and MediaBistro.
Proofreading can be the perfect role for you if you have great writing skills but aren't interested in thinking up new article ideas and attempting to maintain a level of creativity within your work. Provided you have a good eye for detail, a WFH proofreading role can help you to find a calling that can be a little slower paced.
9. Online social media manager

Social media has evolved to be an all-encompassing marketing tool for businesses. You can not only sell products on social networks, but you can also build your exposure and provide a direct avenue for customer support.
The arrival of social media has opened plenty of doors for businesses in their marketing and customer service efforts, but the overwhelming problem for many smaller companies is that the job of social media manager is a hugely time-consuming job that requires workers to be alert at all times.
For example, imagine that an angry customer is sharing their negative experience about a product they bought, and the company is unable to respond for hours on end because they don't have the resources to constantly monitor their channels.
As a WFH freelancer, it's possible for companies to pay you for your time and attentiveness on social media so they can focus on their in-house dealings. As an online social media manager, you'd need to use your people skills and help customers with their troubleshooting issues. You could even put your creativity to the test and come up with some smart posts to help the company to gain attention away from their marketing campaigns.
To be a social media manager, you'll need to have strong people skills and will likely need to act quickly and decisively to help customers with negative feedback before their experience is shared online.
Once again, FlexJobs has a great range of social media manager roles that are both fully remote and some that are flexible but are based in a central location. Depending on how hands-on your role is, pay can range from around £12 – £30 per hour. Although this is a role that's generally easy to pick up for many, plenty of employers look for direct social media experience before hiring.
If you need any help in learning the ins and outs of building a social media presence that you can trust, be sure to check out our range of tips for building a trustworthy social demeanour.
10. Become a freelance writer

When it comes to setting yourself up with a flexible career from home, freelance writing is one of the most effective WFH roles you can undertake.
As a freelance writer, it's possible to work from home, in coffee shops, at your local library – anywhere! The career itself is highly flexible, too. You could move into freelance content writing, copywriting, ghostwriting or technical writing.
There's never any shortage of different businesses looking for effective copy – whether it's for their website blog, product descriptions, press releases or whitepapers, so enlisting yourself as a competent writer should mean that – as long as you can prove your ability – you'll be able to work for a range of clients in a niche that suits your knowledge set.
If you're interested in becoming a content writer, you may find work in writing blog posts and various web content for both businesses and their websites. Content marketing has evolved to become an essential method of gaining exposure online for companies, and small businesses, in particular, are more willing to hire freelance writers to spend time creating copy to help them to become more discoverable on Google.
If you have your own website or blog, you can use existing posts as samples that you can link to clients so they can check out the level of quality you're capable of.
Ghostwriting is another common form of content writing that gets published under the client's name as if they'd produced it themselves. While there are plenty of examples of ghostwritten works in the world of biographies, many key figures like prominent bloggers, businessmen and political figures can enlist the help of ghostwriters to write for them where they don't have the time or writing skills. Ghostwriting can be a well-paid job if you're capable of providing valuable insights into sought-after industries.
There's also plenty of money to be made as a copywriter, too. When producing copy, you're typically helping a company to sell its services or products. Whether you're crafting email content, product descriptions, advertisement text or any other piece of text, copywriting is designed to help clients to help customers to interact better with a company.
There are plenty of ways in which you can find work as a freelance writer. FlexJobs has a great array of written jobs, while popular freelance sites like Fiverr, Upwork and Freelancer can help to put you in touch with prospective clients.
Unlike with most freelance jobs where you can expect to be paid per hour, with freelance writing work, it's typical to charge per word you write. Depending on your level of experience, you can charge anything from 1p to as much as £1 per word you write.
This format also helps workers to manage their hours with more flexibility. As a freelance writer, you can essentially become as prolific or casual as you want, depending on the type of clients and jobs you take on.
To help you explore more ways in which your writing can make you money, take a look at our 29 opportunities to earn money from content guide here. It may also be worth checking out our list of the best places to find freelance writing work online.
11. Create online courses

Could you be considered an expert in a particular field? It's possible to monetise your expertise and build digital courses that can provide your online students with valuable information.
There are plenty of platforms available when it comes to creating online courses. Thinkific has a great setup that allows freelancers to create their courses for free with basic features – if they like what they see, subscription prices start at $39 per month.
Another really strong platform for creating courses is Teachable. The course builder that Teachable offers is simple to pick up and is packaged in some appealing aesthetics for students. Teachable's prices are more widely scaled, too. Basic plans start at $29 per month but for the platform's Business plan it will set users back $249 per month.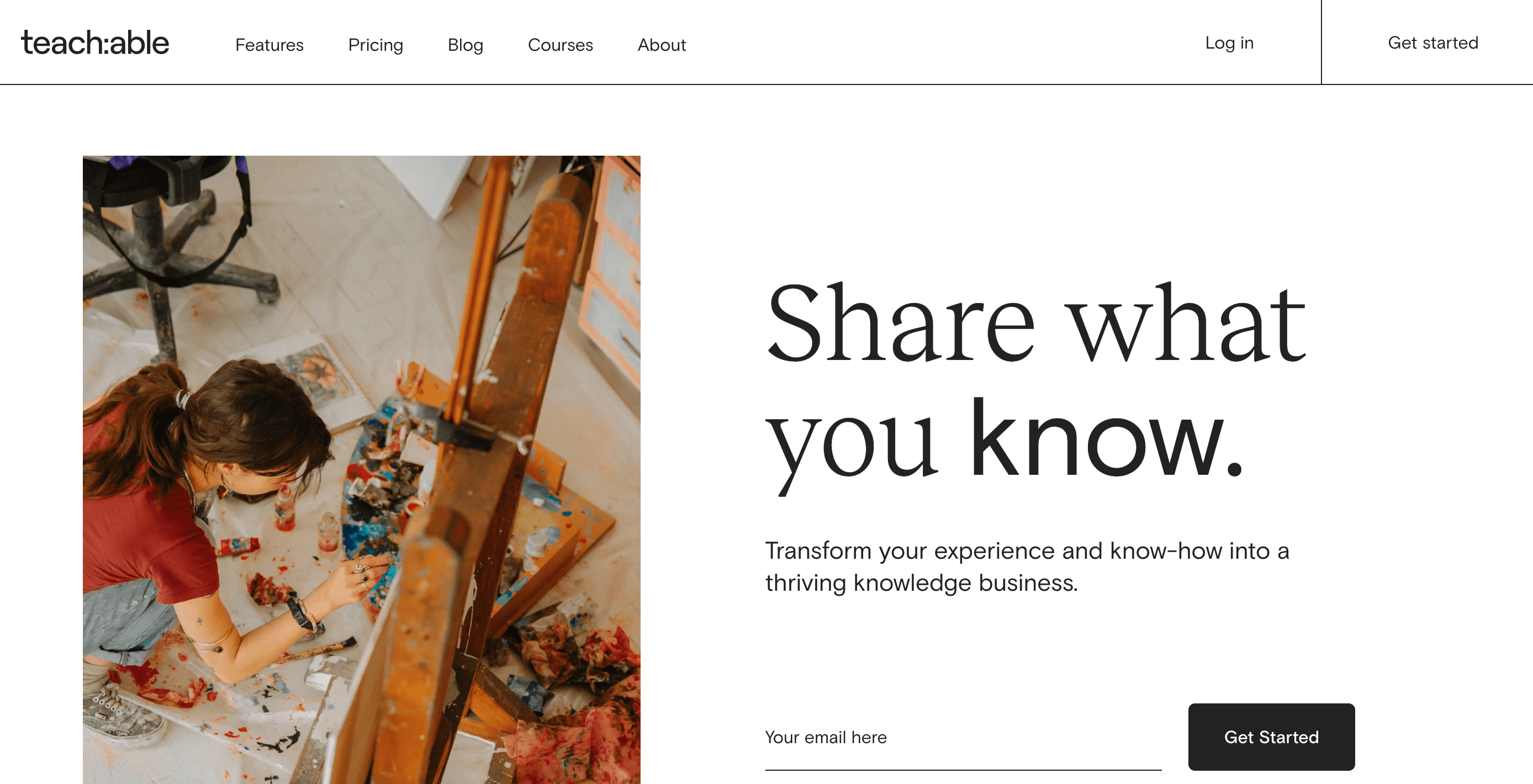 Depending on the subject that you're teaching, online courses can bring in hundreds of pounds for each student signing up. This type of freelance work is particularly appealing because of the passive income stream that it can create.
In the case of webinars, you may earn money for each participant tuning in, but with online courses, it's possible to make money each time somebody buys your course. This means that you could still be making money years after originally creating your course. To explore 17 of the best online course platforms available, take a look at our Solvid guide.
12. Affiliate marketing

Affiliate marketing is the process of earning commission as an affiliate for marketing a product that belongs to a separate business or person. Affiliate marketing works when the affiliate searches for a product that they like, then actively promotes it and receives commission in the form of a percentage of every sale they're responsible for.
To work out the commission that an affiliate stands to receive, sales are tracked via affiliate links from one website to the host website.
The affiliate, sometimes known as a publisher, markets a product on behalf of the manufacturer in a way that's designed to appeal to customers. Essentially, it's the affiliate's job to promote the product on the manufacturer's behalf.
This means that you can work from home and promote products on behalf of the manufacturer. If you can successfully prove the value of a product and secure a sale, you'll be rewarded with some revenue of your own.
Affiliate marketing can be particularly beneficial if you have some degree of influence within a relevant field to the products you're promoting. If you can successfully appeal to the audience's interests then you'll be able to generate a significant volume of sales.
This particular job role could complement a WFH career in blogging. Your blog could attract users while you can use some posts to promote products and secure sales.
ShareASale is a strong resource for getting into affiliate marketing, and the website covers an array of different niches where companies are looking to maximise their sale potential without turning to expensive marketing campaigns. To take a look at our comprehensive ShareASale guide, click here.
13. Dropshipping

Dropshipping enables you to sell products from the comfort of your own home without even having to come into contact with the goods themselves. Shopping platforms like Shopify handle all of the products, delivery bookings and online listing space – making it easier than ever to delve into the fast-paced world of eCommerce.
For all of its influence, Shopify takes a percentage of the profits that you make, but it's still easy to make a healthy level of money even when taking the external commissions into account.
If you're new to the world of eCommerce, the notion of dropshipping could seem like an alien concept. Fortunately, Shopify offers a comprehensive guide to the ins and outs of the practice, and clearly lists out how easy it is to make money from dropshipping.
Dropshipping can be a great way of making money without having to commit time to producing courses or writing out content, for instance. Because dedicated platforms cover much of the selling process, it's possible to forge a productive career in dropshipping without having to be the most technologically literate seller in the world.
14. Sell on Fiverr, PPH and Upwork

Selling gigs on freelancer websites like Fiverr, PeoplePerHour and Upwork is a great way for you to make money by sharing your knowledge remotely.
The brilliant thing about these platforms is that you can essentially list yourself as available to help in just about any field for a clearly listed hourly cost.
Whether you're a web developer, voice over actor, or just really good at creating DJ drops, you can advertise your services in order for clients to pick you up.
Job platforms have become extremely useful for talented workers to showcase their capabilities in an online space that's bound to get them noticed. Depending on how popular your industry is, and how much competition is out there, by simply listing your skills you could attract a steady stream of income from clients or more of a side hustle level of income when you could rake in an extra £50 per week to complement your day job.
Of course, listing on premium jobs platforms will come with charges, Fiverr, for instance, takes around £1 for every £5 you make – which ultimately could add up if you're hoping to forge a WFH career from selling your freelance gigs on these websites.
The prices you can list your gigs for depend heavily on the industry that you're in. Prices on existing gigs boards can range from as little as a few pounds into the hundreds and even thousands in some cases. Conduct a little bit of market research before listing your gigs. Underpricing can really undermine the work you put in, but overpricing could kill your newfound career off before it starts. It may even be worth buying a couple of competitor gigs to see what users are getting for their money.
15. Start a YouTube channel

While the YouTuber life may not seem like your natural calling, there's certainly no limit to your earning potential if you discover that you have a knack for making videos online.
If you have a particular area of expertise and a gap to exploit in the market, creating a YouTube channel and regularly posting content could see you make strong earnings from advertising and affiliate marketing among other potential opportunities to turn a profit.
There's no real set rule on how to create videos on YouTube. Simply find your niche and communicate with your followers on a regular basis in the most comfortable and engaging way that you know.
The best thing about creating videos on YouTube, as opposed to, say, online courses, is that you can access almost instant feedback from viewers. This can help you to take on board tips, suggestions and advice to grow further into your niche.
Moving into the world of YouTube rather than gig-economy based platforms to broadcast your knowledge helps to open yourself up to an extremely broad range of potential viewers. With around 1.3 billion users, it can be much easier to build a community of followers on YouTube – just remember that your earnings will likely come from secondary sources as opposed to your viewers, so extra work may need to be done in terms of securing yourself as an affiliate to companies.
Not only can creating videos help to boost your reputation online, but it can also help to make you more SEO friendly within Google's results pages, as pointed out by our dedicated guide on the power of animated videos.
16. Sell on Amazon

Another great way of making money from the comfort of your own home comes in the form of Amazon Arbitrage. Through selling on Amazon, you could purchase discounted products in stores either in person or elsewhere online and then sell them on at a profit as an Amazon seller.
Whether you enjoy the idea of making profits on products, or you feel that you can make products yourself to sell online, it's possible to make enough money to sustain yourself as an Amazon seller if you slip into an effective enough routine.
Of course, it can often be hard to flip items for a profit, especially in the modern climate where it's much easier for other sellers to correctly price up their products. But regardless, there's always a bargain to find somewhere across the web. By pouncing on it and repricing it for Amazon you could set yourself up with a great home career.
Beware, that becoming an Amazon seller could be a time-consuming career decision, and patience is required to buy into the right products to resell. If you're unable to bide your time and make the decision to buy the wrong items, you could actually start running at a loss – so it's best to exercise caution in this regard.
If you're looking for a comprehensive guide on how to sell on Amazon, be sure to check out our range of tips on becoming an Amazon Affiliate.
17. Buy and Sell domain names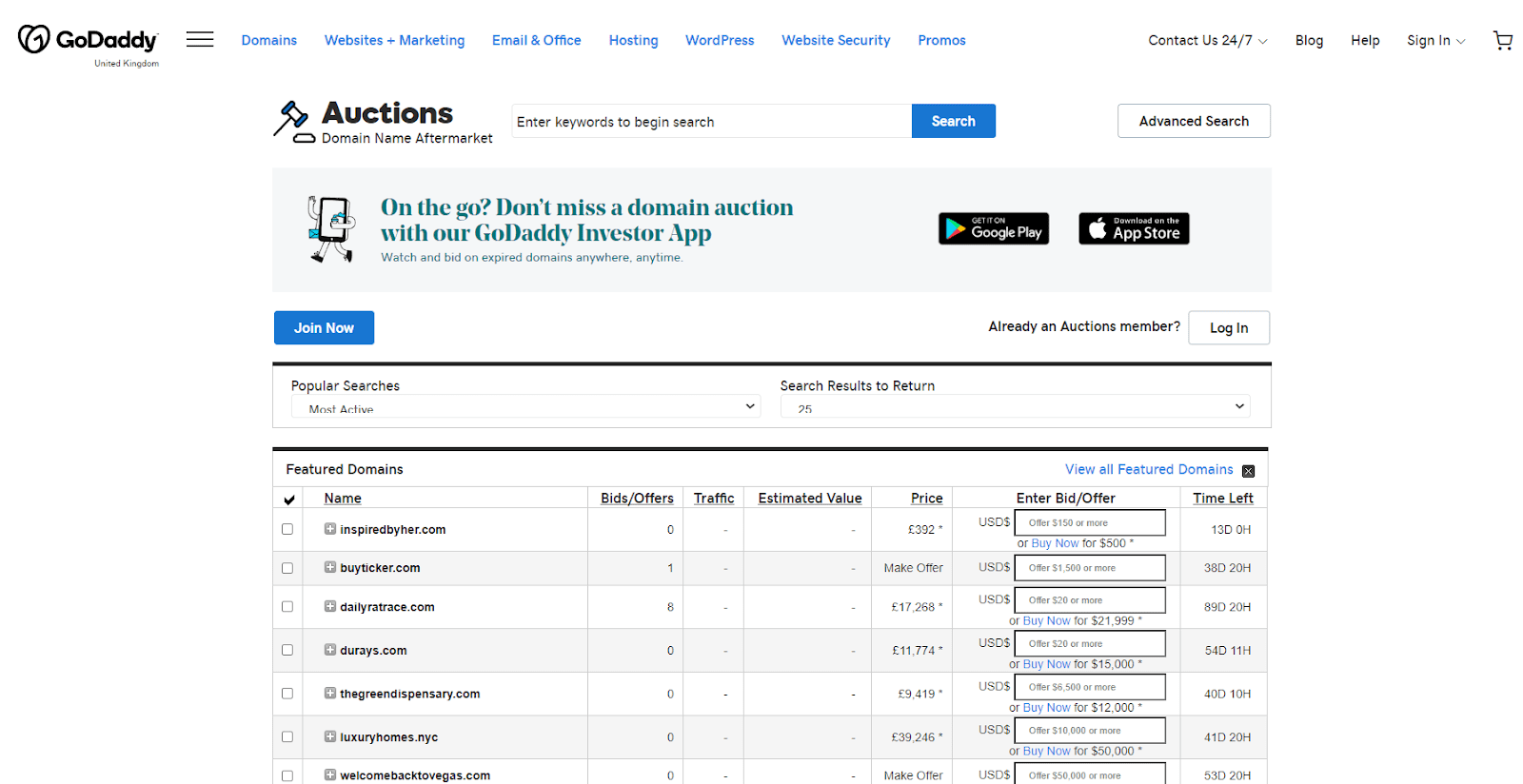 We may no longer be in the midst of the www. Goldrush of the late '90s and early '00s, but there's still plenty of money to be made from buying and selling domain names online.
Yes, the big names are already taken by large businesses, but there are still countless URLs with plenty of potential to be snapped up for big money if you're particularly gifted at foreseeing the trends of the future.
Much like buying and selling on Amazon, flipping domain names can involve plenty of patience and lots of research in order to make good money from it.
Trends like the rise of cryptocurrencies and blockchain had led to some strong profits for people buying and selling domain names, and those with enough anticipation and understanding of the upcoming boom in blockchain would've stood to make a significant amount of money from the sale of relevant domain names.
One particular gold mine for domain flippers can be found in GoDaddy's domain auctions. On the auction page, many expiring domain names are listed to be bid on by prospective buyers. This is a great opportunity to make value investments that could return more profits later on.
Sadly, while buying and selling domains can be a wholly enjoyable WFH activity, it's highly unlikely that you'll be able to turn it into a full-time career, due to the level of profits that you're likely to make and the sheer number of competitors you'll encounter out there. But if you're looking for a home hobby that can return enough money to potentially take you on an extra holiday each year, domain flipping could be your calling.
To learn how to sell domain names, take a look at our guide alongside our review of various domain flipping market places.
18. Try your hand at streaming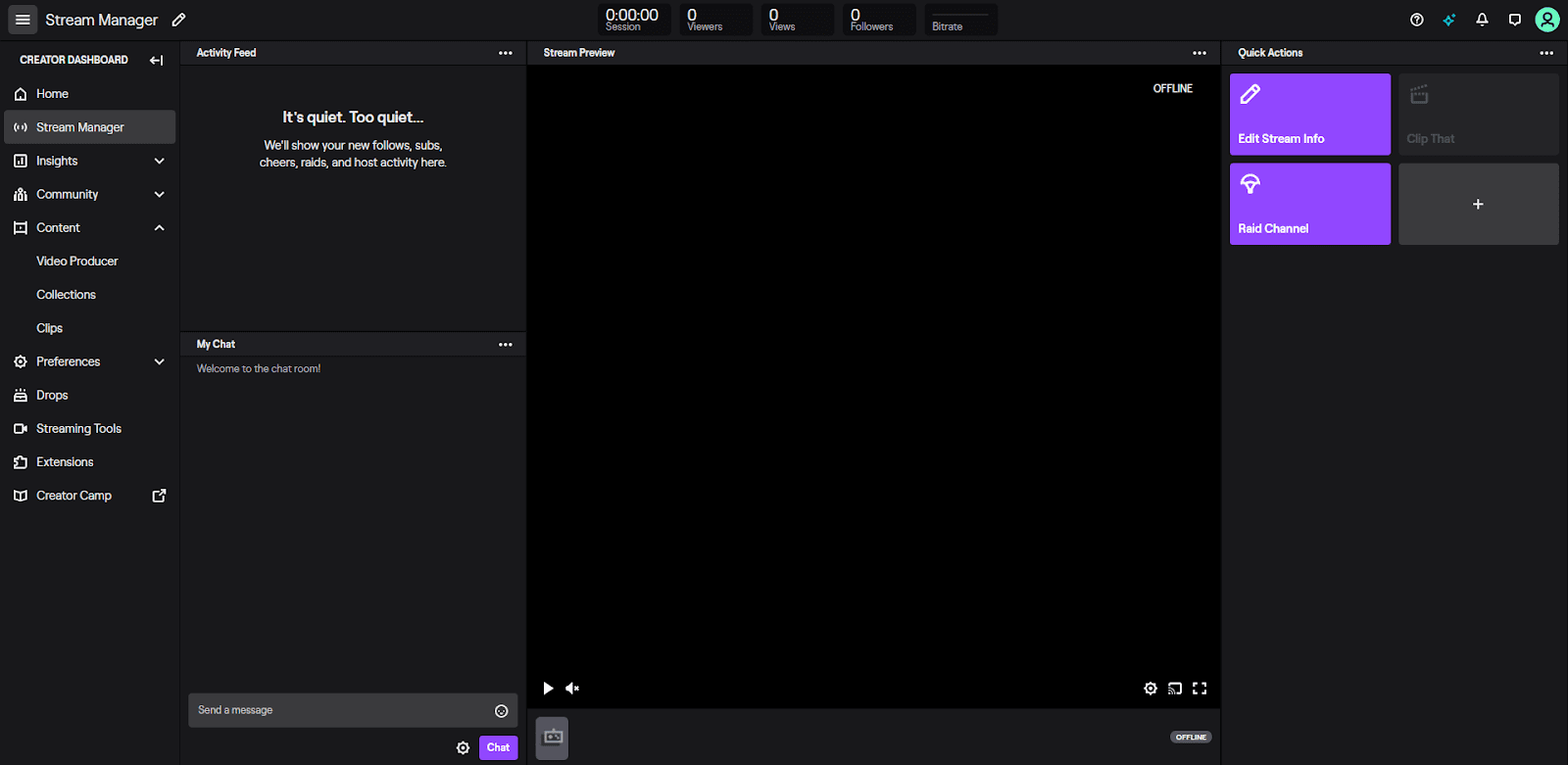 The world of online streaming is really beginning to gather momentum online, and platforms like Twitch have really blossomed in creating an online space for people to record themselves chatting, debating, and simply playing video games online.
Although its regular visitor figures haven't yet shot into the billions like YouTube, Twitch still attracts as much as 15 million unique viewers each day, who come to interact with live broadcasters about a whole range of things.
If you don't like the stop-start nature of creating videos for YouTube, and feel that you're enough of a people person to simultaneously interact with a large number of viewers while keeping them entertained, streaming yourself either sharing your expertise in a popular field or simply adding your own layer of entertainment on top of a popular video game can really pay good money.
Unlike with YouTube, Twitch allows viewers to 'subscribe' to their favourite streamers. The cost of subscribing varies depending on your location but Twitch takes around 50% of the monthly cost to subscribers. This means that if a £10 subscription to you is purchased, you can see around £5 made.
Twitch also allows adverts to appear on streams, which opens up an additional revenue stream for users. With this in mind, successful streamers can comfortably turn their shows into a full-time profession – while leading streamers can make £100,000s per year.
However, it's important to note that building yourself into a successful streamer can require patience. It can also involve having to purchase expensive equipment and hardware to ensure that you're capable of supporting the technology required to stream in high-resolution clarity.
19. Find your calling as a voice artist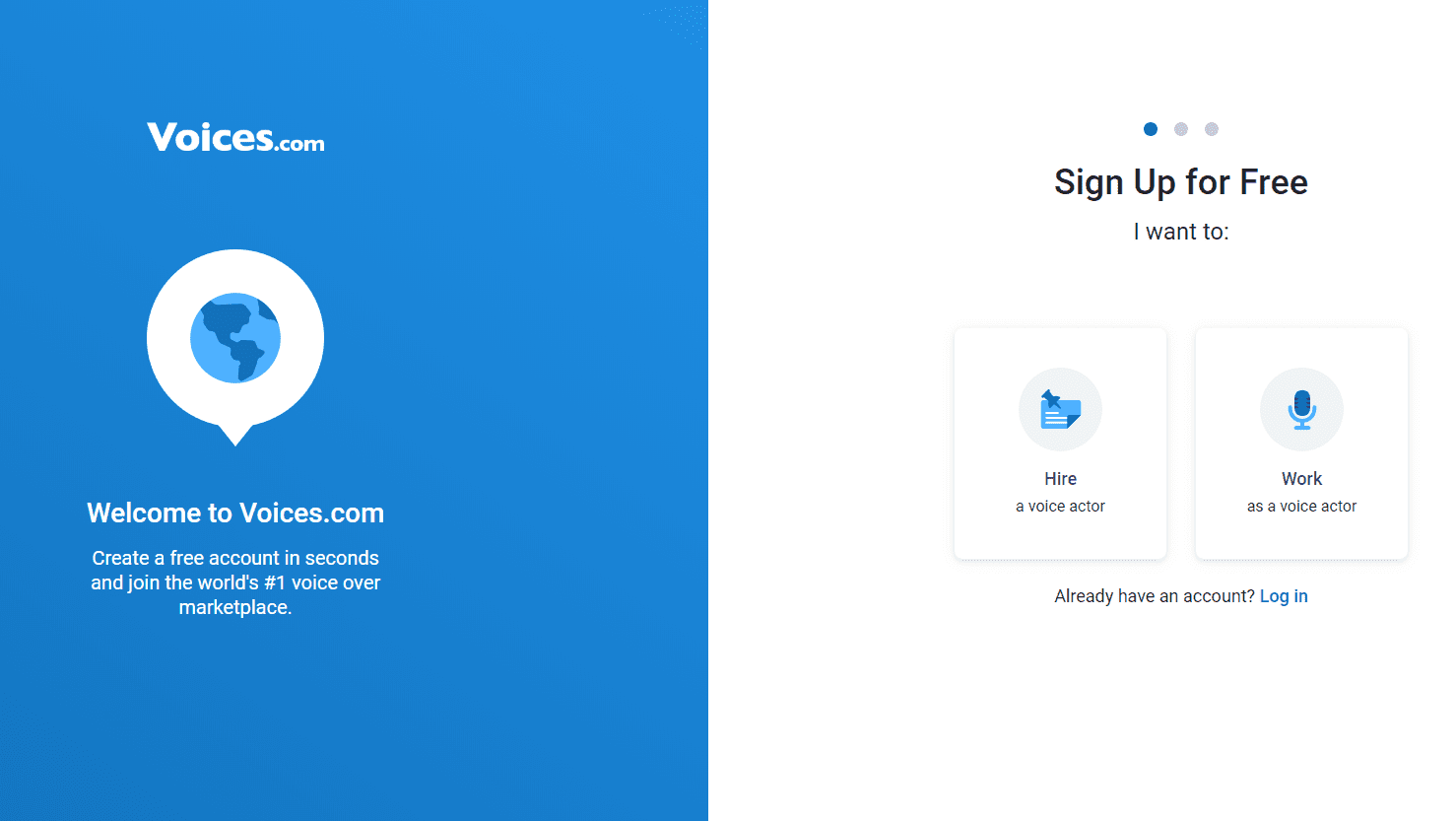 Sometimes it's not what you know or who you know, but how you sound that can make you money from home. With the world of media rapidly expanding, the jobs available to voice artists are steadily expanding.
While there are plenty of specialist websites like Voices that not only helps voice artists to get in touch with clients but also provides a secure and advanced platform for recording their voices, other platforms like the aforementioned FlexJobs are also great for picking up work.
If you have a strong accent or a suitably formal voice, for instance, you could be in line for a range of different roles. Different voices are required for advertising purposes, marketing materials and even online tutorials where businesses will be looking for the right brand ambassadors to suit the message they want to convey.
Although new voice over artists may require a little bit of patience before they start earning a sustainable income, reputable voice over artists can make significant amounts of money by lending their vocals to company materials for clients – especially if they have a unique tone of voice.
20. Transcribe audio
The great thing about setting yourself up with a career in transcribing audio is that you don't need a degree or high level of education to get started, and you can simply work on jobs whenever time allows.
Services like GoTranscript pay up to $0.60 per audio or video minute transcribed, and while the rate of transcription means that you're unlikely to be able to accurately record words said in real-time, you could still earn upwards of £1,000 per month for the work you do. However, it's also worth noting that GoTranscript's average user earnings are closer to £120 per month – meaning that this should probably be more regarded as a side-hustle than a sustainable career.
However, if you possess strong attention to detail and would like to make money in your spare time working a job that isn't too mentally taxing, joining a transcription service can be a great way of scaling the amount of money you make in your spare time.
The best thing about working as a transcriber is that you can be as productive as you want in the jobs you pick up. If you're looking to spend your time wisely and work a longer day, you can pick up more audio minutes to transcribe, while if you feel deserving of a slower day, you can opt for a lower number of minutes to work on.
21. Make money as a shutterbug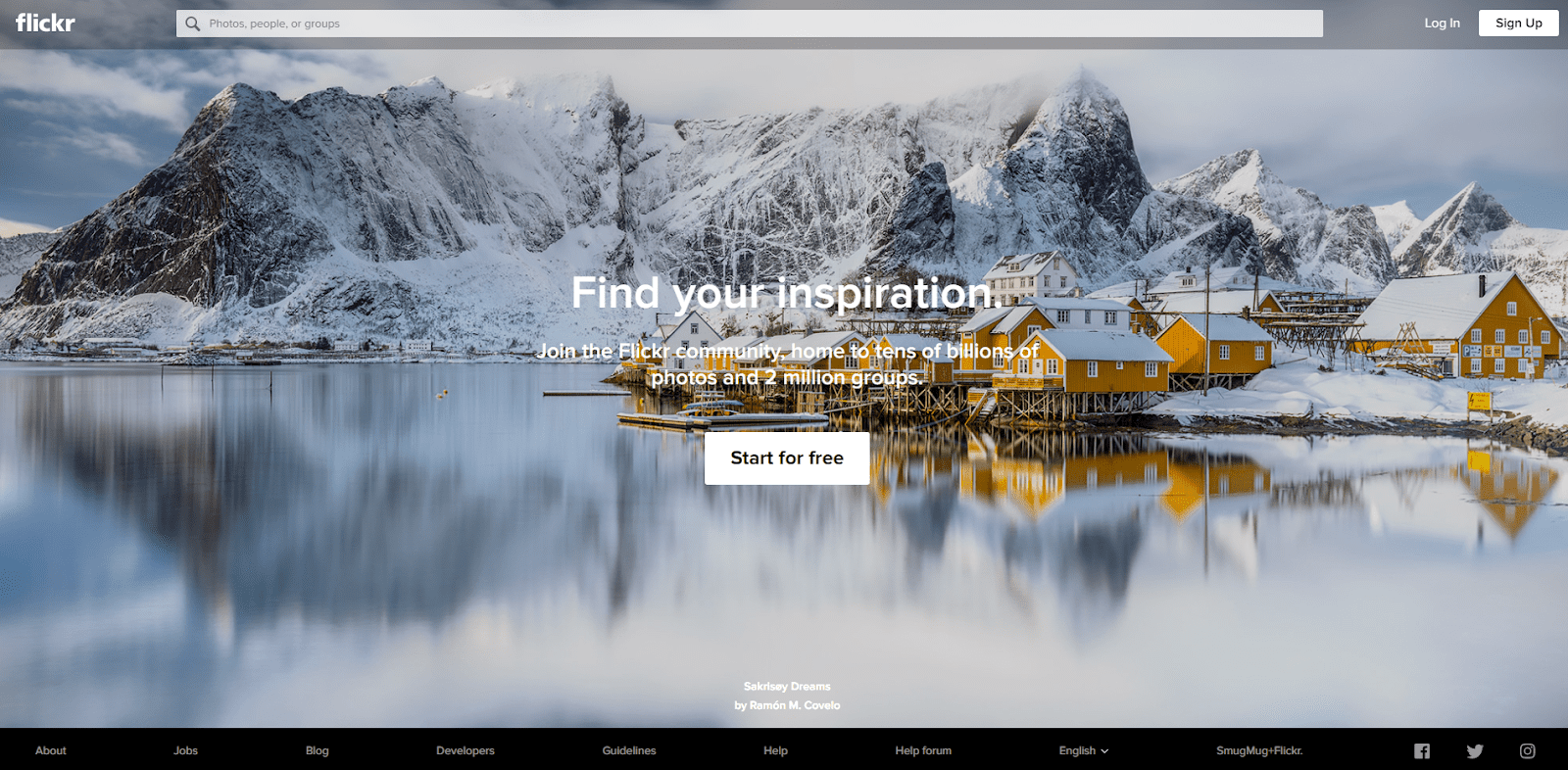 If you have an eye for the aesthetic, it's possible to sell your photography online on image resource websites.
Sites like Flickr allow both amateur and professional photographers to showcase their work and make the use of their images available to users and companies alike for a fee.
While it's unlikely that you'll be able to make much money by taking pictures entirely from your home, selling your photography online can make for an excellent passive income stream where your hobby actually makes you money.
The best money to be made from your photography will involve capturing images surrounding sporting events and other newsworthy occurrences, however, there can also be money to make in creating low-cost stock image-style pictures.
Again, selling your photography online probably won't be a multi-million-pound career for you, but you can definitely use your images for a form of passive income into the future, where buyers could make a purchase of a photo you took two months, two years or ten years ago.
This makes photography a suitable side-hustle for anyone who likes taking pictures. You might not break the bank, but there's nothing quite like making money while doing something that you enjoy.
Solvid's guide towards the various free image hosting websites available comes along with reference to a range of platforms that allows photographers to list their images for users to purchase.
22. Become a product tester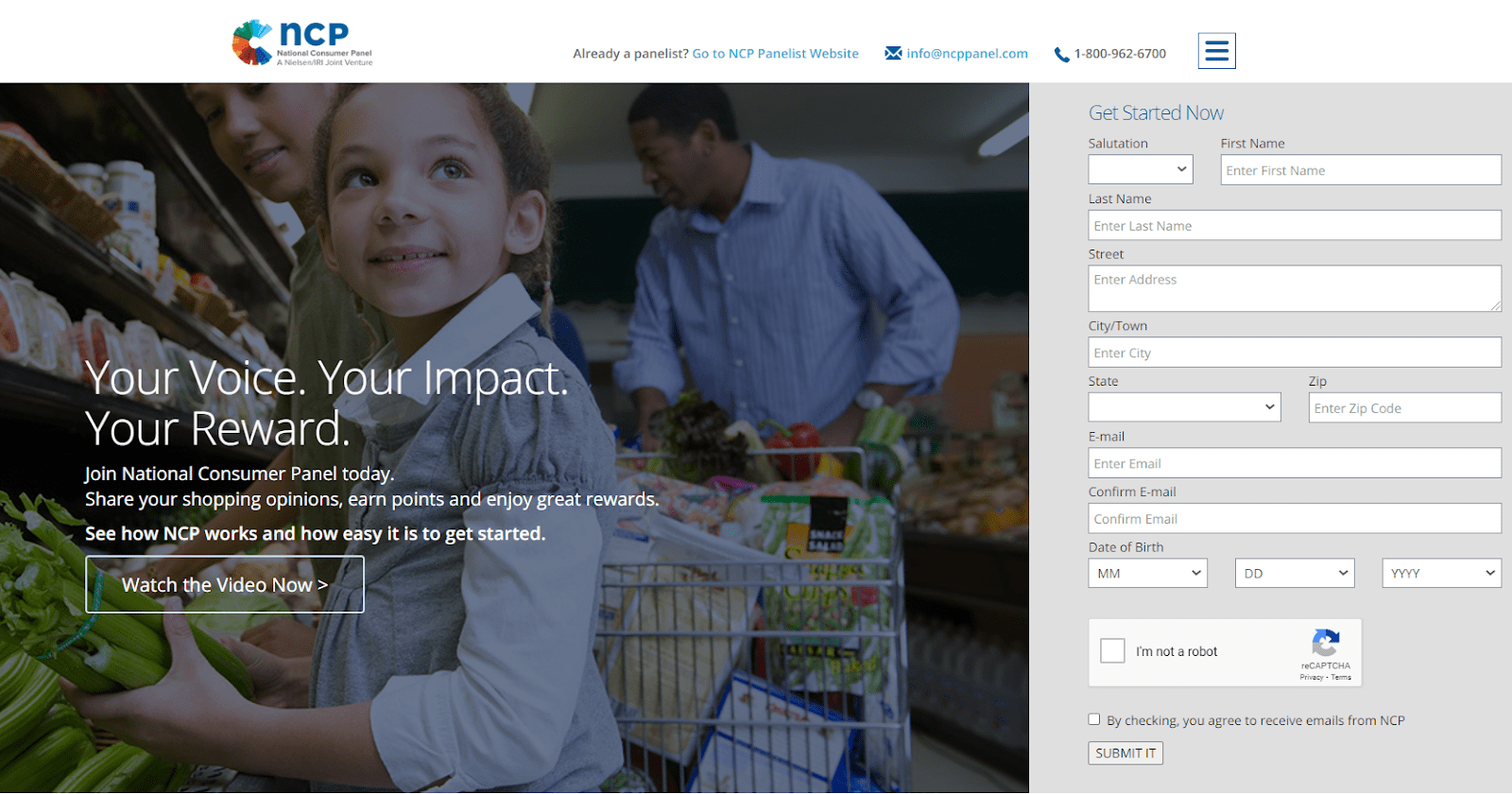 Consumer research is a huge business for companies who are looking to release new products or services into the public domain. While large, multinational companies will have thrown millions of pounds into researching consumer behaviour in order to develop and correctly market sought-after products, smaller companies and startups need to exercise more caution. Creating a successful product at an early stage could mean life or death for a smaller operation, so it's vital that they get things right from the off.
The best way of knowing whether they're on to a winner with the product they're preparing to release is by physically putting it into the hands of their prospective customers. By gaining consumer feedback on their product, companies can better understand the popular features of products while taking notes on the ones that receive more of a negative reception. Because of the value that consumer opinion holds, more businesses are willing to pay for users to test their products.
Naturally, this process is beneficial for both the business and the consumer in question. The manufacturer gains access to the feedback that they crave, which will help to pave the way for a more successful eventual launch, while the testers get to make money by trialling the products that they're interested in.
There are plenty of platforms out there if you're looking to test products from home, and the National Consumer Panel is one of the most prominent out there. Elsewhere, Pinecone Research and Toluna provide a good platform in which users can interact with businesses.
Depending on the companies that you interact with, some businesses will be willing to pay upwards of £35 per hour for the time you spend testing their products. However, it's important to be capable of comfortably expressing your opinions on the products on offer. To be able to communicate valuable insights towards companies is essential if you want to earn money as a product tester.
23. Find work as an English teacher
Finding work as an online English teacher can be a great new profession for any native English speaker, provided you have a good internet connection and possess the patience and people skills required to manage online classrooms.
There are plenty of websites out there that position you to be able to connect to pupils who are willing to pay for digital lessons in language. TEFL is a popular service but iTalki helps tutors to list various rates for more adult audiences.
Teaching English as a foreign language to children can come with some good money for tutors and can definitely be undertaken as a new WFH career. Online platforms like Magic Ears offers tutors as much as £22 per hour for teaching young children English, while VIPKid allows users to teach English to Chinese children with rates up to £18 per hour.
While it's possible to teach English from the comfort of your own home, the beauty of the profession is that it can ultimately take you all around the world teaching different cultures.
However, despite all of its upsides, becoming an English teacher isn't for everyone – especially if you're teaching more advanced adult audiences. You'll need to know a significant amount about the language that many native speakers aren't immediately familiar with. You'll also need to be capable of communicating some of the finer nuances of English to audiences who won't be naturally capable of understanding more technical points – meaning that you'll need to be highly adaptive in your work.
24. Line your pockets with Amazon Mechanical Turk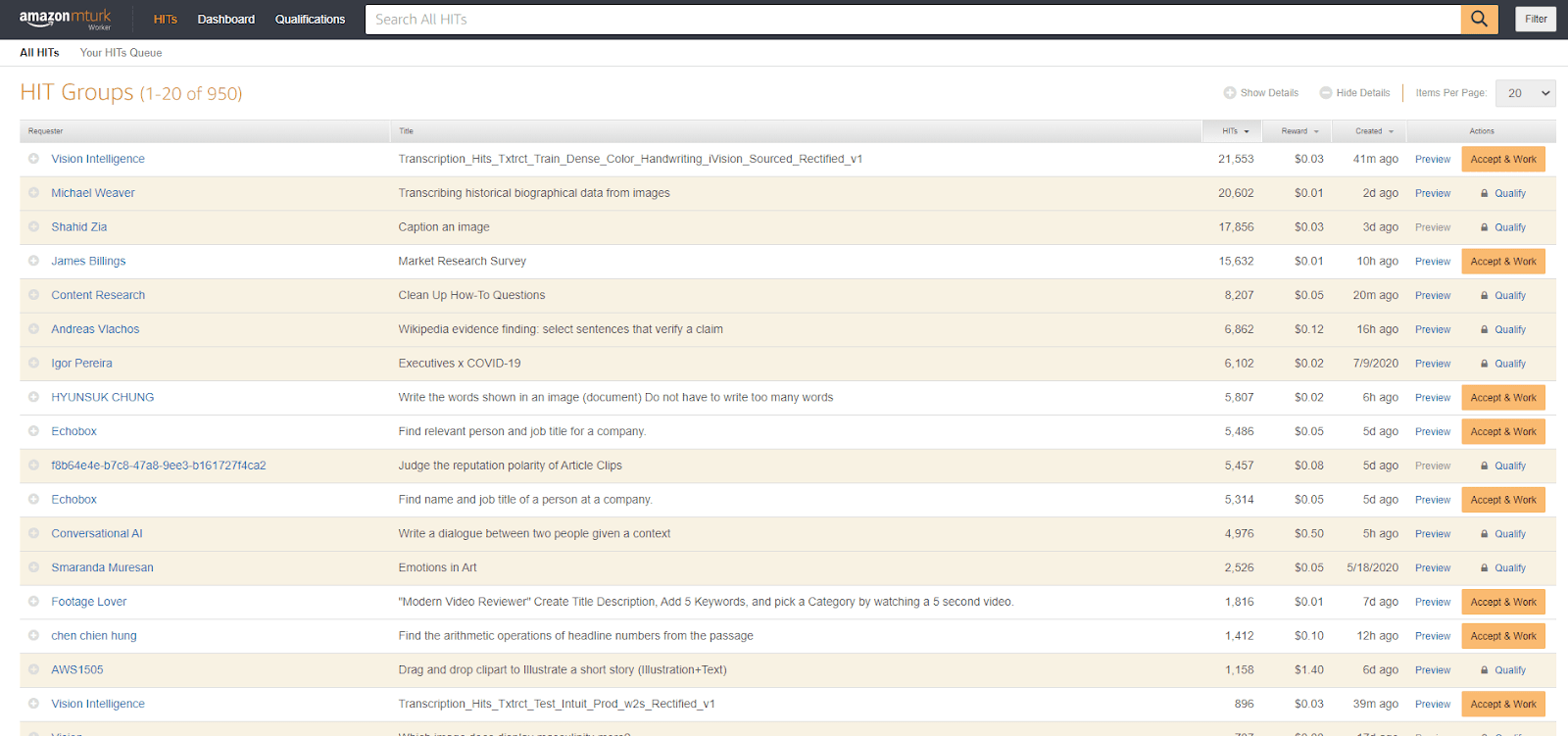 Computers can be pretty clever when it comes to extracting metadata from swathes of information, however, there are still a few tasks where machines can't quite measure up to the flexibility of the human eye. In these instances, businesses turn to Amazon Mechanical Turk.
Mechanical Turk exists as a platform that pays individuals for the menial tasks they complete. Work undertaken can be as simple as extracting the list of goods purchased in a shopping receipt, or it could ask users to describe the contents or emotions conveyed in pictures.
The convenience of Mechanical Turk is up for debate, with most users only earning around £1.50 per hour using the task platform, however, a percentage of users have been known to effectively take home a minimum wage income by spending their time completing tasks. Some have even been able to make a steady income from Mechanical Turk.
Practically speaking, while it's a simple platform in which you can make money, by signing up for Amazon Mechanical Turk, you'll likely only make enough money for the endeavour to be classified as a side hustle, but if you're interested in generating an income at home in your spare time, there are far worse ways to go about it than to sign up to Mechanical Turk's range of tasks.
25. Become a wheeler-dealer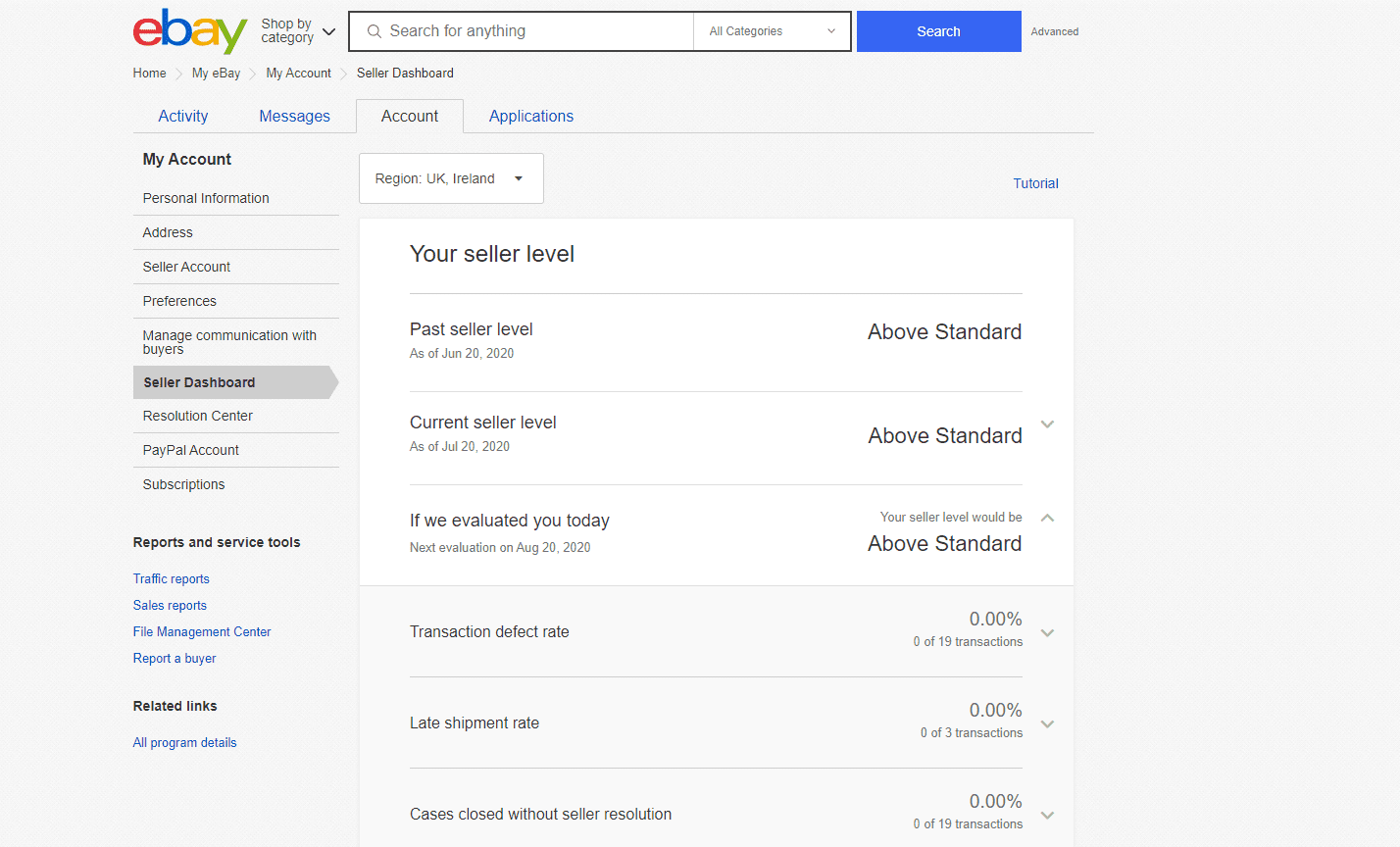 While making an Amazon seller account can appeal to some, embracing your inner wheeler-dealer and jumping into the world of eBay is an addictive hobby that can turn into a full-time WFH profession.
Whether you want to clear out your old goods or you fancy picking up some bargains to sell on for a profit, the world's your oyster with eBay.
You can monitor local car boot sales and thrift stores for the best bargains around, or skulk around cyberspace looking for an amazing deal that you can profit from.
Buying and selling on eBay has become a way of life for many internet users, and the convenience of transferring funds through PayPal has generated something of an instant gratification appeal to selling goods.
The old sports shirts that no longer fit you can be converted into instant profits when you place them online, while that exercise bike you've seen listed on Facebook Marketplace is way underpriced. Potential profits are everywhere and while eBay commands a fee for every sale made, the sheer volume of users on the platform means that you're never far from generating the right amount of interest for your product.
However, while it's important to be proactive on eBay, it's vital that you don't rush into making purchases that won't yield a strong enough return. If you're going to become a successful wheeler-dealer, it's vital that you bide your time and don't make rash purchases that can't be turned into a profit.
Can buying and selling on eBay be turned into a lucrative career? Users have certainly made it their full-time job to buy and sell on eBay, but it's impossible to expect a steady, consistent revenue stream to arrive on a monthly basis based on the purchases and sales you make. There's also the possibility that you'll make no money over long periods of time – illustrating that it's one of the more risky WFH jobs you can take up.
26. Get into the influencer game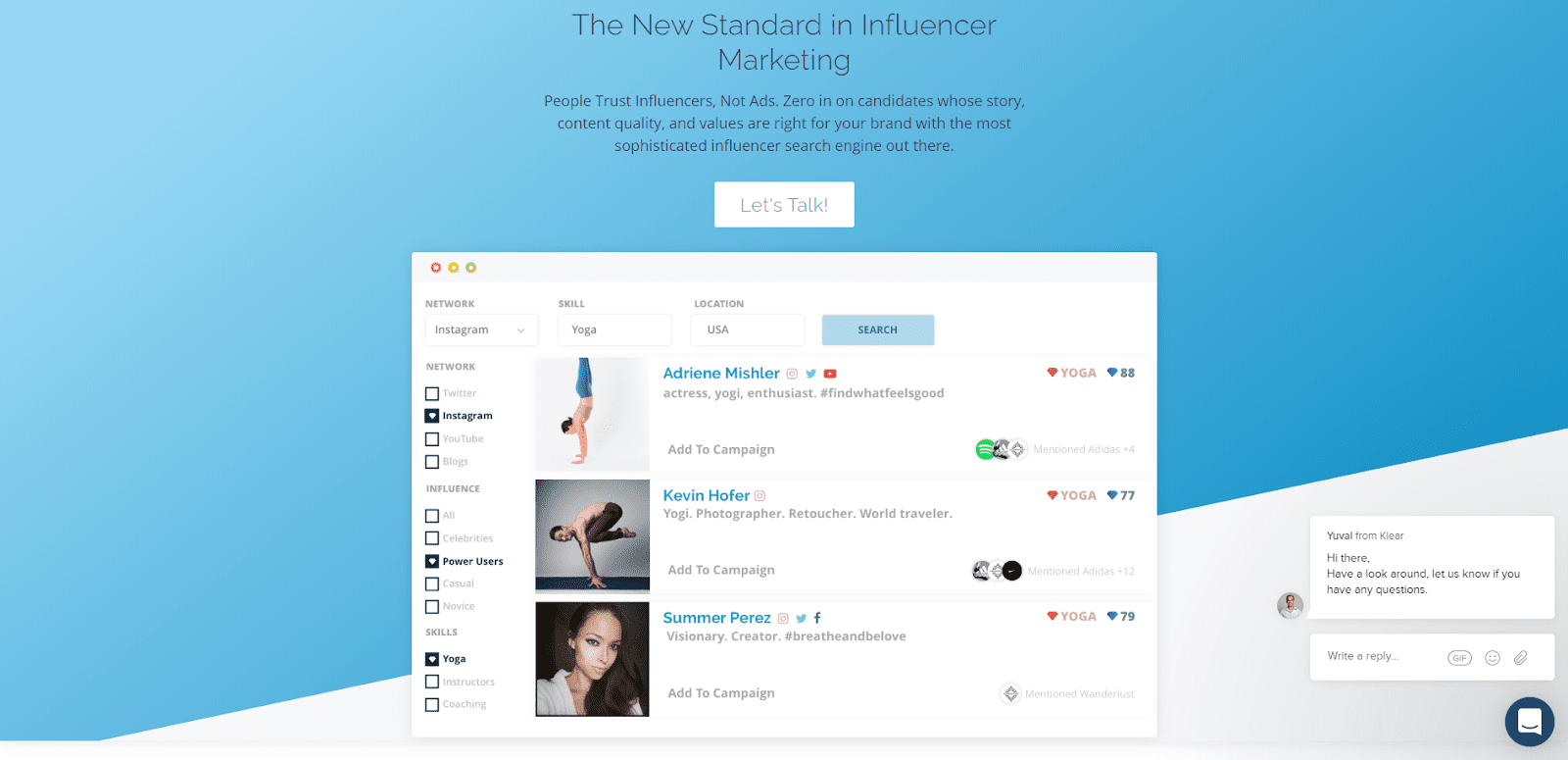 Becoming a full-time influencer is without a doubt the most lucrative, challenging and elusive career in this list. Typically, influencers use various social, video and streaming channels to connect with audiences. Their opinions are coveted by followers and companies alike, and can carry with it a huge level of purchasing power.
Influencers typically enjoy free products and services from companies looking for added exposure. Depending on your niche, affiliate marketing is a primary way of earning money from home as an influencer.
Platforms like Klear exist to put marketers in touch with influencers, and users can be paid significant sums of money based on their perceived reach and niche.
Of course, being an influencer isn't easy – even if it may appear to be from the outside looking in. Making yourself appear so accessible to your audience can carry a hefty psychological burden, but making sure you have the right mentality to continually create positive interactions with followers and audiences alike requires a particular set of skills. Some influencers continually work on their image while others look to ensure that they develop a persona that resonates with their target audience.
If you're happy to put in the groundwork and build yourself into an accessible persona that's happy to continually create user interactions online, you could well have what it takes to become a full-time influencer in a particular niche.
To organically help increase your following and build more engagements, take a look at our guide on building your followers on social media.
Successful influencers can earn significant amounts of money through affiliate marketing deals and advertising revenue, however, this particular career choice can be very taxing, and many have attempted to become self-sufficient as an influencer and failed.
27. Work in remote customer service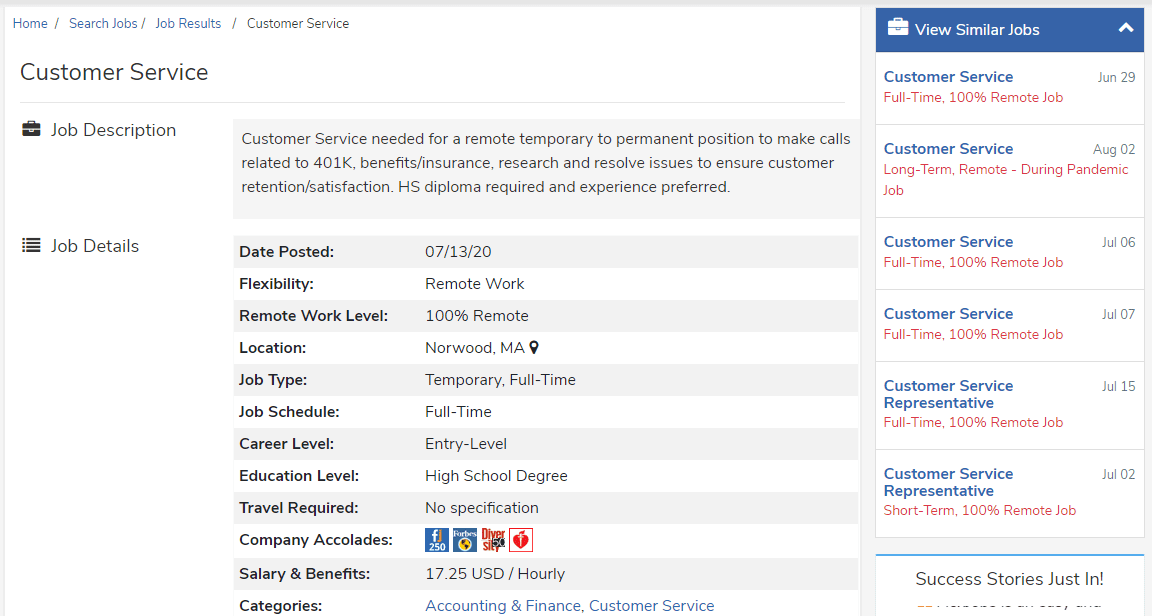 While most big businesses have dedicated customer service departments, it's a luxury that's not always possible for emerging companies and startups.
Setting up remote customer service roles can be mutually beneficial to businesses and workers alike, however, as companies can save on paying out for expensive office space and freelancers can help to troubleshoot product or service issues entirely remotely.
One of the best things about remote customer service roles is that you generally don't have to hold a degree to help to deal with customer issues and as long as you have good people skills and enough background knowledge of the type of issues you're likely to face you'll be able to make a good amount of money without having to leave your home.
In the example pictured above from FlexJobs, the listed pay is an impressive $17.25 per hour, but the pay can often range from $10 to $20 depending on variables like experience and education.
Naturally, as a customer service worker, it's important that you can adapt to become the voice of the business that you're working for without any direct communication with said company. You'll need to be able to discuss customer issues with confidence while helping them to resolve their problems.
Remote customer service is a career path that will continue to become applicable to more remote workers over time as technology continues to develop and seamless inter-departmental communication can be utilised by employees despite potentially being on different sides of the world.
28. Get administrative with online data entry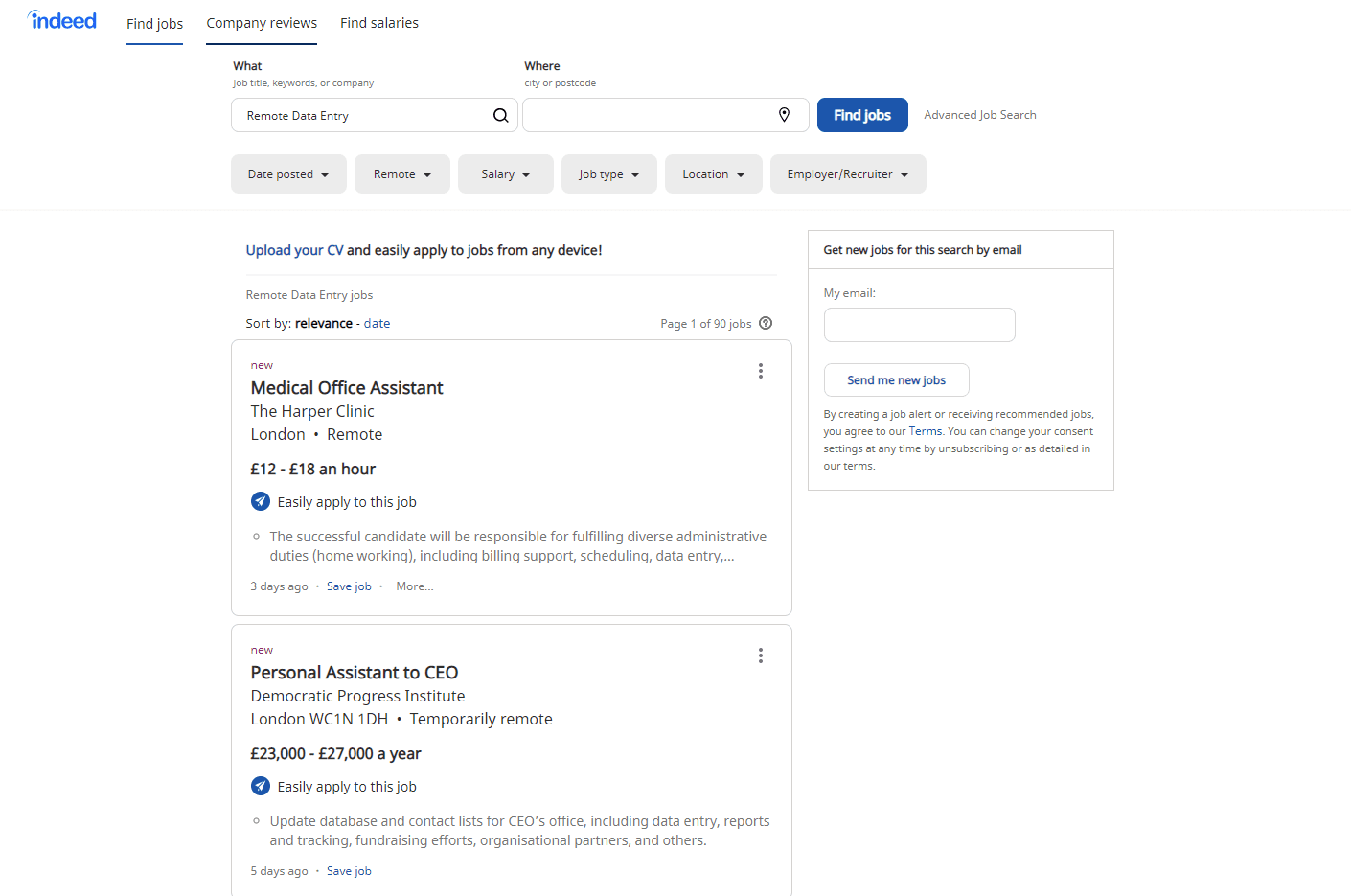 In a similar vein to remote customer service, small businesses can save money by enlisting the help of remote data entry assistants online.
Because many administrative jobs can be comfortably conducted without a significant level of supervision, it can be easy for businesses to free up more in-house workers by looking further afield in order to get help for data entry tasks.
Whether it's recording unblinded medical trial information into easy-to-follow metadata for clinical researchers, or simply inputting information into spreadsheets, remote data entry can be a lucrative way to make money from home as long as you have a strong level of attention to detail and the patience to sift through high volumes of data.
These remote administrative roles can be open to people of all sorts of educational backgrounds, and although evidence of higher education will always be desirable, if you have some form of relevant administrative experience it's possible to get started in an online data entry role via job sites like FlexJobs or by listing your availability to potential clients with UpWork. Indeed is also a good resource for remote administrative positions.
Remote data entry can be a competitive industry with plenty of workers aiming to secure roles with employers, so it's important to showcase your ability, experience and level of education accordingly. Depending on the type of work you secure, the pay can range from minimum wage to £25 per hour. To help you secure more experience, it could be worth taking advantage of the many temporary and contractor data entry roles available online. Once you build up a portfolio it could be considerably easier to command more long-term fixed jobs with administrative duties.
29. Become an Online Personal Trainer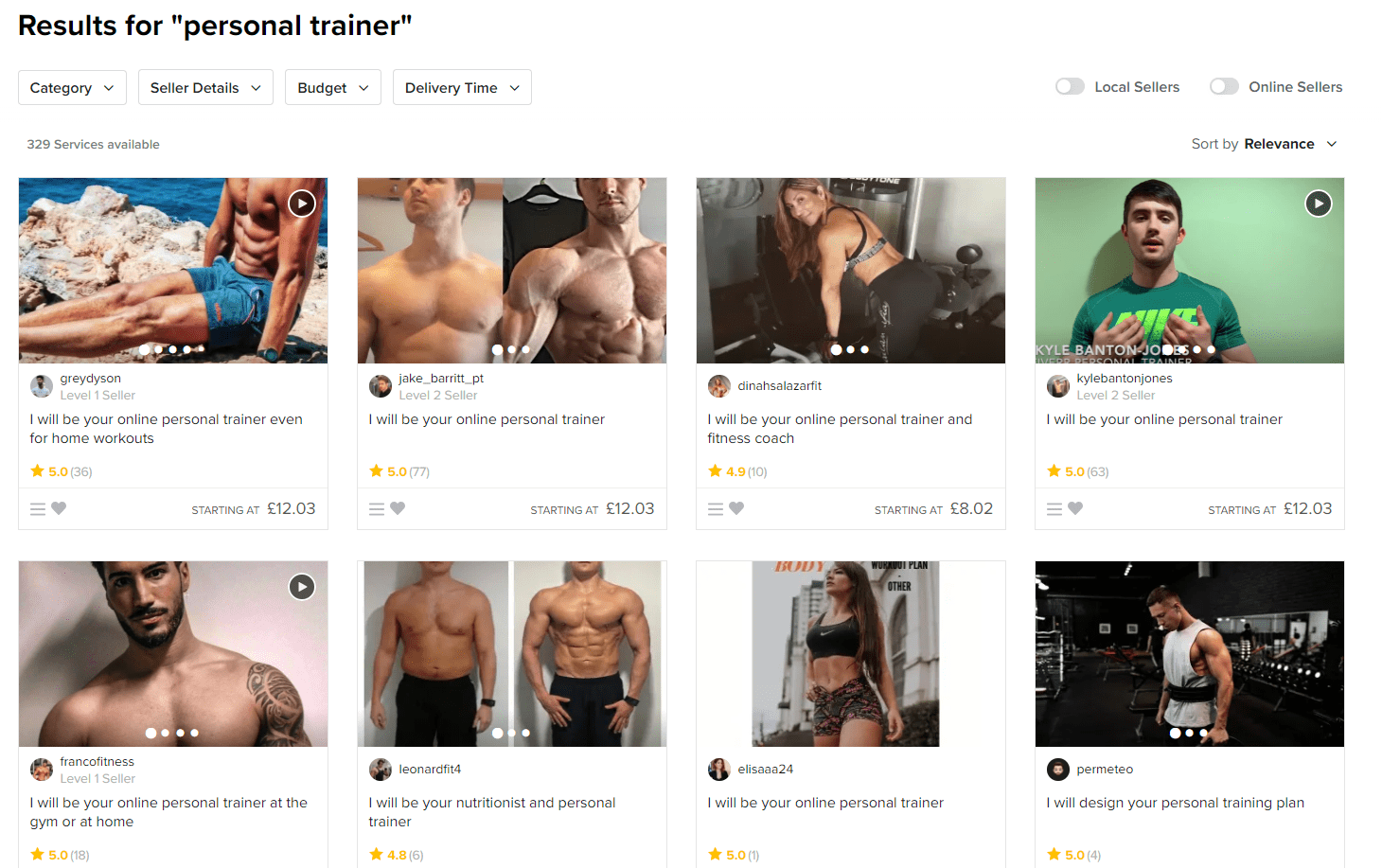 Perhaps your calling doesn't involve content, admin or social interactions at all. It seems counter-intuitive to think that a personal trainer could build a career from the comfort of their own home, but the COVID-19 pandemic has seen plenty of careers blossom in adverse circumstances.
In the UK, personal trainer Joe Wicks ran regular online fitness sessions via his Body Coach TV YouTube channel. Wicks expertly created free content for the public to workout during lockdown while maintaining a premium service for users who were serious about creating a personalised fitness plan.
While the online personal trainer marketplace can be a little bit congested, online freelance platforms like Fiverr run digital personal trainer services that can put users in direct contact with qualified personal trainers online to aid their progression.
The beauty of the rise of online personal trainers is that it shows even people who are more kinetically intelligent can share their expertise online without having to sit down and create content, for instance.
The flexibility of the online job market is such that it's truly possible to find your niche no matter what your calling in life is. If you feel that you can use fitness as a medium to help people and make money, there's certainly a growing market for it online. Furthermore, prices are flexible based on a range of factors pertaining to qualifications and experience levels. You can expect to make between £4 per session to as much as £100 – and even more in some cases.
30. …or alternatively, become an online coach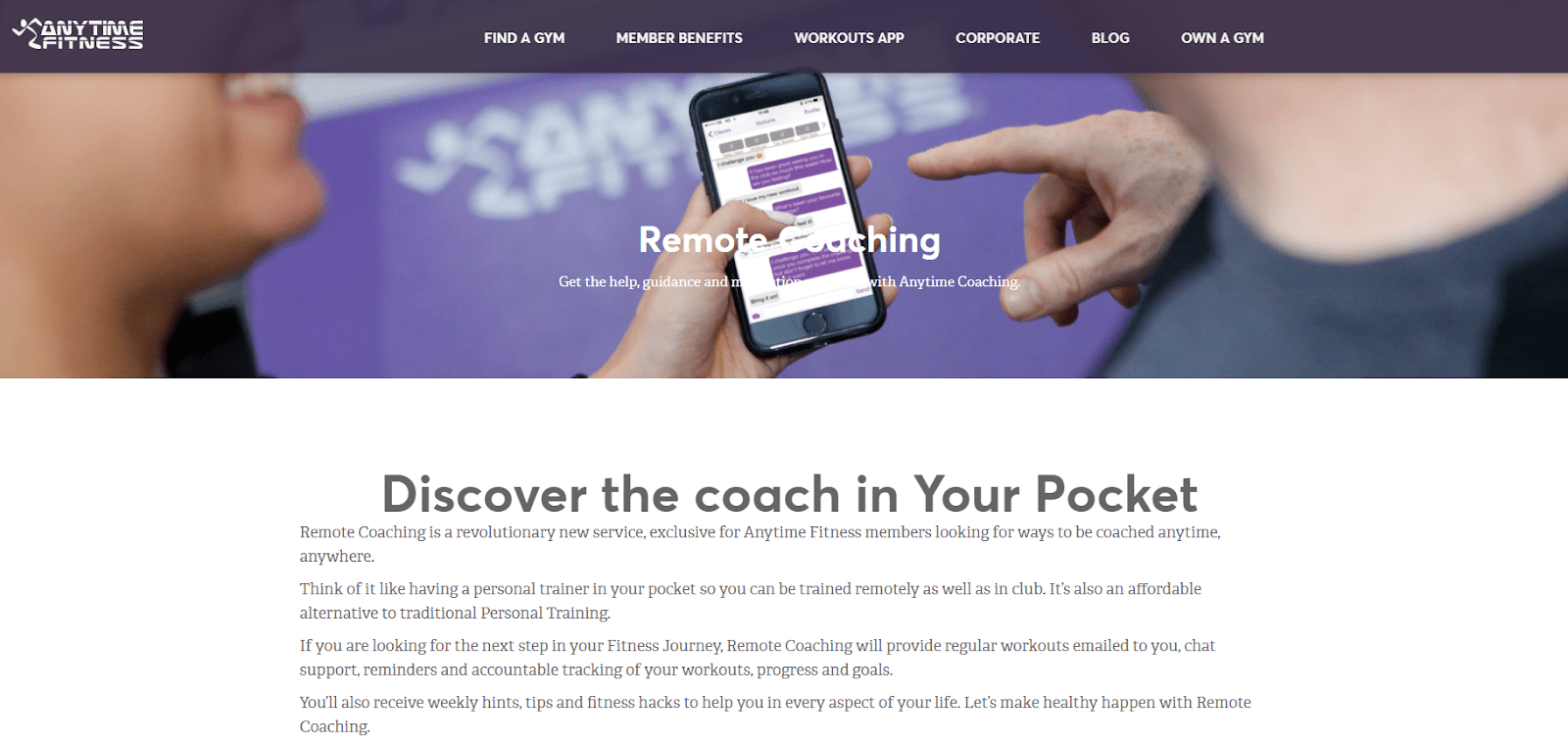 On the other hand, you may prefer to become an online coach who caters to your very own niche industry. Fiverr is awash in different types of coaching, from general fitness to vocal coaching to chess coaching and even dating coaching.
It turns out that as long as you hold some form of expertise in an actionable niche, you can certainly find a platform to teach it online to willing users.
Even if you've dedicated your free time towards excelling at video games, there are certainly markets for the coaching of specific games.
Naturally, this industry involves looking into your own skill sets and utilising an element of abstract thinking. What skills do you have that can not only be taught, but that can attract a significant number of willing students? The beauty of freelancing platforms is that you don't even need to pigeonhole yourself into a single concentration. If you feel that you're qualified enough to run a coaching class on, say dog training, there's nothing stopping you from additionally preparing a course on how to create the best banana bread.
One of the best things about online coaching is that you can generate an income without having to actively market yourself to prospective students. Simply make yourself discoverable and you could enjoy receiving a steady stream of paying consumers long into the future.
31. Try your hand at Cryptocurrency trading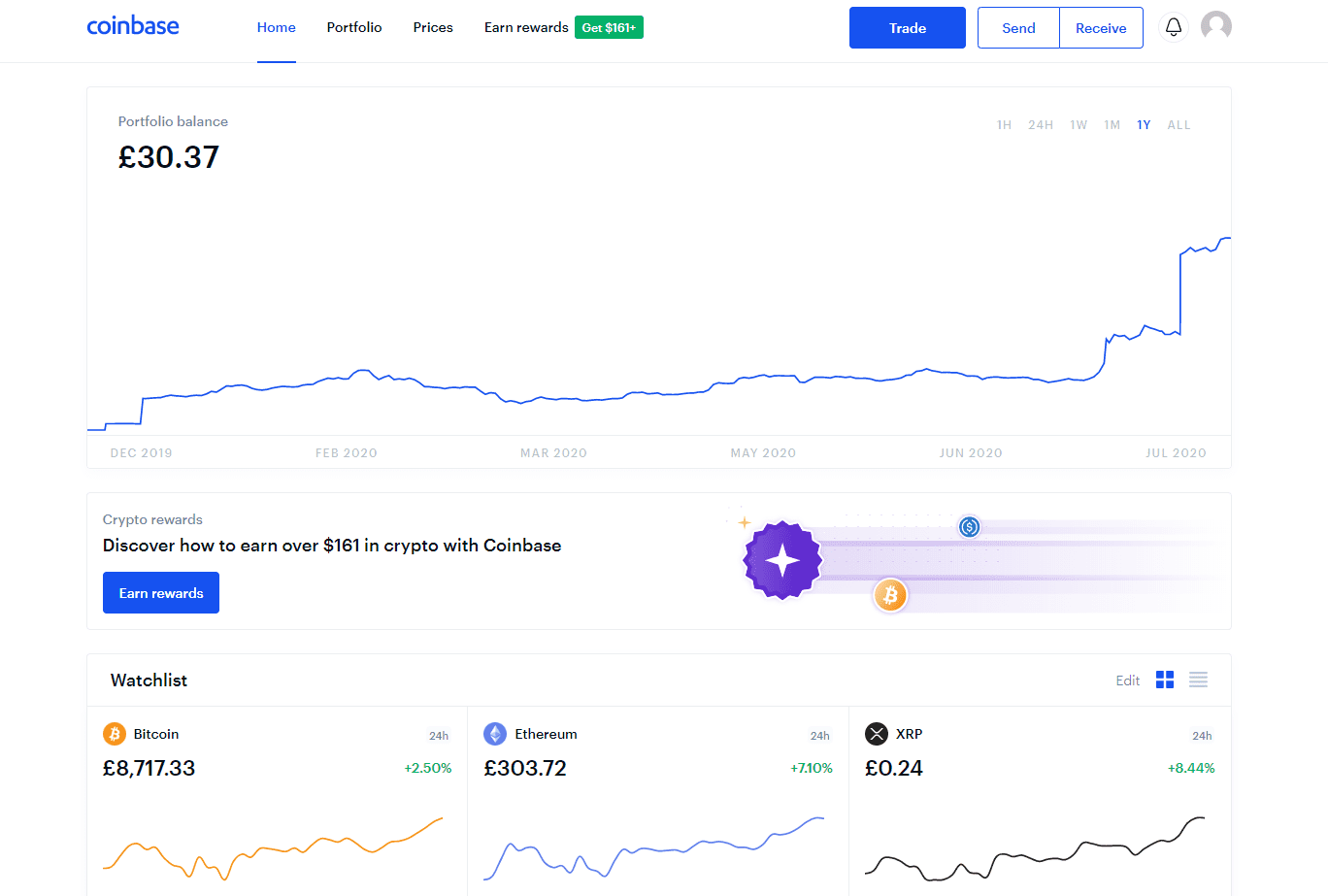 Certainly the riskiest WFH job on this extensive list. Cryptocurrency trading represents a step into the unknown. When we cast our minds to the world of crypto, we usually think solely of Bitcoin, but the digital coin landscape extends way further than that.
Bitcoin may have risen to astronomical proportions in the winter of 2017, but the highly speculative cryptocurrency market has contained plenty of ups and downs in the months and years that have followed. For all the crypto millionaires produced, there are plenty of users who have lost more than they've invested.
To successfully trade in crypto, you'll need a keen eye for detail, spotting emerging trends and reacting quickly to breaking news stories and market movements. For example, in July 2019 when Facebook announced its Libra project, the market rallied to significant highs, but suffered something of a collapse when the project was subsequently shelved.
The continuing development of blockchain technology and the appeal of both stablecoins and decentralised currency will certainly cause more rises – and perhaps a few falls – in the value of certain cryptocurrencies in the not-too-distant future.
Although the exciting world of cryptocurrencies can lure in plenty of investors, it's advisable to only invest however much you're willing to lose in the short term and to become a trader may only be applicable as a hobby, as opposed to a career.
With that said, there have certainly been investors who have turned crypto trading into a viable career, and if you're willing to accept the associated risks, there's no reason why you can't turn heavy levels of research into considerable profit margins. Just be ready to ride out some inevitable bumps in the road – with cryptocurrencies, it'll never be plain sailing.
Disclaimer: Trading involves risk. We are not advocating for trading nor suggesting that trading should be exercised. Trade at your own risk!
32. Offer yourself as a small business accountant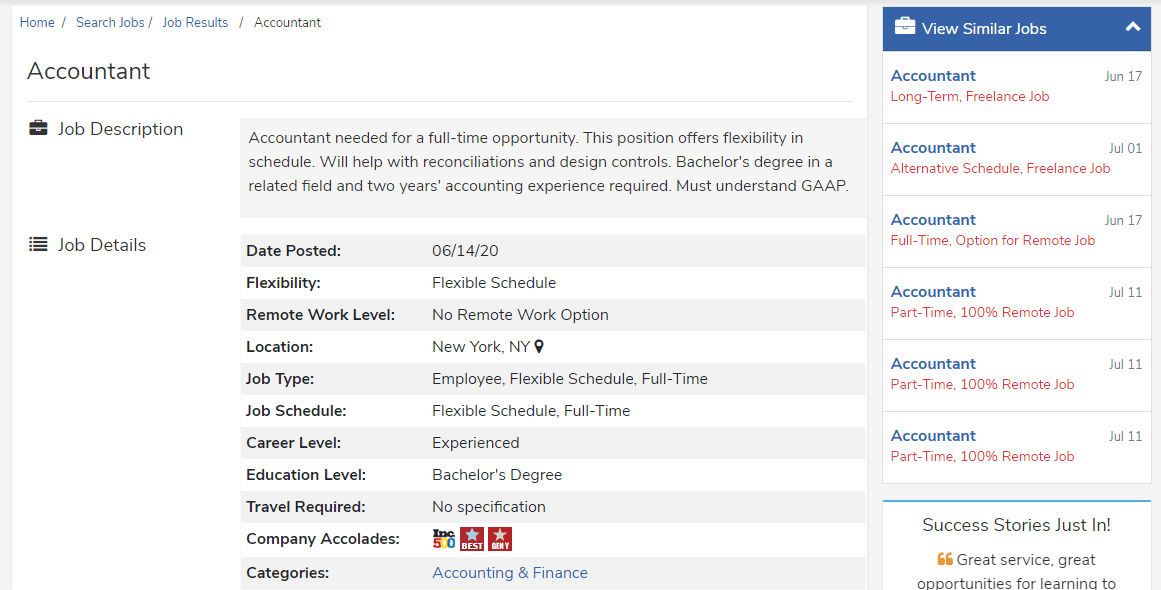 The reality is that small businesses and startups alike typically don't look to employ qualified accountants as they begin operating. Hiring a full-time, in-house accountant can be a costly task for bootstrapping companies and it's unlikely that any existing employees would want to take on the burden of learning to successfully take on the task.
Acting as a remote accountant for both entrepreneurs and small businesses alike means that you can get the cash flow of companies in order without having to commute to a physical location.
This type of job role will likely require the remote worker to hold some form of recognisable accountancy qualification or a relevant degree, and you may have to be prepared for overcoming some disorganised startup number keeping as you get started in your role.
Conveniently, many small businesses will only require part-time accountancy work. This means that you can scale up your workloads accordingly and take on more or fewer clients depending on what you're prepared to handle.
Again, depending on your level of experience and qualifications, you can earn big money as a remote accountant looking to help out newer businesses. Depending on a range of variables you could earn as much as £100,000 per year and potentially even more if you possess the right level of competence.
Many remote work job sites like FlexJobs, ZipRecruiter and Fiverr among plenty of others can host remote accountants and host job postings for accountancy related roles.