Search Engine Optimisation writing is all about crafting high-performing content for the web. It is an important tool in any copywriters arsenal. Its focus is on grabbing the attention of search engines and manipulating them by using specific and targeted keywords to make sure that your website and its content are easy to understand, use and find, in search engines like Google
Typically, Google processes 40,000 search queries every second on average, more than 3.5 billion searches per day and 1.2 trillion searches per year. Evidently, you'll need Google on your side, if you want to show up on those early results pages and reach your readership. A highly visible website with good content appears o the first few pages of results. This is exactly why good SEO writing is imperative to crafting content for the web.
1. Write for your audience
It's not by chance that this golden rule is up first. Much of the content out there is written for all the wrong reasons. And it shows. Writing with your audience in mind is paramount to the successes of SEO. The reasons for this are twofold. Firstly, Google has become predominantly aware of content that is of no interest, relevance or benefit to its audience. Gone are the days of filling your copy with relatable keywords and clickbaity headlines to manipulate Google into positioning you well. Your content should be written to enlighten, entertain and provide refreshing insight into a problem.
Second, over the past decade, consumers have become increasingly dependent on their relationship with the web. The gap between mainstream advertisers and consumers has widened so vastly, there is now too much space between them to form any trusting relations. By asserting yourself, your company or your website as an expert in your industry, by writing content that is interesting credible and informative, helps you to keep your audience coming back for more, and beat the competition.
2. Keywords should guide your content
There's a difference between allowing your content to be guided by keywords to create copy that gives people what they want to know; and letting your content drown in a flurry of meaningless keywords strung together with no end goal. The difference is that one is perfectly good SEO writing and the other, is shoddy writing that will produce little effect. Too many keywords will not only put off your readers but can result in search engine penalties for keyword stuffing.
Using relevant, keyword-rich phrases in your headline and throughout your content should let both readers and search engines know what your post is about. The title of your post will be the search engine's and readers first encounter with your post from where they will determine its relevance. Google calls this the 'title tag' in search results, so don't forget it. From here, you can expect to be well received by Google, found by your audience and appreciated for your clarity and credibility. Using keywords should be done thoughtfully and sparingly to stipulate a more natural feel.
There are plenty of keyword research tools available, take Ahrefs for example. This tool will assist you in finding and monitoring current trending keywords.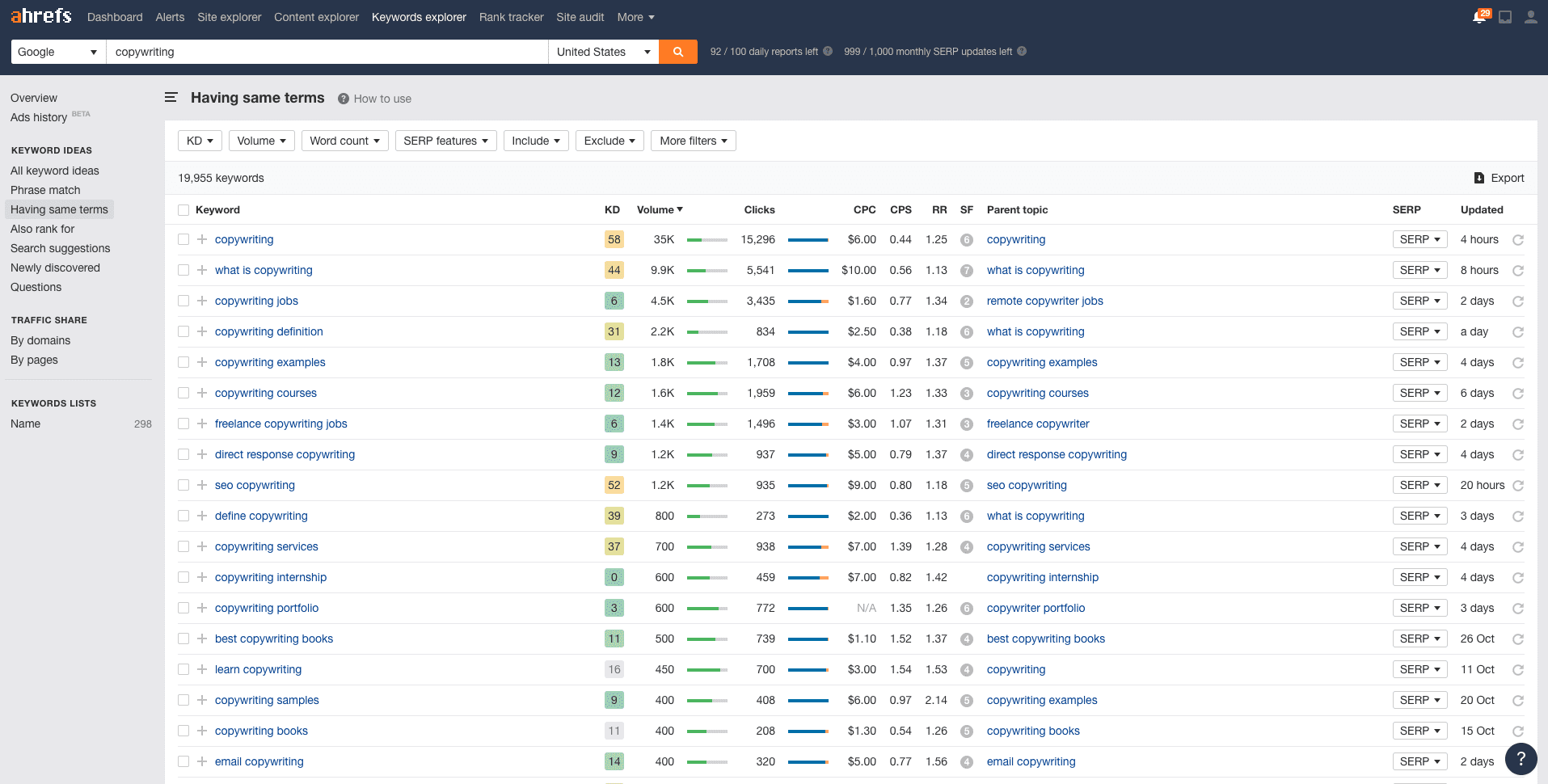 3. Take advantage of blog tags
In the same vein of using keywords to shape your content, elude its importance by including blog tags by tagging a few relevant keywords for each post. Topic tags can help to organise your blog content but by using them too much or by using too many similar tags, you may be subjecting yourself yo further penalisation by Google for having duplicate content.
Use topic tags strategically. When you create a topic tag, you also create a new page on your site where the content from those tags will appear. Too many tags for similar content leads search engines to believe that you are showing the same content multiple times on your site. Avoid this by choosing 10 -15 topic tags that you perceive to be the most important to your blog, that isn't too similar to each other, and only tag your posts with those keywords.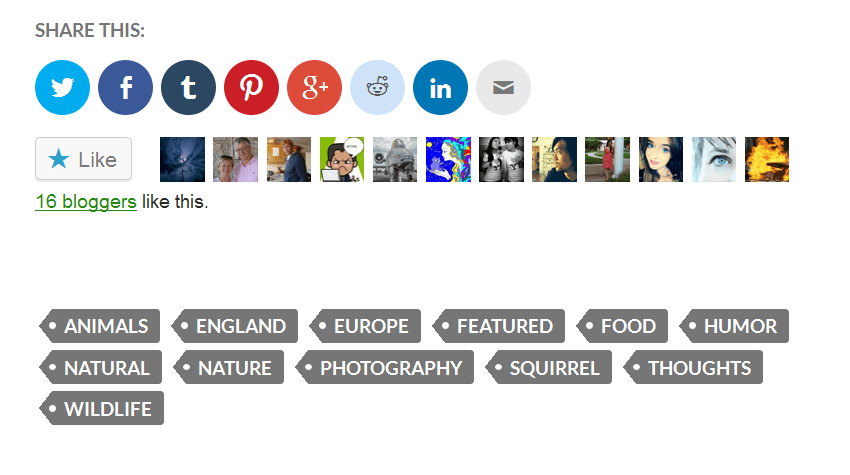 4. Optimise the meta description
Meta descriptions are the additional text that appears in search engine results pages, they give readers an idea of the content and often determine whether they'll click or not. Technically, meta descriptions do not affect SEO. However, since they show in the SERPs, they can have a direct impact on click-through-rates, which in turn are linked to SEO and rankings.

The maximum capacity of the meta description has been extended to around 300 characters. This increase is indicative of the importance of the meta description in providing readers with more insight into what each result will give them. Make full use of this by making it user-friendly, including keywords and remembering that relevance is key here. If your meta description is anything but relevant, you can expect fewer clicks and a subsequent poor reflection on your SEO.
5. Image optimisation
It is clear that we are living in an increasingly visual world. It has changed the way we consume and perceive information in such a world. In fact, research indicates that people are 80% more likely to read content that includes an image and are 64% more likely to remember it. The value of image optimisation cannot be overlooked. Images are one of your most valuable SEO assets and are often wasted when not properly optimised.
A few factors directly link images with SEO. Google's algorithm pays attention to behaviour metrics that reflect user experiences – such as bounce rates and the amount of time a visitor remains on a page. This, in turn, may mean that if images take longer to load, are of poor quality or are of zero relevance to your written content, bounce rates are likely to be high.
Most search engines are text-based. Google cannot necessarily see and evaluate your images to make an effective judgement. However, no next goes unnoticed. Alt tags solve this problem by providing a text for search engine crawlers to inspect. Images with properly formatted alt text contribute to how the page is indexed and where it ranks.
The text should be kept short for maximum impact. The shorter and more precise they are, they will be more efficiently indexed by search engines. The most crucial thing to do when optimising your image SEO is to mention the topic within the alt text. Refrain from keyword stuffing and don't prioritise your alt tags over other SEO outputs such as titles, links and meta descriptions.
6. Structure is key
Don't let the content of your posts get lost in an unorganised and inefficient format. As with writing any copy, be it a blog post, article, ebook, brochure or white paper, structuring the page is key. Breaking up your content into paragraphs, headings and subheadings allows for enhanced user experience and will keep your readers engaged.
On the other hand, backend organisation is important for search engines. The trick here is to use proper tag hierarchy when tagging headlines. For example H1 for headlines and H2 for subtitles. This is key to maintaining a well-structured article that is well-received both by readers and search engines.
7. Link building
Link building is an essential strategy for SEO copywriting and is an important ranking factor. Your website should be the scaffolding of your SEO strategy. In other words, linking your own articles in your posts ensures a link back to your website if your article is picked up by another site.
Infographics and videos are perfect forms of content that are easily sharable and can help to provide links back to your original site. High-quality content will increase the likelihood of it being shared. Other sites will be more willing to link back to your content if it provides relevant, engaging, new and insightful material. Aiming for quality is a sure way to build links. Take full advantage of available tools to monitor your backlinks.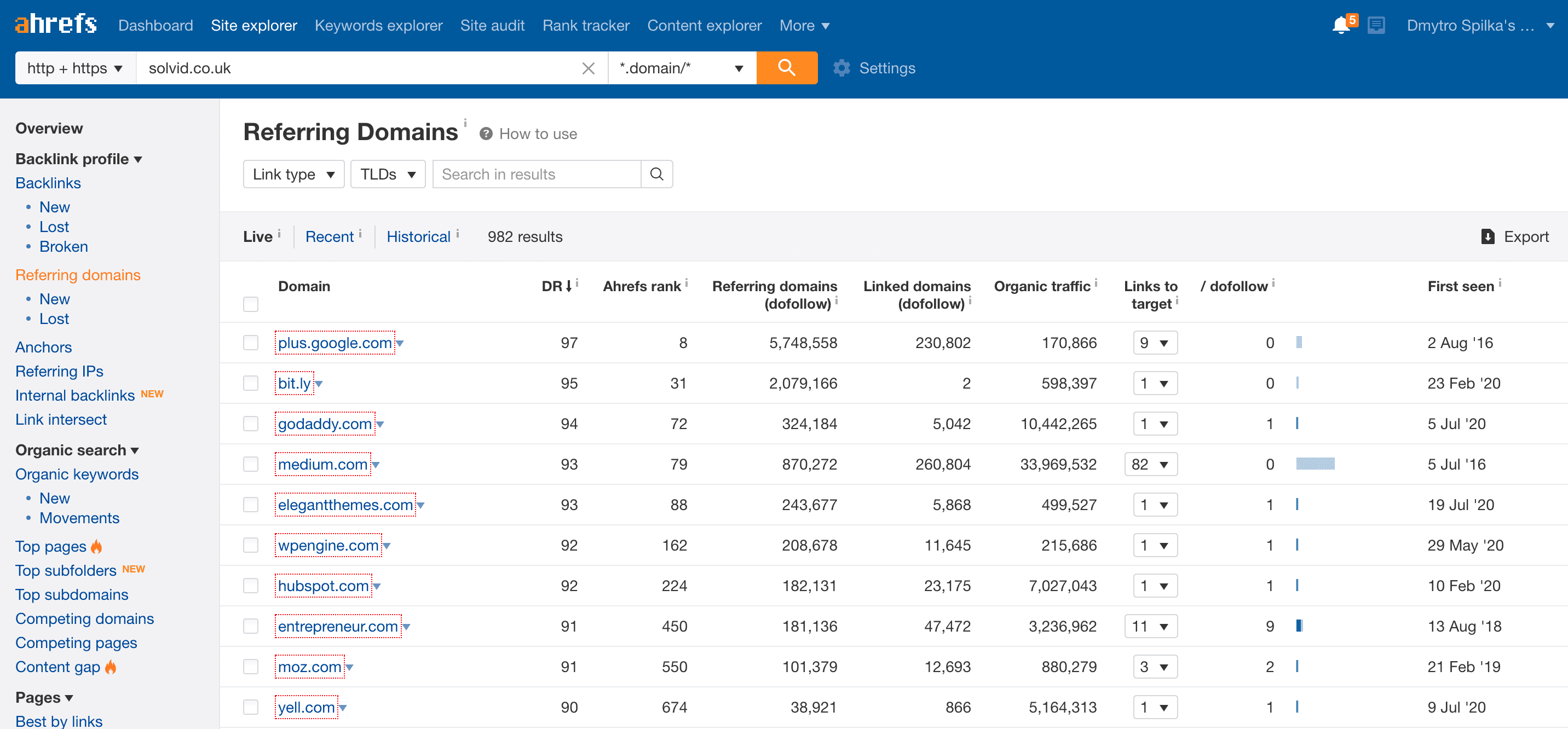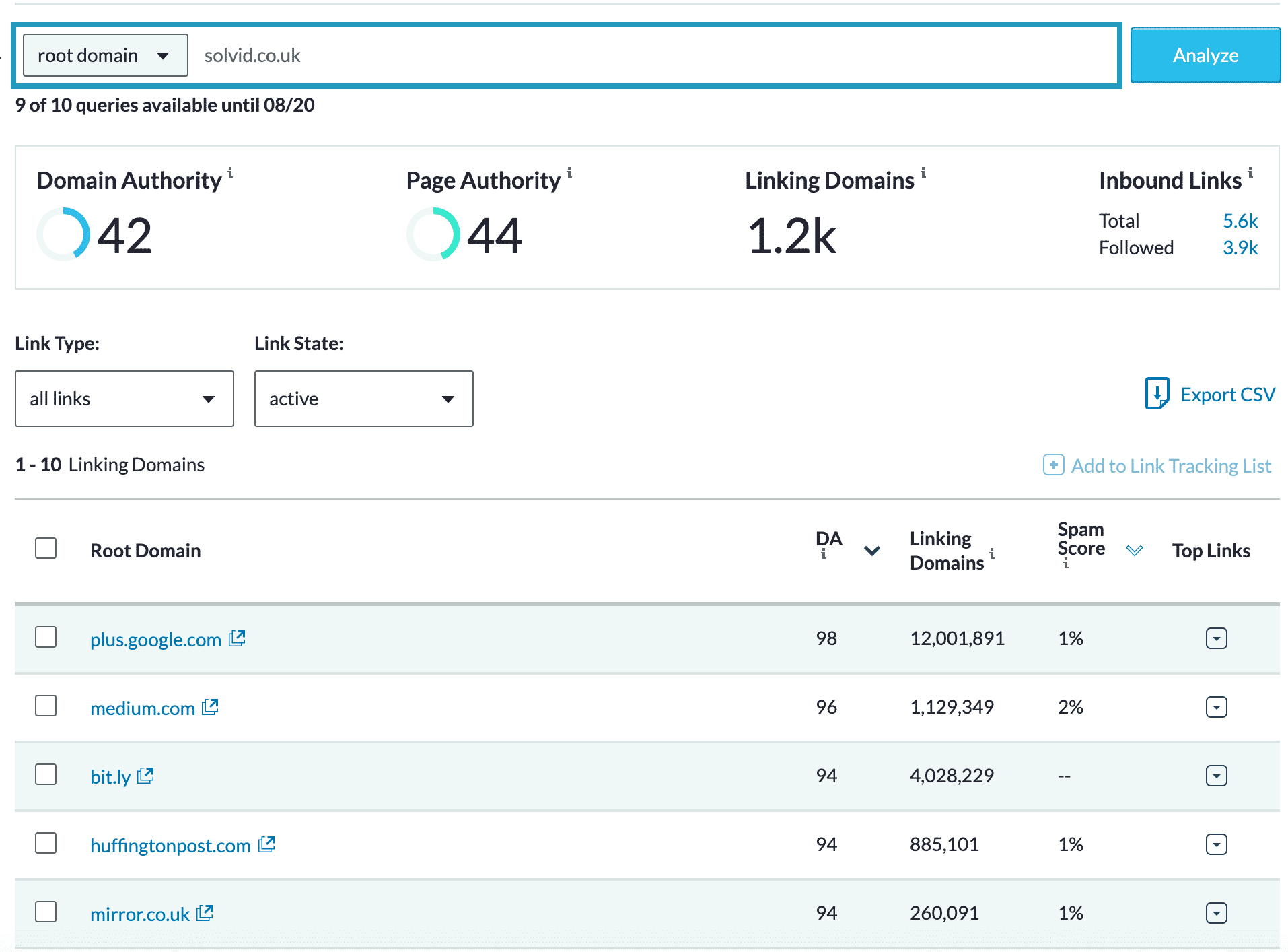 8. Make good use of social media
We live in no time to ignore the scope and potential of social media. It is a powerful tool that can help to increase the reach of your content and promote sharing. With the high secrecy of Googles algorithms, it is difficult to precisely determine how exactly, social media affects SERPs. What we can confidently say is that it certainly doesn't hinder it.
The fact is, Google considers popular social media channels like Twitter, LinkedIn and Facebook as simply other webpages, without special attention on their marketing features. This doesn't, however, mean that social media isn't a factor in ranking your site. Social channels accommodate sharing. This, in turn, increases your audience and boosts SEO, all whilst building brand awareness. Since the power of social media lies in sharing, it is important to have share buttons on all of your blog posts. To gain more control over how your links appear when they're shared, implementing Twitter Cards for Twitter will attach rich photos, videos and media experiences to the Tweets. Open Graph for Facebook is also a great way to give your shared links a boost and improve your click-through rates.
9. Engage locally
80% of disposable income is spent within 20 miles from home. If your business is location-sensitive, it is important to ensure your local SEO is intact. When done effectively, this can make sure that your business appears on map results as well as local searches. Local SEO strategies might include getting your business on relevant directories, optimising your Google My Business page, gaining citations, reviews, backlinks and optimising your search engine snippets.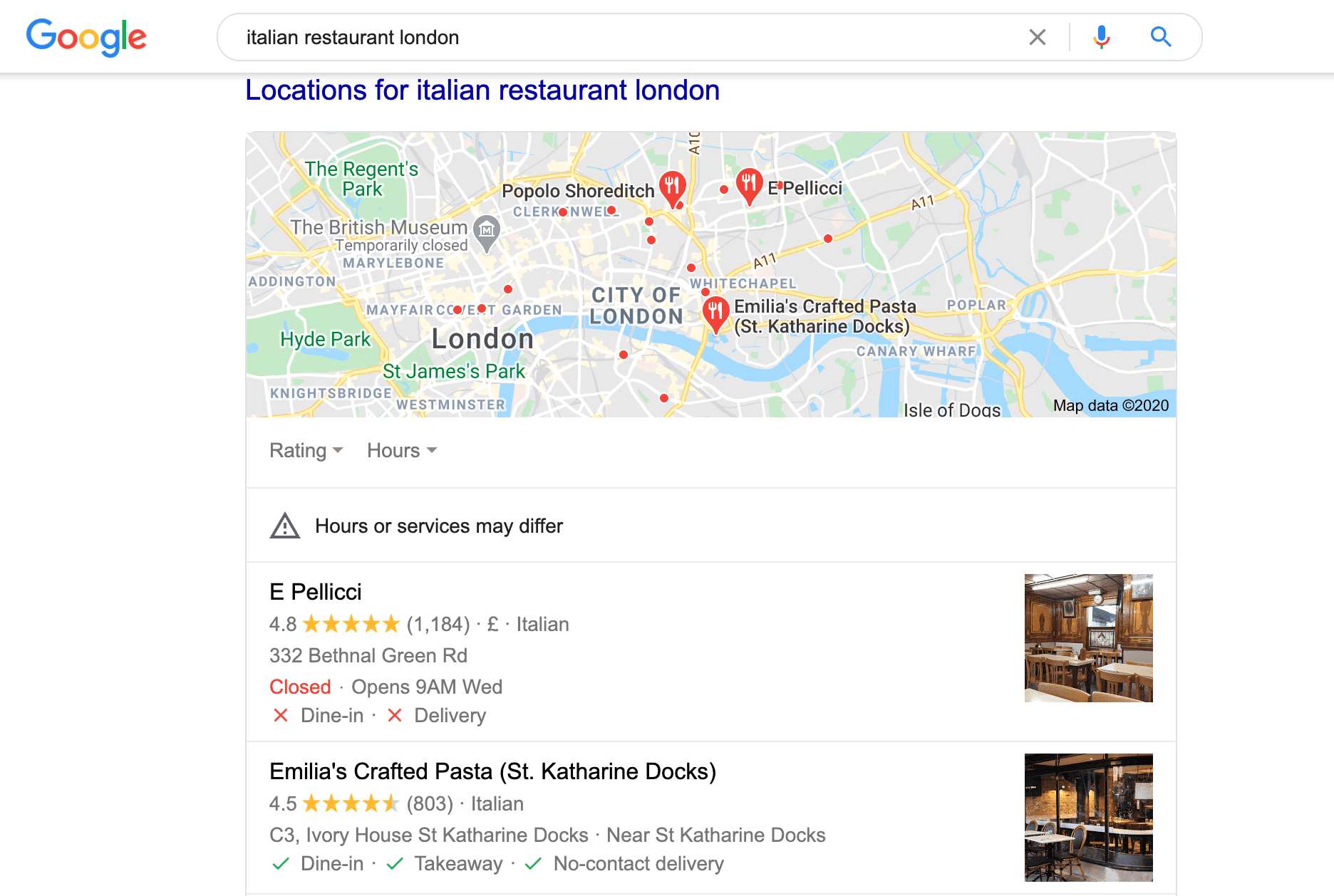 10. Write well-organised, engaging content that is easy to read and understand 
Googles Penguin algorithm marked the shift towards valuing content for users and not for search engines. This caused low-quality inbound links to negatively impact a websites SEO ranking. Since then, we have come to understand the importance of high-quality content for SEO.
Without high-quality content, you will not realise the full benefits of SEO.  Google equates readability with "easy to comprehend", and so assesses user signals like time spent and bounce rates to judge whether your users find your content legible. Relevant and useful content will encourage your visitors to stay for longer – which in itself can positively impact your search rankings. Quality content also generates high CRT – of which Google considers an important factor to rank your website.
Most industries have already realised the importance of quality content. This is probably down to the fact that small businesses that frequently blog get 126% more lead growth than those who do not blog.  With that said, there are cases whereby business owners may lack the time and expertise to create content themselves. Outsourcing content creation has become a popular choice and the market has responded to this increase in demand by flooding the internet with content providers.
11. Make good use of headings
In the same vein as point no.10, headings play a critical role in increasing the quality of your content. So much so, they deserve their own place on this list. There is little use in producing the most relevant, well-written, exciting piece, of which your readers will love if you don't separate your content with heading s and subheadings. Chances are, they might click on your post, and soon leave frightened for the long wall of unbroken text.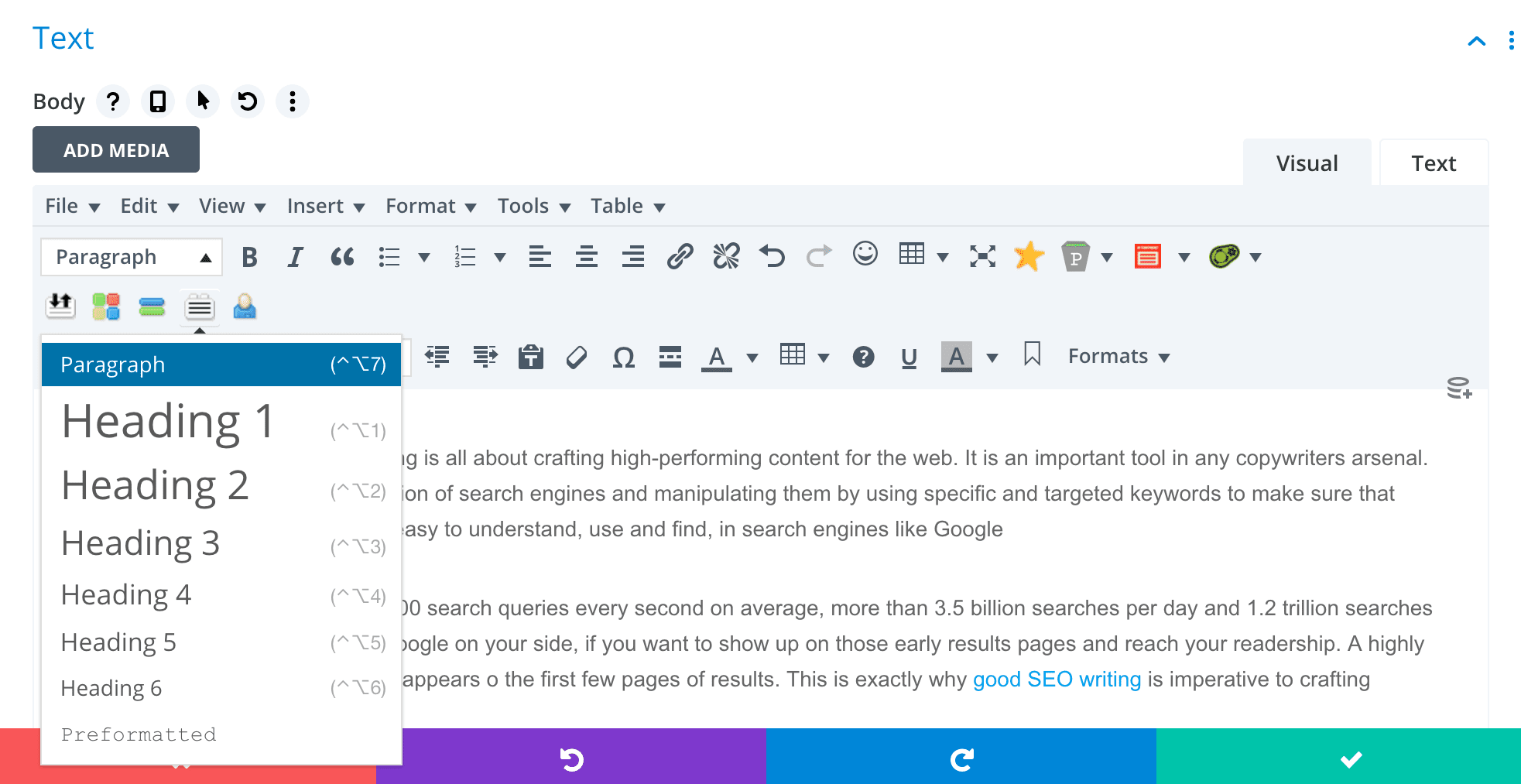 They exist to make your content easier for people to understand and digest. They are essentially the anchors of your page navigation and are essential to a quality user experience and in turn, your SEO.
Make a punch with your headings. Typically, a web page possesses very limited capacity to make a significant impression. Don't overlook the power of an effective headline. They should be clear, interesting and contain at least one of your keywords. Clarity is key here. Nobody likes clicking onto a post they have been led to believe will contain all their answers, but doesn't. You can make a great followup impression from your headline by paying special attention to your meta descriptions. 
12. Eliminate anything that slows down your site
It can be incredibly frustrating and tiresome to have to deal with a webpage that seems to take forever to load. It is never a good experience for the user and its impact on your site's performance could be detrimental. Even more so if your site hosts your business model. In fact, it has been shown that a 1-second delay in page loading time can incur a 7% loss in conversions and 40% of people abandon a website altogether that takes more than 3 seconds to load.
Page speed is a critical factor in SEO. Googles algorithm includes site speed as one of the most important factors in ranking your site. If your pages are slow, you will struggle to hit those top organic listings.
The unnecessary elements that slow down your site should be eliminated. Those that possess some function and necessity should be optimised for speedier performances. If you are using WordPress, consider deactivating plugins that are no longer needed. In addition to this, think about the essential versus non-essential widgets in your sidebar. These are easy and immediate ways to amend the issue.
13. Use web analytics from the get-go
Google Analytics is a useful tool for SEO from the get-go. It helps website owners to clearly understand the user's experience after visits to your site. From here, you can make the necessary modifications for your website so it can improve its rank in search engines.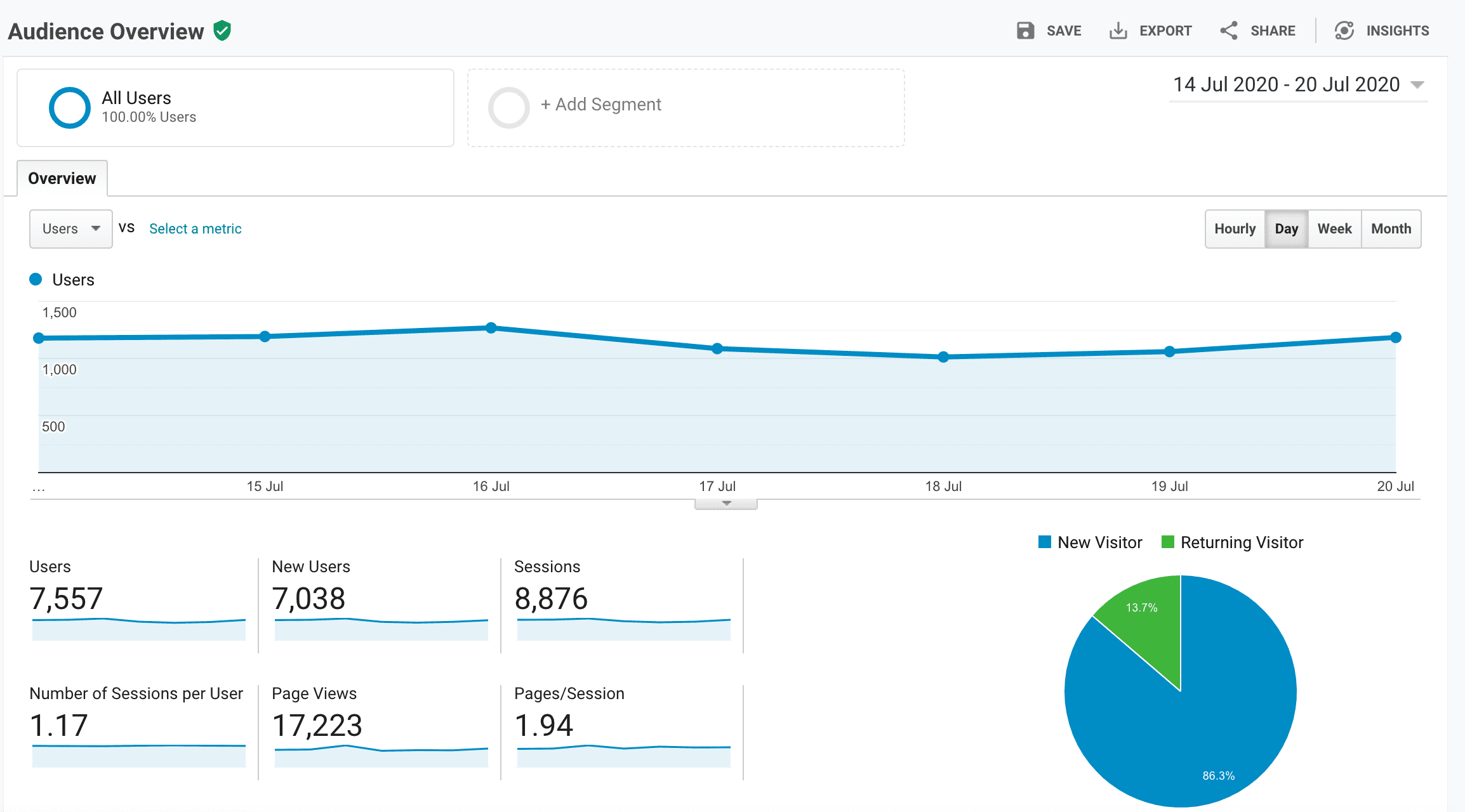 Once you have defined your SEO goals clearly, make use of available software to track your site's performance and progress toward your goals. Google web analytics is a good place to start. Consider branching out to others like CrazyEgg – a tool which shows you exactly where your visitors are clicking and how they navigate away from your site. From here, you can make appropriate revisions to your site to encourage users to click where you want them to, and to reduce the number of those who leave your site without taking any action. 
14. Explore the potential in video
Incorporating videos into your content can be a huge traffic source. Do not ignore its potential when crafting your SEO strategy. Web video traffic is expected to rise to over 70% of all consumer internet traffic in the following year. Studies show that web pages with videos have a significantly higher user average time than those without videos.
It's not simply by chance that YouTube has a DA of 99 and next to Google, is the second largest search engine out there. Its practically continuous self-perpetuating link building capabilities come about as a result of today's average consumer turning to video content for more information.
Fact is, users will be more inclined to click on a video link that they believe to be of relevance. Whilst it is not accurate to suggest that your SEO will suffer when you do not include videos, it's certainly fair to promote the need for videos in today's age, to enhance your SEO.
15. Maximise user engagement
User engagement can directly and profoundly hinder or enhance the rankings of your site. Google's algorithms are not advanced enough to gather opinion pieces from each website user, but instead uses a number of factors from which they judge user experience.
Despite the secrecy surrounding Google's algorithm, click-through-rates are shared with its users. This is a primary factor on which your site is based, and luckily, one which you can keep track of and work toward improving. A higher CTR equates to more exposure to your content and increased exposure gives users a better chance to engage, which ultimately is the basis of many other SEO metrics.
Time spent on site is another metric Google uses to determine user engagement. If users leave a page after 5 seconds, Google infers that readers were not engaged and therefore ranks the site low. To improve this metric, ensure that the actual content on your page is in line with the title and meta description. After all, that's probably what prompted the users first click.
Speed is a prominent contributor to user engagement. The quicker the page loads, the better the chance of user engagement and ultimately, the more Google sees the site as relevant and useful to users.
16. Perfect your Mobile content
One of the more recent developments in Google's ways of indexing sites is mobile-first indexing. This essentially means that Google will predominantly use the mobile version of your content for indexing and ranking. This basically means two things, first, if you haven't already done so, you need to make a mobile-friendly version of your site. Second, it is indeed measured in the index, so should be of high quality.
It is coming up to 4 years since the number of mobile users surpassed the number of desktop users. The precise number is forecast to pass the 5 billion mark, and as of last year, 52.2% of all website traffic worldwide was generated through mobile phones.
Since so many people are using their mobile phones to go online, combined with the fact that Google has introduced its mobile-first index, poorly structured mobile content will do you no SEO favours. Mobile-friendly content means more than generating content that fits a particular screen. It's all about creating new content and adapting existing content to meet the demands of mobile users. 
17. Content consistency and length
It's no secret that Google favours websites that consistently and frequently publish fresh, relevant and original content. The importance of constantly generating and publishing new material shouldn't be overlooked.
If you generally only rely on the existing content on your site to continue to do its job, chances are, it will be out of date, irrelevant, and of little interest to Google and other search engines. To rectify this, a constant flow of content will ensure that search engines are continually crawling and updating your rankings. An easy way to increase traffic by up to 111% is to update and republish old blog posts with new content and images.
According to Backlinko, the average word count of a Google top 10 result is 1,447 words. Moreover, lengthier pieces tend to get more referring domains.