Are you looking to start blogging? Well, you've come to the right place.
We've been doing this a while and we know that it can be tough to find, and choose, the right blogging platform so that you can get started.
In this post, we'll take a look at 10 of the best blogging sites and platforms on the planet. Some free, some not. But we're certain that we'll find the perfect fit for you.
Let's get started.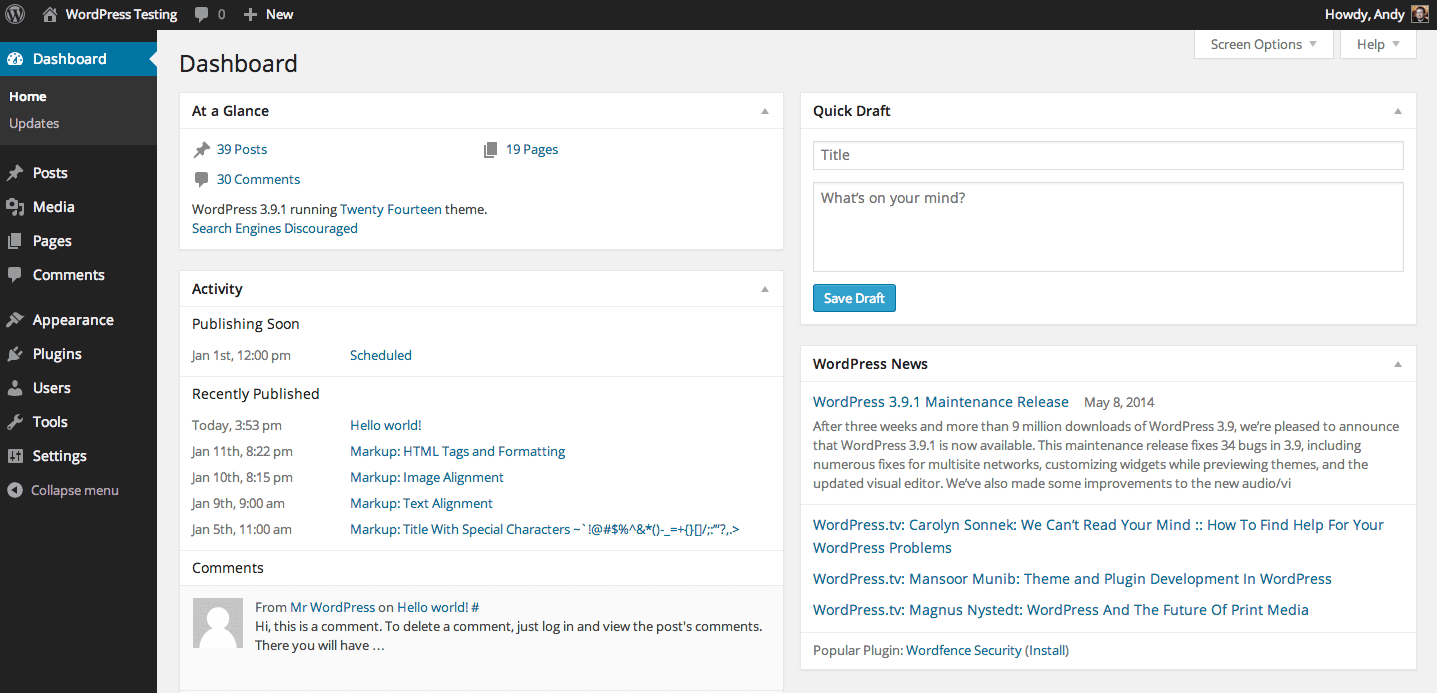 WordPress.org is an open source platform that lets you build websites all on your own. It's the ultimate blogging platform that is designed for everybody, especially for those who are looking to take their first steps into the wide world of the blogosphere.
It is the most popular blog platform on this list and anywhere for that matter. There are currently well over 75 million active websites worldwide powered by WordPress.org.
The reason it's so popular is that you can have a dozen websites that use the same software and still make them all look different and unique, thanks to the countless compatible plugins and themes supported on the platform.
If you're looking to utilise WordPress.org for setting up your blog you're in good company, of the countless users that are dependant on the platform, TED, The New York Times, BBC America, Beyonce, Vogue, The Rolling Stones and The New Yorker have all set up websites and official blogs through the site.
The beauty of WordPress.org is its expandability, if you choose this platform to start your blog the sky's the limit – allowing you to grow with your site. Whether you attract 250 visitors a month or 250,000, you'll be safe in the knowledge that you can expand to support them and keep putting out engaging content to suit demand.
The supported plugins that come with WordPress.org allow cover for just about any scenario, whether it's setting up e-commerce, a members-only section, multilingual support or booking engines, this iteration of WordPress has you covered.
Pros:
The software gives you control of everything.

Most web hosting providers will install WordPress for you.

Thousands of themes available. Make it look any way you want.

Thousands of plugins that let you add all kinds of different features to your blog.

Easy customization for coders. If you're tech-savvy, you'll have full freedom to create virtually anything that you can dream up.

WordPress websites are search engine friendly.
Cons:
Like anything, the WordPress backend area will come with a bit of a learning curve.

WordPress websites can sometimes break or get hacked. So, you will need to manage your website backups and security. (WordPress has plugins for this that'll make these tasks easy.)
Price:
WordPress is essentially free. When you get a domain plus web hosting, the company will usually have the software installed for you.
So, to get WordPress installed on your blog, you would first need a domain name at about £10 ($15) per year and web hosting at around £3-7 ($5-10) per month. When you've got all that setup, then your hosting provider will do the rest. We recommend using Bluehost or Siteground. 
What's more, is that the setup process only takes a couple of clicks. Highly recommended!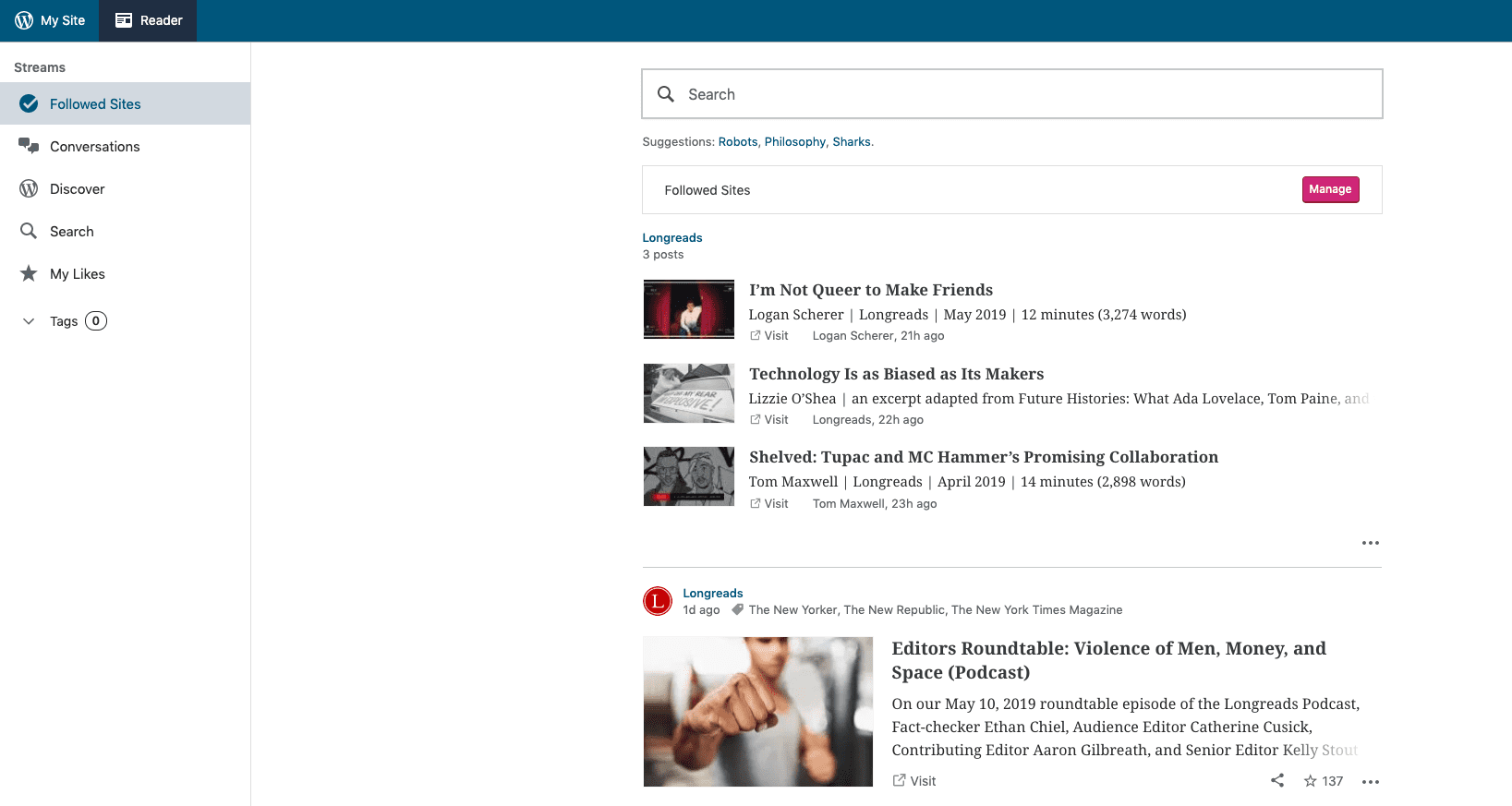 People often mistake WordPress.com with WordPress.org. Yes, they're both owned by the same company. But they're two very different entities. As we stated above, WordPress.org is installed after you purchase web hosting.
WordPress.com, however, is a platform that doesn't need to be installed. All you do is sign up, choose a subdomain name, click a couple of buttons, and you're good to go.
You get your own WordPress blog for free.
A free blog sounds too good to be true…there has to be some downside, right?
Well, there are some drawbacks compared to WordPress' .org counterpart, but plenty of positives that make WordPress.com a highly appealing cost-effective platform in its own right.
While the potential for WordPress.com users is somewhat more limited than .org, the simplicity of the platform makes it a winner for users that are less experienced in the world of blogging – but with plenty of options for scalability, including the ability for more confident bloggers to purchase their own domain from the site, you'll have room to grow as your readership does.
With adequate access to analytics services and some SEO control available, there's really nothing stopping fledgling bloggers from learning the ropes on WordPress.com – the platform makes for an ideal springboard to catapult a fresh blog into the laps of large new audiences.
Pros:
Very easy to get a blog up and running.

Super easy to manage. You don't have to worry about a thing.

Pay absolutely nothing for a blog you can have for as long as you want.

Beginner friendly. It's as if it were made for inexperienced bloggers.
Cons:
You will not own the blog. That means WordPress can take it down or suspend it anytime they see fit.

You will have a subdomain you will not own. Example: myblog.wordpress.com.

The free plan for WordPress.com comes with limited storage (3GB). That means you will only be allowed to upload fewer images, audio, etc.

WordPress will have their ads on your site. You get 0% of the revenue.

Zero monetization options.

Not much customization and design features in the free plan.
Price:
WordPress.com is 100% free. You can start a blog and have it forever without paying a single penny.
However, the platform is extremely limited. You will get the basics, however, which is great for beginners.
But if you choose to go with WordPress.com as your blogging platform, then going with a paid plan would be your best option.
WordPress has three premium subscription plans available:
Personal – £3 ($5) per month

Premium – £7 ($10) per month

Business – £20 ($33) per month
(All of WordPress.com's subscriptions are billed annually.)
These premium WordPress.com plans would give you more control over your site. For instance, you would be able to own your domain (myblog.com, for example), monetize your pages any way you'd like, design it however you want too, and more.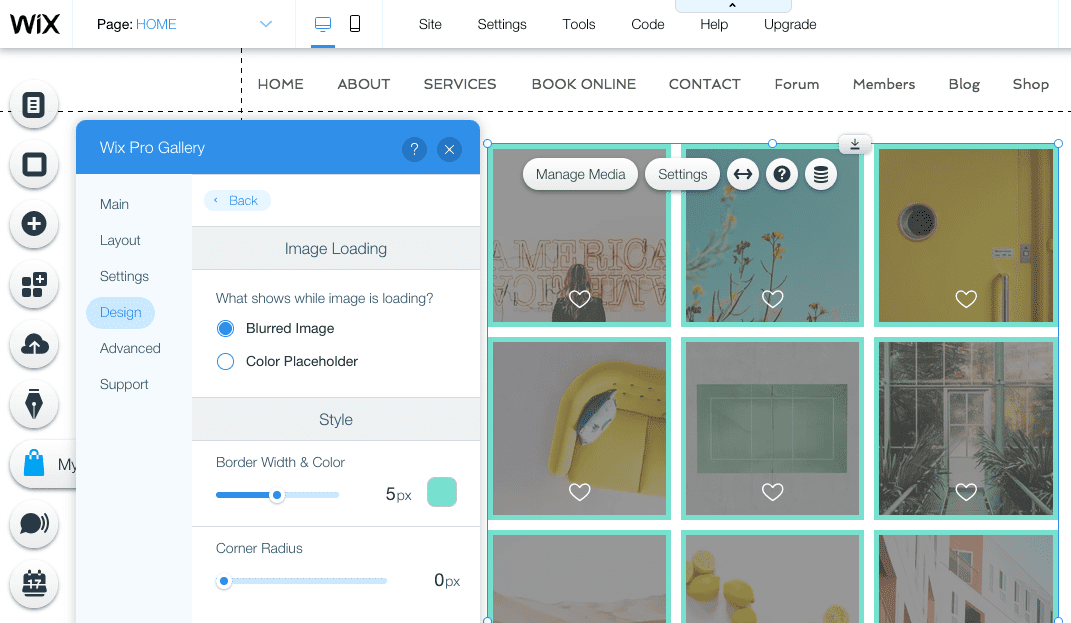 Wix is probably the coolest platform on this list. I mean, I love WordPress.org and all and I've always built sites powered by WordPress in the past, but the Wix platform has so many great things going for it.
It is so good, I might have to find myself a new niche and build a site using the incredible Wix platform.
Why is Wix so good, I hear you ask?
It's all drag and drop, baby. That alone makes it so easy that a child can do it. You basically have the power to edit your whole site from the front end.
Another thing that makes it great is how easy it is to add custom features and functions to your Wix website. This is done through apps, and it works just like your smartphone…simply install it and it's ready to use.
For example, to add a blog to your site, you will need to install the app. All this takes is a click of a button. Literally.
When activated, the Wix application will automatically add a blog page to your website.
The beauty of Wix's template editor means that you can have complete control of your website without needing to know a single line of code – a great quality for casual bloggers and not-so-tech-savvy users to tap into.
The level of innovation into which Wix delves can be seen in the number of new features that are churned out each month – recent additions include video backgrounds and a 3D scrolling effect.
The level of new and immersive features that Wix supports can feel bewildering at times, so it's fortunate that the platform not only offers 24/7 support, but also carries a dedicated 'help' button that reroutes you to what the site calculates is the most useful troubleshooting page depending on what you're likely to be struggling with. Users can also request a reply by email – though there is no chat-based support at present.
There's a lot of other things that make Wix great, and of course, there are a few aspects that have a negative effect on the platform's users. We'll cover them next.
Pros:
Super easy to use. 100% beginner friendly.

All premium plans are a bargain (we'll talk about them a little later).

Free to get started.

Tons of bandwidth and storage. Almost never run out.

Tons of Wix apps available that will add great features and functions to your site.

Free domain with a premium plan.

$300 worth of ad vouchers. You can use these to give your site a jumpstart.

Money back guarantee for 14 days on all premium plans.
Cons:
The free plan sounds great, but is very limited.

At the time of writing this, there is no option to change your design template.

I also found that there are limited website design templates. This is bad if you want to add some uniqueness to your website and blog.
Price:
Wix is 100% free to get started. They will provide the basics of the basics, whatever that means :), such as beginner's hosting, simple website building tools, a subdomain, and more.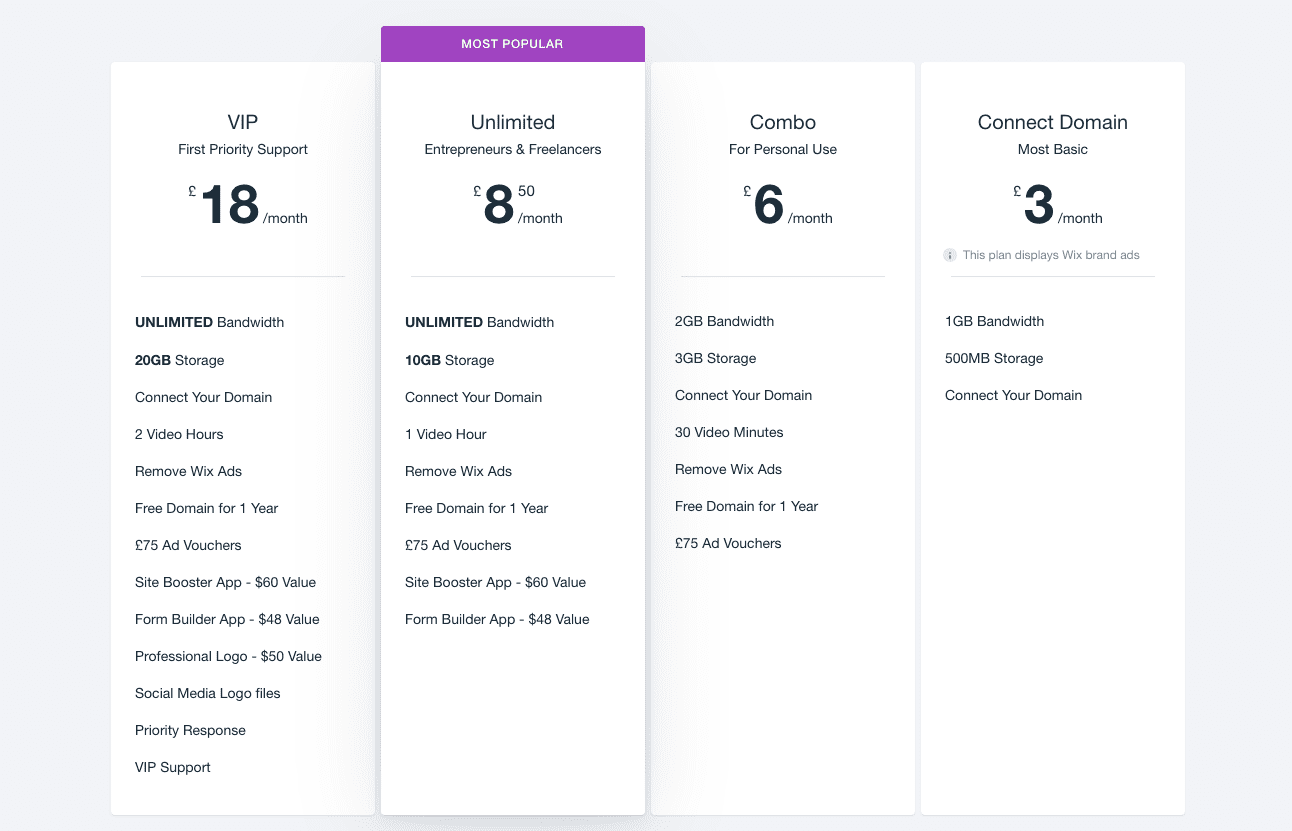 If you're serious about your online blogging business, however, the basics will not be enough to become successful – and that's where Wix's premium plans enter the fray.
I would recommend the Unlimited plan. Maybe eCommerce, if you're planning on selling products from within your website.
Both of these plans would give you everything you could possibly need to get started in creating a professional blog and website.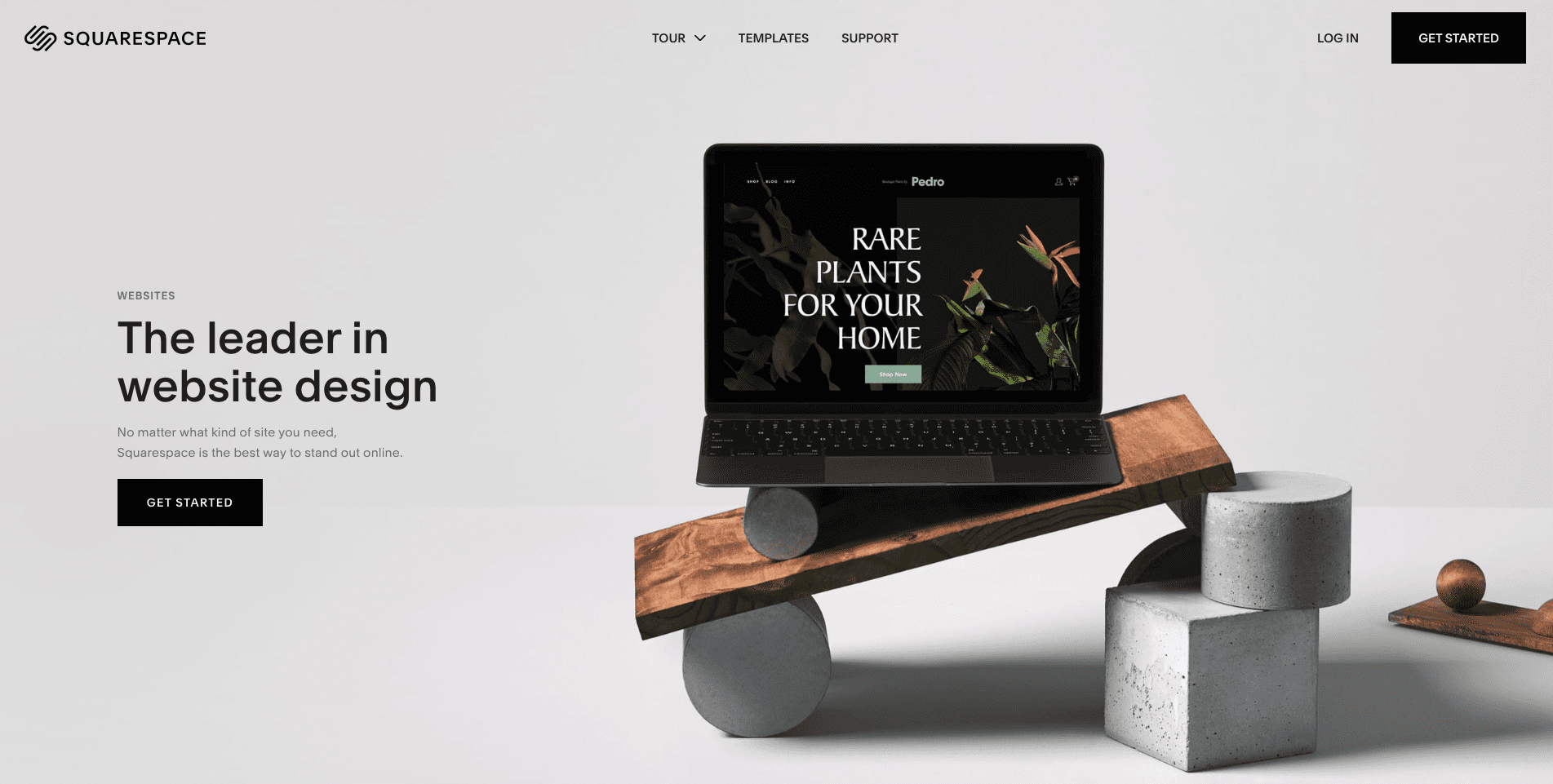 Squarespace is a website building platform that is more aimed at small businesses that want an online presence of some sort.
However, all their pre-built website templates all include a blog. That means you can use it and it qualifies for this list.
Like Wix, Squarespace provides a drag and drop builder to create and edit your website and content. All the work is done frontend, so overall, it's incredibly easy to use.
The blog feature is a little confusing at first, and may take some getting used to for those who are less savvy when it comes to the blogosphere. If I wasn't as experienced as I am now, I'd likely have struggled to navigate my way through the blog section of the website.
Luckily, after some trial and error, I was able to whip up a blog page that was satisfactory in terms of quality. (See below.)
Overall, I think their website and the blog platform is surprisingly credible – despite Squarespace not being as heavily established as blogging specialists.
Squarespace's qualities are underlined by the fact that over one million websites rely on the provider, and their powerful marketing campaigns, staring Hollywood personalities such as John Malkovich and Jeff Bridges clearly shows ambition in the market – but what makes the platform so confident that it's so willing to splash the cash on advertising in this way?
Well firstly, despite only having a third of the user base that Wix has, being in possession of one million paid accounts represents an excellent business model that's capable of squeezing in plenty of premium features without making a dent on cash flow. Its YouTube channel, as a result, is brim full of some of the most engaging and well presented how-to videos of all blogging platforms – a definite perk for those of us who need a helping hand here or there.
The templates available through Squarespace really set the platform apart from competitors, with renowned reviewers WebsiteBuilderExpert labelling the layouts as the best available online. The templates on offer are versatile and can adapt to a range of industries that you choose to focus on. They're also very much compatible with mobile browsers, meaning that your audience can enjoy your content seamlessly no matter what device they're browsing on.
Pros:
Provides a drag-and-drop style that makes editing easy.

A small learning curve, but still fairly easy.

There are a decent amount of website templates. More than some on this list.

It is 100% free to get started. However, there's only a 2-week free trial available.
Cons:
If you plan on selling products, there may be transaction fees (depending on the plan).

Although I said it's easy to use, it may be somewhat confusing at first to newer bloggers.
Price:
Squarespace is a premium product. It offers four subscription plans:
Personal and Business under their "Website Plans"

Basic and Advanced under their "Commerce Plans"
I would probably recommend the Business plan if you decided on Squarespace.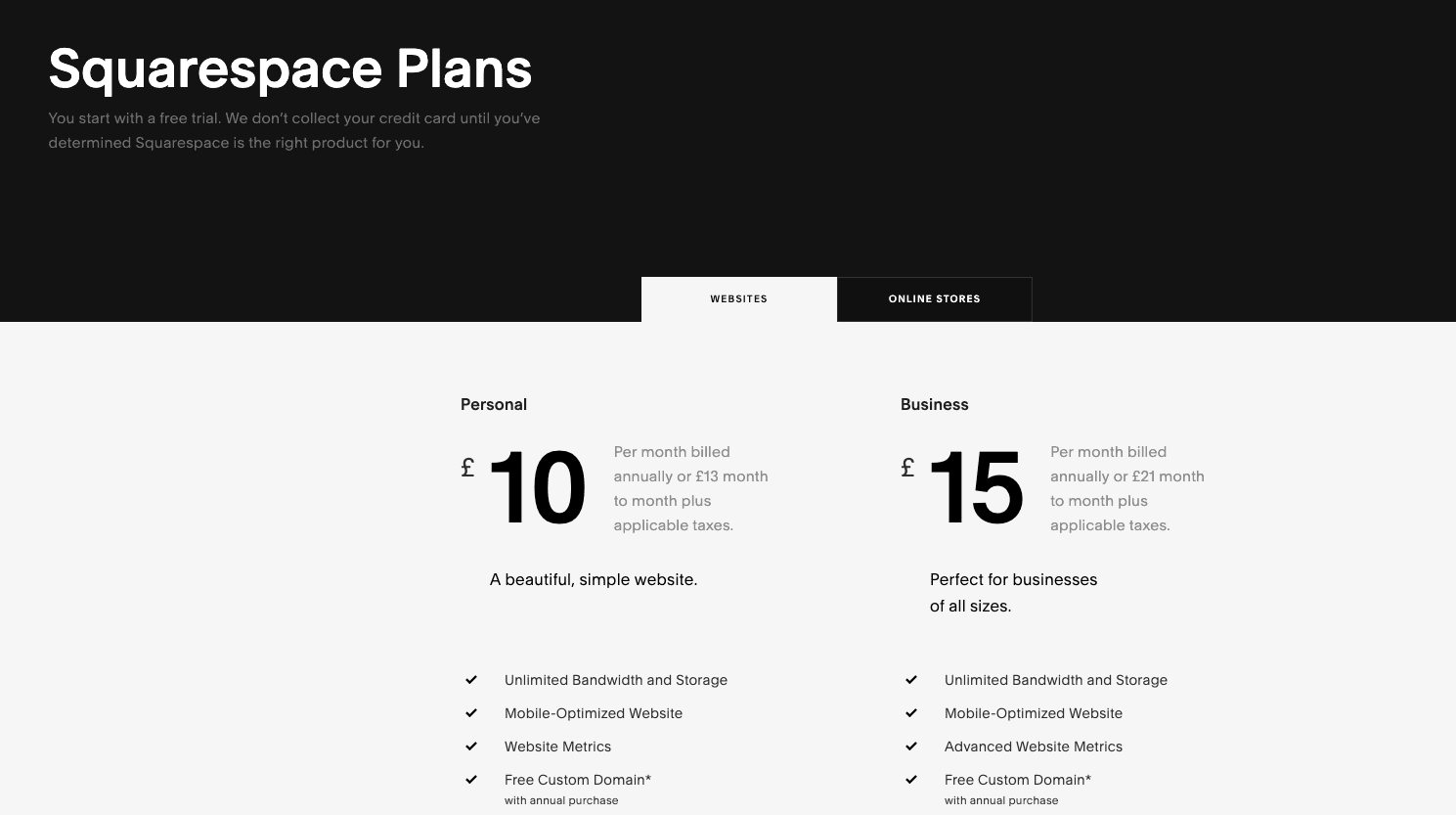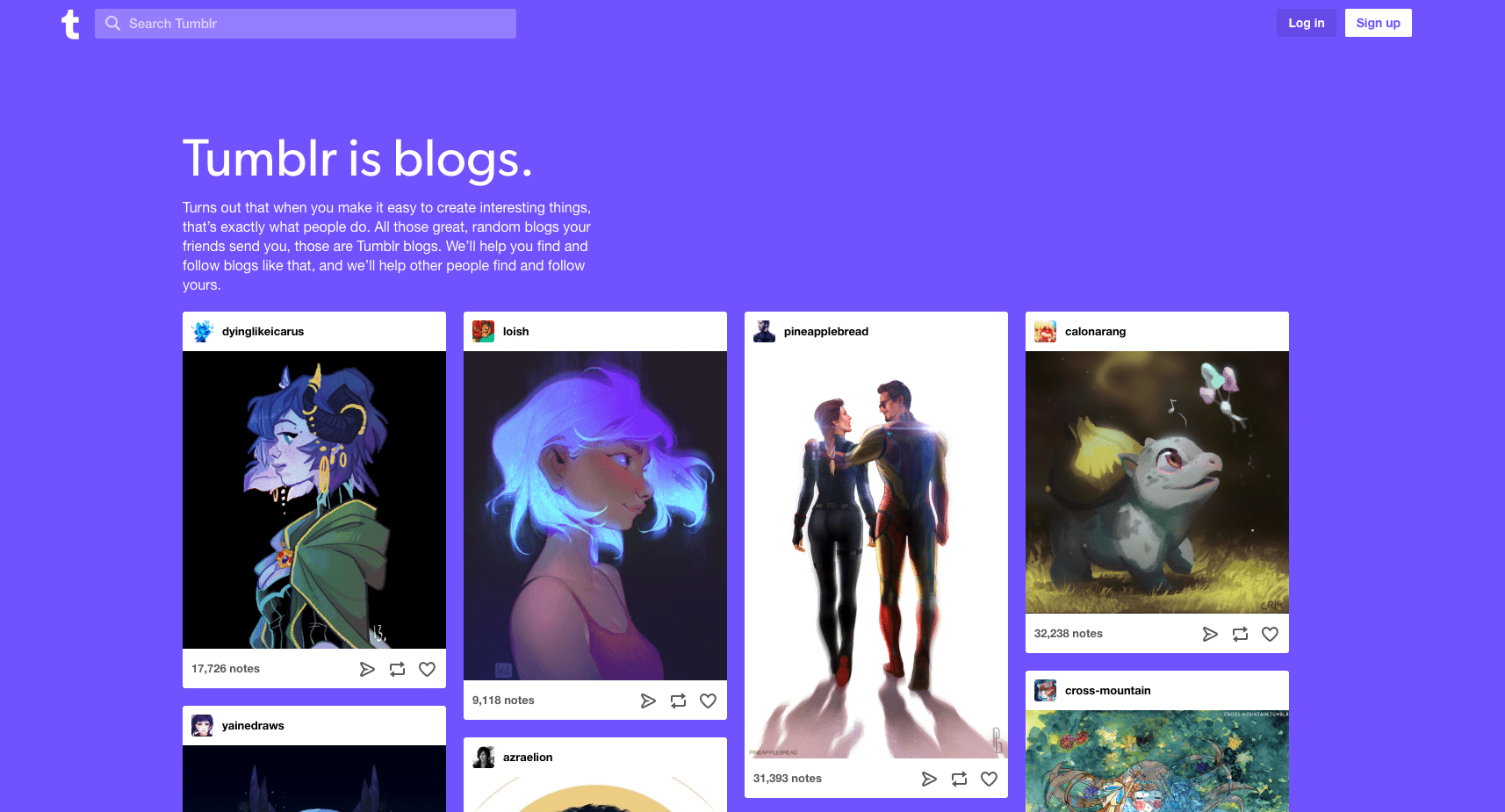 Tumblr isn't like most on this list. But it's great. It's like social media for bloggers. Literally.
Tumblr works like a regular social media platform. Meaning that you post and people interact with your content by liking, sharing, and commenting.
The platform will also let you make sweeping edits your blog and profile. You can add a logo, your headshot, your custom colour palette, and even change the look of it with Tumblr themes – allowing you to make your digital space feel that much more homely.
If you're planning on creating a more visual blog, then Tumbler could be just what you're looking for. Here, the text takes a back seat and allows users' images to do the talking, almost exclusively.
You won't need to know about HTML and CSS to get started with the formatting and the platform is being used to great success by professionals like Taylor Swift and new media influencers such as Grace Helbig and Tyler Oakley alike. A rare beauty in the blogging world, Tumblr's growth occurred organically after its 2007 inception and with over 345 million active accounts and 738 million unique visitors worldwide, it's fair to say that the blogging provider has grown from modest roots to be an international success.
Tumblr is focused on providing its blogging/social platform as a perfect step for fledgling bloggers to learn the ropes, and highly pictorial content means that users can easily set up more personal and focused blogs on to specific subjects. The platform could also greatly benefit users who are interested in blogging about tutorials and how-to-based content.
If you're looking to get started in the world of blogging and see yourself as something of a shutterbug, then it's hard to overlook Tumblr as an ideal option for you.
Pros:
Tumblr has some credible design customization features. But the platform is still pretty limited. However, there are third-party products you can upload.

Tumblr blogs are easy to use, even from a user/reader standpoint. The UX is relatively good.

Tumblr is absolutely free to use.
Cons:
If you outgrow Tumblr and decided to move to something like WordPress.org, it can be quite tough to transfer your site to another platform.

Like with most free blogging platforms, you will be given only a subdomain (blank.blank.com). If you want your own, you'll have to pay for it.
Price:
Aside from all the third party products (themes) and domain names, Tumblr is free to use. Forever. You would never have to give away any bank or credit card information. Not even for a service like PayPal.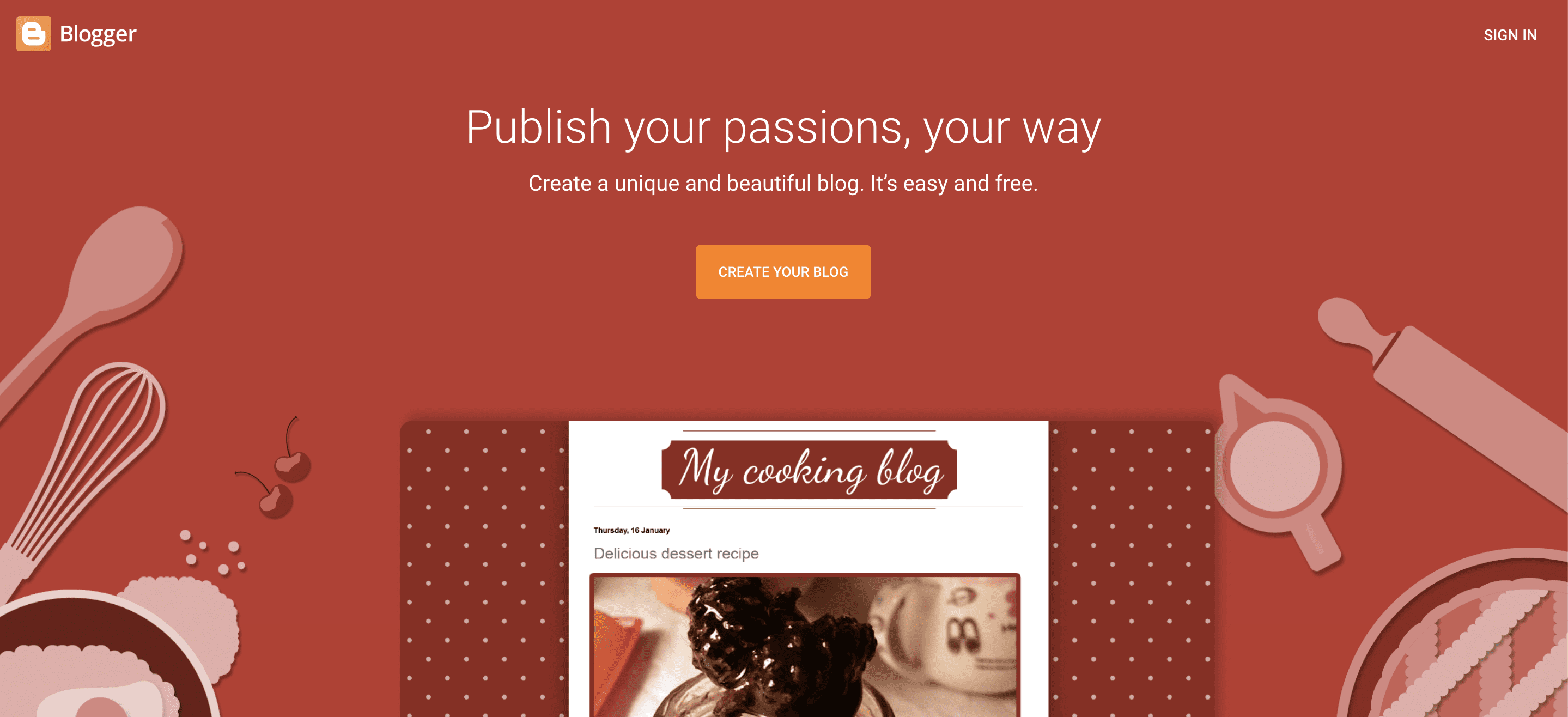 There's not much to say about Blogger. Except that it's 100% free forever…and for everybody. It's one of the only truly free blogging platforms out there today.
Blogger (Blogspot) has forged itself a massive user base, owing in no small part to the fact that it's one of the longest-serving platforms online, making its brand very identifiable. The blogging websites popularity led to its 2003 acquisition by a tech giant Google.
Since Google assumed ownership of Blogger, its features and services have steadily improved, leaving us with the versatile construct that we know today.
Bloggers using the site benefit from plenty of freedom and liberties that are rarely found elsewhere on the web. There are no limits to the number of blogs that can be set up, and no limit to the levels of traffic that pages can experience. There's also ample room for users to adapt and manipulate the limited but adequate range of themes available to them in creating a suitably personal blogging space.
The ease in which Blogger allows users to start a blog has led to many in the community labelling the platform as the simplest to start life as a blogger on. While many host sites offer users premium software to support posts and upload quality images, leading to some confusion for less experienced blog owners, Blogger is entirely free, easy access for all.
Despite its ease of use, Blogger has drawn some criticism for its limited functionality and customisation prospects when compared to its competitors – leaving the medium looking like an ideal site for new users to find their feet on, as opposed to prolific bloggers who'll demand an adaptable service.
Pros:
Blogger is owned by Google. Google is the largest tech company in the world. That means they take great care of all their products, Blogger included.

Blogger is 100% free. All you'll need is a Google account (which is also free).

Blogger is especially great for beginners to gain some experience and learn how to blog.
Cons:
Blogger is simple to use that it can be somewhat limiting for experienced users.

There's not much you can do about its design. There are a couple of dozen themes (templates), but they're essentially the same with different colour palettes.

Your blog will be in a subdomain (yourblog.blogspot.com). You won't own it 100%.
Price:
Blogger is a free blogging platform. No credit cards, no PayPal, no nothing. All it takes is a Google account to get started.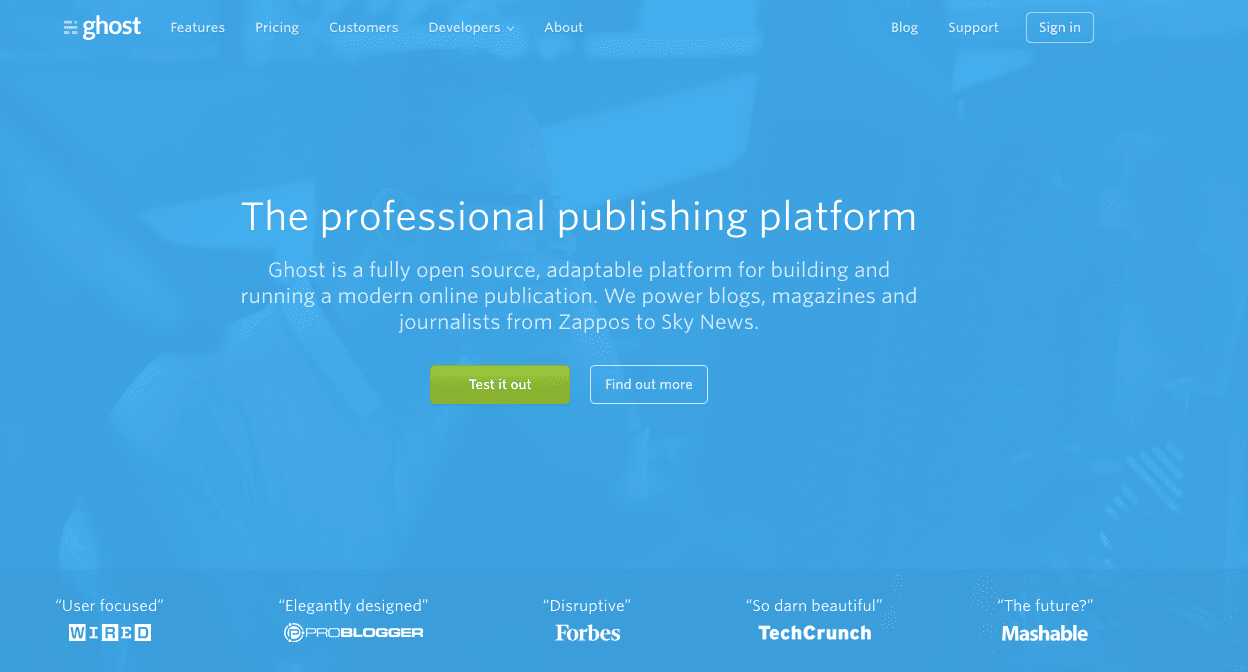 Ghost is a blogging and publishing platform. Its main focus is to get your content out on the internet in the easiest way possible. Write, edit, publish.
There are two ways to use Ghost; they host your blog on their platform OR download and upload it to your server after getting yourself some web hosting.
I'd recommend the former. It's a lot easier for beginners who are just looking to get started, and besides, the Ghost platform is incredibly useable and appealing as it is. 
If I had to choose anything but WordPress.org, Ghost would absolutely rank highly among the effective and stylish alternatives out there.
Ghost has a simple and easy to use blog post editor.
It's fair to say that Ghost offers an excellent solution for content creators, such as the intuitive flexibility boasted by the platform. Separate screens are available for content writing and live previews – whatever you type is reflected in the preview page in real time – leaving users with a truly immersive experience.
Compared to many big hitters on this list, Ghost is the new kid on the block. While this means that user experience may not be entirely glitch-free at this stage, it also indicates that there's plenty of room for growth in the coming months and years, and the platform appears to be on the right track considering the sheer elegance of the blogs being created using the service at this stage.
Ghost is also well aware that users will be looking to utilise SEO to maximise the potential of their blog, and incorporates complimentary services on the platform, meaning that you'll be less reliant on plugins to take advantage of those competitive keywords.
If you're looking for a stylish, fresh-faced, minimalist construct for your blog then Ghost could be the perfect solution. Watch this space.
Pros:
One of the best premium blogging platforms out there.

I really like how simple and hassle-free it was to start creating content.

I found it was pretty easy to get everything set up.
Cons:
I noticed there weren't many choices for free Ghost blog themes.

Trying to self-host a Ghost blog on your own server is an unnecessarily complex process.
Price:
Ghost is a premium platform which offers multiple paid subscription plans.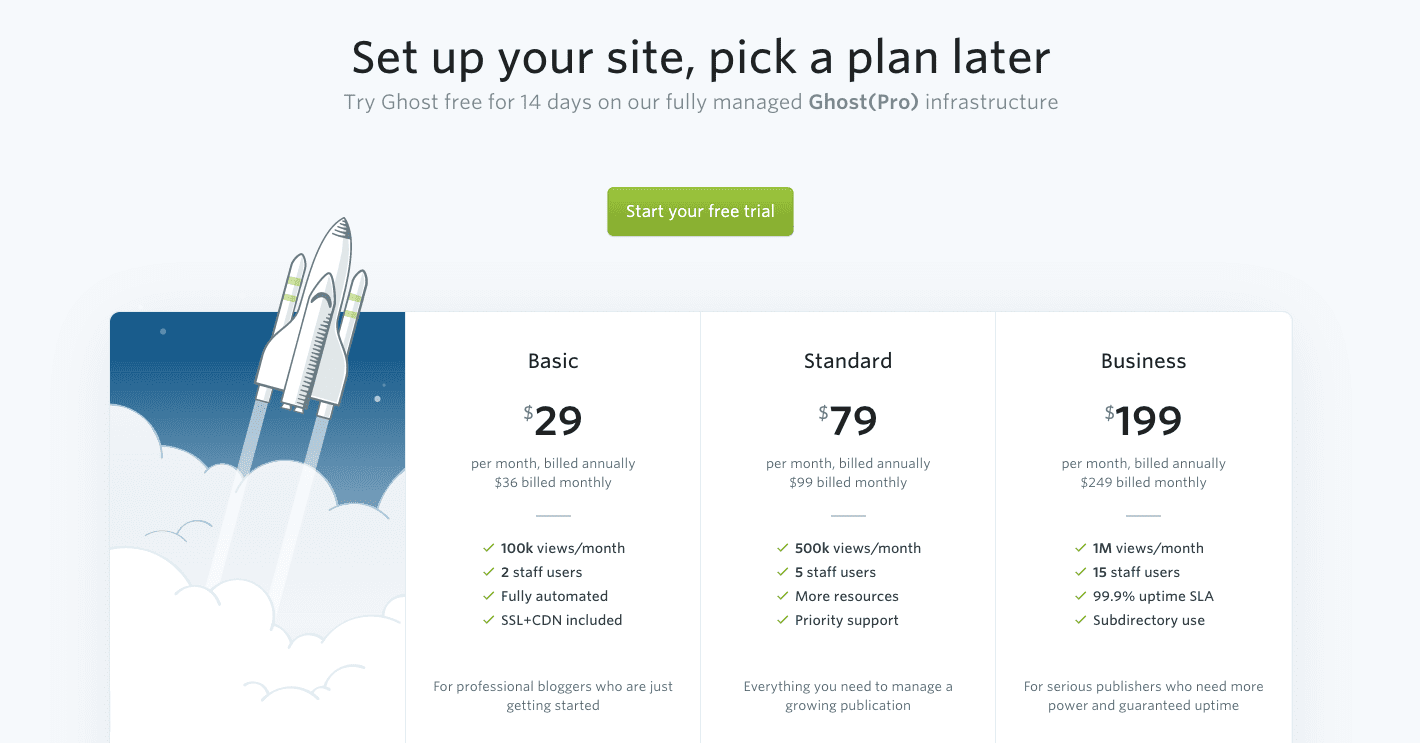 Each of the four plans come with a 14-day free trial.
Each subscription also comes with at least one blog, unlimited storage, and a predetermined monthly pageview limit.     

Medium is a lot like Tumblr (number five on our list). They both work like social media networks, where you write posts and people can interact with them by not only reading, but by sharing, liking, and commenting.
People who blog on Medium typically write posts at around 500 words and are no strangers to producing 5,000-word features. So whether you choose to write long – or short – form blog posts, you can bet there will be an audience for it.
Speaking of audience, it has been stated that Medium gets anywhere up to 60 million visitors a month. Not bad numbers for a platform that's only a few years old.
There are some excellent editorial-based features with Medium, which has taken a conscious turn towards enabling high-quality content publishing alongside the more traditional focus on creation and connectivity of blogging.
Alongside their super user-friendly editor functions, users can also keep track of any updates to their work with a dedicated change tracker that monitors whenever an edit gets made and where. There are also 'story' options that are useful for writers that are keen on interlinking posts in order to develop a narrative long after the first passage has been published.
Medium also supports some strong SEO tools and offers users the option to monetise their posts – meaning that you can profit in a very real sense by using the platform.
Pros:
Medium is easy to use. You don't need special coding skills or anything, just write.

Since Medium already has an established audience, it will allow you to try and tap into that…getting more eyes on your content.

There is no need to put any focus or effort into designing a blog. Medium shares its design with you (just like any social media platform). This allows you to focus on nothing but creating great content.
Cons:
Monetisation may be difficult, since you won't really own anything 100%.

Medium will basically own your whole presence. What if one day you had 100K followers and something bad happens between you and Medium? They can suspend or terminate your account, losing all your following. A scary thought.

Since there is no way to design your own blog, it'll make it nearly impossible to build your own brand.
Price:
For the most part, Medium is free. All you need is some basic information and an email.
However, there is a premium membership. For $5 a month, or $50 a year, you gain access to all Medium's best stories and content.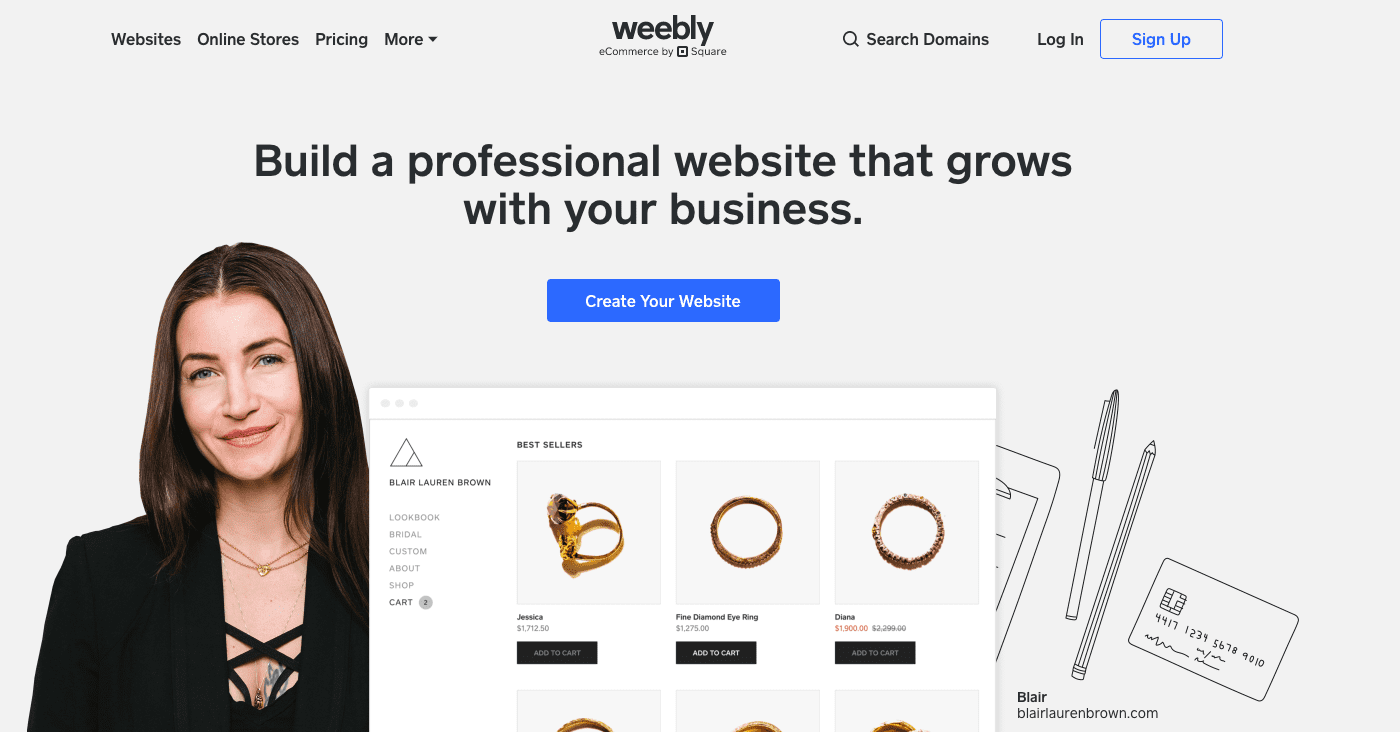 Weebly is a drag and drop builder for websites and online stores. It basically works just like Wix, where you do most of the editing on the frontend of your site.
After playing around with it for a while, I have to say that I like it. The usability of the platform is such that it may even surpass Wix in terms of simplicity.
They do carry many of the same features, but Weebly appears to have a slightly more user-friendly feature menu. However, with that said, I think managing the site from the backend isn't as seamless as Wix, but still good in its own right.
Also, just like Wix, the platform uses apps to add different features and functions to your site, such as social sharing.
Being the brains behind 40 million active websites, Weebly knows a thing or two about blogs, and it's evident in the pains the developers have clearly gone to in making the platform as user-friendly as possible. The added perk of ready-made landing pages, site maps and portfolios only further underline the sheer usability of the site.
User-friendly experience offered by Weebly extends to the ease of utilising pre-designed templates for bloggers to set up their site in minutes, rather than messing around with layouts and formats that could take hours on end. Most designs are fully customisable and mobile friendly – meaning that readers can enjoy your content no matter where they are.
Pros:
The Weebly website building platform is beginner-friendly. One of the easiest on this list.

Weebly is free to use, but also has premium plans.

Weebly hosts all of their websites, meaning that you won't have to look for a web hosting provider.

Weebly's premium plans are reasonable, unlike some platforms out there.
Cons:
It does not have many themes or templates in its free plan.

You will need to purchase a top-level domain name (mysite.com). If not, you will be given a subdomain (mysite.weebly.com).

Sites that use subdomains usually do not perform well in the SERPs (search engine results pages). That means you likely won't get any organic traffic from Google.
Price:
Weebly has five plans. Free, Connect, Starter, Pro, and Business.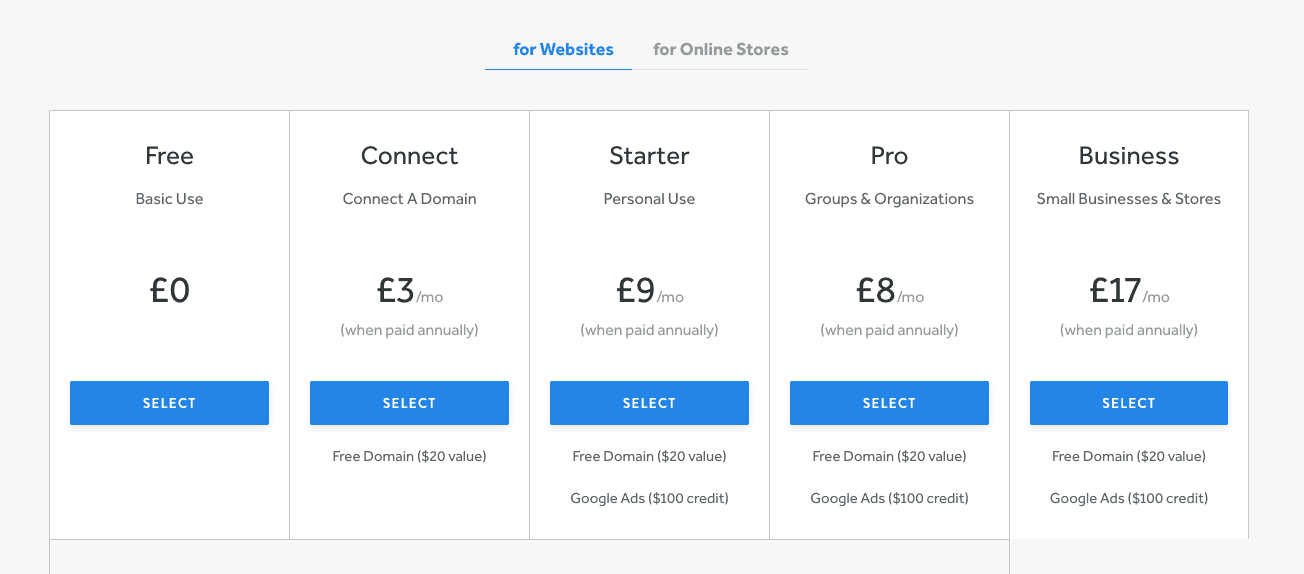 If I were to start a new blog using Weebly, I would go with the Pro plan. At £7 ($14) per month (or £84 ($168) per year), I would be getting everything I would need at a reasonable price.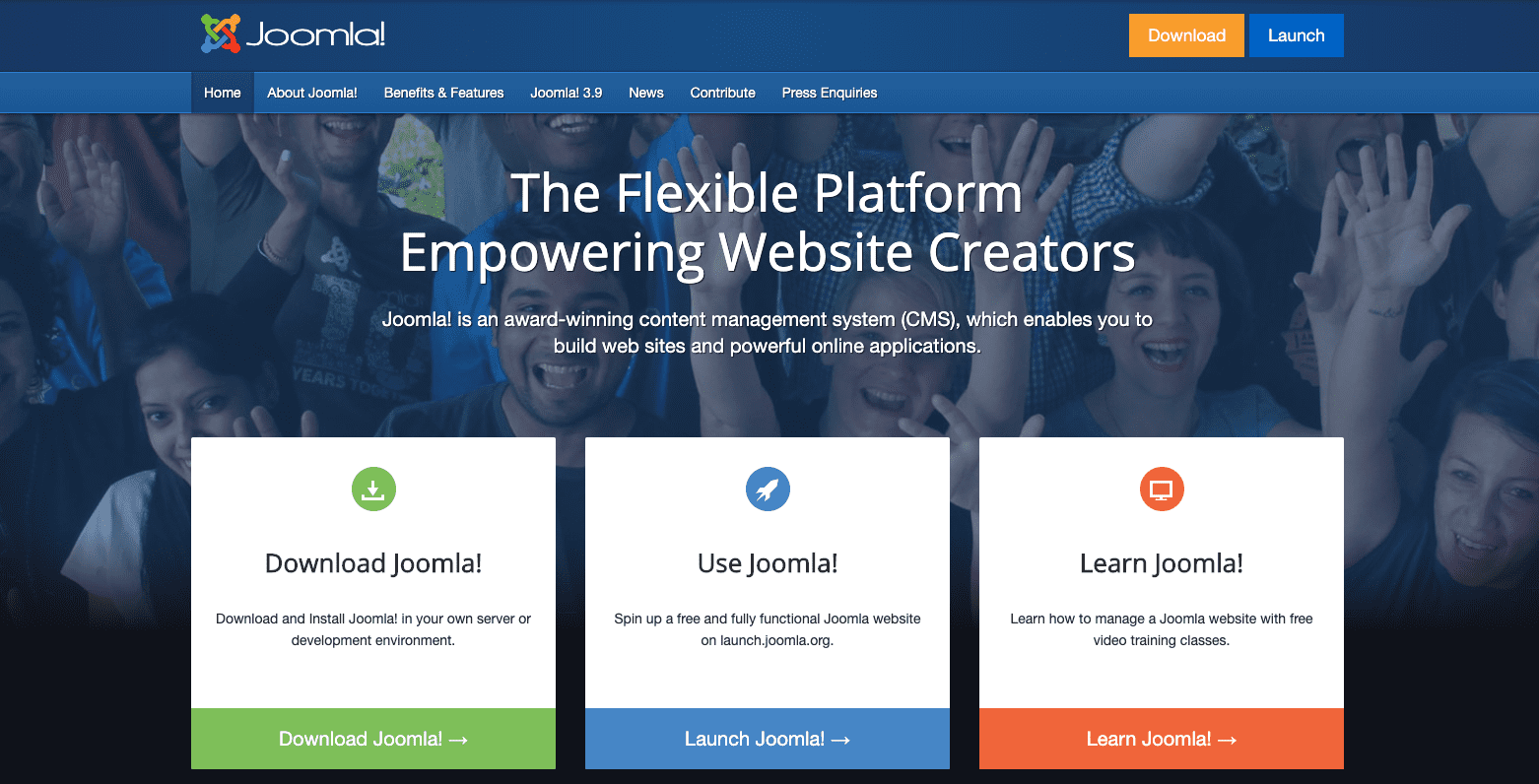 Joomla! is a lot like WordPress.org. It's an open source content management system (CMS) and a self-hosted platform, which means you would first need to find a web hosting provider (and domain name).
However, like WordPress, Joomla! also has its own .com version where you can build a mysite.joomla.com blog.
This side of Joomla! is powered by SiteGround, one of the leading web hosting providers in the industry.
Joomla! is a deeply complex platform that boasts deep level navigation and meticulously defined categories and menu sections which definitely benefits the more experienced and ambitious bloggers among us. It's also regularly updated, which is great for keeping ahead of the curve on new features and general advancements, but isn't so great when the process has a habit of breaking extensions and forcing migrations from one major upgrade to the other can be a little bit frustrating.
With Joomla's complexity, the platform is great for more ambitious bloggers looking to set up sites with a high community emphasis or e-commerce outlets as well as portfolio and presentation sites. However, if you're just getting started in the blogosphere there's a chance you'll find the site's complexity somewhat bewildering at times.
Pros:
Joomla! is fairly easy to use, but comes with a learning curve.

Joomla! has many third-party sellers out there that offer tons of templates and extensions.

Joomla! powers hundreds of thousands of websites and blogs.

Joomla! can be used to build any type of website.
Cons:
The Joomla! community is much smaller than that of WordPress. This means that it could be tougher to get help and support.

Joomla! does not provide many options for free designs and templates, and the ones they do have are not particularly groundbreaking. So you may need to buy from someone else.
Price:
The Joomla! CMS is a self-hosted open source platform, this means that it would need to be installed into your server after purchasing a web hosting provider (and domain name).
Typically, you can get a decent web hosting for about $5-10 a month. Domain names (with the .com extension) are $10-15 a year. So, you're looking at about $125 a year.
Honourable Mentions
There are many other options out there. Here are 3 platforms that did not make our top 10, but are still very good:
Which one should I choose?
10 (plus four) is a lot to choose from. When you've got little to no experience, it's nearly impossible to know which one is best for you.
Here are a few quick pointers:
Free solutions are very limited. There's almost no chance of competing for search engine traffic using these mediums.

Paid solutions give you the best chances of success. However, don't pay for unnecessary features or products. Stay within your budget. All you need is web hosting, a domain name, and a decent platform.

If you want something super easy, go with something that offers a frontend drag and drop builder, such as Wix and Weebly.

If you're looking for something that'll give you full control, a CMS platform, like WordPress.org or Joomla!, is your best option.
Wrapping it up (+ Our Pick)
There are a lot of great choices here. However, there's really only one that stands out from the rest of them. And that's the first one on this list, WordPress.org.
With WordPress, you simply get everything you need to build a pro blog or website.
Even if you want to go down the free route, WordPress.com has everything you need to blog whenever you want without paying a single penny.
If you have any questions regarding any of these top blogging sites and website builders, or if you need help setting things up, let us know in the comments section below.